Put these game day favorites in your air fryer for a super simple, healthier snack plate.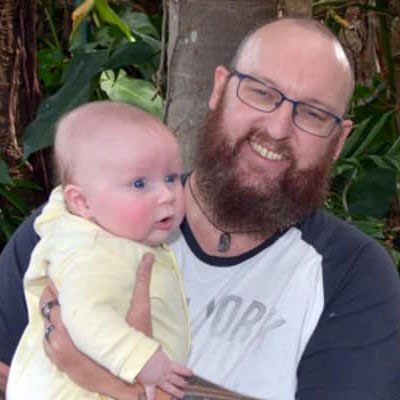 Jono Elderton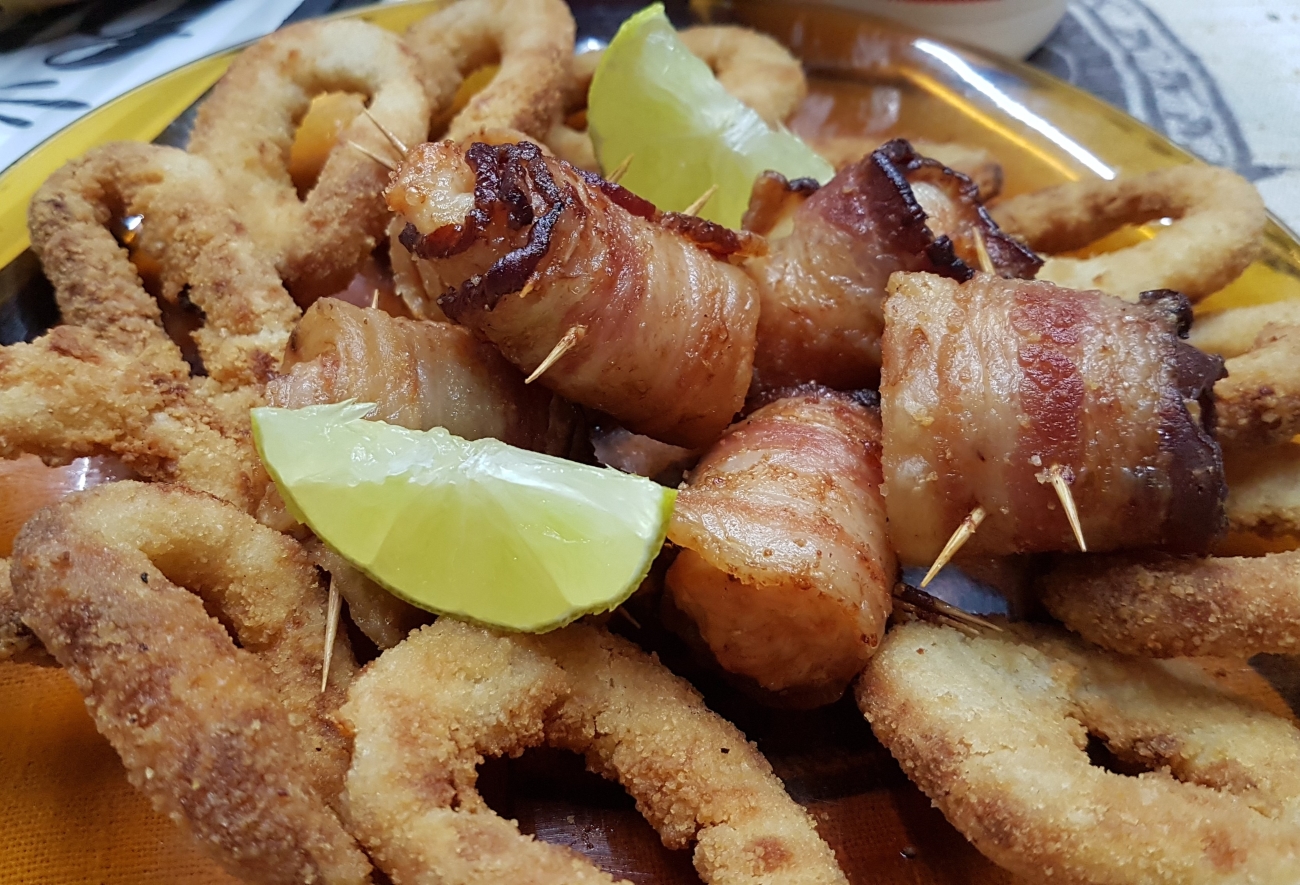 I love putting together my favorite snacks and throwing them in the air fryer for when the family gathers for the game of the week. Combining simple faves like onion rings and bacon roll-ups means you can spend more time socializing or watching the action instead of constantly keeping an eye on things in the kitchen.
Using the air fryer for making game day (or lazy day) snacks is simpler, quicker, and more effective, but most importantly it's healthier than every other version of making these favorites. Sure, snacks are often meant to make you feel just that little bit guilty, but if you can trade in deep frying for a light spray of oil, then that's a great trade-off that also results in tastier, more enjoyable onion rings!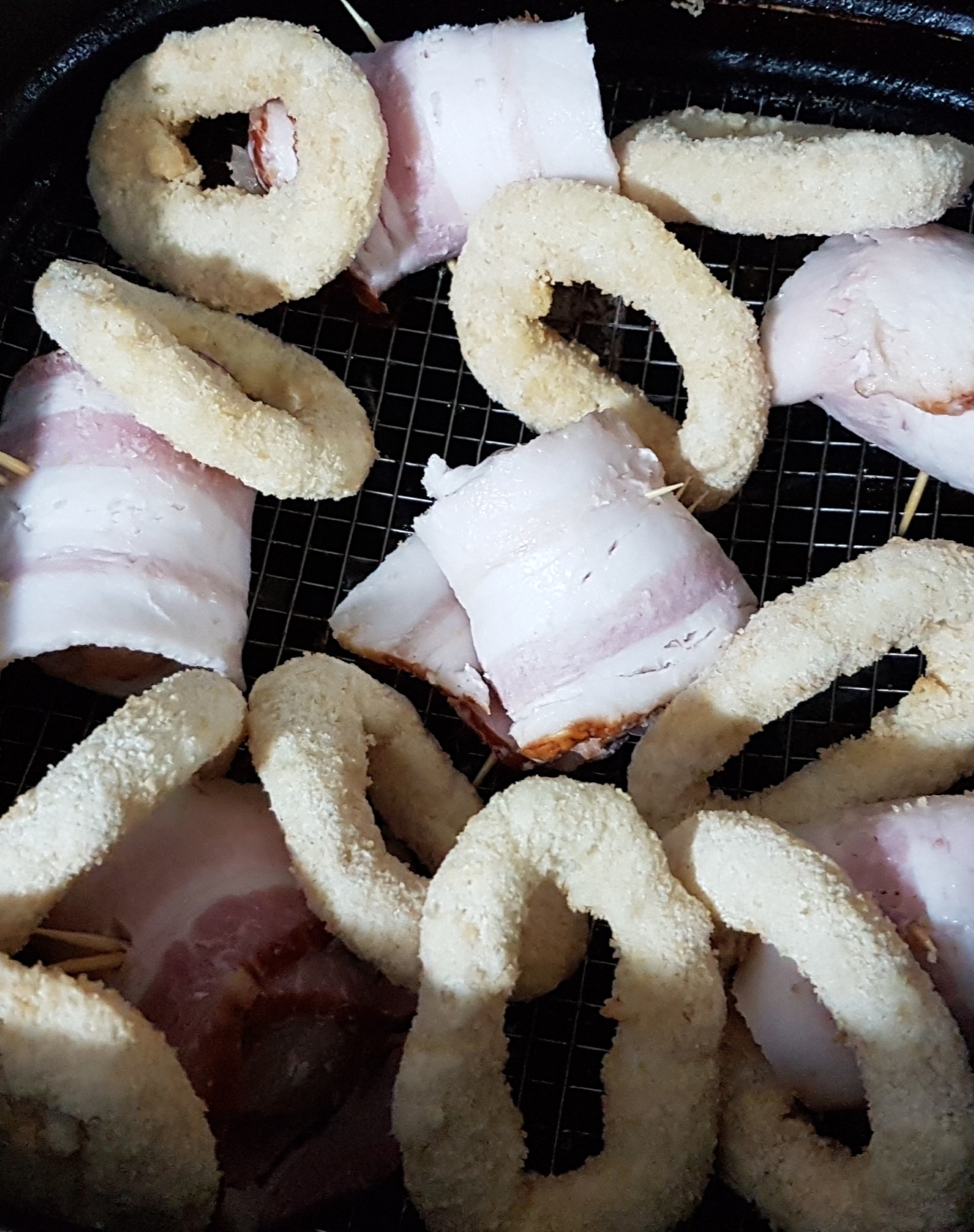 Onion rings and bacon are as simple as air fryer cooking can be. Do your usual breading process for the rings, roll up the bacon into nice, tight wheels, and ten minutes later you can be dishing them out to the hungry. If you wait for 30 minutes later, there's enough of these delicious snacks to fill the bellies of half a dozen guests at once, while you can kick back and relax.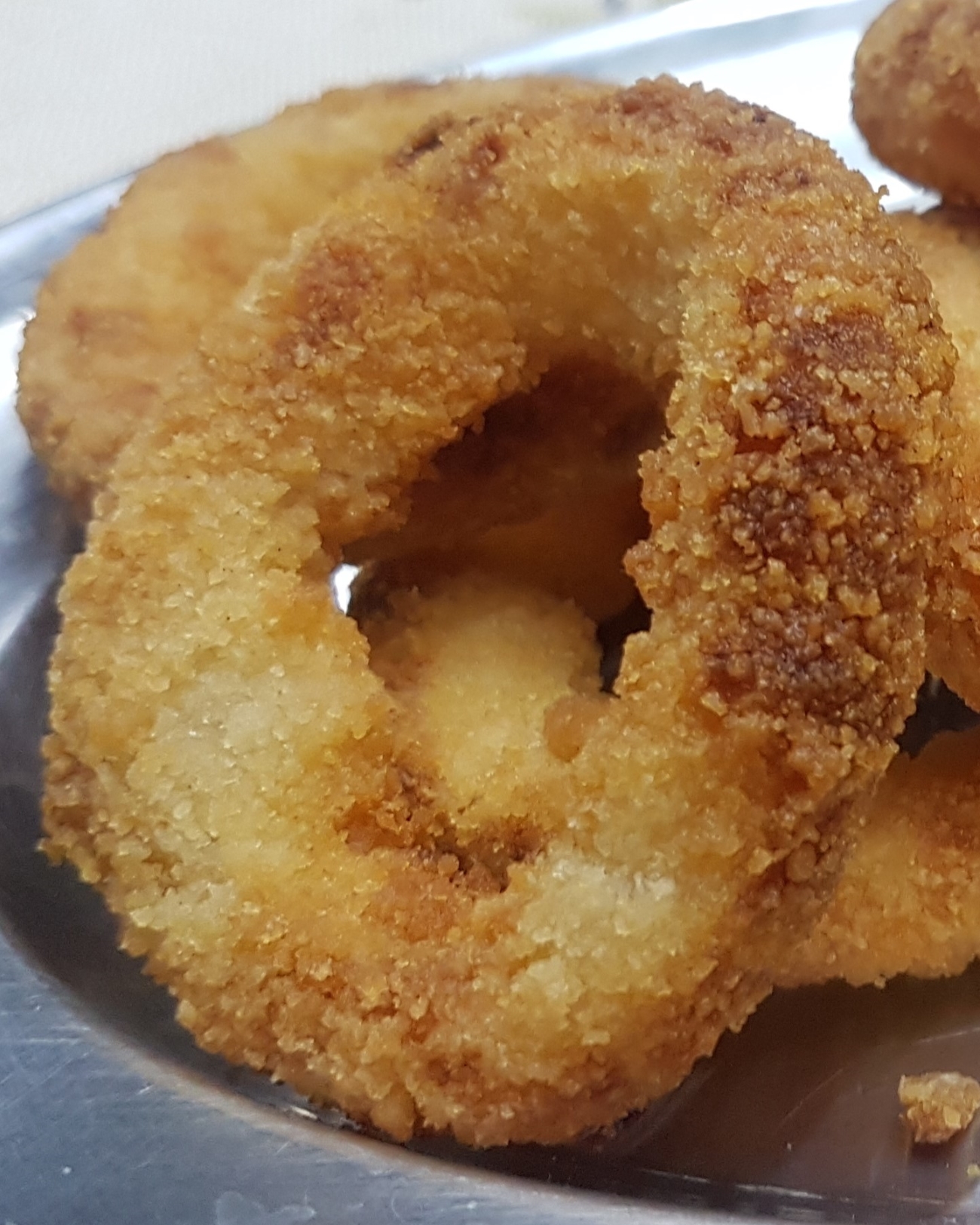 There are a few tips that I've learned making these yummy snacks that I'm happy to pass on. If you like to get extra crunchy onion rings, consider trading in breadcrumbs for Japanese panko. I use panko for most breading, due to its crispiness and crunch. You can also substitute your fattier streaky bacon for middle bacon or meatier back bacon. Just be aware that with less oil, the fat is extremely useful for browning and crisping the bacon roll ups, so all you need do is pull out the stick and pop them in your mouth!
If your group is hungry and in a hurry, then by all means bring the food out batch by batch. I strongly recommend that waiting is the way to go. Do the necessary amount of batches (2-3 based on the recipe), then throw all of the rings and bacon back in the air fryer for two minutes at the end to heat them back up, then serve them to everyone. It's less messing about for a much more satisfying result!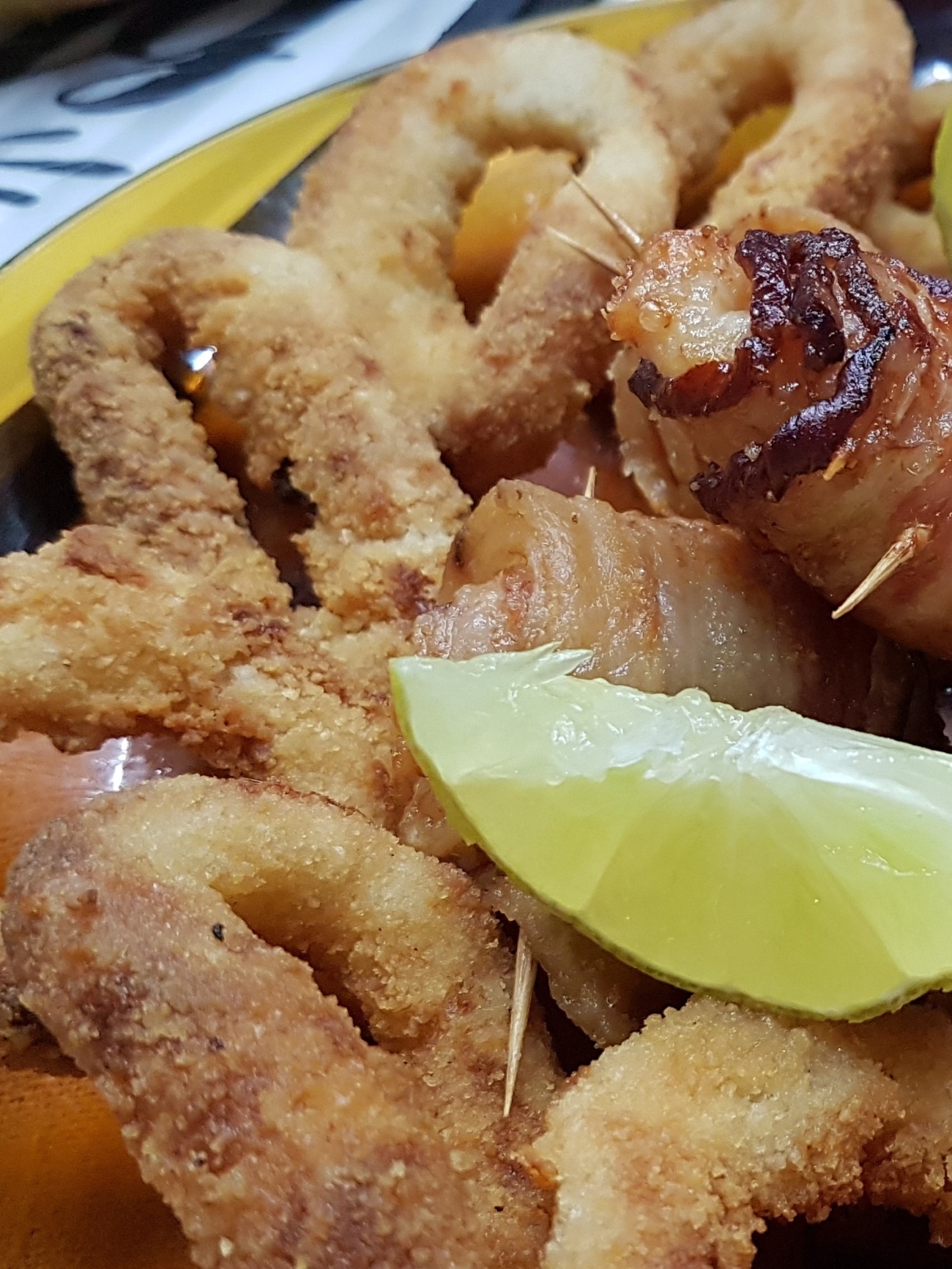 Air Fryer Onion Rings and Bacon Roll Ups
Serves 6
10m prep time
10m cook time
10m inactive
Ingredients
8 oz. streaky bacon, rolled up and pinned into wheels
1 large yellow onion, cut into 1/2" hoops
1 1/2 cups plain breadcrumbs
1/2 cup all-purpose flour
1 teaspoon garlic powder
1 teaspoon onion powder
1/2 teaspoon cumin
1/2 teaspoon black pepper
1/2 teaspoon Kosher salt
2 large eggs
Kosher salt and black pepper, to taste
Cooking oil spray
Garnish: Fresh lime wedges
Preparation
Take three mixing bowls. Mix the bread crumbs, garlic powder, onion powder, cumin, salt and pepper in one. Lightly beat the eggs and place in another. Add flour to the third bowl.
Dip each onion ring into the flour, remove excess, then dip it in the egg and coat with the breadcrumb mixture. Continue until all onion rings are covered.
Place onion rings into the air fryer basket along with pinned bacon roll ups. Spray lightly with cooking spray and cook at 400°F for 8-10 minutes, or until onion rings are golden brown. For best results, cook in 2-3 batches.
Once all batches are cooked, return all rings and roll ups to the air fryer and cook for a further 1-2 minutes. Serve immediately with lime wedges, garlic aioli, or the dipping sauce of your choice.
Recipe adapted from Simplify Create Inspire
SKM: below-content placeholder
Whizzco for 12T