Choosing the best fried chicken sandwich is an almost impossible task, yet I enjoyed the challenge of ranking the best sandwiches.
From large chain franchises to smaller independent chicken restaurants across the country, there are some fantastic options to whet your appetite.
I'd like to go to every one of the restaurants listed below with a film crew and try each option, but for now, I've had to settle for poring through search engines, Yelp, Youtube, and a range of different social media posts to find the best versions of the fried chicken sandwich.
You'll find the top ten fried chicken sandwiches below. Narrowing it down to get to this point made me want to stress eat at least two or three of these.
1. Popeye's Spicy Chicken Sandwich
Various Locations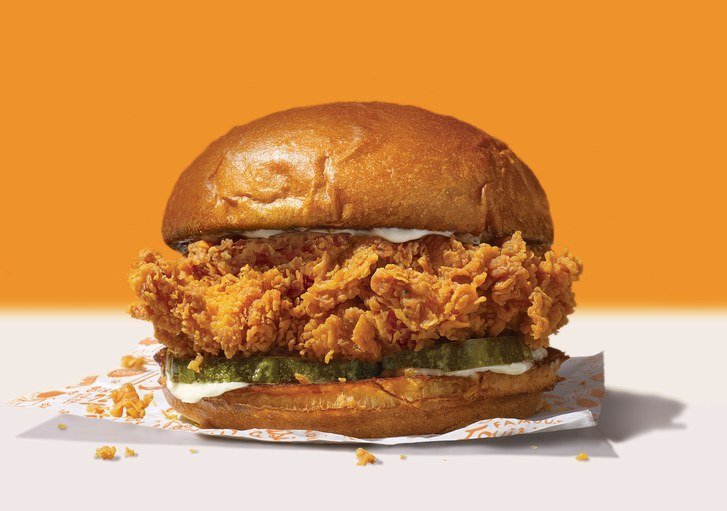 If the launch of your chicken sandwich creates a phenomenon known as the "the chicken sandwich wars," then you automatically go into the top spot, whether the sandwich is part of the full-time menu or not.
Popeye's, after a short and fun social media campaign that called out its competitors, launched their limited edition chicken sandwich in 2019, and the whole of the US went crazy. People waited in line for hours just to eat the sandwich (and unfortunately people got hurt in the process).
What made this chicken sandwich better than the competition? Thicker pickles, a juicier cutlet, and sensationally spicy mayo for starters.
The word of mouth wildfire it set didn't hurt either.
2. Pretty Bird Chicken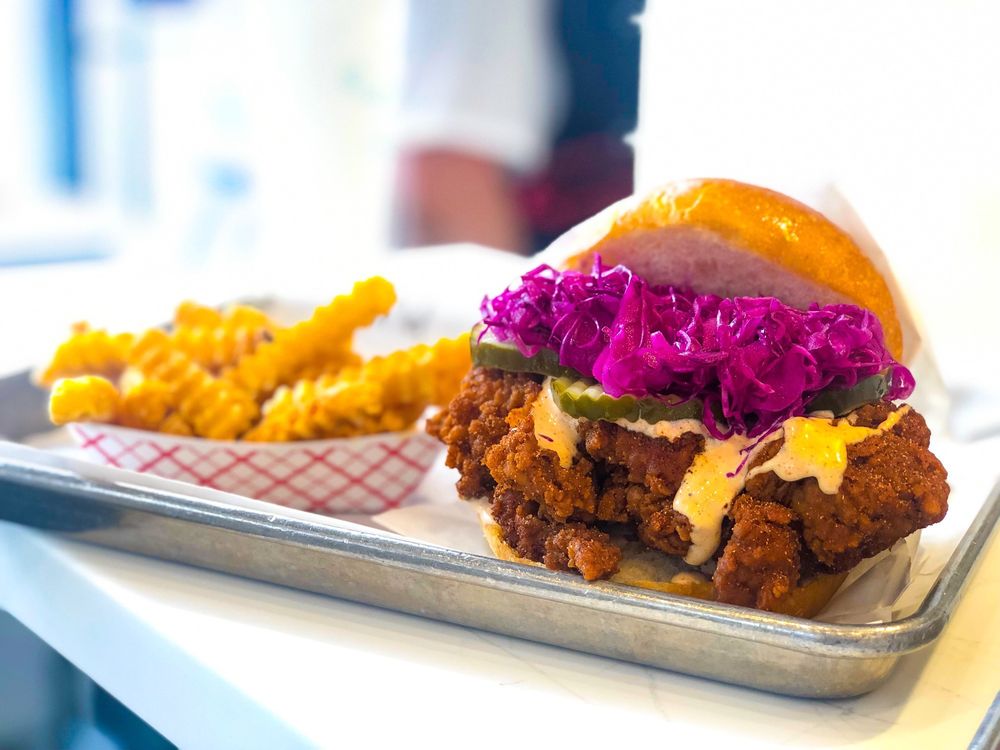 146 Regent St, Salt Lake City, UT 84111
I've never seen a more appetizing chicken sandwich than the one at Pretty Bird Chicken in Salt Lake City, Utah.
The beautiful purple color of the salad, just the right amount of sauce, combined with the spiciness of Nashville-style hot chicken is more work of art than fast food meal.
Owner Viet Pham left the world of fine dining to open up the popular fried chicken joint with a fresh and funky atmosphere.
It's hard to argue with his decision!
3. Chick-Fil-A Chicken Sandwich
Multiple Locations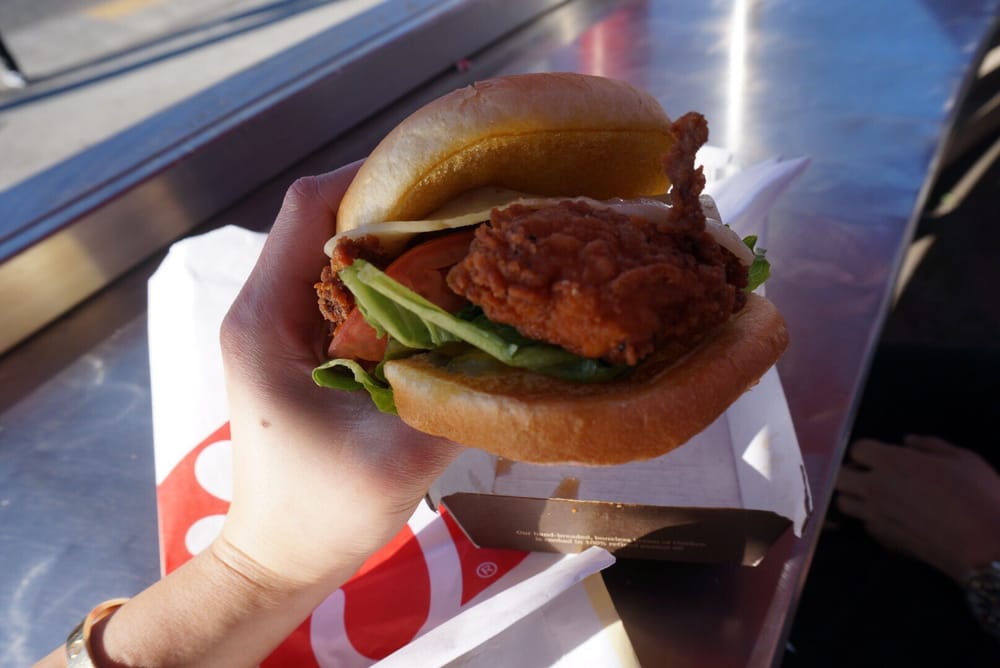 Until Popeye's big maneuver, Chick-Fil-A was at the peak of Chicken Sandwich mountain. And it's easy to see why.
The base chicken sandwich is simple, cheap, and tasty: A boneless breast of seasoned chicken, freshly breaded, pressure cooked in 100% refined peanut oil, and served on a toasted, buttered bun with dill pickle slices.
Where Chick-Fil-A excels is the range of their chicken sandwiches. Whether it's grilled, spicy, club, or deluxe, there's a sandwich for just about everyone.
4. Hattie B's Hot Chicken
Various Locations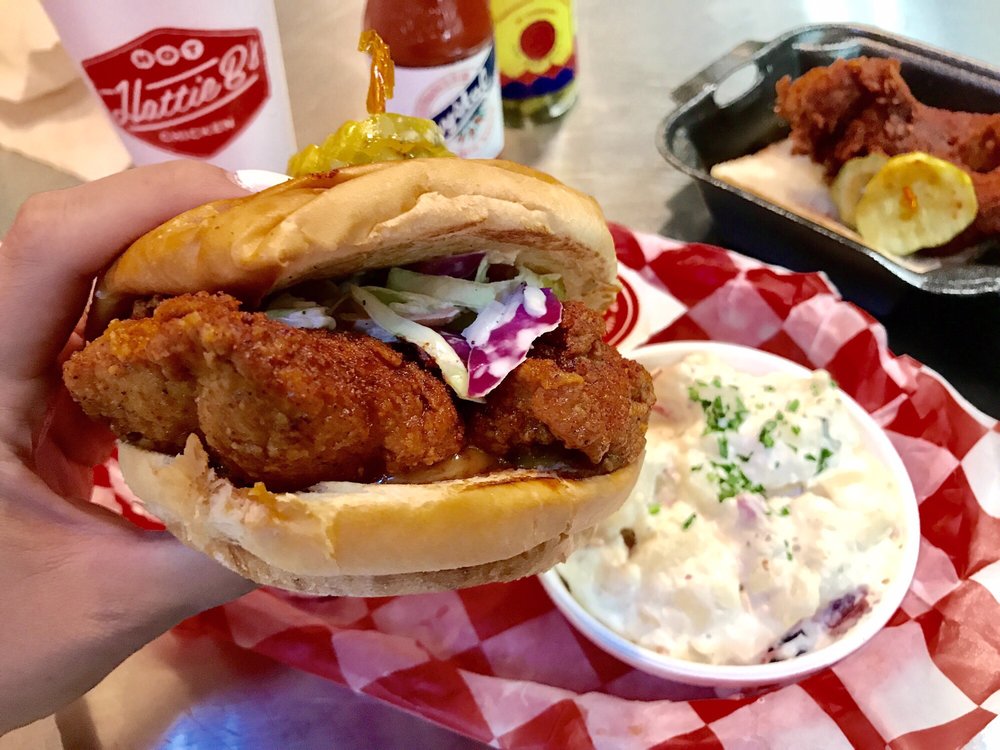 U.S states don't mind getting punchy when it comes to a good fried chicken sandwich.
One could happily make the argument that you won't find a better hot chicken sandwich in the country than Georgia's Hattie B's franchises, and the best thing is they have a range of heat levels ranging from sensible, to "are you sure that's a good idea?"
With the hardcore versions the heat is intense, but if you can get through that you'll find a beautifully succulent fried chicken breast with a cheerful slaw and kosher pickle.
If you're getting a side, it HAS to be the crisply underrated crinkle cut fries – you can't go wrong!
5. Shake Shack Hot Chick'n Sandwich
Multiple Locations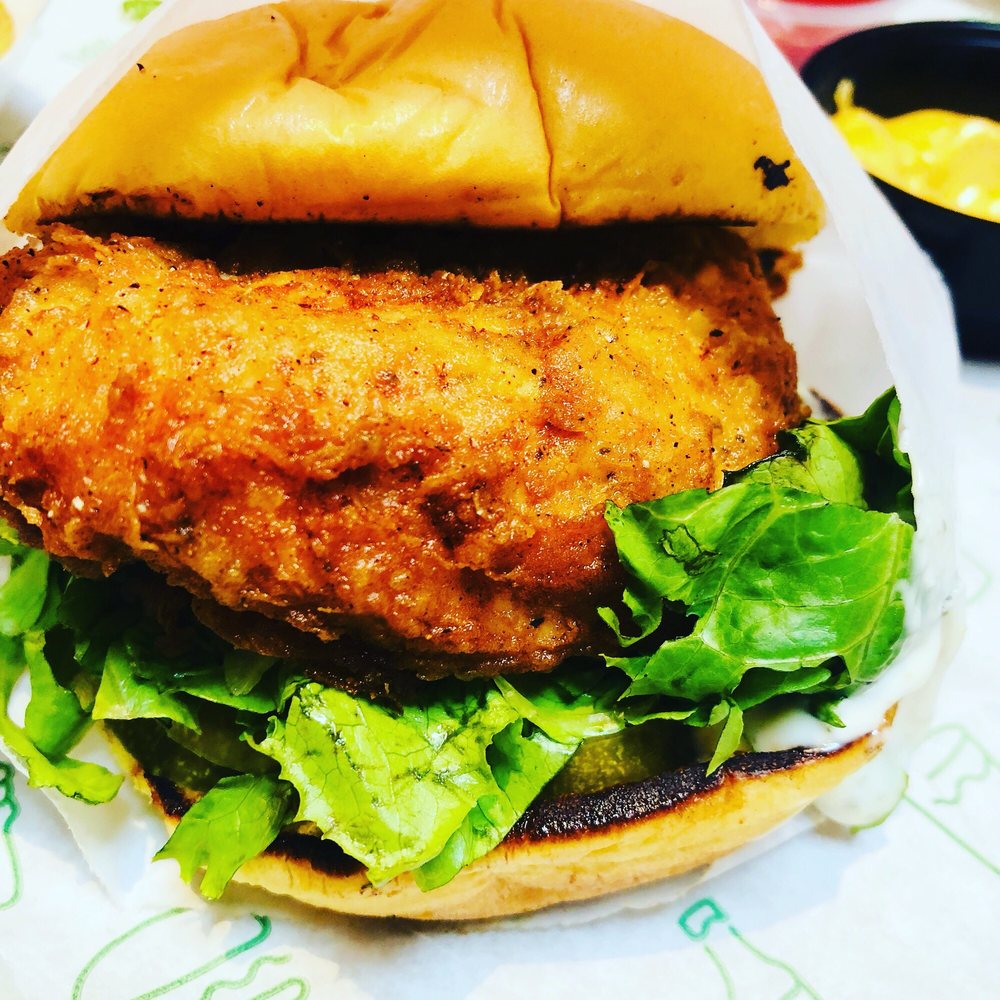 While it doesn't have the clout of a lot of its peers, serious chicken sandwich operators out there swear that this one from Shake Shack is brilliant, with crispy and spicier chicken than others on the list.
It's a simple sandwich that certainly looks the part; crispy chicken breast with lettuce, pickles, and buttermilk herb mayo.
There's plenty of people out there who believe that you'll like this one more than Chick-Fil-A, so if you get a chance to make a comparison, don't be afraid to make it happen.
6. Big Chicken
4480 Paradise Rd #1200, Las Vegas, NV 89169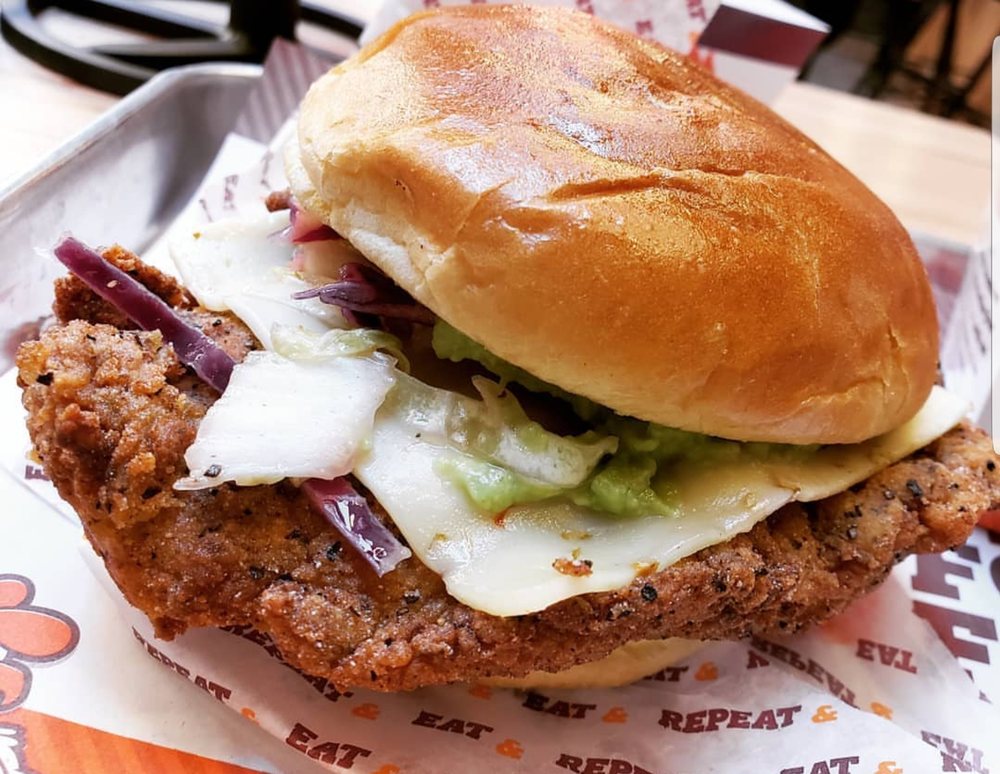 Chicken sandwiches with superhero and basketballer names? I'm all in, even more so if there's a minuscule chance I could see owner Shaquille O'Neal working the grill.
You can get an Uncle Jerome, A Charles Barkley, A Superman, or A Shaq Attack, and they all look good to eat.
Check the Big Aristotle out: organic muenster cheese, crispy fried onions, bacon, sweet & smokey Memphis BBQ sauce, and sweet tender fried chicken.
There are plenty of reasons to head to Vegas (there is also a Big Chicken in Glendale, California), Big Chicken is another one!
7. Beasley's Chicken + Honey
237 S Wilmington St Raleigh, NC 27601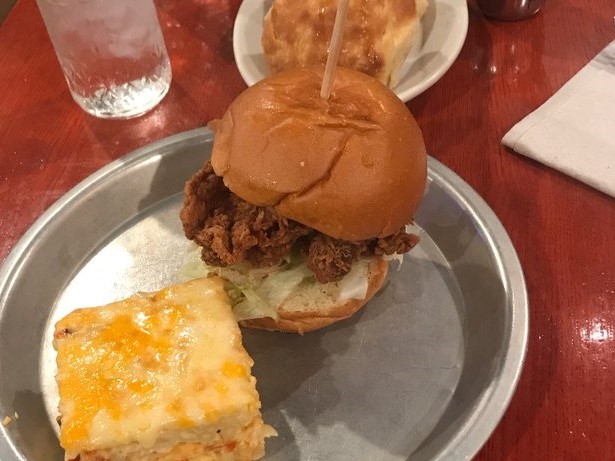 Beasley's is small, so there is a wait at peak times, but if you're happy to wait for quality fried chicken – lightly breaded and juicy – simple sides and a funky atmosphere, then you'll be happy to take a place in the queue.
Beasley's Hot Chicken Sandwich is a spicy beast, with Carolina Reaper chile oil, pickles, iceberg lettuce, and buttermilk-herb dressing on buttermilk bread. It's got a serious amount of kick.
If spicy is not your thing, that's okay. You can knock over a classic chicken sandwich, or a tasty chicken biscuit sandwich that comes with Dijon, honey, and green tomato pickles.
8. Hot Chicken Takeover
Multiple Ohio locations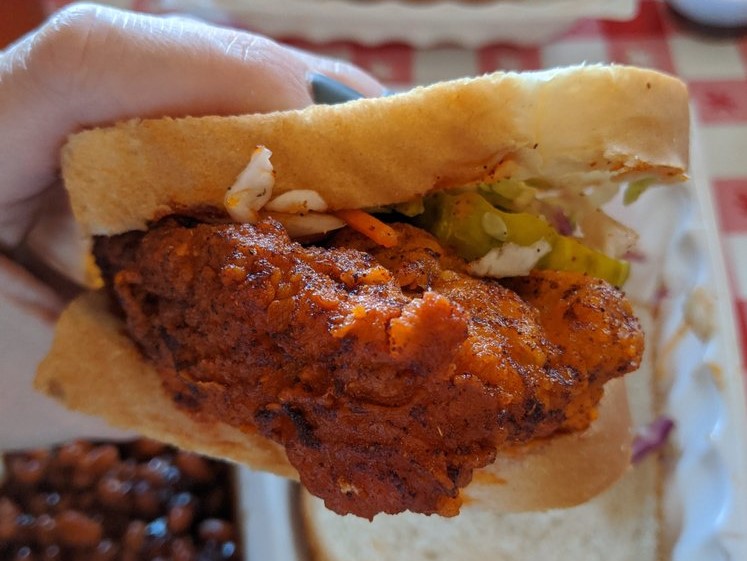 "We don't overcomplicate it with too many variations or too many side dishes, we serve simple food to share." – Joe DeLoss, Owner
HCT has picked up popularity for delivering simple fried chicken and sandwiches, just a few sides, and absolutely killer banana pudding.
They don't mess about with anything fancy, just a commitment to fresh fried fare and a great atmosphere. There's plenty to like about a place assured in its ability to provide a great, simple chicken sandwich with pickles and slaw.
9. Wendy's Pretzel Bacon Pub Chicken Sandwich
Multiple Locations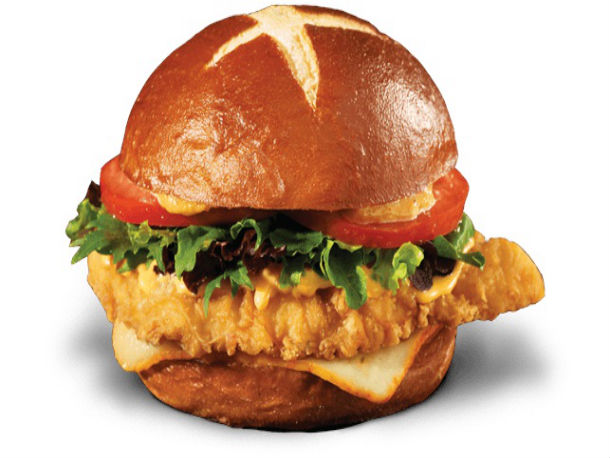 After a limited edition run in the middle 2010s, Wendy's brought back the spicy pretzel bacon chicken sandwich, but with a gastropub twist (beer cheese anyone?).
It's fully loaded, with spicy (or regular) fried chicken, crispy onion rings, beer cheese, and crispy bacon. It looks as big as the side of a barn.
It's a popular edition, with the unique highlight being the soft pretzel housing that manages to hold everything together as well as having a quality taste impact.
If you're looking for a hungry-person chicken sandwich then this Wendy's one is hard to top!
SKM: below-content placeholder
Whizzco for 12T