If you've been a fan of 12 Tomatoes for any amount of time, then you know how much we love dessert around here. Cakes, cookies, brownies, pies, you name it. Some of my favorite pie recipes include Strawberry Sour Cream Pie, No-Bake Mocha Pie, and Apple Buttermilk Custard Pie.
One German baker and photographer, Karin Pfeiff Boschek, raises the bar on pies everywhere. Not only are her creations delicious, but they are truly stunning works of art! I've never been one to turn down pie, but I think I might hesitate to ruin one of her beautiful pies. At least for about a minute or two. Pies were made to be enjoyed, right? Let's take a look at some aesthetically and deliciously pleasing pies!
Carribean Dream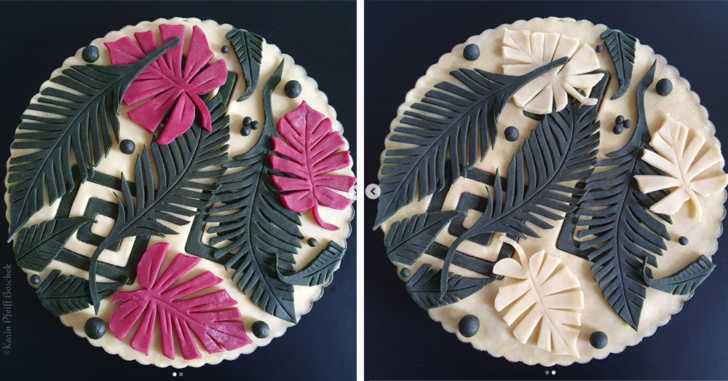 Wow! Just look at this Carribean-inspired pie! I'm a personal fan of the red and green version, but I have no doubts both would look incredible once baked!
Here's what Karin says about her creation: Since we will not be enjoying a Carribean vacation this year I decided to bring the Caribbean islands to a pie. I cut these fantasy palm leaves free-hand with a scalpel. After I made the green and red leaves I thought perhaps it would look good with white leaves, so now I have to decide which I like best. What do you think? Red or White with the green?
Gingko Pie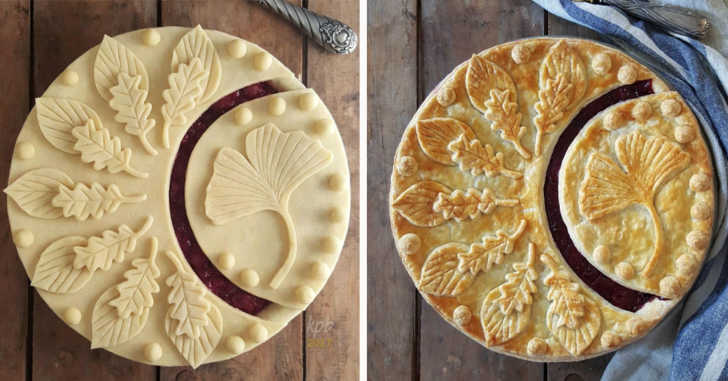 For those unfamiliar with Ginkgo Biloba, it's a very old tree species native to China. Nowadays, the leaves are used for all kinds of supplements to help with a wide variety of issues, including memory loss, anxiety, and vision problems.
Karin's caption on her Instagram photo reads: Ginkgo pie baked up beautifully. We have a Ginkgo tree in our garden and I love to create new designs with the leaves.
Wild Cherry Rosetta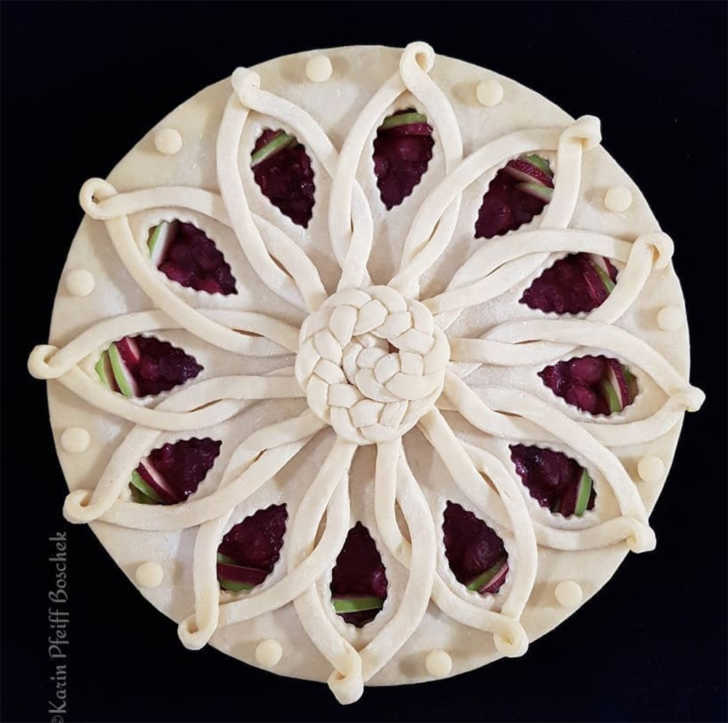 The amount of detail in this design is absolutely awe-inspiring! From the braided spiral to the twisted tips, everything about this is so beautiful. Karin even lined up thinly sliced apple wedges around the edge of the pie – you can just see them peeking through.
Her caption reads: Gothic Rosetta Window to the World. The rose, rosetta or Catherine window as found in Gothic cathedrals is a perfect subject for a pie. I adorned this one with a braided bun in the middle, which just seemed to fit. The filling is wild cherry with a hint of Kirschwasser.
Sliced Swirls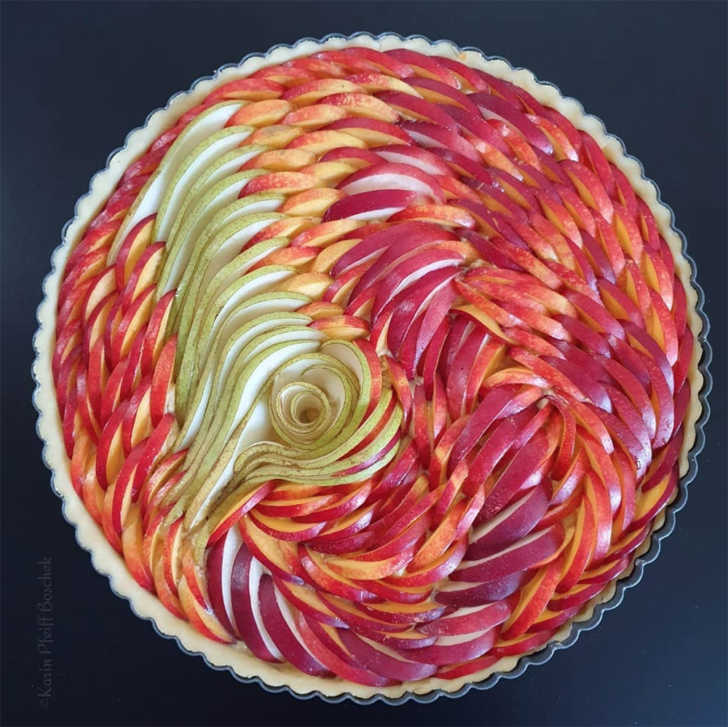 Okay, this one is just unreal. How long did this take?! Not only did Karin have to slice up the nectarines and pears just so, but then to arrange them in such a beautiful pattern, too!
Karin's description of the pie: Nectarines and pears on almond frangipane. We're still living in seclusion, the situation has not yet improved and I thought that it might help if I baked a colorful pie. Since we like almond frangipane it seemed like the perfect base for this fruit topping.
For those wondering what frangipane is, it's an almond-flavored sweet pastry cream used when preparing various desserts, sweets, cakes, and pancakes. It is made with milk, sugar, flour, eggs, and butter, mixed with either crushed macaroons or with ground almonds.
Geometric Floral Design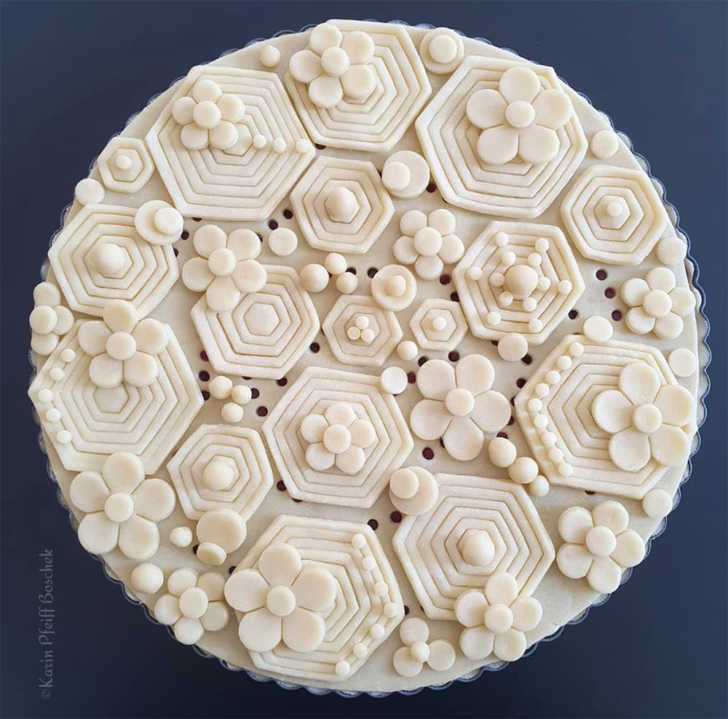 Love this one! Once again, I'm amazed at the detail. Just think about how much time and energy went into cutting out the dough and placing it just right. The geometric and floral design has a retro feel to me, and I'm digging it.
Karin says: Flowers among the hexagons. This strawberry and lemon pie is perfect for this time of the year.
Keep up to date on the latest pie creations from Karin by following her on Instagram!
SKM: below-content placeholder
Whizzco for 12T