Let's face it, we love meals that are a breeze to create, especially desserts! When it does not make any sense to head out to your local bakery or to bake a full-sized cake, we praise the genius that came up with the idea of mug cake recipes.
Even a college student incapable of cooking anything but instant ramen can learn how to make a mug cake with a mug, a microwave, and a few simple ingredients that are readily available in most kitchen pantries.
The possibilities are endless, but to start you off, we'd love to show you our favorite mug cake recipes at LittleThings. We've done the research to find the 23 tastiest recipes out there.
Love mug cake recipes? If you plan on trying these easy recipes, why not SHARE with your friends so they can also learn how to make a mug cake.
We'd love to hear some feedback in the comments about any of the recipes you try here, and tell us about any other delicious mug cake recipes you know.
Enjoy!
Thumbnail Sources: Kirbie's Craving / Luvo / The Novice Chef
1. The Perfect Chocolate Cake With Two Ingredients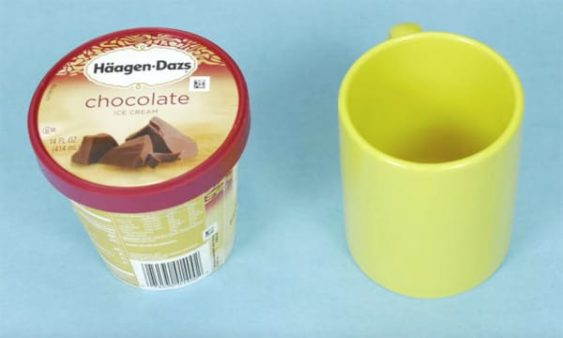 It cannot possibly get any simpler than this easy mug cake made with just TWO ingredients. We can indulge in a chocolate mug cake to get our chocolate fix in as quickly as two minutes with this ridiculously delicious mug cake recipe. Mix self-rising flour and a scoop of chocolate ice cream, throw it into the microwave for a minute, and BOOM! Check out the full easy mug cake recipe here.
2. Rainbow Mug Cake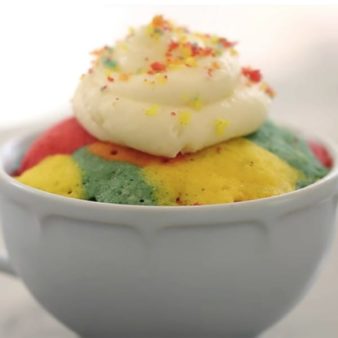 I must admit that I was intimidated by the challenge of a rainbow mug cake, as it seems a bit advanced. Upon checking out this video mug cake recipe, I was surprised by how simple this vanilla mug cake really was. It calls for the basics: room-temperature butter, sugar, egg, flour, and vanilla extract. Once mixed, separate them into five little bowls and add your selected food colorings for the rainbow effect. Spoon small dollops of each color and layer them on top of each other. Microwave, and then you're done!
3. Peach Cobbler Mug Cake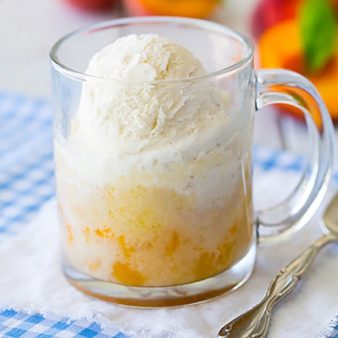 For a dessert with some Southern charm, add butter, white cake mix (Betty Crocker), milk, and peaches for a mouthwatering microwave mug cake for your next Sunday brunch. First, whisk together your dry ingredients. Next, stir in the wet ingredients to form a batter to be poured into your mug. Place your peaches on top and microwave for three to four minutes for your best peach cobbler cake in a mug. (Upgrade: Load it up with vanilla ice cream and a dusting of cinnamon.) Get the amazing full recipe from Cooking Classy today!
4. Hot Chocolate Mug Cake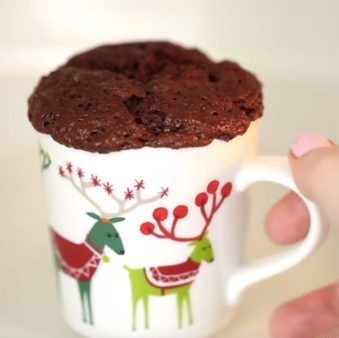 Chocolate mug cake recipes are the easiest to follow for a quick snack on a Friday Netflix-and-chill night. Take a quick look at this crazy simple hot chocolate mug cake recipe — I promise you'll get excited to start making a batch immediately. Combine flour, sugar, cocoa powder, baking powder, oil, and milk into your mug and microwave for 40 to 50 seconds for the best chocolate cake in a mug.
5. Quick Nutella Mug Cake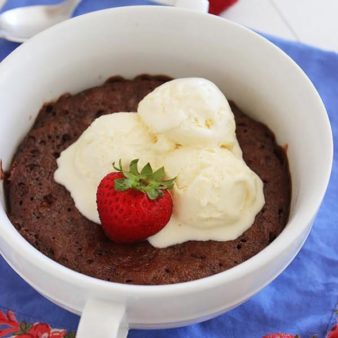 Whether it's for your breakfast or a late-night snack, Nutella mug cakes are delicious treats for any age group. It's made out of simple ingredients you can grab straight out of your kitchen pantry, including flour, Nutella, milk, and baking powder. Heat in the microwave for one to one-and-a-half minutes, then let cool before diving in. Check out The Comfort of Cooking for this delicious recipe and others like it! Don't forget to challenge yourself and Upgrade with some chocolate drizzle and a couple of raspberries.
6. Pumpkin Mug Cake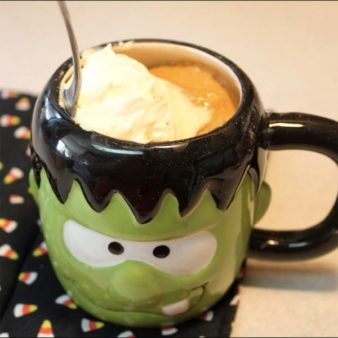 When you are ready to advance in how to make a mug cake, try this super quick and scrumptious pumpkin mug cake. It's not very complicated to make, but this isn't your effortless three-ingredient mug cake as it does require you to follow a couple of extra steps. Find an extra-large mug and prepare to combine some milk, half an egg, pumpkin puree, flour, white sugar, and your other baking basics. Thanksgiving on your own won't feel so lonely with a home-made pumpkin mug cake.
7. Vanilla Keto Mug Cake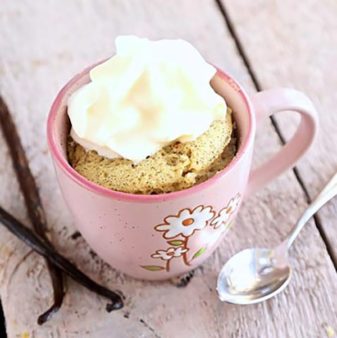 Having a keto mug cake does not mean you should sacrifice on taste and your sweet cravings, especially with the vanilla mug cake from the Keto Diet Blog. Organic ingredients are what you are after with this mug cake recipe that calls for almond flour, coconut flour, baking soda, low-carb sweetener, egg, coconut oil, and vanilla-bean powder. Combine these ingredients and pop it into the microwave for a great healthy mug cake. (Upgrade: Add a bit of whipped cream, coconut milk, or full-fat yogurt with a pinch of cinnamon to take it up a notch.)
8. Three-Ingredient, Flourless Peanut Butter Mug Cake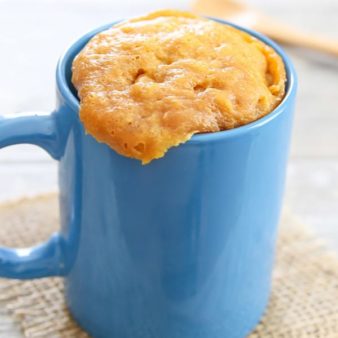 We love simple three-ingredient mug cakes because we can still make our favorite dessert mug cakes with whatever we have on hand. The flourless peanut butter mug cake only needs peanut butter, sugar, and an egg to complete. Microwave for a minute for a simple and satisfying mug cake for tonight's dessert, courtesy of Kirbie's Cravings.
9. Single-Serve Mug Coffee Cake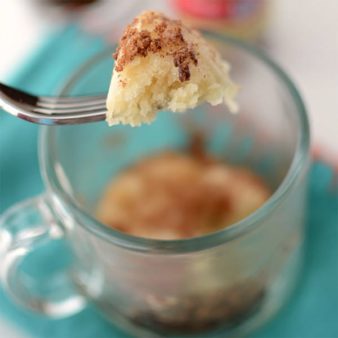 What a better way to start your morning than with a mug of coffee and a mug of coffee cake right beside it. This cake-in-a-mug recipe from Crazy for Crust needs sugar, flour, salt, baking powder, Greek yogurt, unsweetened almond milk, brown sugar, cinnamon, and vanilla. Stir the dry ingredients, then add the wet ingredients. Microwave 45 seconds for a warm mug cake to complete your breakfast. (Upgrade: Add a drizzle of chocolate sauce for a bit more sweetness.)
10. Blueberry Protein Mug Cake Recipe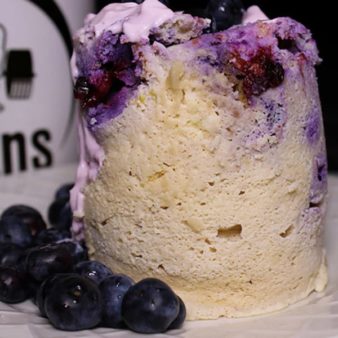 For your power breakfasts or an energy-blasted after-workout snack, check out this protein mug cake recipe by The Protein Chef. This is a yummy and healthy mug cake for one. Add egg whites, vanilla extract, blueberry Greek yogurt, baking powder, coconut flour, honey, blueberries, and vanilla protein powder into your mug. Microwave for 30 seconds for a dessert that feels like you're having the best cheat day ever.
11. Paleo Four-Minute Lemon Mug Cake
Paleo diet followers praise this easy mug cake recipe from Every Last Bite as the tastiest paleo mug cake around. Including prep time, it only takes 4 minutes to make! Combine almond flour, coconut flour, lemon zest, coconut oil, honey, lemon juice, and your other basic ingredients. Find a medium to large mug to mix all your ingredients in, then microwave from 90 seconds to two minutes for some lemony perfection. (Upgrade: Top your paleo mug cake with some coconut cream and honey to finish.)
12. Vegan Carrot Cake In A Mug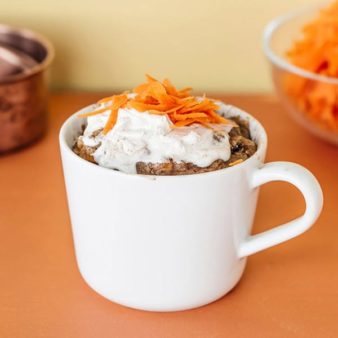 If you are planning to serve up some vegan mug cakes at your next dinner party, check out Luvo's homey recipe for an impressive carrot cake in a mug to serve to your guests. Mix well all your wet and dry ingredients which include flour, brown sugar, apple cider vinegar, shredded carrots, and raisins, among others. Make sure to pay attention to the mug cake recipe for this special vegan mug cake, as the techniques they use are a little different than others. (Upgrade: Finish the dessert with some coconut cream made with chilled coconut milk and maple syrup.)
13. Keto Raspberry Cream Cheese Mug Cake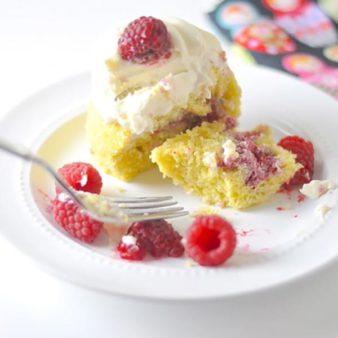 When sugar cravings hit, this keto mug cake recipe will satisfy you without the guilt of breaking your keto diet. Blend almond flour, cream cheese, raspberries, sugar substitute, vanilla extract, almond extract, and a few other basic ingredients to microwave for approximately two minutes. The low-carb, gluten-free, grain-free healthy mug cake can be found in Modern Low Carb's delectable website filled with healthy snacks and meal ideas. This will become your weekly go-to dessert or snack once you realize just how delicious it is. (Upgrade: Throw some frosting on top with cream cheese, butter, and sugar substitute.)
14. Matcha Microwave Cake With Matcha Protein Frosting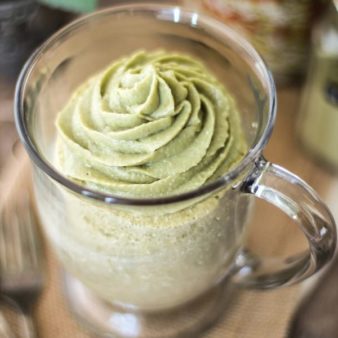 This is one of our favorite mug cake recipes, as it truly is a unique and healthy mug cake. Combine coconut flour, matcha powder, sweeteners, vanilla almond milk, applesauce, and some other basic ingredients into a large mug for the microwave. Heat for four minutes and you'll be eating the most addictive cake in a mug possible. For the full recipe, check out our friends at Desserts with Benefits for this as well as other awesome mug cake recipes. (Upgrade: Turn this into a protein mug cake with frosting made with vanilla whey protein powder, sweeteners, coconut flour, matcha powder, and Greek yogurt.)
15. Chocolate Peanut Butter Mug Cake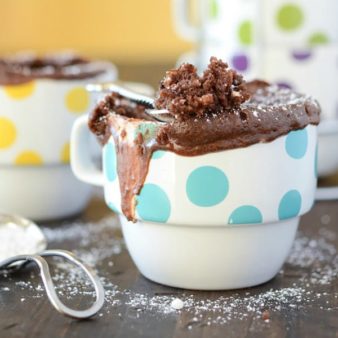 There is just something really special about combining chocolate with peanut butter. Trust us, a mug cake recipe that combines the delicious moistness of a chocolate mug cake with the crave-worthiness of a peanut butter mug cake is a truly exceptional treat. The Novice Chef really kicked it up a notch with this easy mug cake recipe. All you need is the combination of flour, sugar, cocoa powder, milk, and peanut butter; then it goes into the microwave for a minute and 10 seconds. The batter will rise quite a bit in the mug, then deflate again in the microwave — just keep an eye on it to make sure it doesn't rise over and make a mess in there. Serve hot and enjoy!
16. Paleo Red Velvet Mug Cake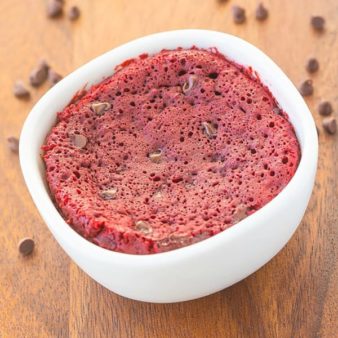 If you are following a strict dietary regimen, it doesn't mean that you should steer clear of fun and yummy desserts. One of our very favorite healthy mug cakes is the red velvet mug cake from The Big Man's World. We were in awe of this mouthwatering paleo mug cake, made up of almond flour, coconut flour, sweetener, vegan flax egg, dairy-free milk, food coloring, and chocolate chips. When you mix these together and microwave for 50 seconds to two minutes, you get this amazing vegan mug cake that is great for you, too.
17. Vegan Sweet Potato Mug Cake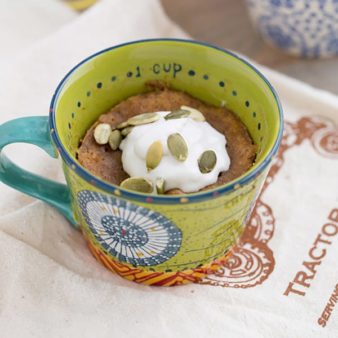 We all love to indulge in a great dessert occasionally. If you're looking for a guilt-free option, check out this vegan mug cake by Oh My Veggies made with some amazing organic ingredients. You'll need egg substitute, mashed sweet potatoes, almond milk, brown sugar, self-rising flour, and a mixture of baking spices and other basic ingredients. Once combined, microwave for one to two minutes to enjoy warm. This is a great mug cake recipe for breakfast, an after-dinner dessert, or a late-night snack. (Upgrade: Top it off with some candied fruits or nuts to give your mug cake another dimension.)
18. Cinnamon Roll Mug Cake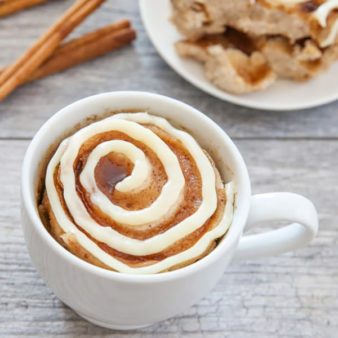 Reminiscing about Cinnabon cinnamon rolls? Try this at-home alternative mug cake by Kirbie's Cravings without all the calories. Look in your pantry or go to your local supermarket for the following ingredients: flour, sugar, cinnamon, nutmeg, fat-free milk, butter, and baking powder. Combine and create a cinnamon swirl for an authentic cinnamon bun taste. Now you won't have to go to your local mall for your cinnamon bun cravings. (Upgrade: Take it up a notch with some frosting mixed with butter, cream cheese, and powdered sugar.)
19. High-Protein Tart Cherry Nutty Mug Cake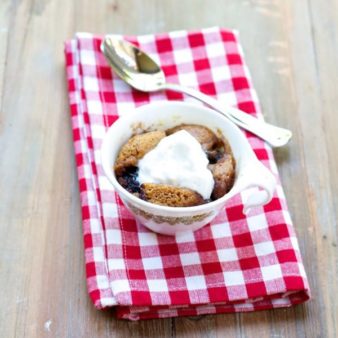 After a workout, it's recommended to have a high-protein meal or snack to prevent your body from using its own muscle tissue for energy. The high-protein mug cake with tart cherries by Healthy Aperture is a wonderful alternative to your mundane protein shakes and bars. Made with powdered peanut butter, whey protein powder, milk, almond butter, honey, and cherries, this snack is an easy microwave mug cake for anyone with five minutes to spare. When you're tired from a great workout or just a long day, pop the batter into the microwave for two minutes for a healthy mug cake snack to tie you over until your next meal. (Upgrade: Add whipped cream, yogurt, or ice cream as a topper for a more decadent dessert.)
20. Keto Avocado Cake From A Mug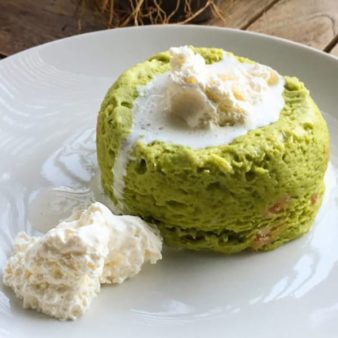 Feeling adventurous and wanting to try something very different? My Sweet Keto has an out-of-this-world keto mug cake made with avocados. It's a super easy mug cake to make because all you have to do is throw all of your ingredients into an S-blade food processor. Combine almond milk, an avocado, egg yolk, macadamia butter, whey protein powder, and baking powder for a moist keto mug cake ready to be served. (Upgrade: Add whipped cream or mascarpone if you desire; the cake will be much richer and fulfilling!)
21. Chocolate Espresso Mug Cake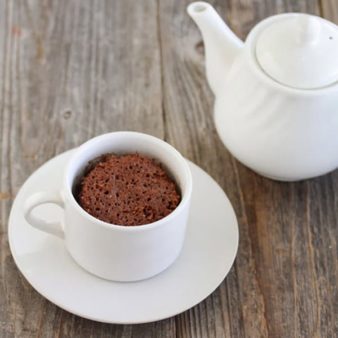 An afternoon pick-me-up coffee mug cake is a great way for your caffeine intake without drinking another cup of coffee. The coffee and chocolate mug cake from Kirbie's Cravings will need chocolate chips, milk, flour, baking powder, espresso powder, and oil. Once combined, microwave for about 40 seconds for a rich espresso and chocolate cake in a mug. Let cool after being cooked. ( Upgrade: Sprinkle icing sugar and some chocolate drizzle for a mocha cake in a mug.)
22. Chocolate Hazelnut Mug Cake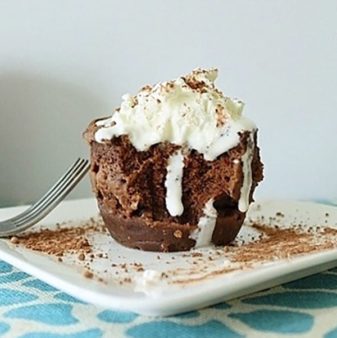 It's Saturday night and you're planning to enjoy your weekly Netflix binge fest, but you'd like a sweet treat to enjoy while you watch. What better to make than a chocolate hazelnut mug cake that will take less than five minutes in the microwave? The delicious recipe from Running to the Kitchen only calls for a few ingredients, but looks like a gourmet dessert when finished. It's the best cake-in-a-mug snack to satisfy your sweet tooth during a movie night. (Upgrade: If you have some whipped cream, add this on top to sweeten it up a bit more.)
23. Cookies-And-Cream Mug Cake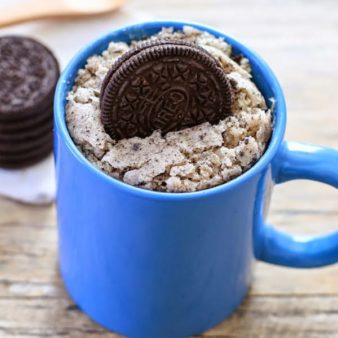 Oreos aren't just for kids! For the best chocolate mug cake dessert lovers of any ages can enjoy, check out the recipe from Kirbie's Cravings. Stir together white-chocolate chips, milk, flour, baking powder, and some crunched up Oreo cookies in an over-sized mug. Microwave for a minute and you'll have the most fun chocolate-cake-in-a-mug recipe for you and your family. This is a great mug cake recipe to follow if you are trying to teach your kids how to make a mug cake.
SKM: below-content placeholder
Whizzco for 12T