Fun to look at, but even better to eat.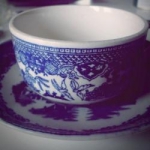 Rose Heichelbech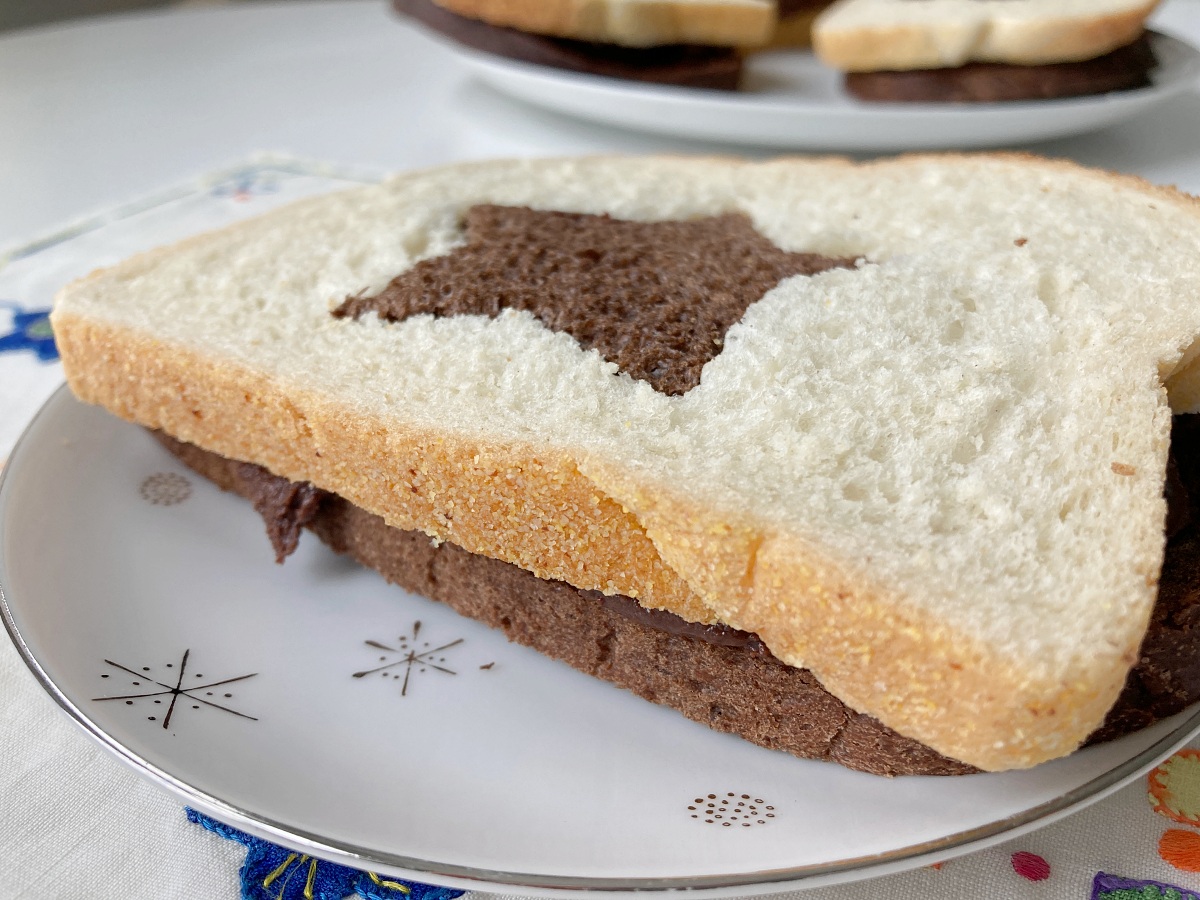 Sandwiches today are a staple menu item at home and when dining out. But, the evolution of the humble sandwich has gone through some twists and turns over the years. The 1930s were renowned for having some truly awful sandwiches, but what about the 1920s? As it turns out, there's at least one sandwich from the decade that's very much worth trying out today.
This recipe for chocolate sandwiches was originally made for the F.W. McNess Company, a manufacturer of spices that pioneered the concept safety-sealed samples for customers to hygienically try out new products. Their booklet on how to use their cocoa powder included this recipe, with the suggestion that the home cook cut the sandwiches into star shapes. Ruth from Mid-Century Menu had the idea to use 2 different colors of bread and a cookie cutter, which is a brilliant way to make these simple sandwiches very cute.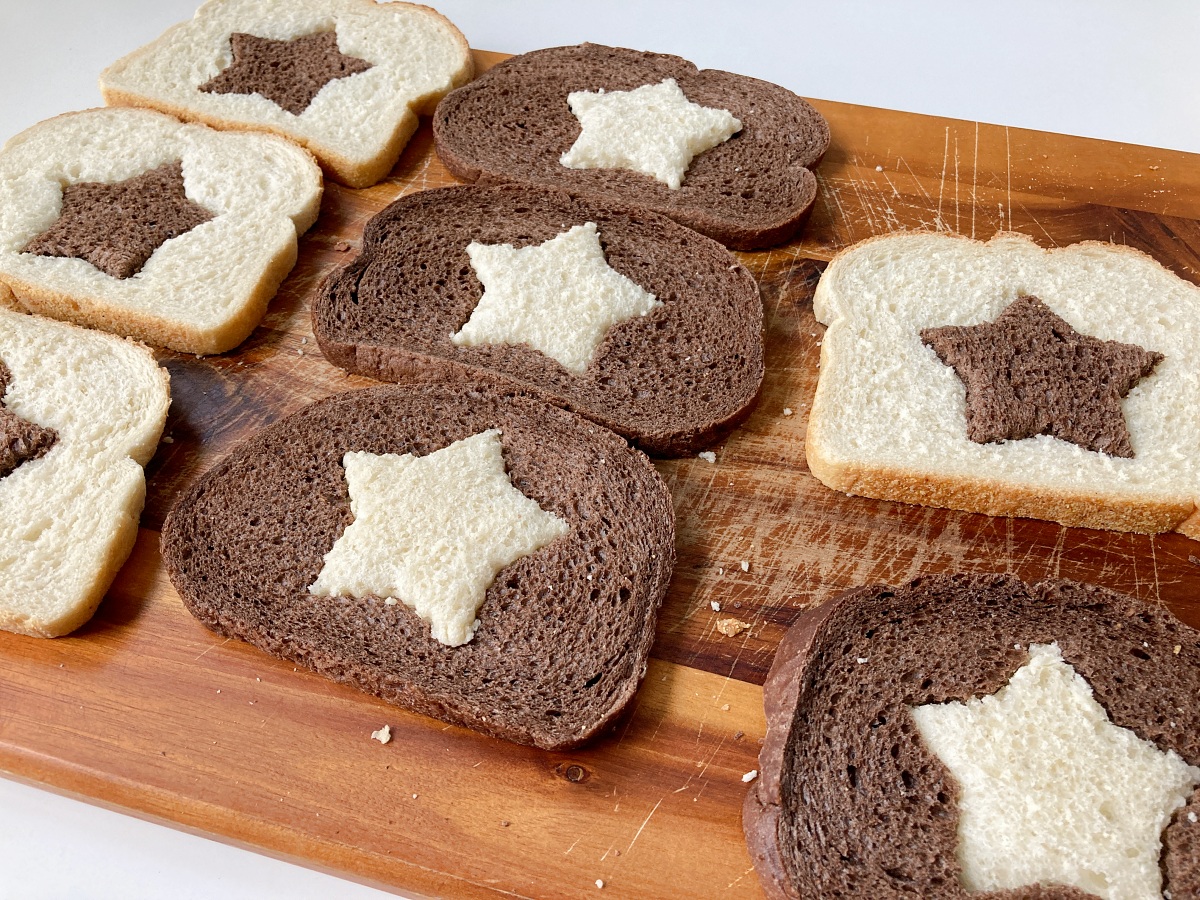 The original recipe used a little peanut butter and sugar, but I decided to up the amounts for a more modern take on this irresistible sammy. The taste is almost like if a peanut butter cup was made into a sandwich. Of course today we have Nutella, but a peanut butter version in my opinion is much nicer. You could also use almond or sunflower butter if you prefer.
For this recipe I used slices of white deli bread and some pumpernickel. If you don't enjoy the taste of pumpernickel then you can use whole wheat instead, but I found that the dark bread only enhanced the rich flavors of the filling.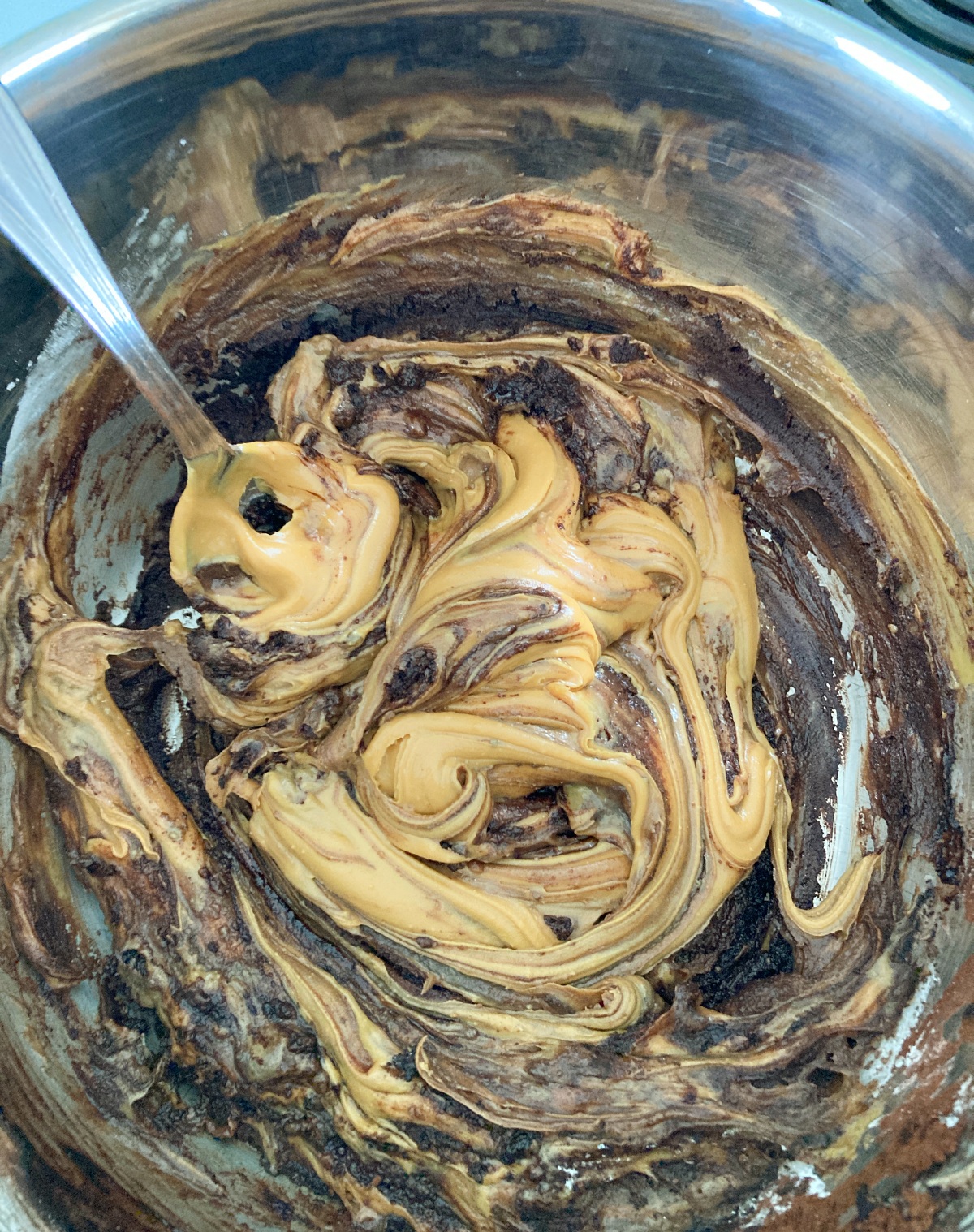 Once you have your shapes cut out and then stuck into opposite colors of bread, you can begin on the chocolate spread. It's a simple mixture of butter, sugar, vanilla, and peanut butter. I used powdered sugar instead of granulated so that it would be perfectly dissolved even at low temperatures. You only need to heat this until you everything is melted, so make sure not to over do it on the heat.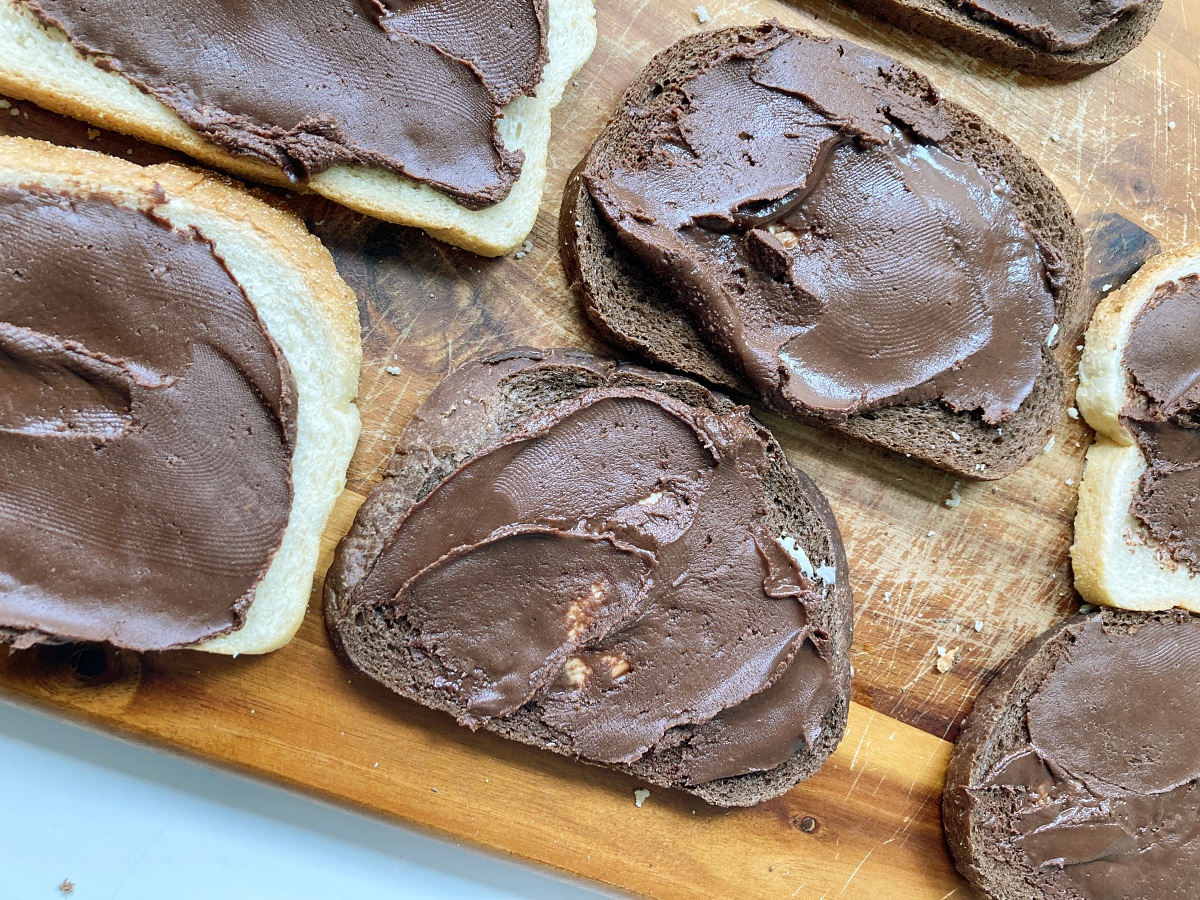 Then carefully spread some on each piece of bread. The filling will act as the glue to keep the cut-outs in place. You can also skip the cut-out process and just use a slice of white and dark bread for each sandwich or use all the same color.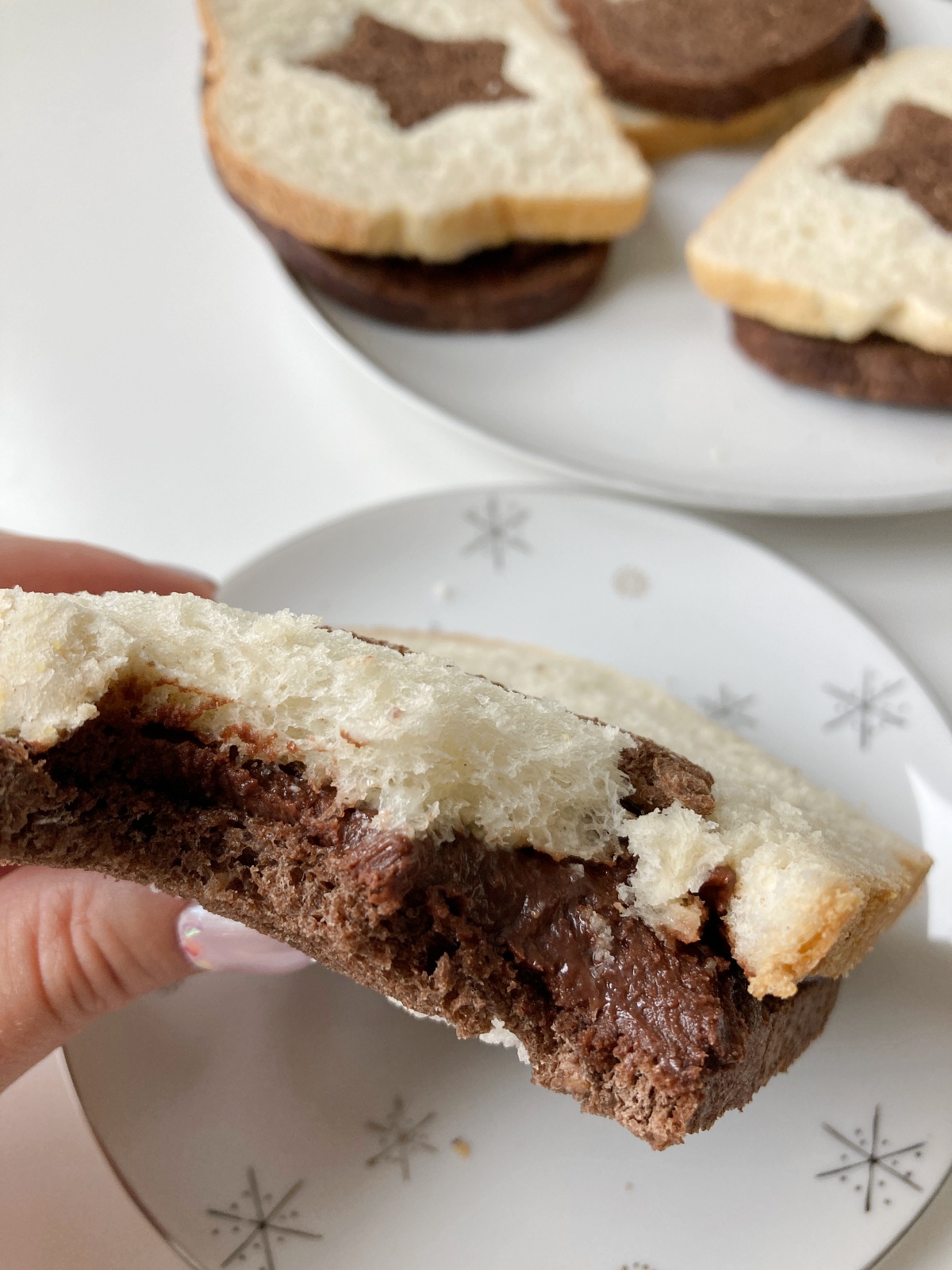 These make for a festive lunch, snack, or teatime treat. Turns out there some really excellent vintage sandwich recipes out there!
1925 Chocolate Sandwiches
Makes 4 sandwiches
35m prep time
10m cook time
Ingredients
6 tablespoons butter, room temperature, divided
7 tablespoons powdered sugar
2 tablespoons Dutch cocoa powder
large pinch salt
1 cup smooth peanut butter
1 teaspoon vanilla extract
4 slices white bread
4 slices wheat, pumpernickel, or rye bread
Preparation
Heat 5 tablespoons butter along with sugar in small saucepan on low until melted. Sift in cocoa, salt, peanut butter, and vanilla extract to pan and stir until melted and smooth. Remove form heat and allow to cool for 15 minutes.
While filling is cooling take bread slices and use a cookie cutter to cut out of the center of 4 slices. Take the cut out shape of one color and add it to the other color to make 2-toned slices of bread.
Spread remaining butter over 4 slices of bread. Add filling on top and spread before adding decorative slices on top. Serve within 2 hours of assembling.
Recipe adapted from Mid-Century Menu .
SKM: below-content placeholder
Whizzco for 12T