Ready or not, the holidays are here! It's crazy to think that Christmas is just around the corner. Along with the snow, Christmas baking, holiday parties, last-minute shopping, and panic-cleaning, come some pretty hilarious DIY decor ideas from around the web. I've collected a few of my favorite Christmas tree decor ideas that range from clever to outright horrible – in the best way possible. Take a break from the hustle and bustle of the season to enjoy these Christmas trees!
404 Decorations Not Found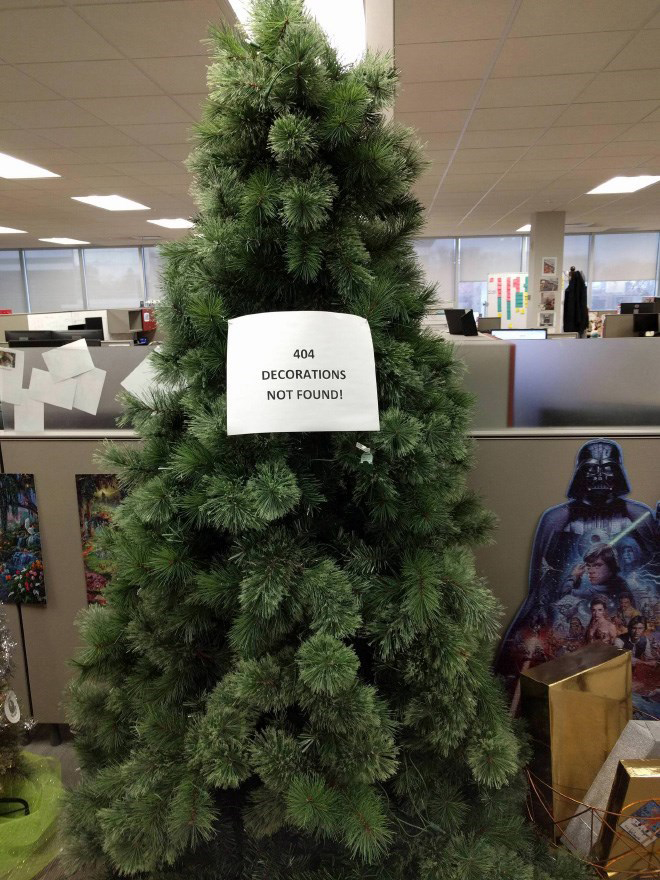 I don't know what I love more – the printed sign on the tree or the fact that this person put together an eight-foot-tall Christmas tree in his cubicle! I respect it as much as I find it hilarious.
The Lazy Man's Christmas Tree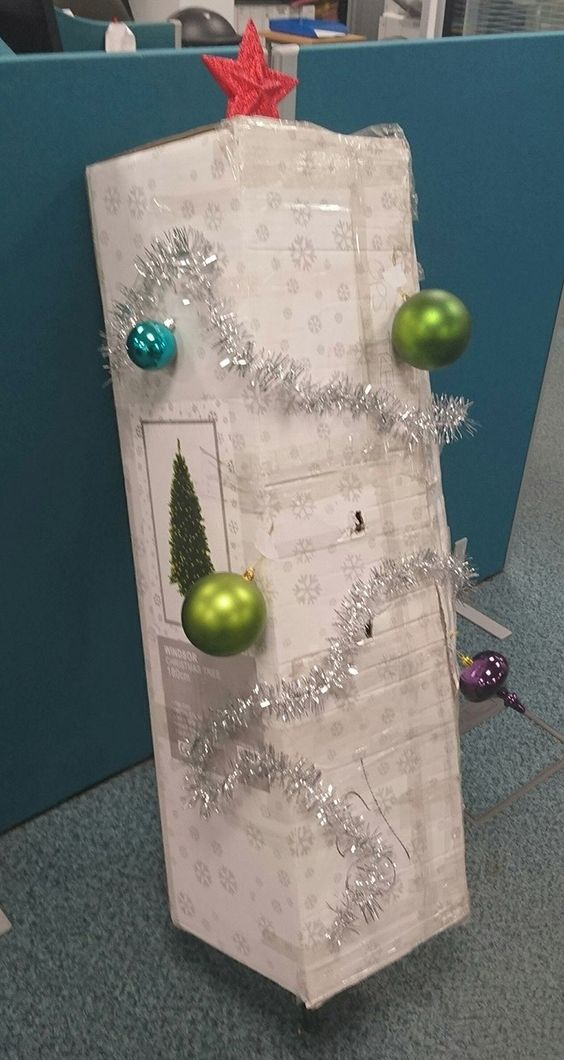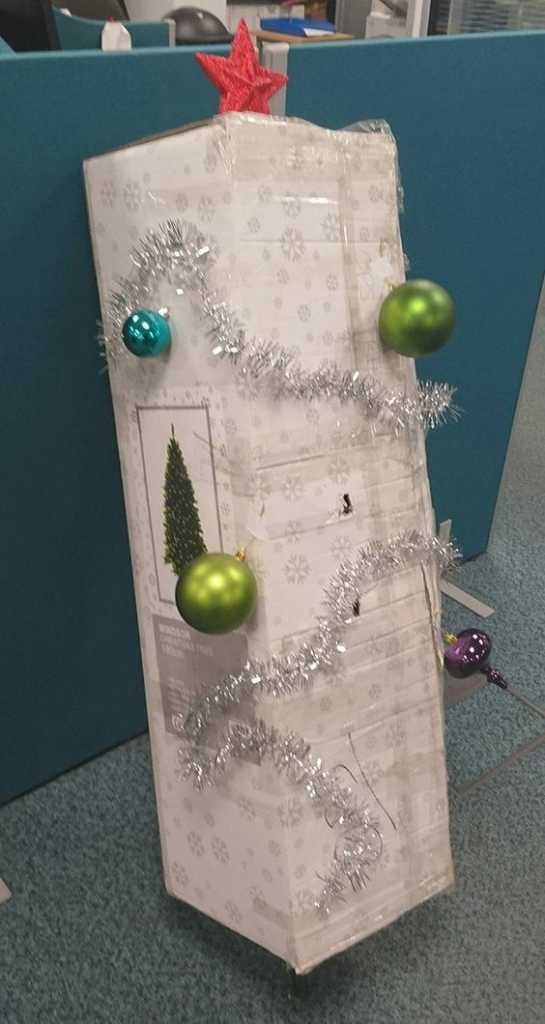 My husband would absolutely do something like this if I told him to put up the tree and decorate it. In fact, I'm pretty sure he did this for our first or second Christmas after we were married. There's a reason I'm the only one who decorates…
Harmonious Christmas Display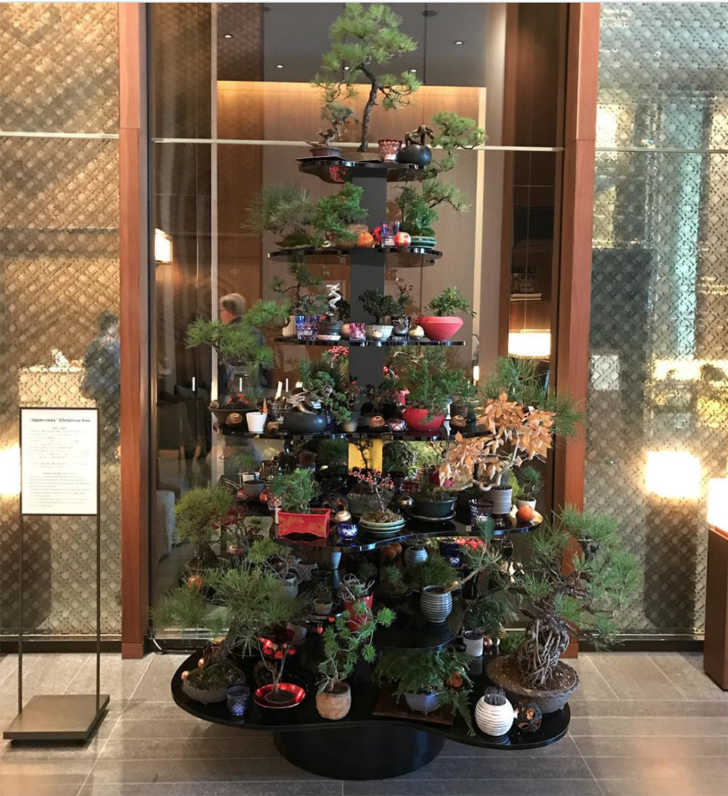 I don't know what it is about this display, but I love it so much! It's a subtle nod to the holiday season while still showing off their beautiful plants. Well done!
Festive Laundry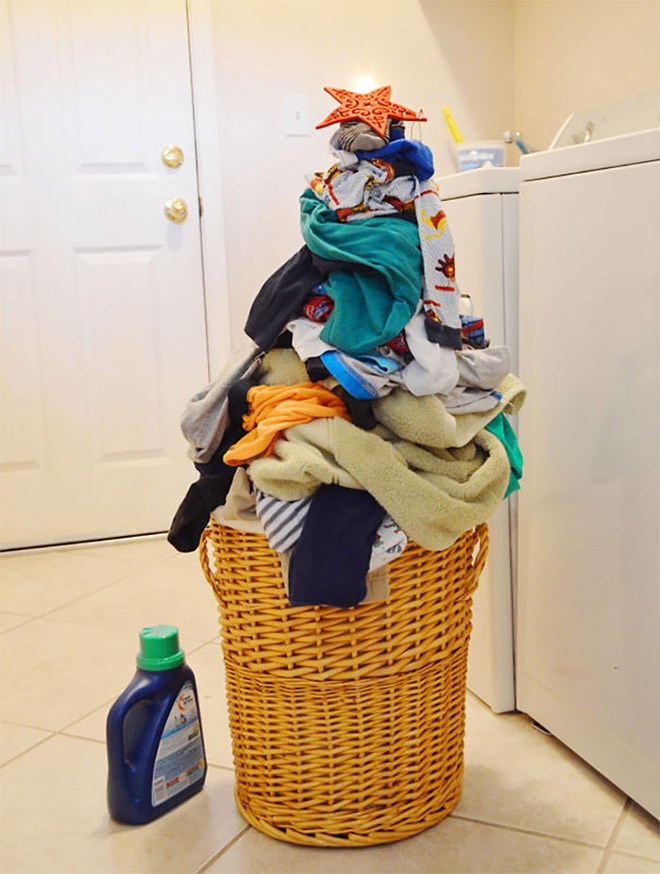 I've seen this picture floating around the internet for a while, and it never ceases to bring a smile to my face. I hate doing laundry, and I love decorating for Christmas. This seems like a great way to kill two birds with one stone!
Tropical Christmas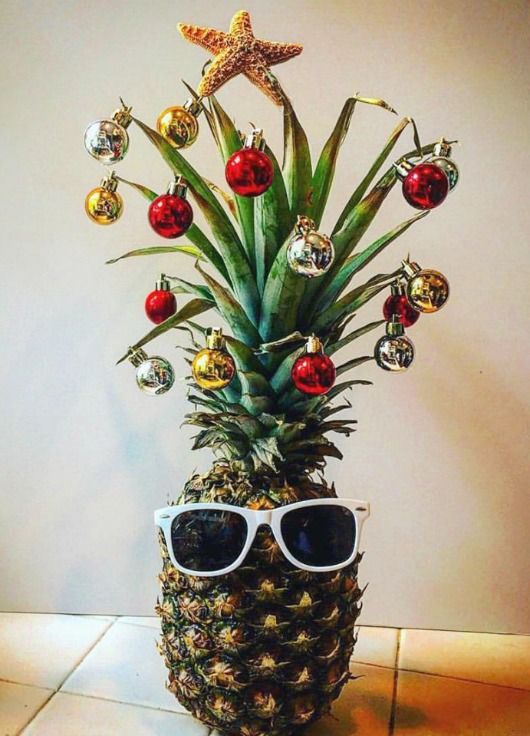 Unless you already live in a tropical climate, not many of us will be traveling for the holidays. However, you can bring a bit of that tropical vibe to your Christmas decor with this cute pineapple Christmas tree!
Shelf Tree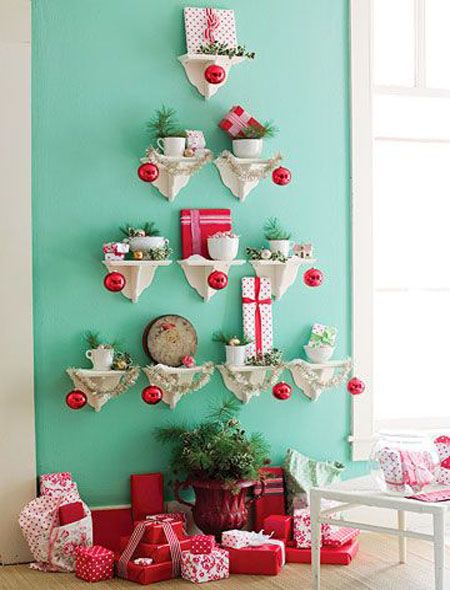 Just like the plant display, there's just something about this arrangement that's so aesthetically pleasing! The pastel teal and bright red have a very vintage feel to them as well. I just love looking at this!
Tire Tree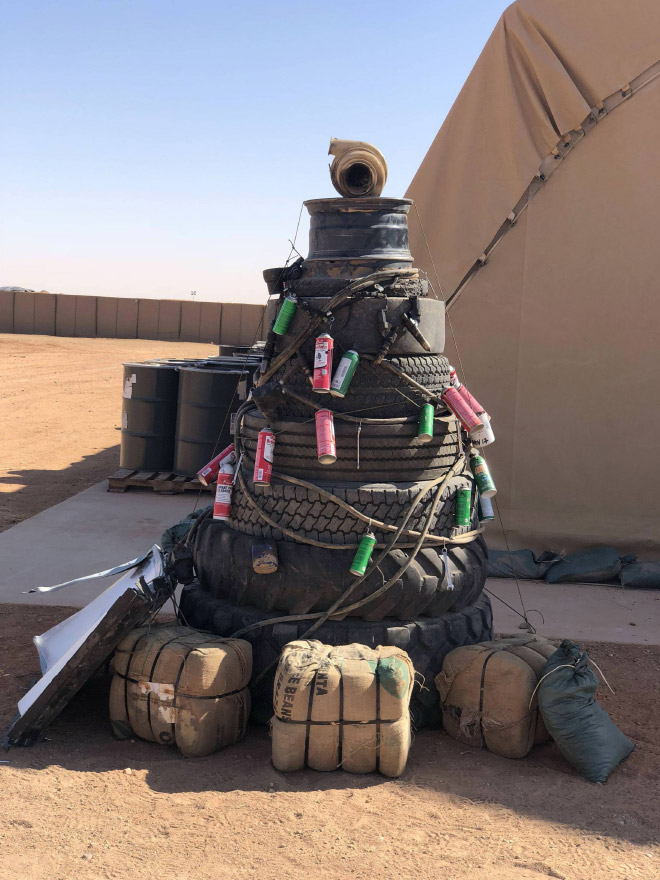 Hey now, the folks who built this are nothing if not resourceful! It looks like this was put together on a military base, which makes the whole thing more wholesome. What is it about having a Christmas tree – no matter what it's made from – that makes us feel all warm and cozy?
Ornament Spill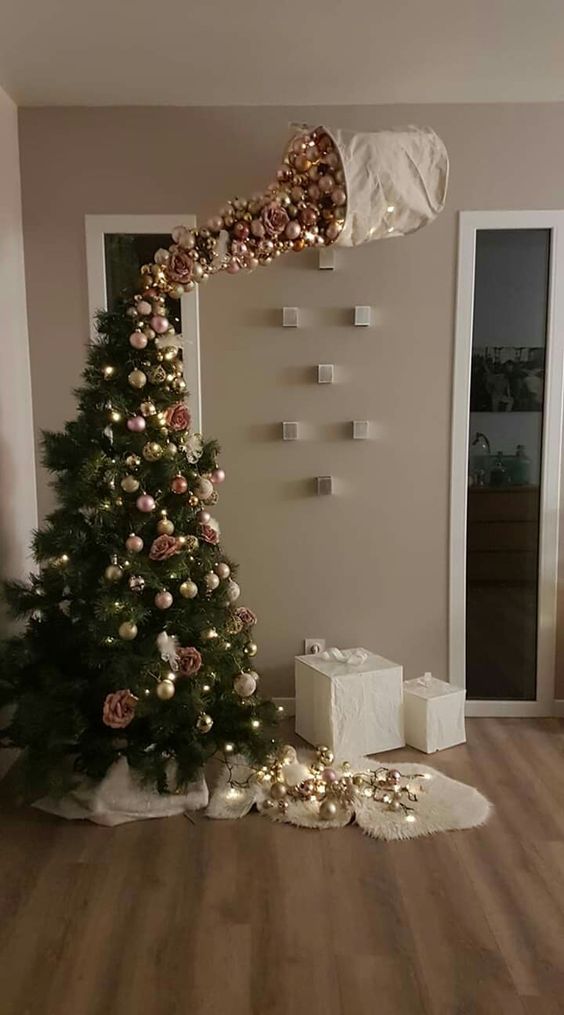 This is so clever and absolutely beautiful! It looks like it took about 10x as much effort to decorate this way as opposed to just hanging the ornaments like normal, but I love it. If you're looking for something a little different and eye-catching, this is the one for you!
Festive Flip Flops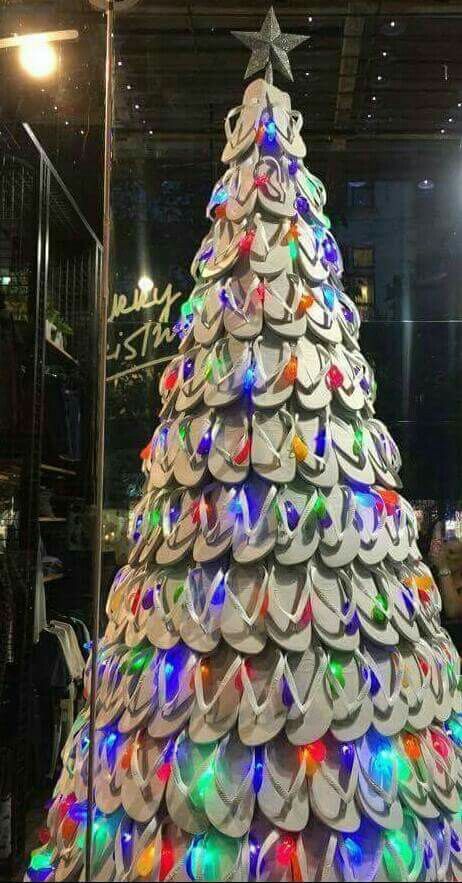 Here's another display that's put together just for the Christmas season! The fact that it's a tree made out of flip flops just gets me. I'm from the midwest, where we often have the first blizzard before Thanksgiving – and this year it was before Halloween! But my cousin and I used to wear flip flops all year 'round, despite our parents scolding us. Here's to you, Laura!
Library Tree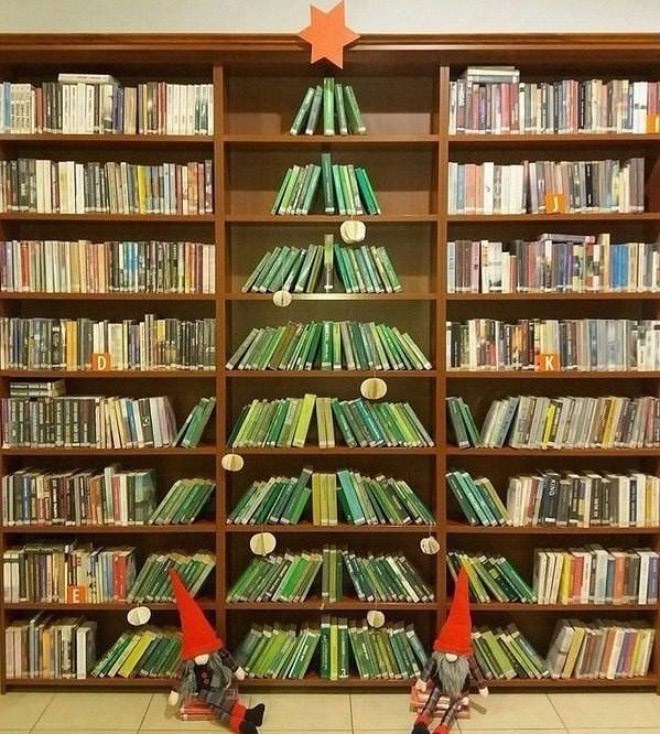 This last one warms me up and gives me all the feels. I love that the library wanted to be festive but didn't want to harm the books (for good reason). There was one, or several, wonderful librarians who put this beautiful display together, and I want them to know I appreciate their efforts!
SKM: below-content placeholder
Whizzco for 12T