Marshmallows are a campfire favorite, a snuggle buddy to cocoa, and a fun confection for holidays. They are also super easy to customize when you make them at home! With only a little bit of flavoring and some food coloring, you've opened a whole new world of fluffy fun!
Although the basic marshmallow is white and uses vanilla extract, we thought it'd be fun to try something different! Although you can use whichever color/flavor combo you'd like (for example: mint/green or blue/raspberry if you're feeling exotic), we chose to make pink marshmallows with almond extract. They're delicious and they make great gifts too! Time to pull out the candy thermometer and get marshmallow-ing!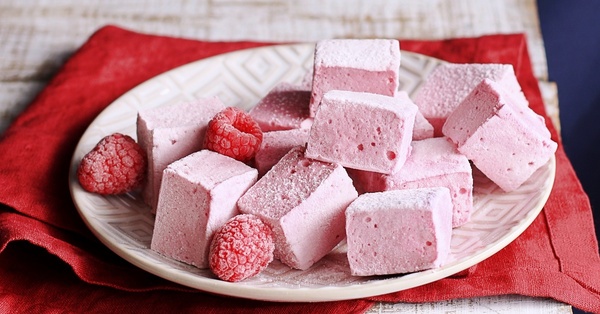 Fluffy Pink Marshmallows
(yields 2-3 dozen, depending on size)
Ingredients
3 1-ounce packages of unflavored gelatin
1 1/2 cups cold water (divided)
1 1/2 cups granulated sugar
1 cup light corn syrup
1/4 teaspoon salt
1 tablespoon almond extract
1/2 teaspoon red food coloring
Powdered sugar
Directions
Combine gelatin and 1/2 cup of cold water in the bowl of an electric mixer. Let this rest while you prepare the rest of the recipe.
Pour 1 cup of cold water, sugar, corn syrup, and salt in a deep saucepan without stirring. Boil these ingredients on medium heat.
Once the liquid has reached a rolling boil, add a cover the saucepan for two minutes. Clip your candy thermometer to the saucepan and keep boiling the mixture until it is right below 250° F. Remove the pan from heat and detach the thermometer.
Attach your whisk attachment to your electric mixer and set to a medium speed, mixing the gelatin. Slowly pour the syrup down the sides of the mixing bowl. The mixture will begin to expand.
Cover the mixing bowl with a towel and increase the speed of the mixer. Mix on high speed for 6 minutes.
While the marshmallow mixture is thickening, spray a deep baking pan (around 12″ x 17″) generously with cooking spray.
Add the almond extract and the food coloring to the mixture. Mix for 6 more minutes until the mixture is shiny and firm.
Quickly pour your marshmallow fluff into the baking pan before the mixture begins to set. Spray a spatula with some cooking spray and use it to smooth the top of the marshmallow mixture.
Let the marshmallows sit uncovered overnight. It could take up to 24 hours for the marshmallows to fully set.
Once they have fully set, dust your countertop lightly with powdered sugar and carefully remove the marshmallow from the baking pan with a spatula. Place it on the countertop then dust the top with powdered sugar.
Cut into rows about 1 1/2 " wide and then cut 2″ pieces off of these rows. Dip the sticky, freshly cut edges into the powdered sugar on the countertop.
Once finished, store in an airtight container.
Recipe adapted from The Kitchn
SKM: below-content placeholder
Whizzco for 12T