We all remember the glory days of the water bed. Whether your parents or grandparents had one, they were a fixture in the American home. It felt like everyone we knew had one when we were growing up. Like most fads, the water bed went from being overwhelmingly popular to a thing of the past before you could blink. We are not sure where they all went but they are gone now.
People have clearly moved on and the water bed has become a relic that is associated with the 1970s and 1980s. These beds were not exactly the most practical item to have in the house and everyone knew someone whose bed sprung a leak. We cannot begin to imagine the annoyance of having to clean up after a flood of this magnitude, which is probably why the craze died out as quickly as it came.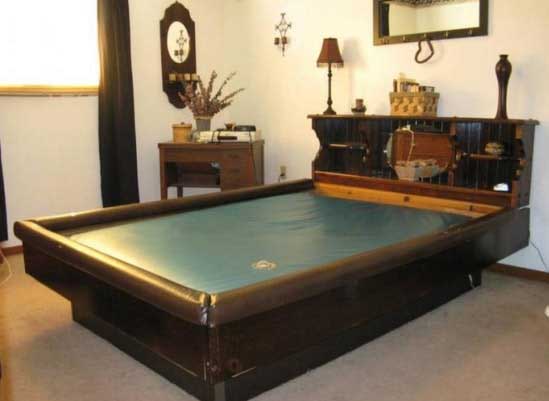 Charles Hall is the man who invented the first model. You would think that he would be willing to sit back and rest on his laurels at this point. In reality, he is actually working tirelessly to bring the beds back into the public eye. If Hall has his way, these beds will become a prominent aspect of American homes once again. The beds were invented over 50 years ago now but that has not stopped Hall from spreading the word.
Most of us haven't seen one since childhood. As for Hall? He is still the proud owner of multiple water beds. "In each house, I have a waterbed," Hall says. In his mind, they are the most comfortable bed that you can sleep on and he would not have it any other way. He believes that the current generation should be able to appreciate these specialty beds if they are ready to give them a chance.
Millennial shoppers are not familiar with them, so Hall has a point there. Maybe the younger crowd would like them if they knew anything about them. Hall is looking to sell these beds to today's customers and is in the process of developing a new model. It is slated for release later this year. Temperature control options will be added and certain changes have taken place with the design.
He is looking to put a stop to all of the "waves" that kept our parents from being able to enjoy a comfortable sleep. The frames are also going to be more streamlined. Humans tend to be nostalgic for older furniture pieces, so Hall is looking to capitalize on that nostalgia.
SKM: below-content placeholder
Whizzco for 12T