Such a tasty new way to enjoy vodka sauce!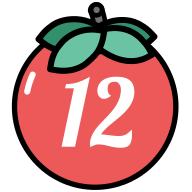 Dom Ruane
Working as a private chef, you always have leftover ingredients in the fridge. One day when deciding what to make for dinner, I had pizza dough, prosciutto, fresh mozzarella, and leftover vodka sauce. Oooh, baby the ingredients told the whole story and thus Vodka Sauce Pizza with Prosciutto was born!
Prosciutto is such a perfect addition to this pizza. If you're unfamiliar, it's basically very thin bacon that isn't smoked, so you're just provided with that delicious salty crunch. The perfect way to enjoy leftover prosciutto is wrapped around fresh or soft cheeses or baked to crispy perfection.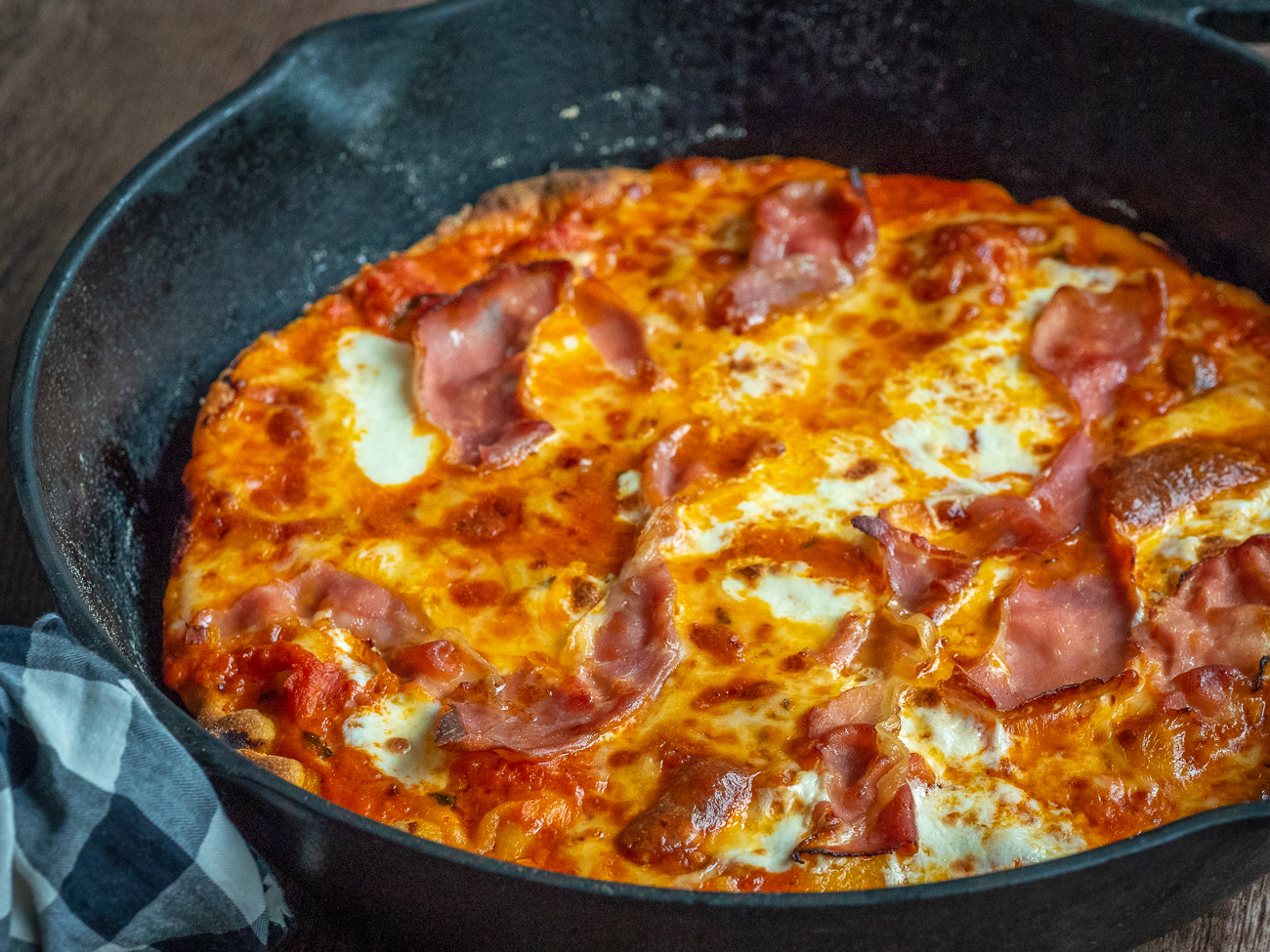 I've learned over the years when it comes to making homemade pizzas to par-bake pizza crusts. Not only do you end up with a consistent product, but you can prepare these crusts in advance for a fun lil make your own pizza party. All you have to do is bake your pizza crust for 4 -6 minutes at high heat. I know I'm not the only one who prematurely threw some freshly rolled dough on a pizza peel and built a pizza on top of it that would in turn STICK to the pizza peel.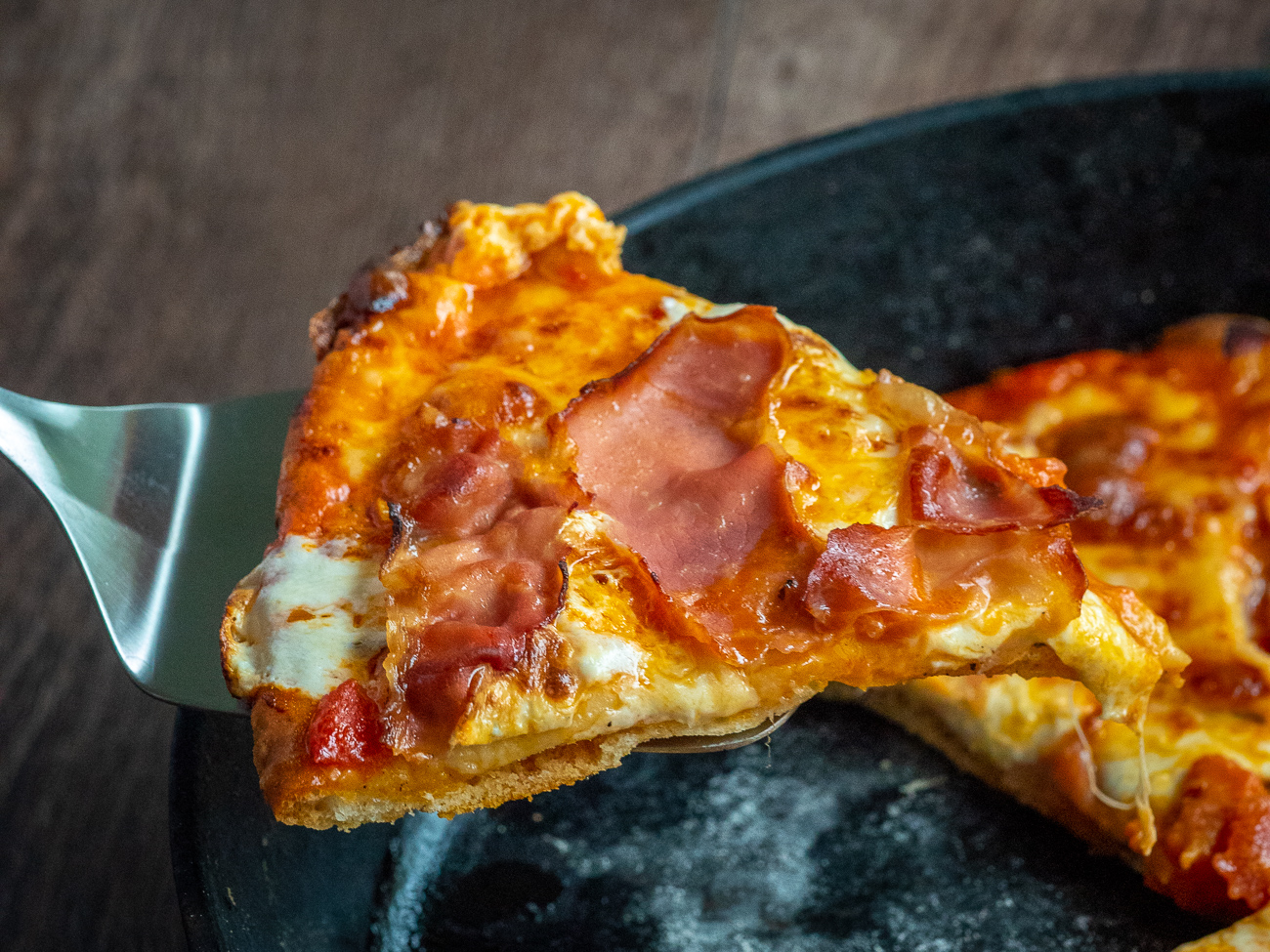 Tear your own cheese! I know, I know, I KNOW how hard it is to turn away pre-shredded mozzarella for pizza night. Trust me, laying varying cheeses strategically on the pizza helps develop more complex flavor and spots of cheesy joy! I'm from Chicago and we lay that cheese on thick — stinky cheeses like provolone add such a nice subtle flavor to pizzas. Try it next time, you WON'T be disappointed.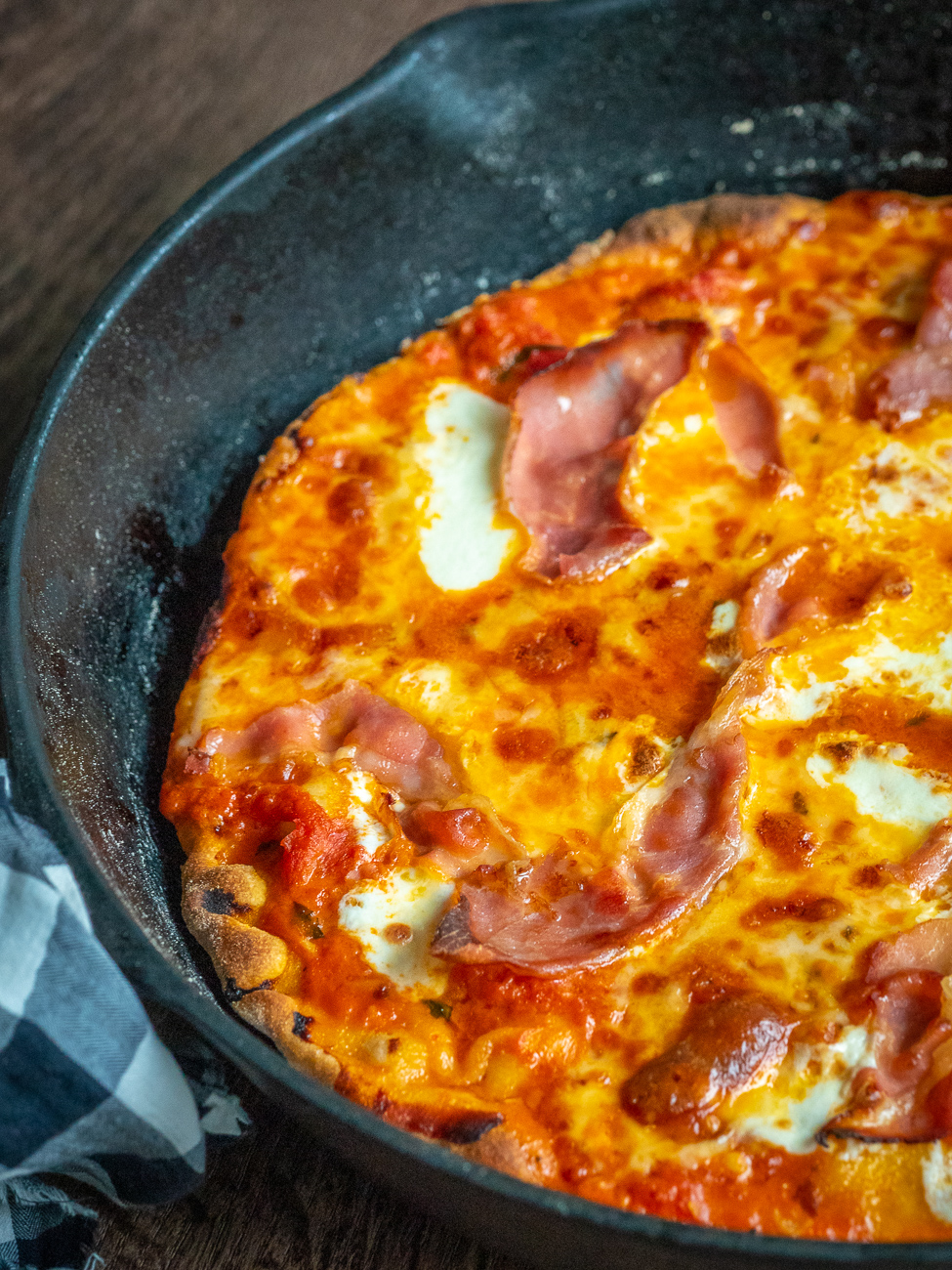 Vodka Sauce Pizza with Prosciutto
Makes 3 pizzas
15m prep time
35m cook time
2h inactive
For pizza:
1 lb store-bought pizza dough or 1 "12 Tomatoes" pizza dough recipe, divided in 3 equal pieces
1 lb fresh mozzarella, torn in long strands
4 oz thinly sliced provolone, torn into long strands
3 oz Prosciutto, torn into long strands
For sauce:
1 tablespoon olive oil
3 garlic cloves, minced
1/2 teaspoon crushed red pepper flakes
1 (28oz) can whole tomatoes, hand crushed into tiny pieces
1/4 cup vodka
2/3 cup heavy cream
1 small piece parmesan rind, (optional)
3 tablespoons basil leaves, chiffonade or chopped
Kosher salt and freshly cracked black pepper to taste
Preparation
Let the dough rest and proof until the ball doubles in size (1 – 2 hours).
In a medium sized sauce pot, add oil, minced garlic, and chili flake over medium heat. Stir constantly until garlic becomes golden.
Add hand crushed tomatoes, vodka, cream & optional parmesan rind to the pot and reduce heat to medium low. Simmer sauce, stirring occasionally until color changes from salmon-colored to bright orange, 10 - 15 minutes.
Turn off the heat, add chopped basil and season with salt and pepper. Let cool to room temperature.
Preheat the oven to 450° F.
Dust a work surface with semolina flour or all-purpose flour, and use your hands to flatten one dough ball into an even disc. Using a rolling pin, roll dough out by working from the middle of the dough up and down with even pressure, then rotate 45° and repeat.
Continue rolling until dough is thin and round, then transfer to a pizza peel if using a pizza stone in the oven, or make pizza on a pizza tray.
Par-bake the dough for 4 - 6 minutes until the dough's surface isn't shiny and repeat with other two dough balls.
Assemble the pizza by spreading 1/3 of the vodka sauce up to a 1/2 inch border around the edge, then topping with strands of mozzarella, provolone & prosciutto.
Bake until cheese is browned and the prosciutto is crispy on the edges, 8 – 10 minutes. Let cool for 5 minutes before cutting.
Mangia!
Recipe adapted from Serious Eats
SKM: below-content placeholder
Whizzco for 12T