Bánh mì is a type of sandwich that is sort of the Vietnamese equivalent of a po' boy. This is Vietnamese street food at its finest, but no need to travel across the world to try it for yourself. Bánh mì" refers to all different types of bread in Vietnamese and we apply the same theory to our sandwich. We chose to go with a nice, crusty baguette, but you can use whatever you can get your hands on, so let that be one less thing you have to worry about. The great thing about this recipe is that you are completely in control and get to take all the credit for this amazing sandwich! We cook the pork low and slow for several hours, after rubbing it down with a tasty spice mix, and we even pickled our own veggies to really round out the flavor!
While maybe not the most practical of lunches to "whip up" when you've got limited time–it does require some forethought and planning, but don't be intimidated–this sandwich is epic in flavor and you should absolutely tackle it to see for yourself!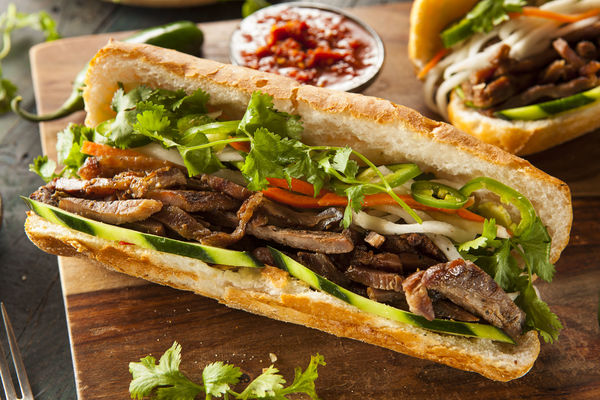 Pork Banh Mi
Serves 6
Ingredients
4 pounds pork rump roast
1/4 cup water
1 tablespoon sesame oil
Rub:
1/2 tablespoon Chinese 5-spice powder
2 teaspoons salt
2 teaspoons garlic salt
2 teaspoons ground ginger
1 teaspoon cayenne
1 teaspoon freshly ground pepper
Vegetables:
2 cups cucumber, grated
2 cups carrots, peeled and grated
1 cup daikon (Japanese white radish), peeled and grated
1 1/2 cups water
1/4 cup rice vinegar
1/4 cup sugar
1/2 teaspoon salt
Sandwiches:
6, 8-10-inch long individual baguettes, cut in half
3-4 jalapeno chiles, sliced, optional
1 cup fresh cilantro
Mayonnaise:
2/3 cup mayonnaise
1 tablespoon hot chili sauce (your choice)
Directions
Preheat oven to 225 F.
Combine all rub ingredients (5-spice powder, salt, garlic salt, ginger, cayenne and pepper) in a medium bowl and mix together.
Prepare pork by trimming off any excess fat and rubbing seasoning all over. Place in a Dutch oven and roast for 1 hour.
Remove from oven and drizzle with sesame oil, then add water to the Dutch oven. Cover and continue roasting for another 4 1/2-5 hours, or until pork is very tender.
Place daikon and carrots in a large container or baking dish. In a separate container, stir together water, sugar and salt in a glass container.
Add in rice vinegar to the water, then pour mixture over the daikon and carrots. Cover and refrigerate for 3-4 hours, stirring once in the middle.
In a small bowl, whisk together the mayonnaise and chili sauce. Cover and refrigerate before serving.
Once pork is cooked, remove from oven and let cool 10-15 minutes. When it's cool, cut into strips or shred with 2 forks.
Drain daikon and carrots thoroughly and spread a small amount of mayonnaise on baguettes. Then top with an assortment of daikon, cucumber and carrots.
Add pork and cilantro, garnish with jalapeno slices and serve immediately.
Recipe adapted from My Gourmet Connection
SKM: below-content placeholder
Whizzco for 12T