I was told not to play with my food growing up, but these talented musicians actually make a living from doing just that! The Vegetable Orchestra has been around for a whopping 22 years. They are based in Austria, but they travel the world with their unique music.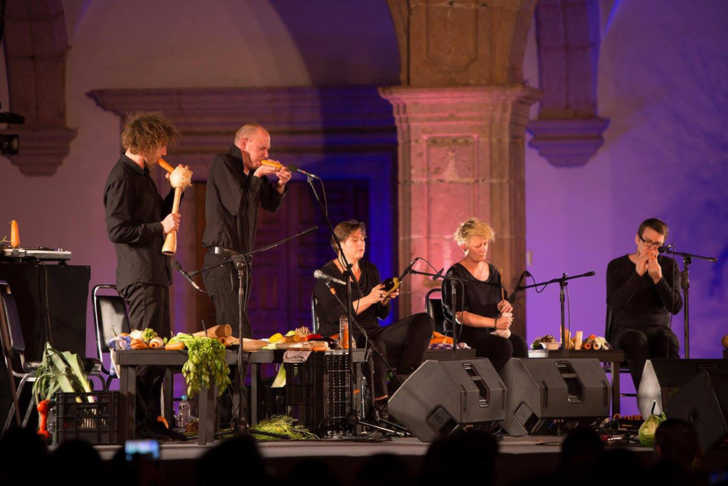 From their website: Worldwide one of a kind, the Vegetable Orchestra performs on instruments made of fresh vegetables. The utilization of various ever refined vegetable instruments creates a musically and aesthetically unique sound universe.
There are no musical boundaries for the Vegetable Orchestra. The most diverse music styles fuse here – contemporary music, beat-oriented House tracks, experimental Electronic, Free Jazz, Noise, Dub, Clicks'n'Cuts – the musical scope of the ensemble expands consistently, and recently developed vegetable instruments and their inherent sounds often determine the direction.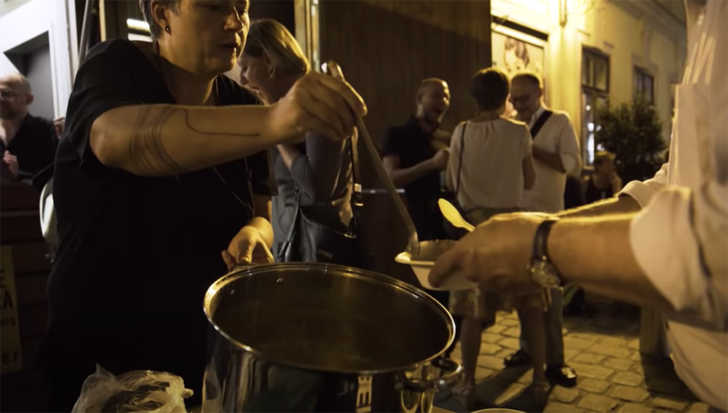 You might ask what the artists do with the veggies after the concert is over. Obviously they can't keep their fresh vegetable instruments for very long, especially since they are often cut into in order to make the sound they are going for.
The veggie scraps are made into a soup and served to the audience after each performance. They obviously wash the vegetables and cut out any parts that are no longer good, but this idea is really amazing!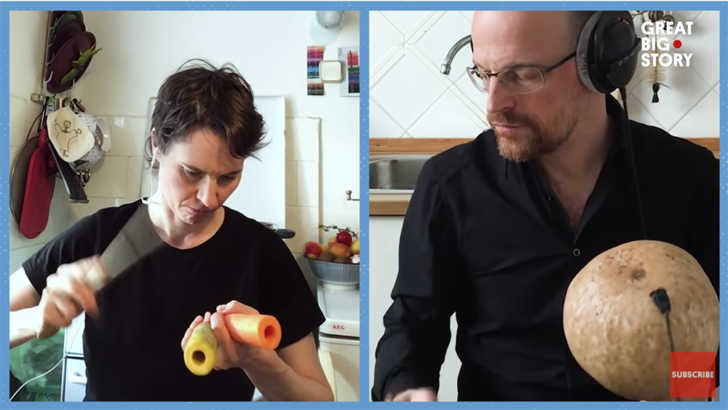 While the music itself is magical, the really amazing part is how each artist makes their instruments. They use whatever tools necessary to create the tone they are looking for – knives, drills, spoons, needles, it's all fair game. As you can see, some of the veggies even have recording devices plugged right in!
Check out The Vegetable Orchestra performing an original piece, "Greed Days." In case you're keeping up, here are the members and what vegetables they are using to create this beautiful music:
Matthias Meinharter: Onion Peels, Feebee, Leekolin, leek Clap
Susanna Gartmayer: Water Turnip, Carrot Xylophone & Delay
Jürgen Berlakovich: Distorted Eggplant
Ingrid Schlögl: Cucumberidoo, Tubecumberdrum, Carrot-Pepper Trumpet
Barbara Kaiser: Onion Bristles, Leek-Asparagus Violin
Ulrich Troyer: Calabash Bass Drum, Dried Nigerian Okra
Martina Winkler: Dried Beans
Jörg Piringer: Carrot Plop
SKM: below-content placeholder
Whizzco for 12T