The growth of the air fryer from niche product to vitally important kitchen appliance has evolved rapidly over the past decade.
Consumer preferences have moved rapidly and forcefully away from deep fried foods and oil cooking. People want healthier, more convenient, and time effective options that still incorporate the foods and flavors we love.
Below you'll find useful tips and information aimed at helping you choose the right air fryer for your needs.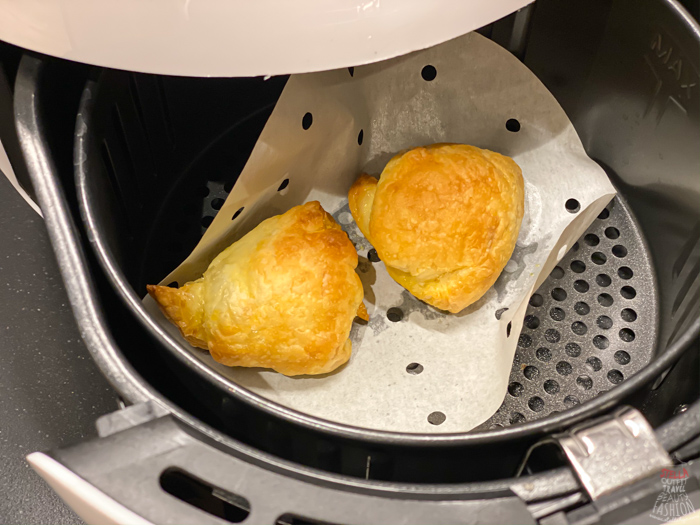 The Growth in Air Fryer Popularity
Air fryers and multi-function cookers use a lot less oil than traditional cooking methods while providing worry-free convenience for home cooking.
According to market researcher NPD, "as of July 2020, 37% of homes have air fryers." The continuing ramifications from the Covid-19 Pandemic make it extremely likely the number has risen towards 50% or even more.
"The adoption of air fryers is expected to rise strongly owing to advancements in features including LED screens, intelligent sensors, and touchpads, for improvements in accessibility and time-saving functionalities," said research firm FMI.
Modern air fryers are developing quickly in variety, technology, and capability, which of course creates variation in pricing, gadgetry, and overall performance.
Below are the most important factors to consider when judging air fryer pricing. If you can identify the crucial ones for you, the process of buying an air fryer becomes much simpler.
Price Considerations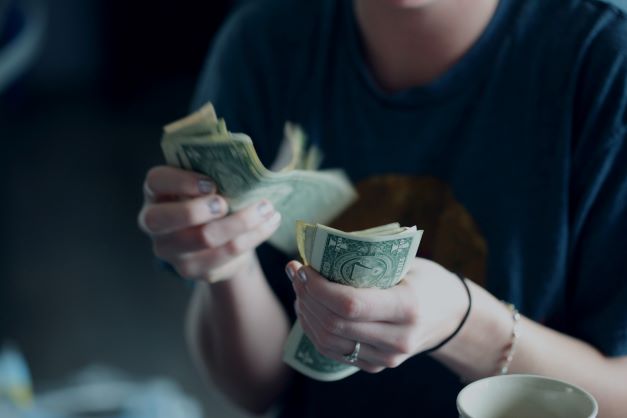 The price of an air fryer is an important consideration when making your purchase, however by doing some research you can figure out the features that are important to you.
Generally, air fryer pricing ranges from around $30 for the very cheapest appliance, to $200+ for the top of the range products.
The Manufacturer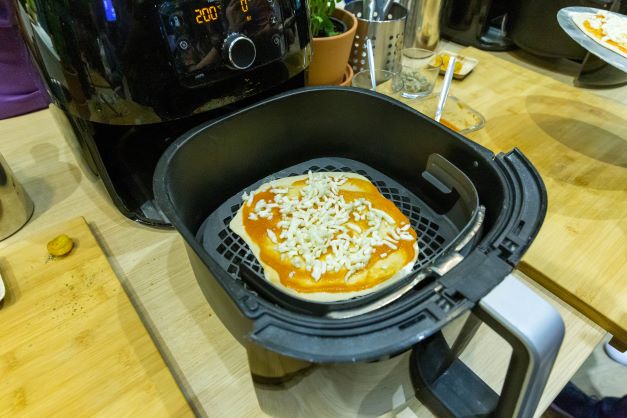 Leading brands have been putting a lot of research and development into air fryer technology, emphasizing LED and touch functionality, pre-programmability, power efficiency and noise.
Brand recognition also plays a big part in consumer decisions for most kitchen appliances, with people more likely to spend on air fryers from brands they have comfort with from previous purchases.
Model Type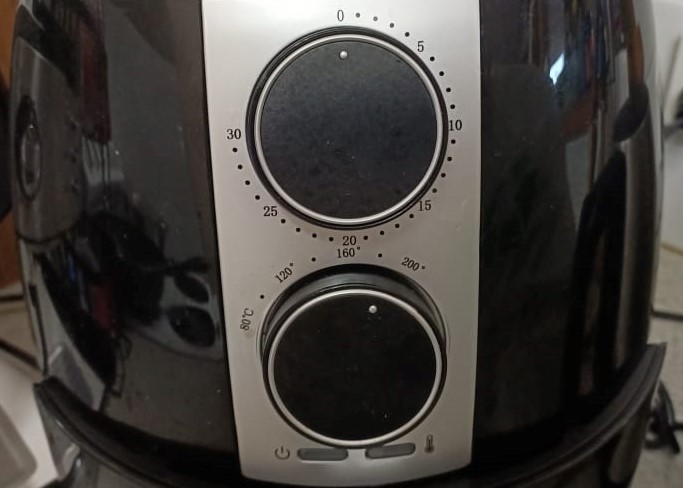 Contemporary air fryer models, as mentioned above, are implementing as much new technology as possible. LED screens, one-touch and pre-programmable keys drive an increase in cost.
Cheaper and or older air fryer model types use less pinpoint timing and temperature knob settings (as the picture above from my own air fryer demonstrates).
The sleekness of the design and customizable elements (such as color) for your own kitchen, weight, noise, and portability also often translate to steeper prices.
Tray Capacity and Cleaning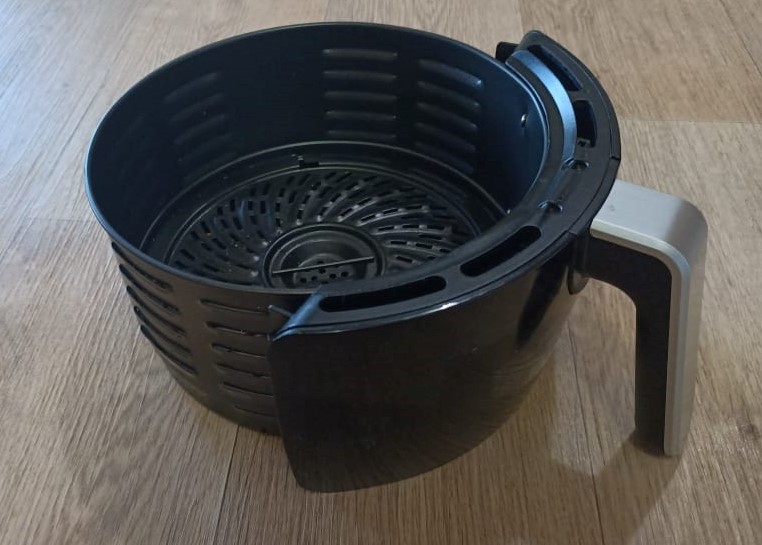 One of the most important factors in choosing an air fryer is the tray capacity, and the ease of cleaning your tray after use.
Lead-in models offer only a single tray of less than 1 gallon, which may not be enough to cook large amounts for a family. More expensive models can cook as much as 16 liters worth of food in one go, and may offer the chance to have more than one layer stacked into the cooker.
The best air fryers are quick and easy to clean, often necessitating just a wipe out with a damp cloth and absorbent towel.
Accessories
My cheap air fryer came with a very simple operational guide and basic cooking time guidelines.
More expensive products come with comprehensive usage guides, troubleshooting instructions, and innovative full recipes for use.
You'll also find when purchasing an appliance, other accessories come as part of the deal, or you can purchase them separately to use with your machine.
Warranty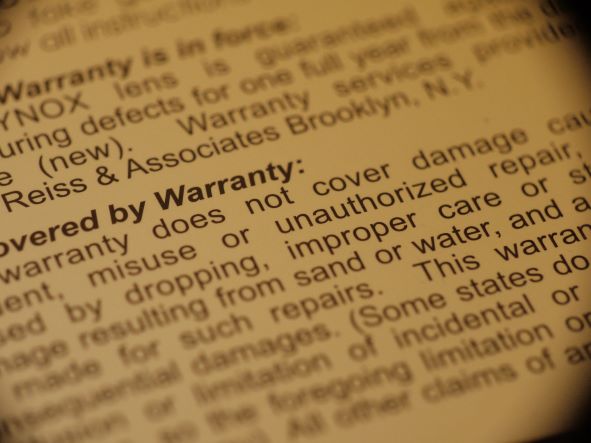 Expensive kitchen appliances often come with comprehensive, longer-lasting warranties, as they often use materials that are more expensive (or completely impossible) to replace. Your investment in the product deserves quality care after purchase.
Cheaper brand warranties are limited, but at the cheap price point simply replacing a faulty item may be a better option than trying to get it fixed or replaced.
My Air Fryer Experience
My wife bought me our air fryer, the cheapest available, as was the original plan. It's small, simple to use, and loud, but is perfect for what we need. It cooks snacks, frozen foods, eggs, and even trickier meals such as pork belly (see above, it was awesome!!!), while giving us plenty of scope for experimenting with cool recipes we can get off the internet.
Buying a cheap air fryer was the right decision for us at the moment, however, when it's time to upgrade, the most important factors that will inform my decision are the following:
An accurate digital timer and temperature
Larger capacity than our current 3.5 liter tray
Easy cleaning
And suitable accessories for cooking different food varieties
I'm positive we won't need the most exciting and innovative brand, the quietest machine, or an iron clad warranty. We will be looking for a mid-priced option that ticks the boxes above.
Pre-programming and fancy one-touch applications aren't that important either, we'd just like to get everything right, and still like to cook traditionally by using the oven or barbecue.
Conclusion
Now that I own an air fryer, I don't think I could go back to not having one. Much like the microwave, the air fryer is a frequently used appliance in our kitchen.
It's great for convenience and a better, more thorough method of cooking a lot of foods, particularly those I used to deep fry. The next step is to get a better one, or maybe a multi-function instant pot.
SKM: below-content placeholder
Whizzco for 12T