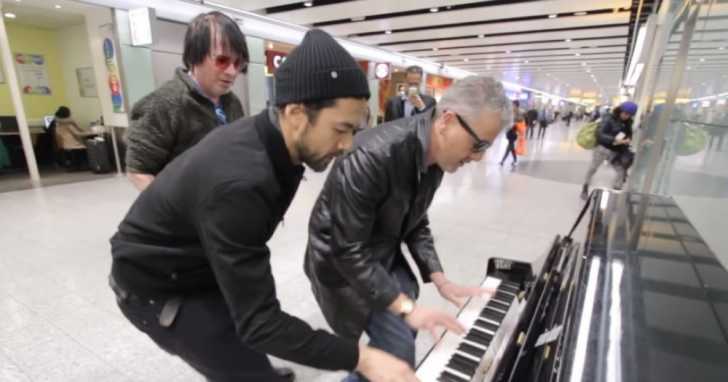 There's just something so inviting about a lonely piano. An instrument which is designed to bring such delight, just sitting there with nobody to play it.
It's an existential question: is a piano without a player even a piano, or does it become furniture?
And, even when someone does play it, they probably do some half-remembered, out-of-time version of "Chopsticks". Nowhere is a lone piano a sadder sight than in an airport- a place with a huge amount of foot-traffic, weary travelers, and grumpy TSA agents.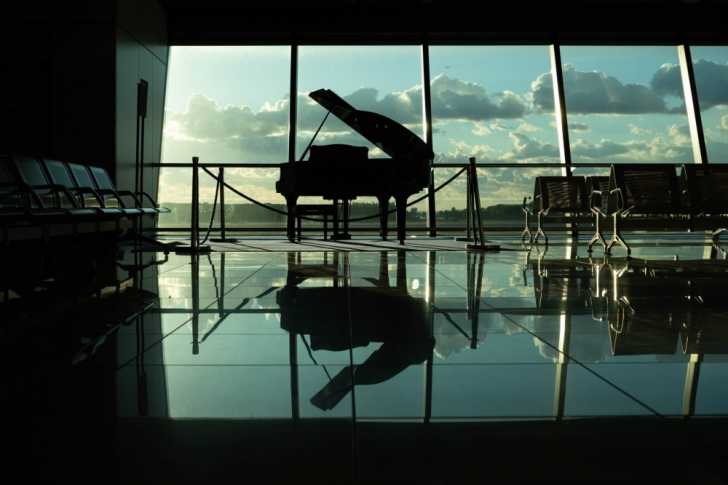 Is there nobody out there to turn a sad piece of airport furniture into a mood-transforming musical machine?
IS THERE NOBODY? Yes. There is.
A troupe of three itchy-fingered Boogie Woogie players -who go by the names of Dr. K, Terry Miles and Kenji- turn a solitary Heathrow Airport piano into a jukebox of merriment. That may sound like the blurb for a Mary Poppins-style movie, but it happened, and somebody filmed it.
It all started when Dr. K himself sprung into action with his two piano pals by his side.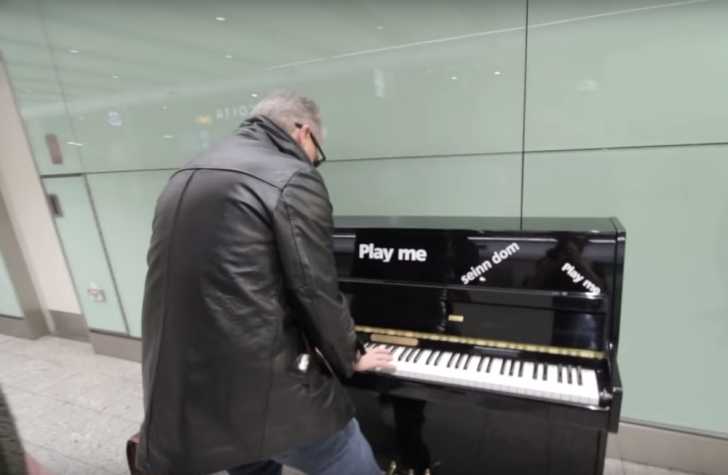 Dr. K takes to the keys like a thirsty man to water or a duck to water. A thirsty duck to water…
With his thick cockney accent he goes "alright, let me try it, I'll go right in. One, two…and…." On three he does go right in, and begins with his honky-tonk sounding main-section.
Then it's time for Kenji to jump on in!
He immediately adds to the oomph of the song by adding his cheerful, dextrous high notes over Dr. K's rhythmic chords. This song just stepped up a notch! If we had honky-tonk before, now we've got the honkiest of tonks!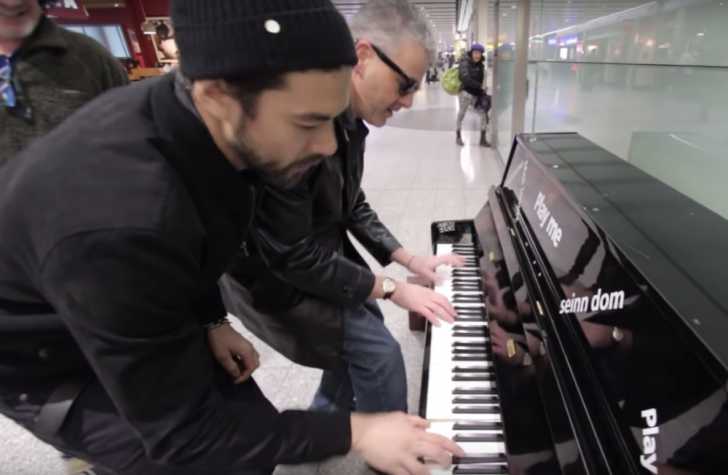 Next up is the third man to the jam, Terry Miles.
He takes Kenji's place and jumps in with his own melody. This is the beauty of the Boogie Woogie style. It's all in and out, swapping places and improvising tunes. It's ever-changing, high energy and it just makes you want to tap those toes! It's basically made for dancing to, and you can just imagine a smokey room full of trilby-clad gents and dressed up gals all jazzing it up on speakeasy dance floors.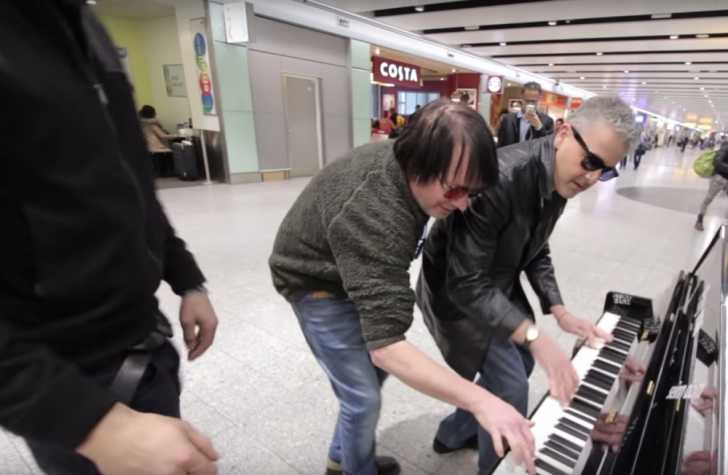 And they're making quite the spectacle!
As our camera moves around, we can see that there are quite a few passers-by who have stopped to capture this awesome impromptu performance for themselves. Now this is what I'm talking about! This is how you improve the lives of people in an airport whose faces may be all too solemn.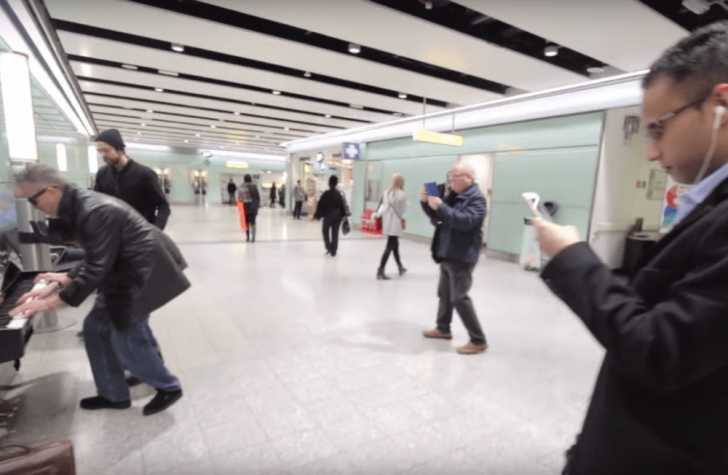 At the end, it's a free-for-all, with all three talented gents jumping in together.
Covering three different sections of the piano, and each playing their own complimentary yet distinct melody, it's clear that these guys have a huge amount of talent, experience and love for playing Boogie Woogie. Finally, when they wrap up their sudden performance, Dr. K yells out to the applauding crowd:
"Bringing love, joy and Boogie Woogie to Heathrow Airport!"
Now I can get behind that!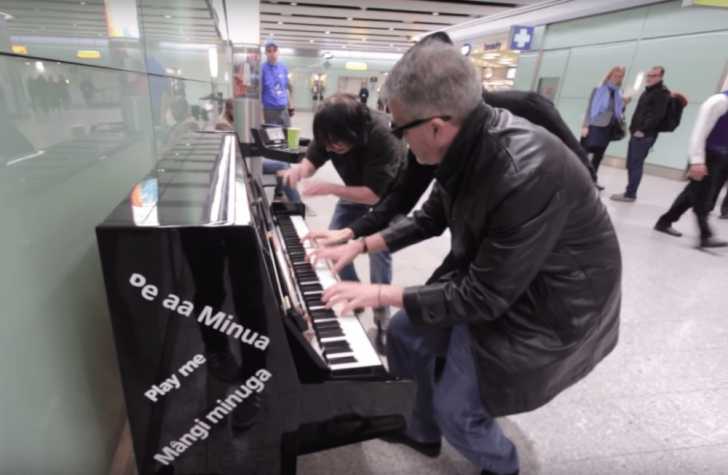 Watch the full video below to enjoy this answer to a piano's existential crisis.
Please SHARE this with your friends and family.
SKM: below-content placeholder
Whizzco for 12T