We sometimes find salads good, but not really good enough for a whole lunch and we're happy to say that this Winged Bean Salad is not one of those. It's not too spicy, because there's the creamy coconut milk to counteract the chilies, and the beans add the necessary and refreshing crunch. Whether or not you even like salads, this one is great because of all the different flavors that come together without overpowering one another. This tasty salad might warrant a visit to your closest Asian market, but that's fine because it's delicious and worth it!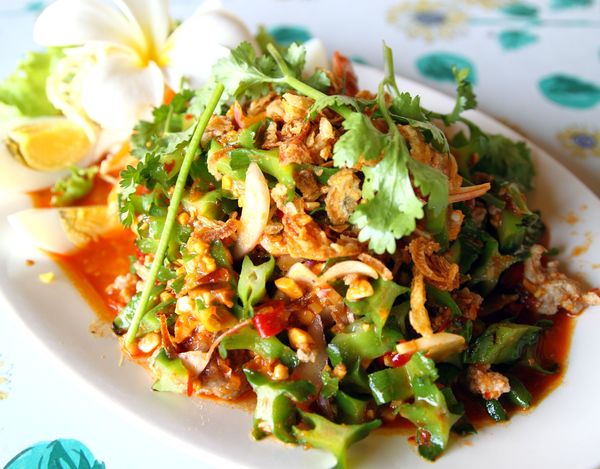 Thai Winged Bean Salad
(Serves 4)
Ingredients
2 cups winged beans, about 2/3 lb.
1 cup minced pork, about 1/2 lb.
1 cup coconut milk
2 tablespoons dried shrimp, chopped
2 tablespoons shallots, chopped
3 cloves garlic, chopped
2-3 medium, dried chilies, seeded and chopped
2 tablespoons roasted peanuts, chopped
1 tablespoon lime juice
1 1/4 teaspoon palm sugar or brown sugar
1 teaspoon fish sauce
Canola or vegetable oil, frying
Directions
Rinse your winged beans and chop off both ends. Cut into 1/2-inch pieces. Set a pot of water to boil.
While waiting, heat enough oil in a medium frying pan to cover the shallots and stir often until they're golden, but not too brown. Remove shallots. Add dried shrimp to the pan and fry them until crispy. Remove and set aside.
Then add garlic and chilies and brown them.
Once cool, pound half of your shallots, garlic and chilies into a semi-smooth paste.
When your water is salted and boiling, blanch your winged beans for 20-30 seconds. Remove them and place them immediately in ice water to stop them from cooking. Reserve the water.
Add your finely-minced pork to the water and cook for 5-7 minutes.
In a saucepan, boil the coconut milk, take off heat and add sugar, chili/shallot paste, lime juice, fish sauce and peanuts. Mix well.
Add dressing to winged beans and minced pork, toss and serve. Garnish with crispy dried shrimp and shallots.
Recipe adapted from Real Thai Recipes
SKM: below-content placeholder
Whizzco for 12T