Deliciously tasty air fryer meatballs in a sticky Asian sauce, wrapped in lettuce and bright, crunchy veggies.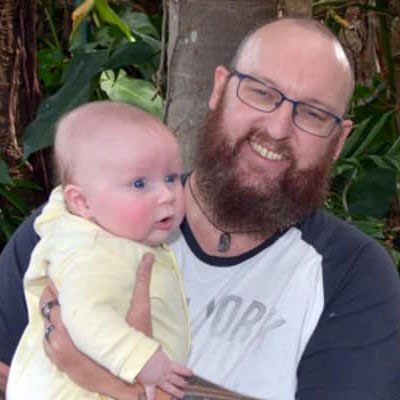 Jono Elderton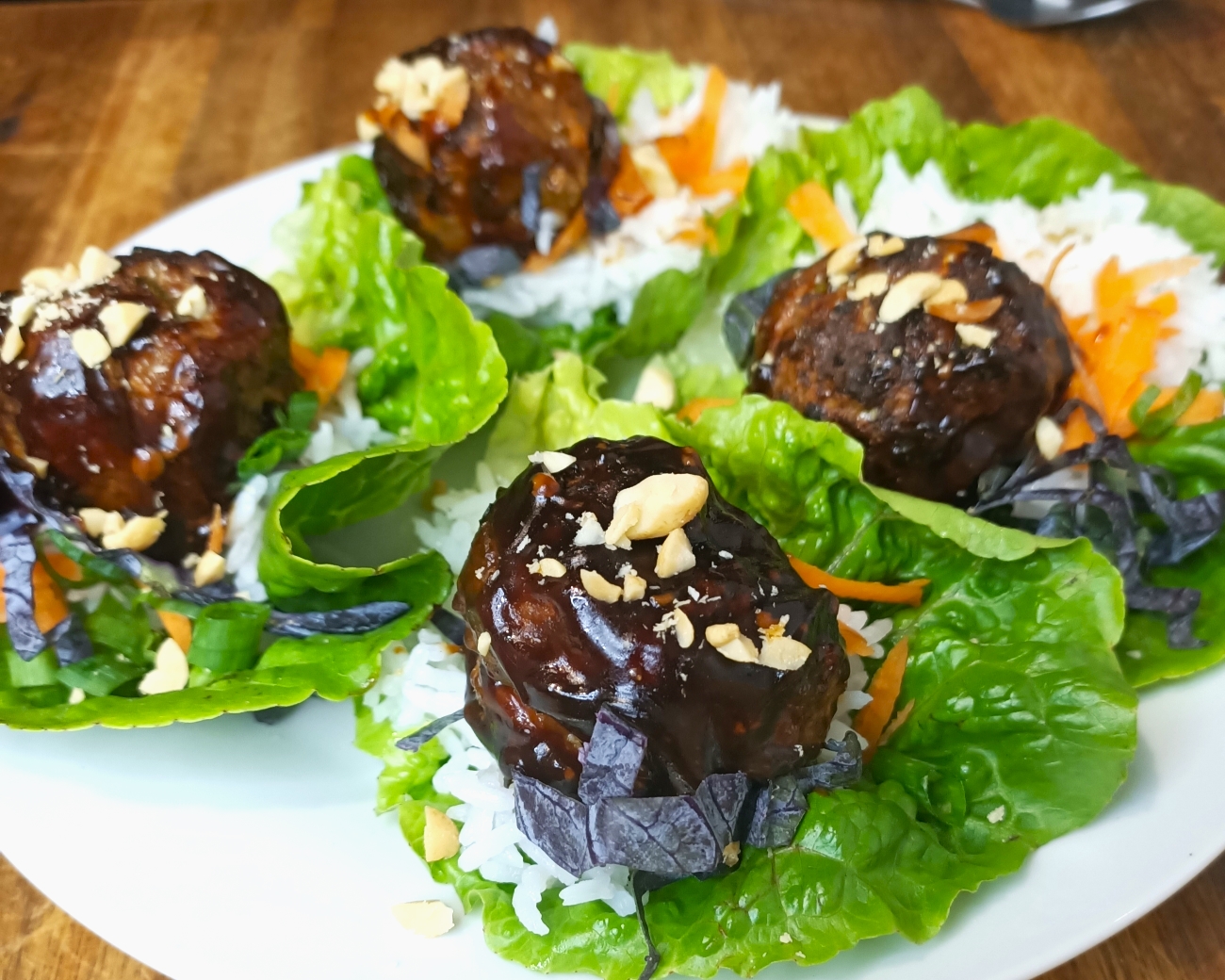 Taking your meatball recipe to the next level is easy (and much healthier) when you can incorporate the flavor-boosting, time-saving effects that air fryer cooking can bring to a meal. This recipe has the trifecta of color, texture, and taste. These sticky teriyaki meatballs and their irresistible sauce pack both a visual and flavorful punch. And that distinctive umami taste is always going to hit the tongue with an explosion of flavor.
Teriyaki is a terrific marinade base that perfectly illustrates the savory sweetness umami looks to create, which makes it one of Japan's most popular marinades for western palates.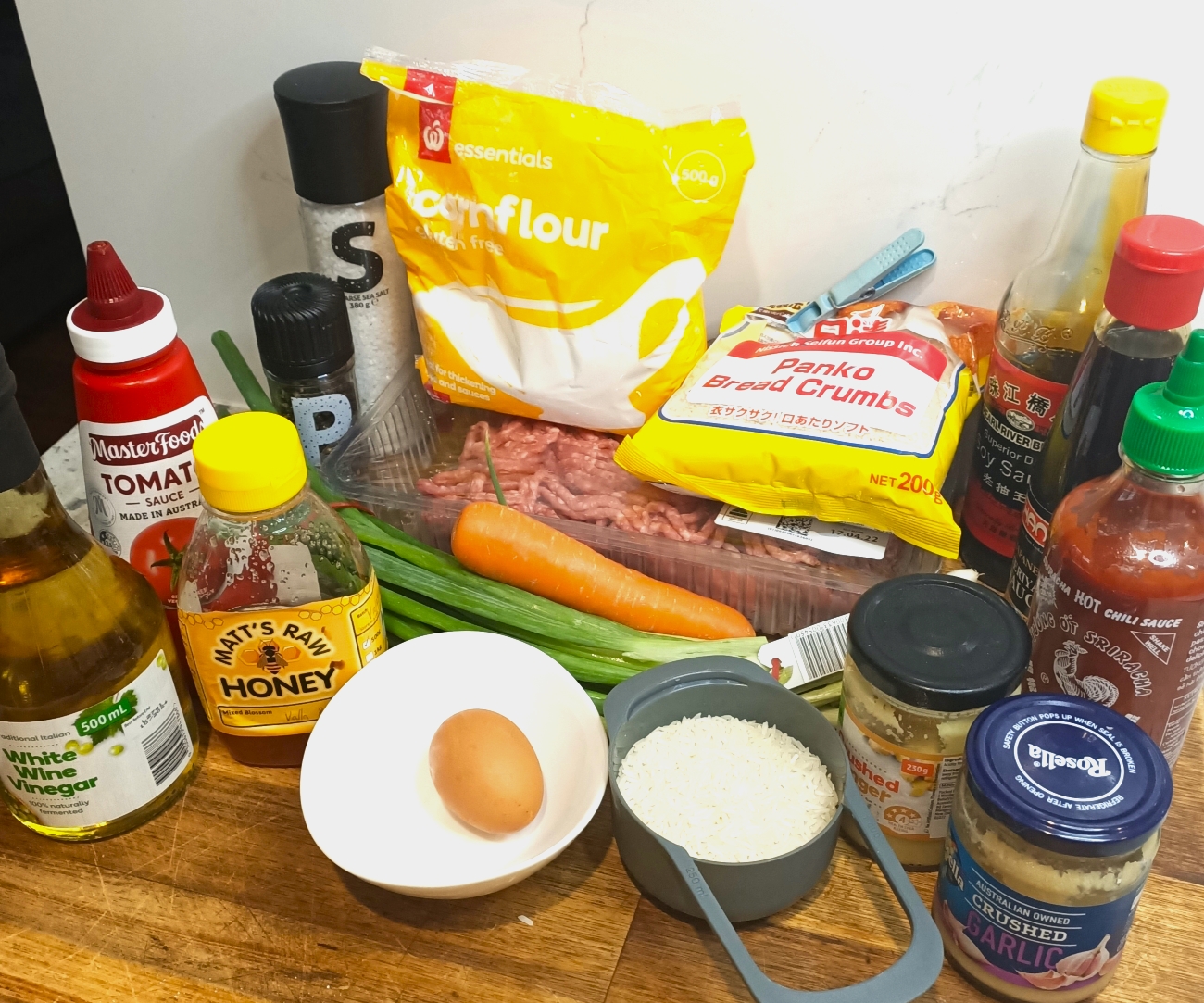 A teriyaki base can be used in soups and stir fries, marinades and sauces, or more broadly in dishes such as dumplings and salads. In this recipe, I've used it to create juicy meatballs that are rich in flavor and tender in texture, then they're wrapped up in deliciously crisp lettuce cups to create a feast for the senses, while still being health conscious.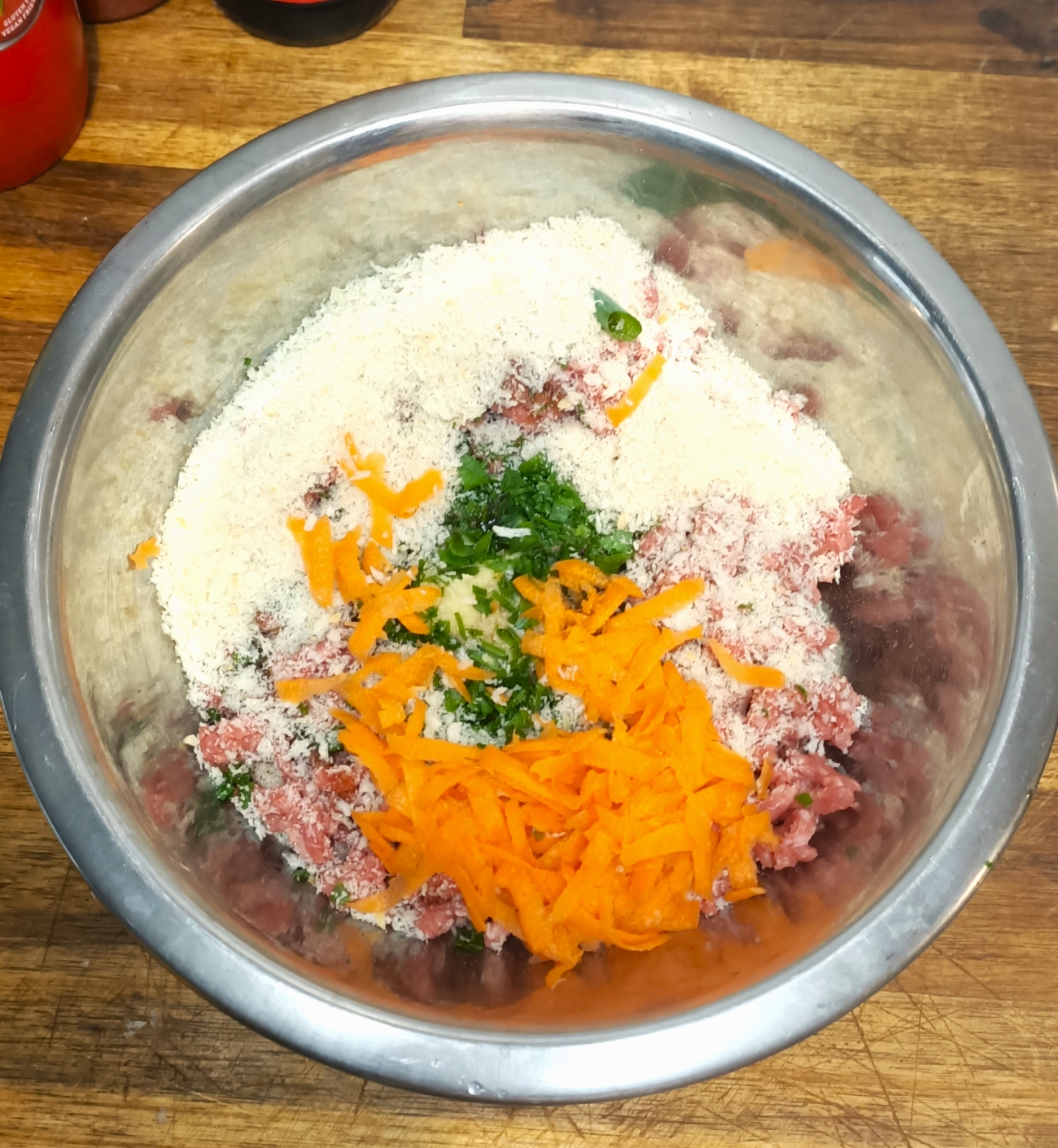 These meatballs make a scintillating starter, whether you're cooking an Asian-themed meal for friends, or a yummy appetizer to tide the kids over until dinner time. If you're a bit hungrier than that, the recipe can make a filling meal for two or three people.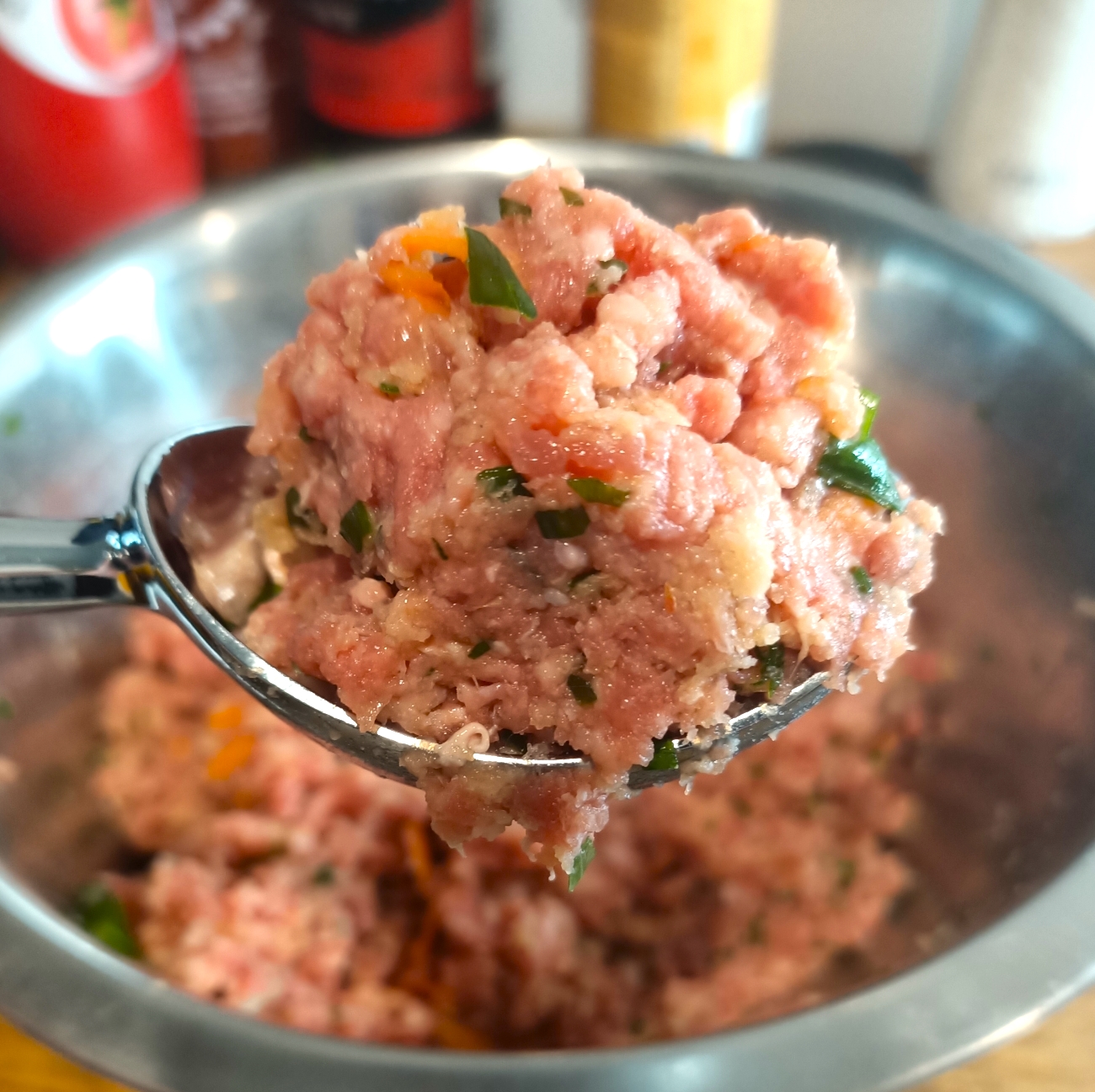 While the dish takes a few steps to come together, each is simple and systematic, so you can easily make beautiful looking restaurant quality lettuce cups brimming with quality contrasts of sticky and crunchy, sweet and salty.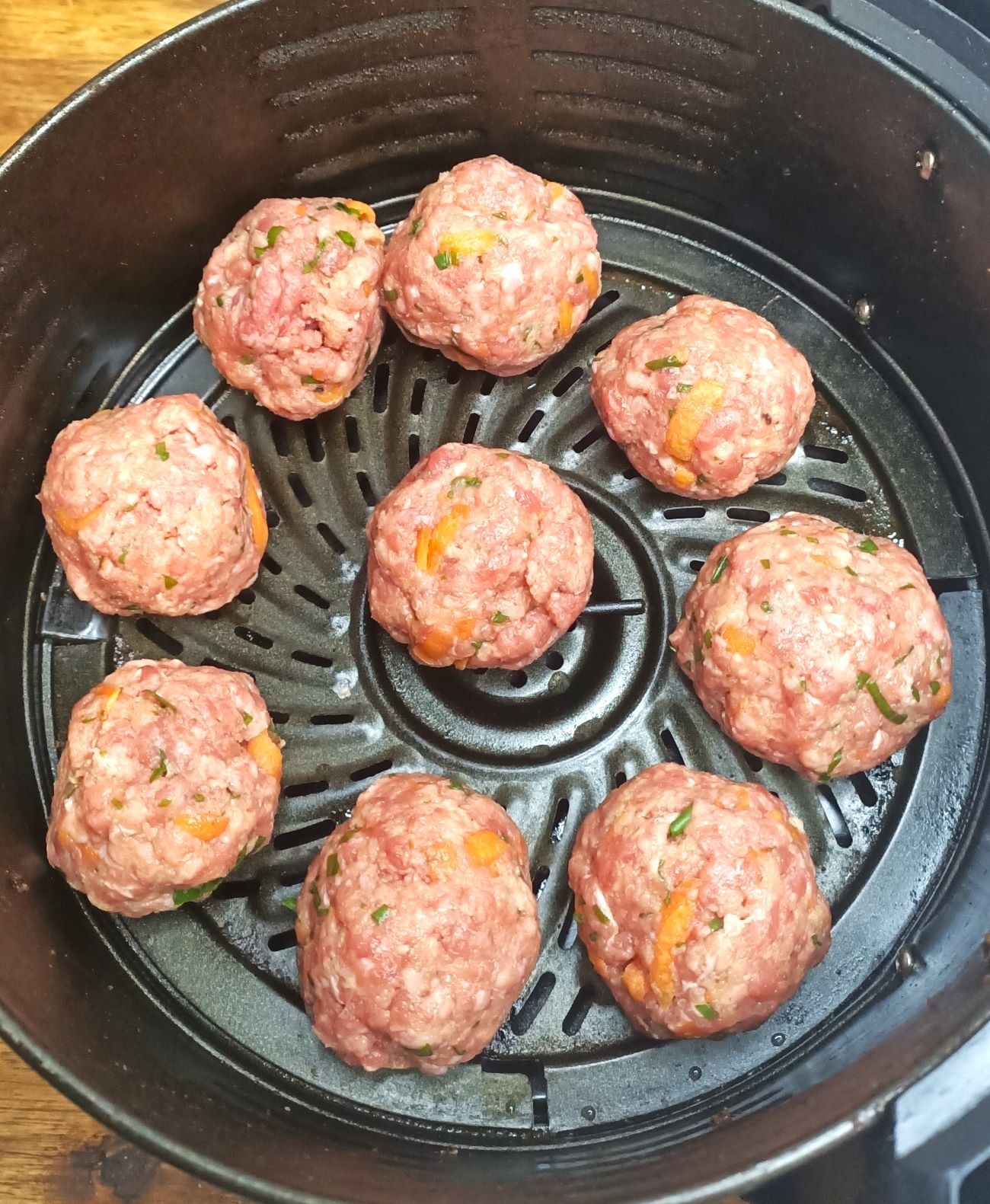 You can bake or fry your meatballs (pork, chicken, or in this case beef), but I opt for the speedy reliability of my air fryer. The air fryer quickens the process, while doing a tremendous job locking in flavor without the need for much, if any, oil. While the meatballs are in the fryer I can put the sticky teriyaki sauce together.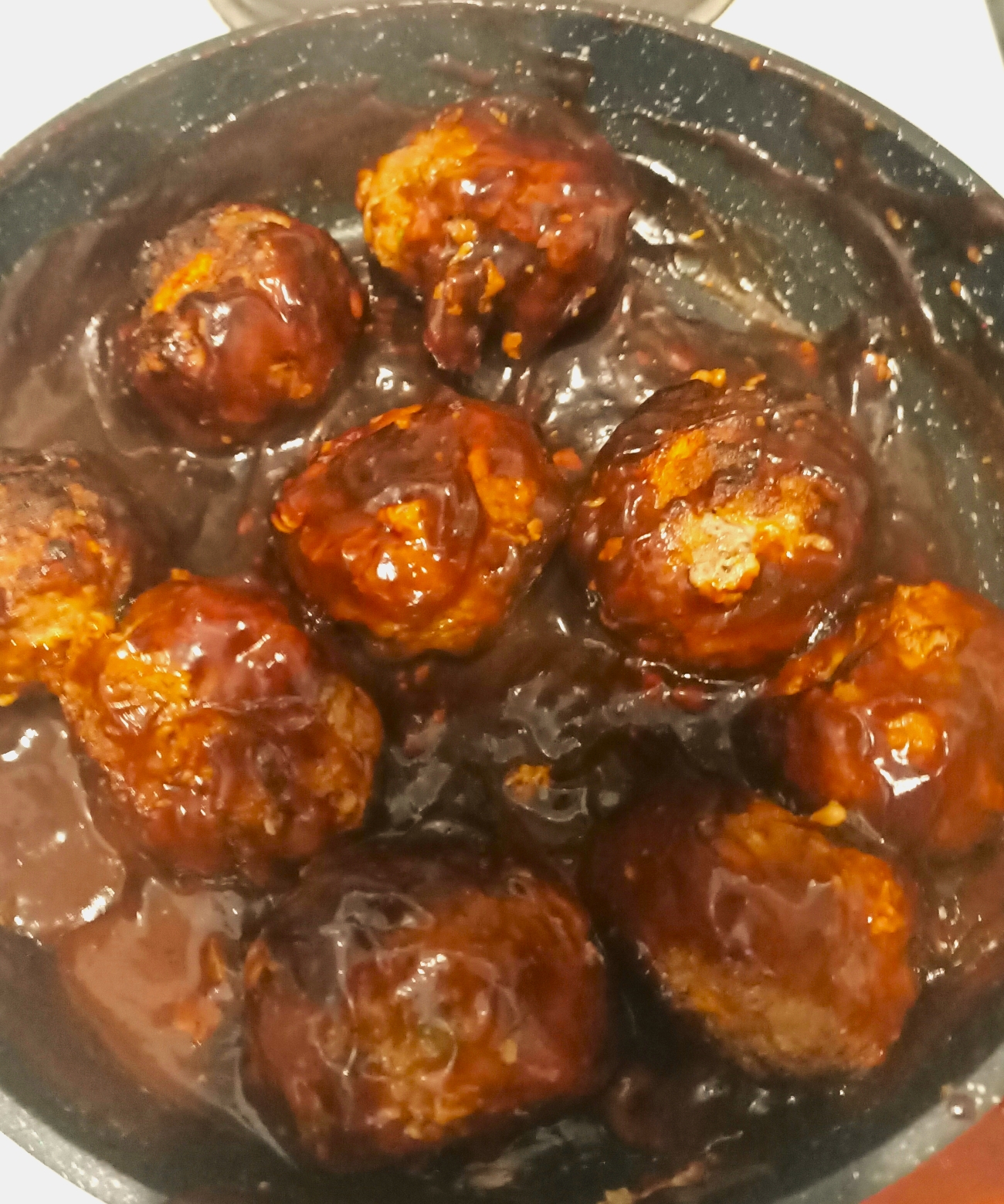 While I prefer to put lettuce cups together prior to serving, you can also make this meal more of a choose your own adventure. Armed with a lettuce leaf, steamed rice, and a selection of different veggies, you can build your own at the table like an Asian-themed taco kit. My favorite veggies to serve with the lettuce cups are shredded cabbage, carrots, and crunchy bits of rough-chopped peanuts.
It's also amazing how the aroma and look of these teriyaki meatball lettuce cups can really spur on the appetite, you won't be able to stop at just one!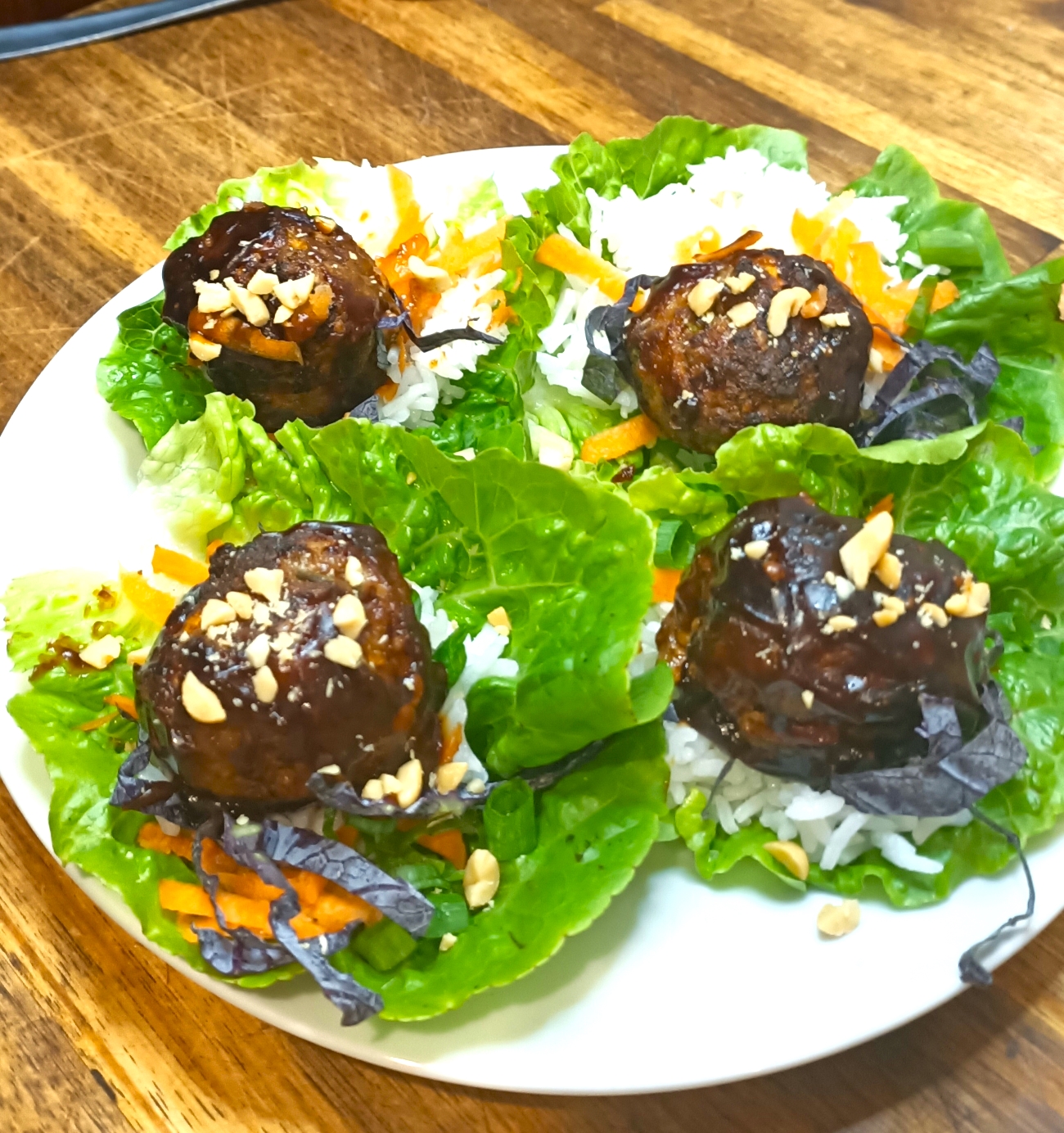 Sticky Teriyaki Meatball Lettuce Cups
Makes 8-10 Balls
30m prep time
25m cook time
For the Meatballs
1 lb ground beef
1/2 cup panko crumbs
3 tablespoons green onions, finely chopped
3 tablespoons shredded carrots
2 eggs, lightly beaten
1 teaspoon sesame oil
2 teaspoons minced garlic
2 teaspoons minced ginger
2 tablespoons Teriyaki sauce
Kosher salt and black pepper, to taste
For the Teriyaki Sauce
1/2 cup teriyaki sauce
2 tablespoons soy sauce
1 tablespoon ketchup
1 tablespoon white wine vinegar
1 tablespoon honey
1/2 tablespoon sriracha hot sauce
1/4 cup water
2-3 tablespoons cornflour
For the Lettuce Cups
1/2 - 1 cup cooked white rice
8-10 lettuce leaves, whole
1/4 cup red cabbage, shredded
1/4 cup shredded carrot
3 teaspoons green onions, finely chopped
Optional: crushed peanuts
For the Meatballs
Add all of the ingredients together into a mixing bowl then stir thoroughly until combined.
Using an ice cream scoop, make mixture into 1-2 inch sized balls.
Place into your air fryer, making sure they don't touch, and cook for 8-10 minutes at 350°F.
Making the Teriyaki Sauce
Add the sauce ingredients to a small fry pan, except for water and cornflour. Heat at a medium temperature until combined
Mix water and cornflour together thoroughly. Add to the sauce and stir in
Place the cooked meatballs into the fry pan, and ladle over over the sauce. Switch to low heat until placing on lettuce cups
Making the Lettuce Cups
Take a lettuce cup and place a spoonful of rice in the middle.
Place cabbage, carrots and green onion around the cup to create a nest
Add a teriyaki ball and sauce into the middle of the cup, then sprinkle with crushed peanuts
Add salt and pepper to taste, then serve immediately.
Recipe adapted from Like Mother, Like Daughter
SKM: below-content placeholder
Whizzco for 12T