Borscht is something perhaps a little strange to most Americans. It's not something we encounter very often, and its deep red color is definitely not what we would expect when enjoying a hearty soup. If it seems a little odd to you, that's all the more reason you should give this dish a try, though. The cold months are almost over, and now's the time to experiment and try out new soups before the season is almost over. Plus, what better country to get cold weather recipes from than one that is notorious for its winters: Ukraine!
Borscht's red color comes from stewing beetroots which also give a sweet, yet earthy flavor that mixes wonderfully with the sourness of the red wine vinegar. For our recipe, we wanted to go for a more traditional, hearty, meaty borscht instead of a lighter vegan one some might prefer. There's something so comforting about the heartiness that comes from the combination of beef broth and cooking with a bone-in beef shank. Keep reading below for this delicious recipe…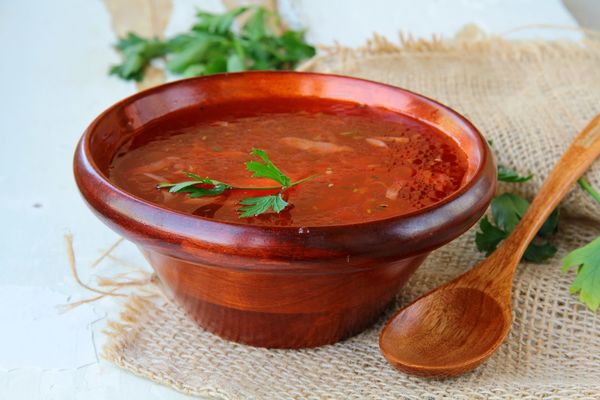 Borscht
(makes 6 servings)
Ingredients
8 cups beef broth
1lb slice bone-in beef shank
1 large onion, peeled and quartered
4 large beets, peeled and chopped
4 carrots, peeled and chopped
1 large russet potato, peeled, and cut into 1/2″ cubes
2 cups thinly sliced cabbage
3/4 cup chopped fresh dill
1 bay leaf
1 teaspoon caraway seeds
3 tablespoons red wine vinegar
1 teaspoon honey
1 cup sour cream
salt and pepper to taste
Directions
Add 4 cups beef broth, the beef shank, and onion to a large pot. Bring to a boil, then reduce the heat and simmer until the meat is tender (about 1 hour 30 minutes).
Transfer the meat to a work surface. Trim the fat, sinew, and bone. Discard. Chop the meat, cover, and chill. Cool the broth slightly, then refrigerate the broth at least 4 hours until cold.
Spoon the fat from the top of the chilled broth and discard. Add the remaining 4 cups broth, beets, carrots, and potato. Bring to a boil. Reduce the heat, cover, and simmer until the vegetables are tender (about 30 minutes).
Stir in the meat, cabbage, 1/2 cup dill, bay leaf, and caraway seeds. Cook until the cabbage is tender (about 15 minutes). Season to taste with salt and pepper then stir in the vinegar and honey.
Ladle the soup into bowls and garnish with sour cream and remaining dill.
Enjoy!
Recipe adapted fromSimply Recipes
SKM: below-content placeholder
Whizzco for 12T