We don't know about you, but once the weather turns cool, we are die-hard soup fans. It's tough to imagine getting through the winter without a comforting bowl of soup now and then, and if you ask us, the more variety the better! Mixing things up is what it's all about when it comes to soup and stew. If you're not already a soup fanatic, this seafood chowder will make you a believer!
Making this recipe is just a matter of preparing your ingredients and then tossing them into the pot once they're ready. This means it's nearly impossible to mess up the recipe, and it results in something that you can both eat immediately and stick in the freezer for future cold nights when you need a tasty, little boost. Thick and creamy, this soup is seasoned just right, and chock-full of perfectly cooked seafood: clams, lobster, scallops, shrimp it's got a little bit of everything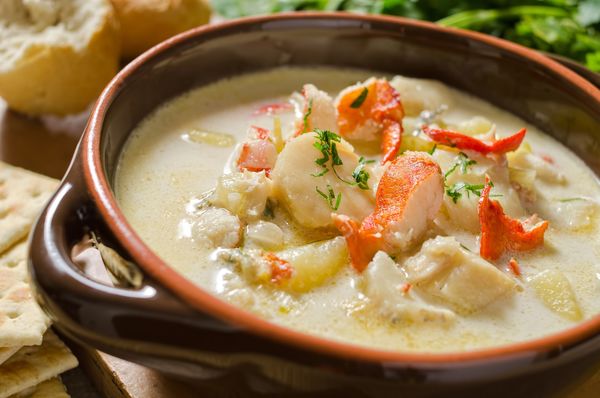 Seafood Chowder
Serves 8
Ingredients
1 pound Yukon Gold potatoes, peeled and finely diced
1/2 pound shrimp, peeled, de-veined, roughly chopped
1/2 pound scallops, halved or quartered
1/2 pound white fish (cod, haddock, etc.), cut into pieces
1 dozen little neck clams, rinsed and scrubbed
2 lobster tails, diced
1 yellow onion, diced
4 cloves garlic, minced
4 slices bacon
4 cups seafood stock
2 cups water
2 cups heavy cream
3/4 cup all-purpose flour
3/4 cup unsalted butter
3 tablespoons fresh parsley, chopping
2 tablespoons dry sherry
1/4 teaspoon Old Bay seasoning
1/4 teaspoon red pepper flakes, crushed
1/4 teaspoon dried thyme
kosher salt and freshly ground pepper, to taste
Directions
Pour 1 inch of water into a large stock pot or Dutch oven and add clams (and lobster tails if they're not already cooked). Cover and bring water to a simmer over medium-high heat.
Cook for 3-4 minutes, shaking the pot several times to move the clams around, and to see whether the clams have opened or not.
If most are opened, cook for another minute, then drain, set seafood aside and return pot to stove. Discard any clams that haven't opened.
Remove clams from shells and outer casings, then chop. Do the same with the lobster meat. Set aside.
Pour seafood stock into a medium saucepan and heat over low heat. Don't let the stock simmer or boil.
In the original pot, cook bacon over medium-high heat until crispy.
Add butter and flour to the pot and stir until butter is melted and flour is lightly toasted. Then add onions and thyme and saute until softened and semi-translucent. 7 minutes.
To the onions and bacon, add garlic, Old Bay, red pepper flakes, salt and pepper, stirring so everything mixes together.
Pour in warmed seafood stock and water, making sure to scrape the bottom of the pot for any burnt bits.
Add potatoes and simmer for 5 minutes, or until thickened.
Reduce heat to medium and add scallops and shrimp to the soup, and cook for another 7-9 minutes, or until potatoes are tender.
Stir in your previously cooked clams and lobster, along with the white fish, and cook until tender.
Pour in heavy cream, sherry and parsley. Season with salt and pepper, taste and adjust seasoning, if necessary.
Serve hot or freeze for up to 2 months.
Recipe adapted from Smells Like Home
SKM: below-content placeholder
Whizzco for 12T