Cioppino is an Italian-American dish usually made with a catch of the day. This is a seafood stew that everyone should try at least once!
Generally the seafood is cooked right in the broth to really intensify the flavors. The secret to really making the stew shine is using the freshest seafood available. Try to avoid anything frozen, and find the seafood at your local butcher or store that has arrived the most recently. Those who live on the coasts will probably have an easier time finding fresher ingredients. After that, it's not hard to create this delightfully delicious seafood stew. Keep reading below for our favorite recipe…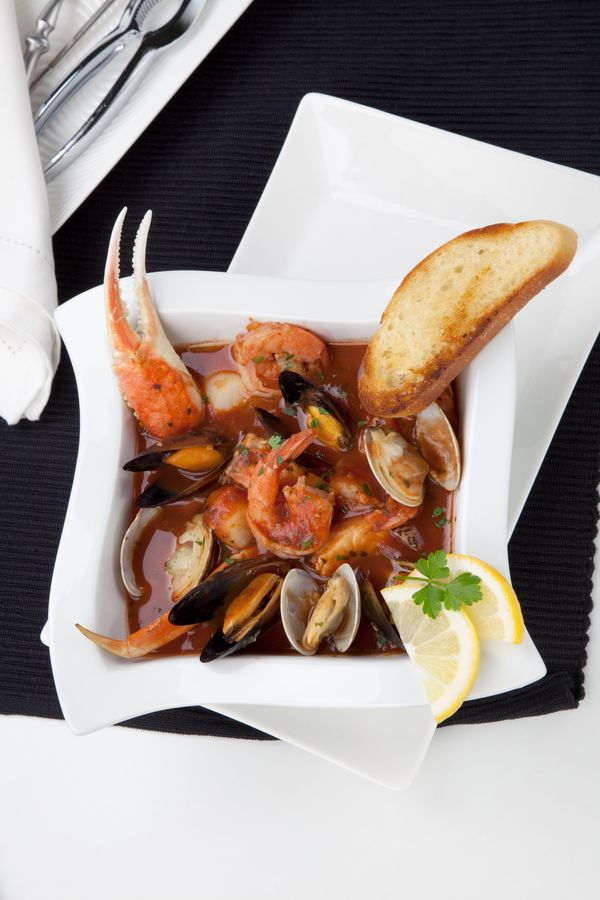 Cioppino
(makes 8 servings)
Ingredients
SEAFOOD
3lbs halibut or other firm white fish cut into 1″ cubes
1 large dungeness crab
1lb shrimp deveined
2lbs little neck clams and/or mussels
SAUCE
1/2 cup olive oil
1 large onion chopped
1 large bell pepper chopped
3 cloves garlic, minced
1 teaspoon salt
1 28oz can tomatoes
2 cups dry white wine
2 cups tomato juice
2 cups fish or shellfish stock
1/4 teaspoon red pepper flakes
1 teaspoon dried oregano
salt and pepper to taste
HERB BOUQUET
2 bay leaves
a few sprigs parsley
a few sprigs basil
Directions
Steam the mollusks in about 2 cups of water until they just open. Set aside. Strain and reserve the broth for later.
Remove the crab legs from the body and use a nut cracker to crack the shells so the meat can easily be removed when served. Break the body in half, then cut each half again into either halves or thirds. You can keep the crab meat in the shell or pick it out from the segments.
Wrap the herb bouquet in cheese cloth and tie securely with kitchen twine. In a deep 8-quart covered pot, saute the onions and bell pepper on medium heat in olive oil until soft. Add the garlic, and saute for another minute. Add the tomatoes, the reserved broth from the mollusks, white wine, tomato juice, herb bouquet, red pepper flakes, oregano, and salt and pepper to taste. Bring to a simmer and cook, uncovered, for 20 minutes. Remove the herb bouquet and taste before correcting the seasonings.
Add the fish and cook, uncovered, until the fish is just cooked through (about 3 to 5 minutes). Add the steamed mollusks, crabmeat, and shrimp. Heat until the shrimp are just cooked (another 2-3 minutes or until bright pink).
Serve in large bowls, shells included. Garnish with minced parsley. Serve with hearty bread.
Enjoy!
Recipe adapted fromSimply Recipes
SKM: below-content placeholder
Whizzco for 12T