It's decadent and delicious, just how we like it!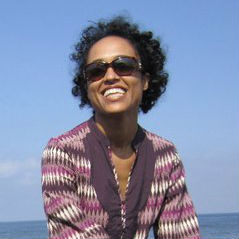 Sarah Cool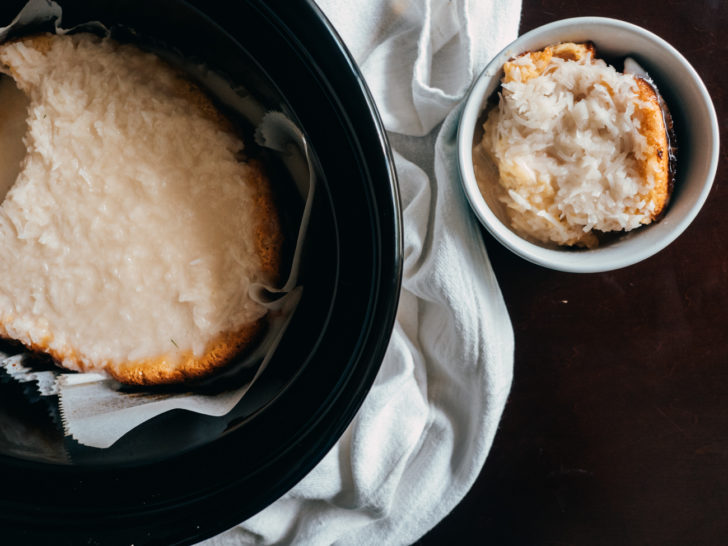 Want a cake that is moist and delicious? Then bake it in the slow cooker! Yes, once again, our trusty-dusty slow cooker works its magic, and we reap the benefits. Coconut cake is one of our favorites and while we can easily make this in the oven, there's something fun about using the slow cooker. This recipe combines two of our favorite kitchen elements: the slow cooker and baking, so why not combine the two. We love the idea of using our kitchen tools in different ways, and baking in the slow cooker is pretty much genius!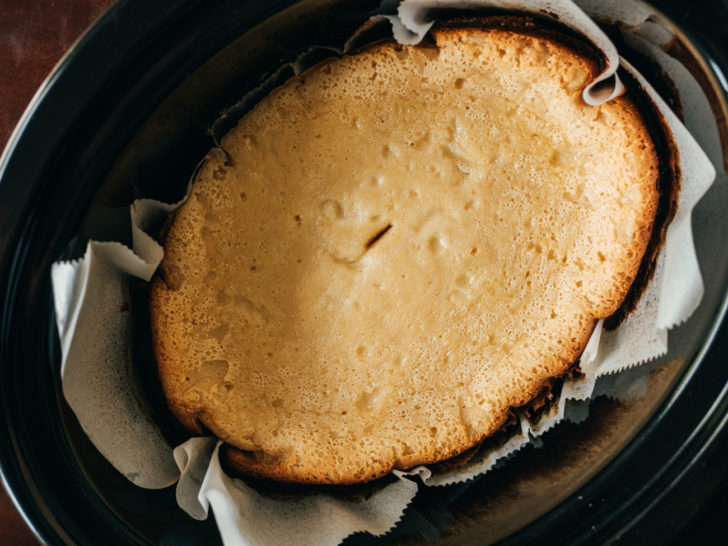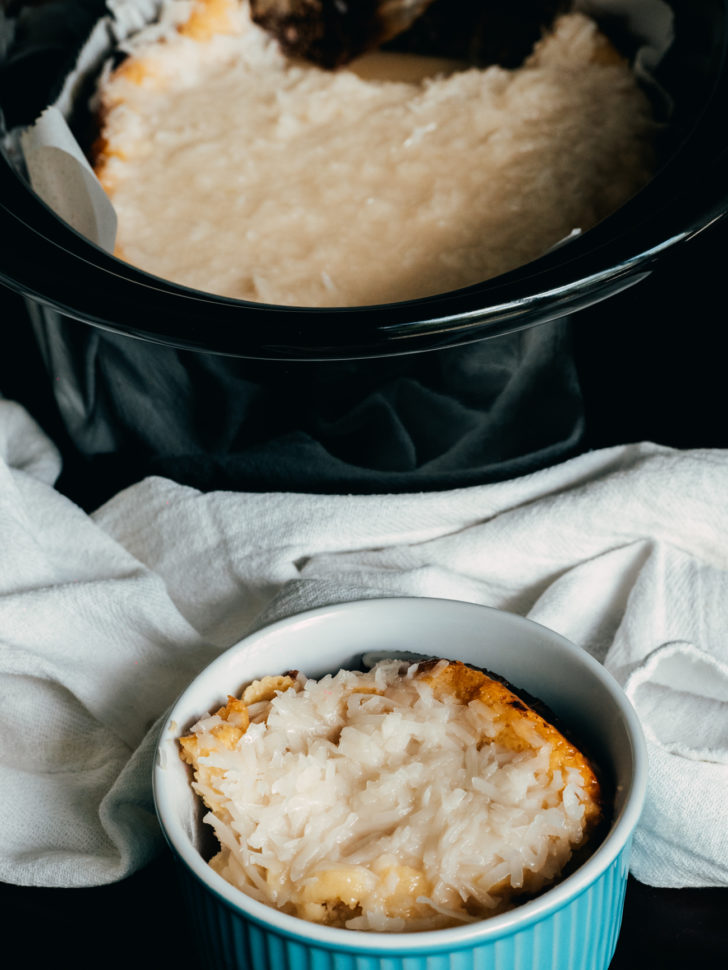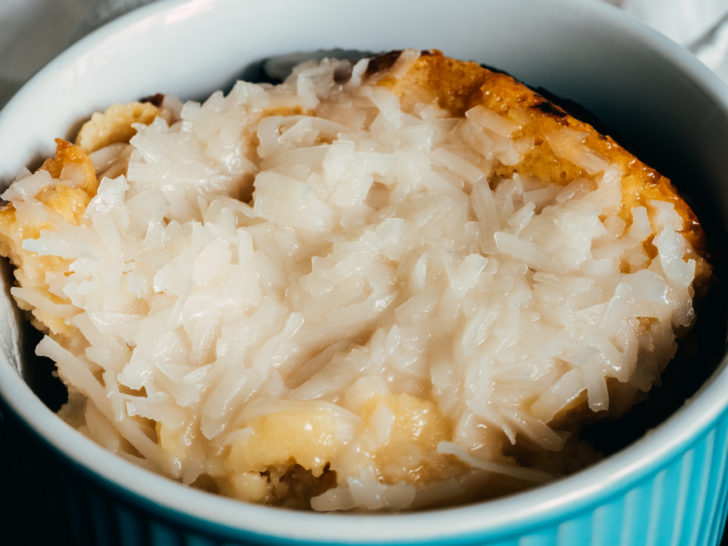 Every baker knows how important it is to have a moist cake. There's nothing worse than a cake that is built like a brick or is too dry. That's where our topping comes in; poured over top of the warm cake, it helps to add any moisture lost but also infuses the cake with extra coco-nutty flavor, resulting in a sweet treat that everyone loves. And as for presentation, it's easily served directly from the slow cooker, and it's still just as elegant as it would be on a more formal platter.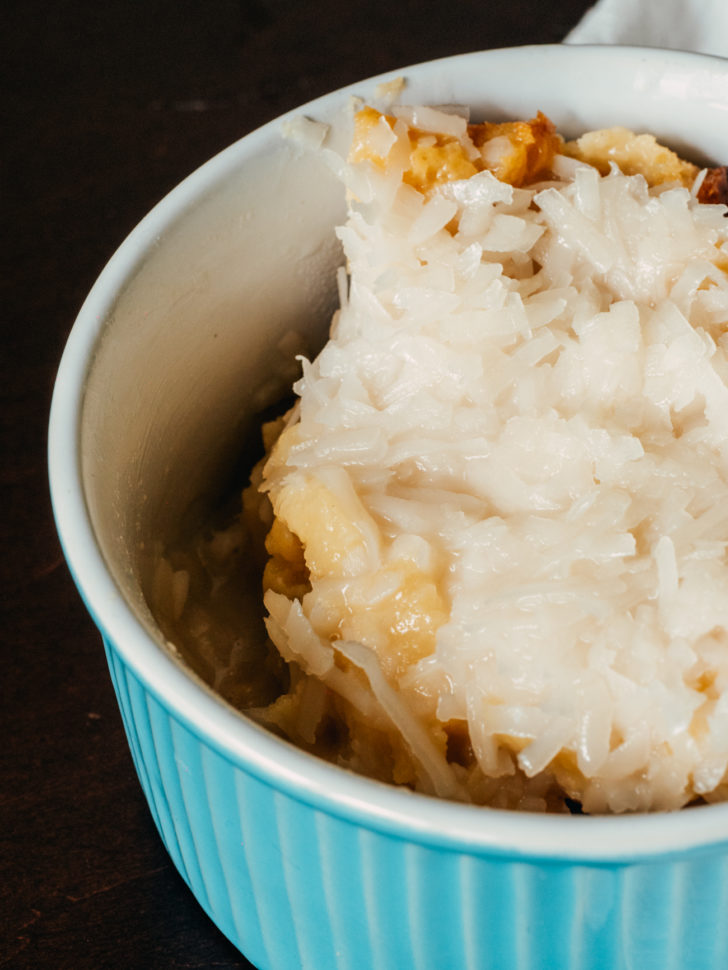 With a recipe box full of slow cooker meals, we're really having fun with adding a few desserts to our collection. From cobblers to cakes, the slow cooker is no longer reserved exclusively for a chili or stew. If you haven't tried baking in the slow cooker, this is a really easy recipe to get started with. Slow cooker coconut cake may be served warm or cold, which means it will still taste delicious when we sneak in a late-night slice!
Slow Cooker Coconut Cake
Ingredients
Cake:
2 ½ cups all-purpose flour
3 large eggs
1 (14 oz) can coconut milk
1 (14 oz) can sweetened condensed milk
1 (14 oz) can evaporated milk
3 tablespoons unsalted butter, softened
3 tablespoons sugar
1 teaspoon vanilla extract
Topping:
1 ½ cups shredded coconut flakes
2 tablespoons sugar
1 (14 oz) can coconut milk
1 teaspoon vanilla extract
1 cup powdered sugar, optional
Preparation
In a bowl, cream together butter and sugar. Mix in eggs, one at a time, then mix in coconut milk, sweetened condensed milk, evaporated milk, and vanilla extract. In small batches, mix in flour and stir until fully incorporated.
Coat slow cooker with cooking spray. Line slow cooker with parchment paper.
Carefully pour cake batter over top of parchment paper.
Place 3-4 paper towels over top of slow cooker, then place lid. *Note: the paper towels will help absorb condensation and prevent a mushy cake top.
Cook on HIGH for 3-4 hours. After 3 hours, regularly check cake until center has just set. (Reduce cooking time if using a larger slow cooker).
Turn off slow cooker and prepare topping: in a small saucepan, whisk coconut milk, sugar, vanilla, and coconut flakes until mixture reaches a low simmer.
Optional: stir in powdered sugar until sauce is slightly thickened.
Pour directly over cake in slow cooker.
Carefully remove cake from slow cooker, using parchment paper to help lift from basin, and transfer to serving dish. Enjoy!
Recipe adapted from Living Sweet Moments
SKM: below-content placeholder
Whizzco for 12T