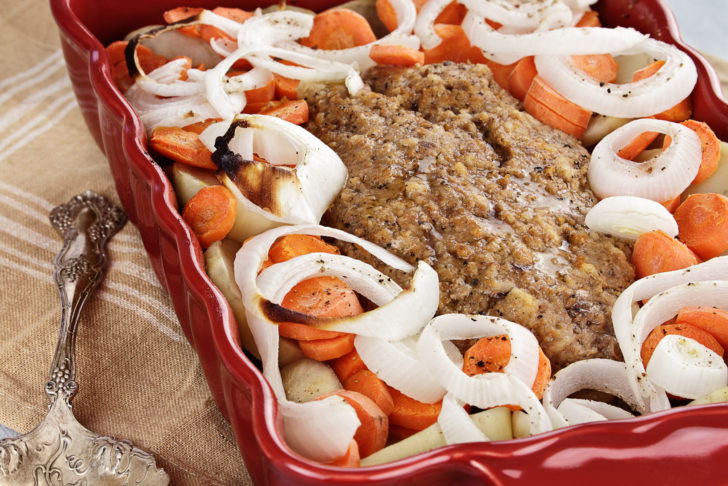 >Generally, when we think of meatloaf we think of a ketchup-slathered loaf that's seen better days. That's not to say the sauce-covered loaves can't be delicious on their own, but we've come to find that focusing on the flavor of the meat is really all you need to do to get an amazing dish that will leave people begging for more.
>We've tried this recipe a bunch of times – fine-tuning things until we got it right – and we are pleased as punch with the outcome. Onions, garlic, brown sugar, Worcestershire sauce…it's all there and it all helps make a deliciously flavorful, tender loaf. Check it out and see for yourself!
Simply Perfect Meatloaf
>Serves 6-8
Ingredients
>1 pound ground beef
>3/4 pound ground pork
>3/4 pound ground lamb
>3/4 cup parmesan cheese, grated
>3/4 cup seasoned breadcrumbs
>1/2 cup milk
>1/2 cup ketchup
>3 cloves garlic, minced
>2 large white onions (1 finely chopped, the other sliced)
>2 carrots, peeled and chopped
>2 eggs
>2 tablespoons brown sugar
>2 teaspoons Worcestershire sauce
>1/2 teaspoon red pepper flakes
>kosher salt and freshly ground pepper, to taste
Directions
>Preheat oven to 350º F.
>Combine ground beef, pork and lamb in a large bowl and season generously with salt and pepper. Then, add in parmesan, breadcrumbs, ketchup, chopped onion and garlic.
>Use your hands to mix everything together, then mix in milk, eggs, Worcestershire sauce, brown sugar, red pepper flakes.
>Once everything is uniformly combined, transfer to a large baking dish and shape into a large log.
>Spread sliced onion and chopped carrots around the loaf (or add vegetables later if you like them more crisp) and cover with aluminum foil.
>Place dish in oven and bake for 40 minutes, then uncover and bake for another 20-25, or until is meat is cooked through and registers 150º F on a meat thermometer.
>Remove from oven and drain off fat, then serve alongside veggies.
Recipe adapted from Real Simple
SKM: below-content placeholder
Whizzco for 12T