Just add rolls.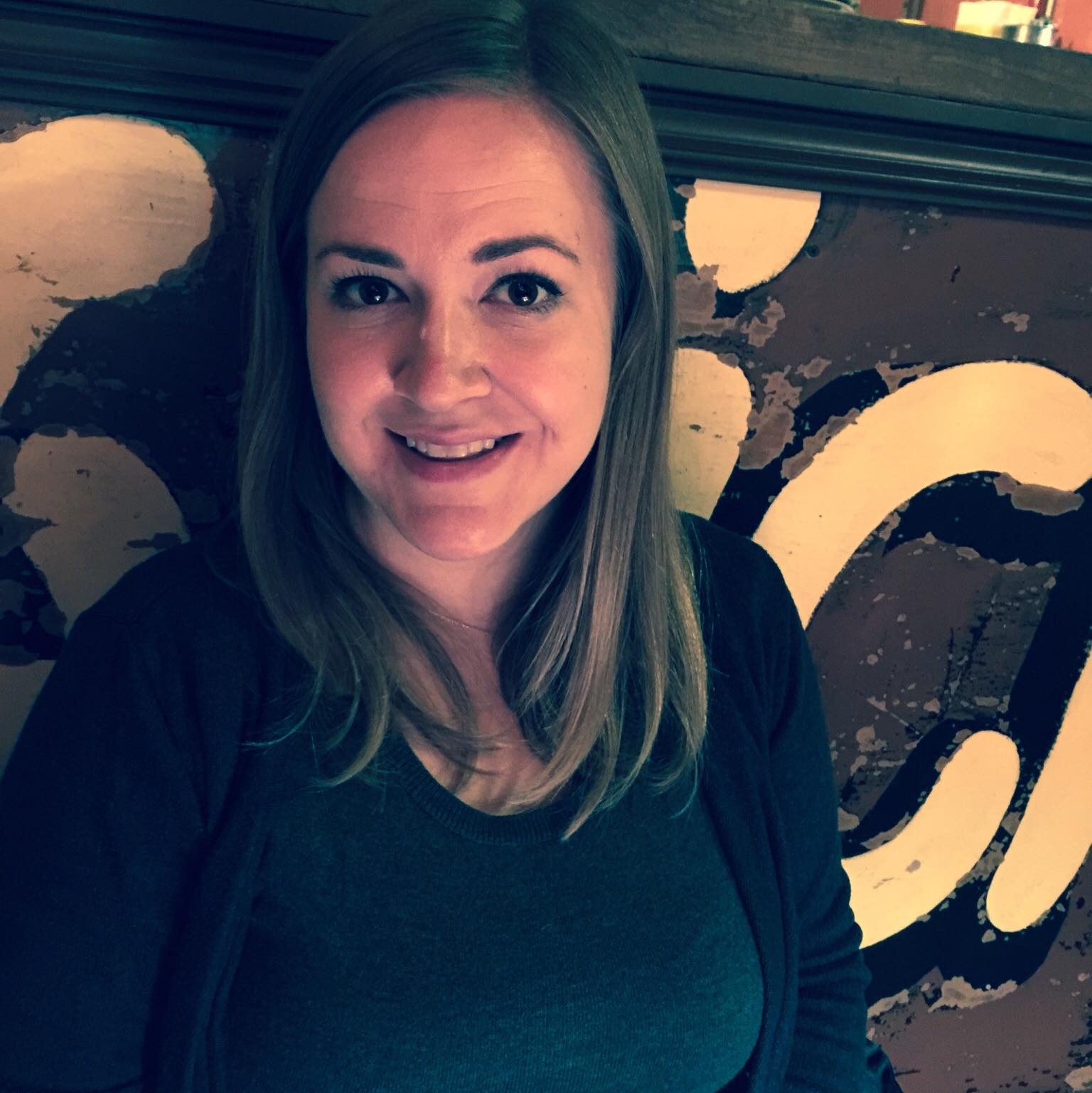 Kristy Norrell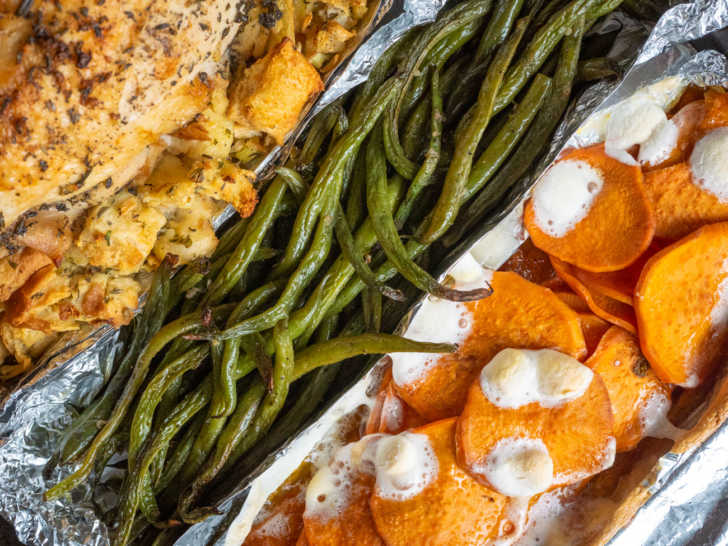 Thanksgiving comes around every year but that doesn't always mean that you're cooking for a crowd. But going it solo or celebrating with a small group is no reason to skip the feast, so we've got one for you on a smaller scale. Perfect for four (or two if you're really fond of leftovers) our Sheet Pan Thanksgiving Dinner gives you an entire Thanksgiving feast on a single sheet pan with little more than an hour of effort from you. There are all the staples you look forward to – juicy turkey, brown sugar and marshmallow-topped sweet potatoes, fresh green beans, and plenty of savory stuffing. Just add some gravy and cranberry sauce and you're ready to dig in and give thanks!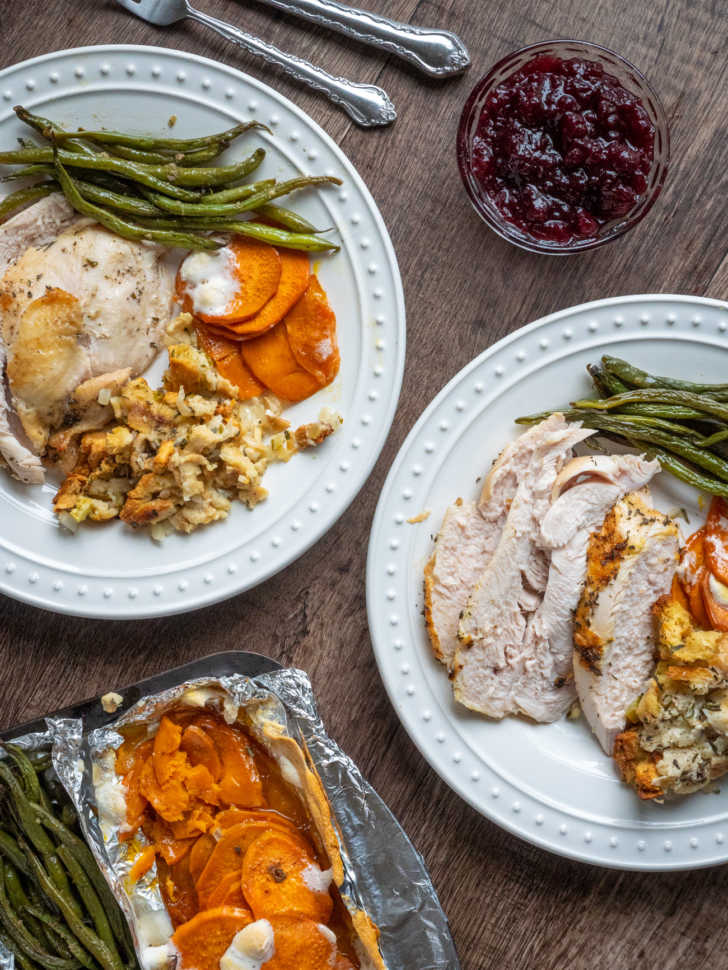 I have been known to create multiple spreadsheets to manage the preparation needs and cooking times of the (perhaps overzealous) number of dishes I'm making for Thanksgiving. It doesn't stress me out – quite the contrary, it's where I shine… it's like my super bowl. But life doesn't always allow for multiple days of cooking or call for so many serving platters and bowls that there's little room to actually sit at the table. Sometimes something simpler, but every bit as celebratory, is more in order and that's where this easy sheet pan feast comes in.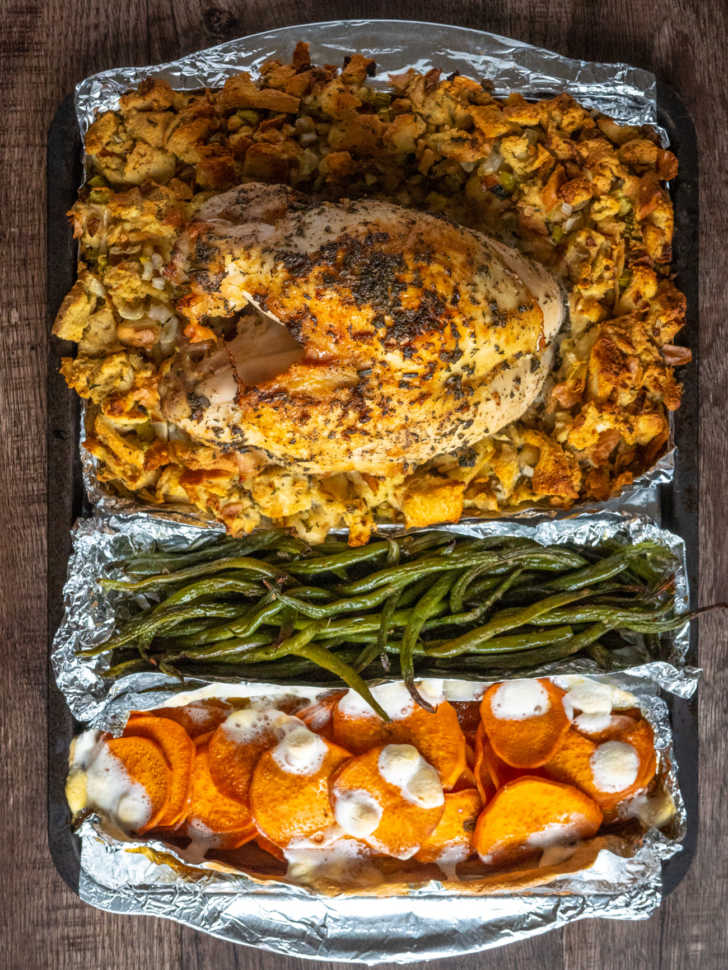 You'll be making your own stuffing (or dressing, really, since you're not putting it in the bird) and relying on a bone-in turkey breast to cut down on your cooking time. While the cooking time on that is much shorter than a whole bird, it still takes longer than the other components so you're going to create three trays out of aluminum foil so you can easily add your sides to the sheet pan later on. Get your stuffing and the turkey breast on the sheet pan and pop it in the oven for thirty minutes while you work on the green beans and sweet potatoes.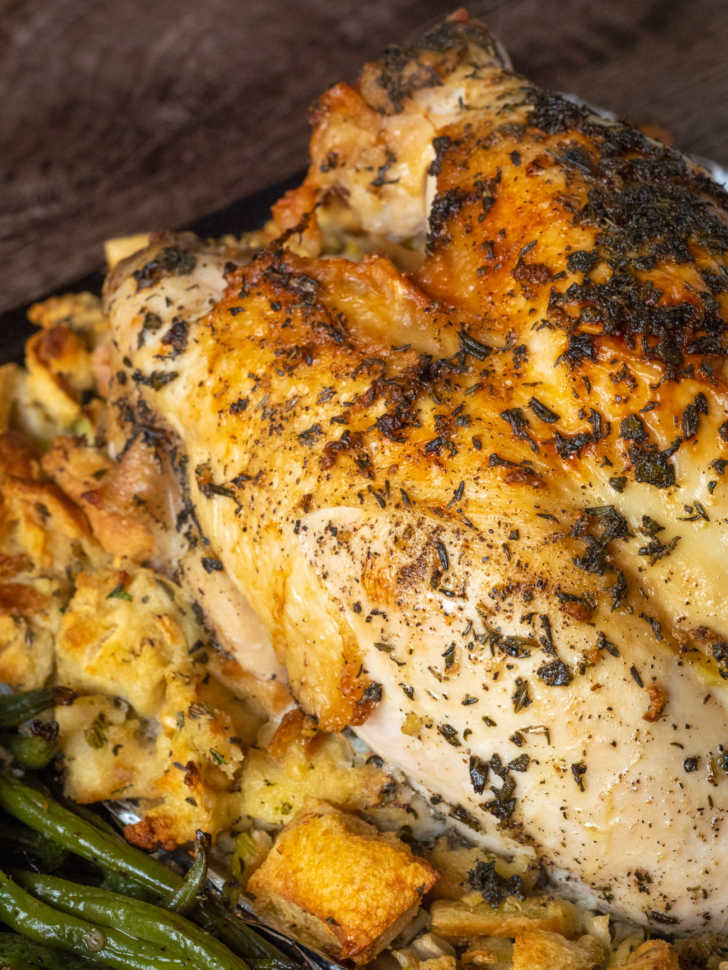 You want the sweet potatoes to be thinly sliced so that they'll cook through in about twenty minutes of baking time. You'll toss them in some melted butter, brown sugar, and cinnamon and line them up in one of the foil trays before topping them with more brown sugar and some mini marshmallows. (My favorite part of Thanksgiving as a kid was the puffy marshmallows my mom put on top of the sweet potatoes, so I'm not forgoing those for even the simplest of Thanksgivings!)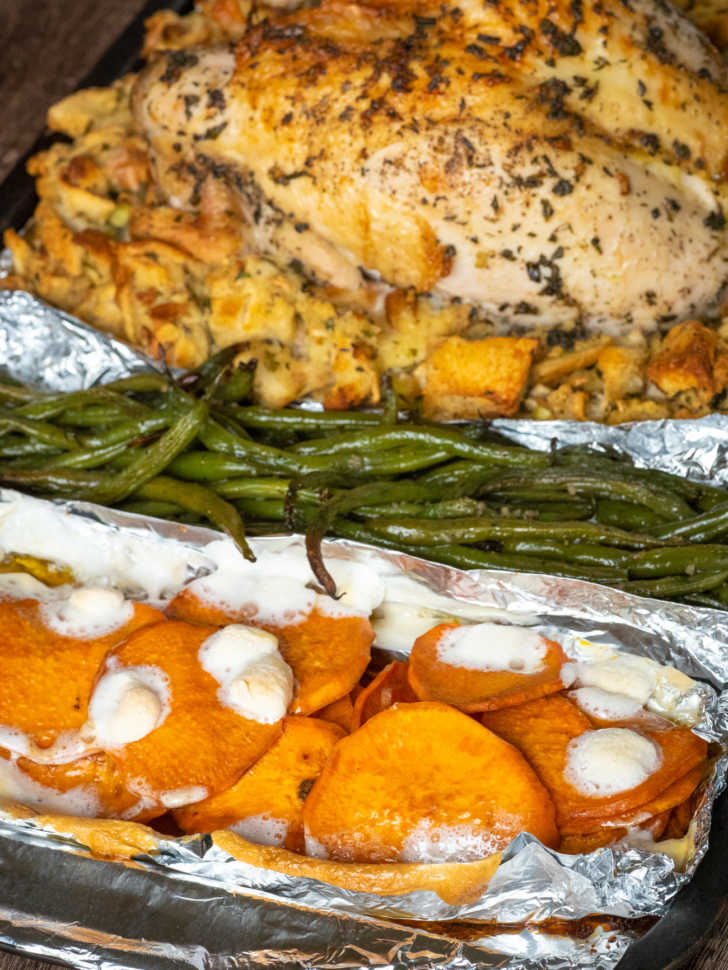 The green beans are even simpler – just a mixture of olive oil, garlic, and trimmed green beans. Toss it all together and pop it on the last of the foil trays before you add both of them to the sheet pan and return it to the oven. In about twenty minutes, the sweet potatoes should be tender and the turkey should be cooked through, but if anything needs additional baking time you can easily remove one of the trays and let the rest continue baking so nothing gets overcooked.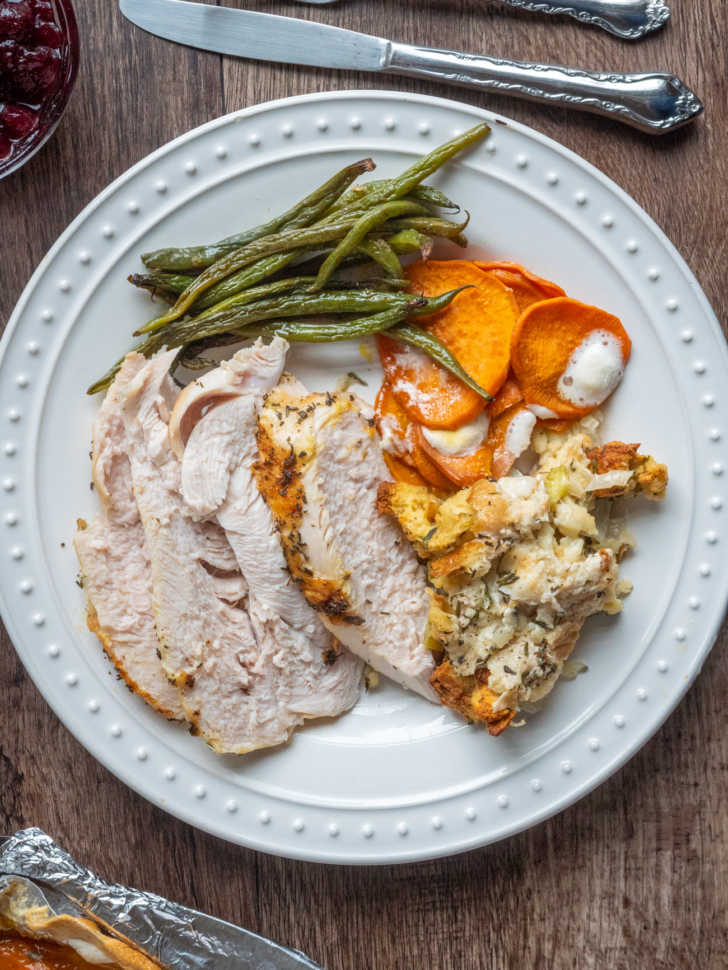 It's all of the classics on a single sheet pan. It's the easiest Thanksgiving dinner I've ever seen but it's just as satisfying!
Sheet Pan Thanksgiving Dinner
Serves 4
15m prep time
1h cook time
For the stuffing:
1 yellow onion, finely chopped
2 garlic cloves, minced
2 celery ribs, chopped
1 loaf sourdough bread, cubed (1-inch pieces)
1 1/2 cups chicken stock, plus more as needed
1/4 cup fresh parsley, chopped
1 tablespoon fresh sage, minced
2 teaspoons fresh rosemary, minced
2 teaspoons fresh thyme
2 eggs, beaten
For the turkey:
4 tablespoons butter, melted
2 teaspoons fresh sage, minced
1 teaspoon fresh rosemary, minced
1 teaspoon fresh thyme
2 garlic cloves, minced
1 2-lb skin-on boneless turkey breast
For the sweet potatoes:
1 1/2 lbs sweet potatoes, peeled and thinly sliced
4 tablespoons butter, melted
2 tablespoons dark brown sugar, divided
1 teaspoon cinnamon
1 cup mini marshmallows
For the green beans:
12 oz green beans, trimmed
2 tablespoons olive oil
2 garlic cloves, minced
For all:
Kosher salt and freshly ground black pepper, to taste
Cranberry sauce, for serving
Preparation
Preheat oven to 375°F and line an 8x11-inch rimmed sheet pan with aluminum foil.
Then, build three separate trays out of foil - one to take up 1/2 of the tray, and 2 smaller ones to fill the remaining 1/2. To build the trays, fold a large piece of foil in half, then fold up edges. Place the largest tray on one half of the baking sheet and set the other two aside.
In a large bowl, mix together the stuffing ingredients (onion, garlic, celery, sourdough bread, chicken stock, parsley, sage, rosemary, thyme, and eggs) and season with salt and pepper. If needed, add more chicken broth. Mixture should be moist but not soggy. Let sit 15 minutes, then spread into the foil tray on baking sheet, and create an indent in the center for the turkey breast.
Next, season the turkey:
In a small bowl, stir together the melted butter, sage, rosemary, thyme, and garlic. Season turkey liberally with salt and pepper and rub butter and herb mixture all over. Place turkey breast in center of stuffing and bake 30 minutes.
Meanwhile, prepare the sweet potatoes:
To a medium bowl, add the sliced sweet potatoes, melted butter, 1 tablespoon of the brown sugar, and the cinnamon. Season with a pinch of salt and toss to coat. In one of the small foil trays, spread the sweet potatoes out, overlapping the slices as needed. Top with mini marshmallows and remaining brown sugar.
Prepare the green beans:
In a medium bowl, toss together green beans, olive oil, garlic, and salt and pepper. Arrange in remaining foil tray.
After turkey and stuffing has baked 30 minutes, remove from oven and add the foil trays of sweet potatoes and green beans to the empty side of the sheet pan. Return to oven and bake until sweet potatoes are tender and turkey reads 165°F on a thermometer, 30-40 more minutes.
Serve and enjoy!
Recipe adapted from Reynolds.
SKM: below-content placeholder
Whizzco for 12T