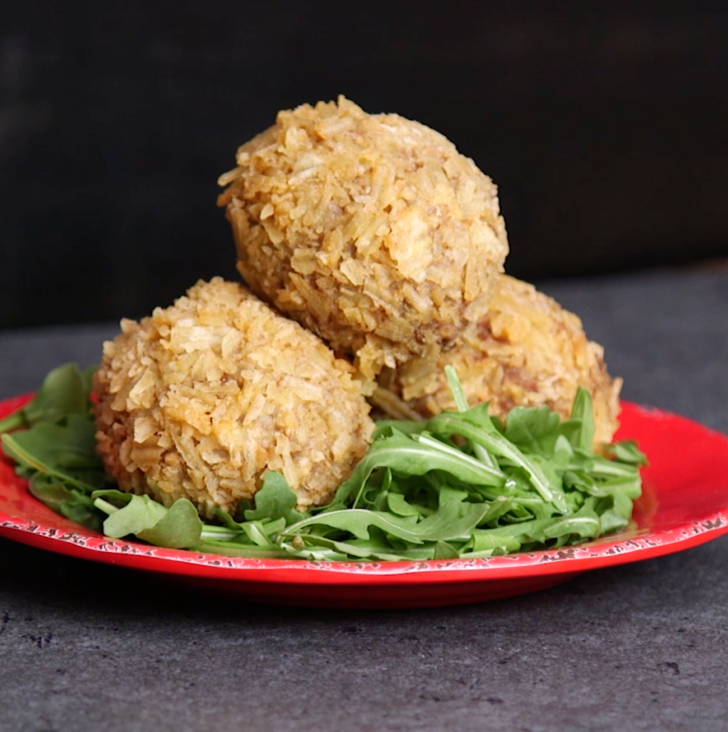 Brekky Bombs will absolutely shake up your breakfast routine, and who's to say they're only for breakfast? While this may be better suited for a brunch occasion, they're sure to make an impression no matter what time of day they're served. Brekky Bombs remind us of the classic Scotch egg, an egg wrapped in sausage, rolled in breadcrumbs, and then deep fried. We've put a little twist on the breadcrumbs with this recipe, and instead of breadcrumbs, we've crushed two cups worth of potato chips to make this dish something truly indulgent and amazing.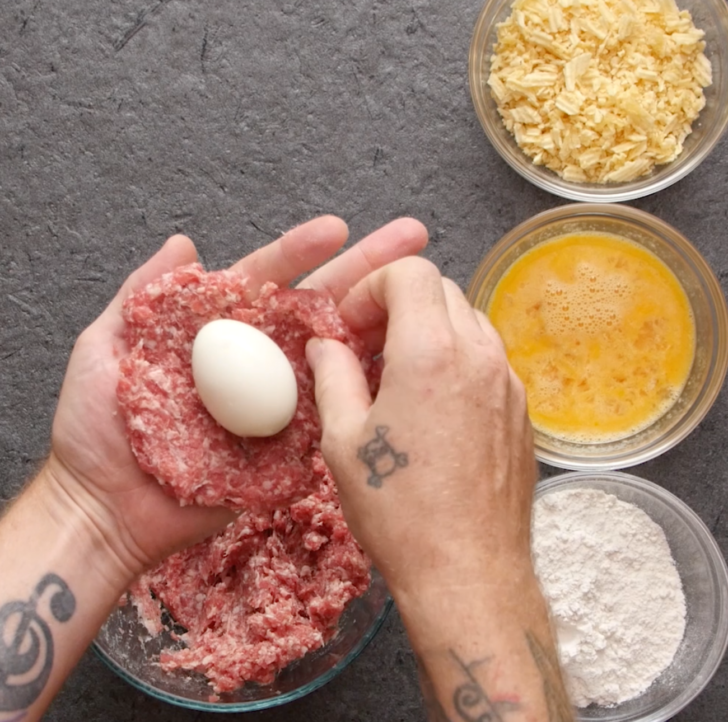 What we love here is the combination of textures and flavors put together, the creamy yolk of the egg, the hearty meatiness of the sausage, and the crispy crunch of deep fried potato chips is really a dynamite combination. One slice with a knife and fork will crack the crunchy exterior and reveal a splendid golden treasure inside. We like to dip each bite into a little bit of that runny yolk – which we particularly enjoy because that means we've cooked the egg to perfection!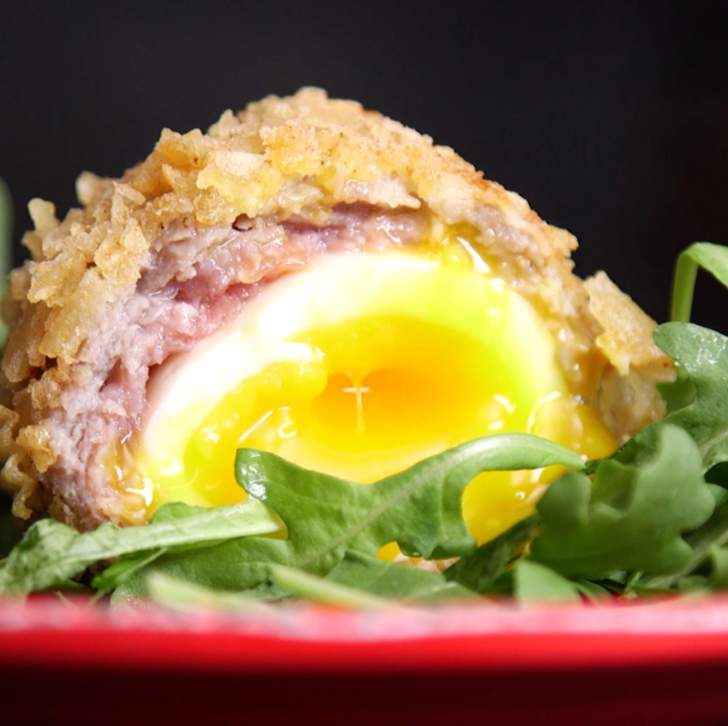 Let's be honest, there's something just super appealing about how outrageous Brekky Bombs are. Whether you're looking to recreate some classic pub grub in your own kitchens or just want to try a little (or big) something new, our Brekky Bombs are undoubtedly going to make a lasting impression. A Brekky Bomb isn't an everyday kind of meal, but it's certainly worthy of a special occasion from time to time. Get ready for an explosion of deliciousness!
Brekky Bombs
Ingredients
9 large eggs
1 pound breakfast sausage, casings removed
2 cups potato chips, crushed
1 cup flour
Oil for frying
Arugula (optional) for garnish
Preparation
Bring a medium pot of water to a boil. Carefully drop in 6 eggs. Lower temperature to medium high to maintain gentle boil. Boil for 6 ½ minutes, no more or less. Use a slotted spoon to pick up eggs and place into a bowl of ice water to stop the cooking process. Cool eggs completely before moving onto the next step, about 5 minutes.
Carefully peel shells from eggs and set aside. Flatten sausage meat into six round, thin patties. Wrap an egg in each patty and place in refrigerator to chill for 10 minutes.
Prepare breading station, with a separate bowl for each ingredient: 3 eggs (beaten), 1 cup flour, and 2 cups crushed potato chips. Dip each sausage-wrapped egg in flour, then egg, then crushed potato chips.
Heat oil in a deep pot or deep fryer to 350°F. Place eggs in hot oil to fry for 4-5 minutes or until golden in color. Optional: serve on a bed of arugula.
SKM: below-content placeholder
Whizzco for 12T