It's hard to improve on a classic, but these Salted Caramel Cinnamon Rolls are a really fun twist on the standard cinnamon bun. For anyone with a sweet tooth, these cinnamon rolls are a great option anytime, early morning or middle of the night!
Aside from taste, this recipe is also perfect for entertaining because the different components can be prepared separately. It's fantastic for a brunch, when you can make the dough and caramel sauce at least a day ahead of time and not have to worry about it the morning of. Pop it in the oven and then you can spend more time with friends and family. While delicious at any time of the year, these cinnamon rolls feel especially fitting during the fall, when the caramel adds a warm touch and the fleur de sel makes them special…you won't be sorry you tried them, but don't blame us if you can't eat only one!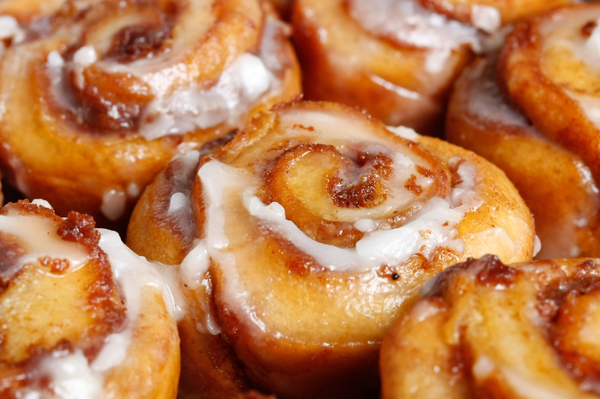 Salted Caramel Cinnamon Rolls
Ingredients:
(Serves approx. 12)
For the Dough:
3/4 cup whole milk, 110º F
2 teaspoons instant yeast
3 eggs, at room temperature
4 cups all-purpose flour
1/3 cup cornstarch
1/2 cup granulated sugar
1 1/4 teaspoons salt
3/4 cup unsalted butter, room temperature, cubed
For the Filling:
1 1/4 cups light brown sugar
4 teaspoons ground cinnamon
1/4 teaspoon nutmeg
1/4 teaspoon salt
4 tablespoons unsalted butter, room temperature
1/3 cup salted caramel sauce
For the Salted Caramel Sauce:
2 cups granulated sugar
12 tablespoons unsalted butter, at room temperature, cut into pieces
1 cup heavy cream, room temperature
1 tablespoon fleur de sel (or any other flaky sea salt)
One egg, beaten
Splash of water
For the Icing/Topping:
2/3 cup confectioners sugar
2 tablespoons heavy cream
Directions:
1. When ready to bake, preheat oven to 350º F
2. Whisk together the milk and yeast in a small bowl until the yeast dissolves, then add in the eggs.
3. Using a mixer fitted with the dough hook, mix together the dry ingredients (flour, cornstarch, sugar and salt) on a low speed until combined. Continuing on low, steadily add the warm milk mixture and mix until the dough comes together, about 1 minute.
4. Bring the speed up to medium and add the butter, piece by piece, until totally incorporated. Continue to mix until the dough is smooth and not stuck to the sides of the bowl, about 10 minutes. If, after mixing for 10 minutes, the dough is still sticky and wet, add up to another 3-5 tablespoons of flour, 1 tablespoon at a time, until the dough comes away from the sides of the bowl. (It's okay if this doesn't happen immediately. It can sometimes take the full 10 minutes, even without additional flour, for dough to pull away from the sides of the bowl.)
5. Gently knead dough on a clean surface and form a smooth, round ball. Place dough in a greased bowl and cover with plastic wrap; allow to sit and rise in a warm, draft-free area. Should double in size, around 2 hours.
Make the Caramel Sauce:
6. In a 2-4 quart saucepan add the sugar in an even layer over the bottom. Whisk sugar over medium-high heat until it begins to melt. Continue whisking until all of the sugar has melted. It's okay if there are lumps, just keep whisking and they will smooth out. You want the sugar to move continuously so it doesn't burn. Stop whisking once all of the sugar has melted, and swirl the pan occasionally while the sugar cooks.
7. The sugar should become a deep-amber color and should smell slightly toasted. Use a candy thermometer and cook until caramel reaches 350º F.
8. Once it reaches 350º F, add in all of the butter. Caramel reacts with the addition of dairy and will froth and bubble up. Whisk the mixture until it is completely smooth.
9. Take the pan off of the heat and carefully add the cream. Whisk until everything is incorporated and the sauce is perfectly smooth. Whisk in the fleur de sel.
10. Allow sauce to cool, 10-15 minutes, and then pour into glass container.
11. In a small bowl, combine the brown sugar, cinnamon and salt. After dough has doubled in size, place on a lightly floured surface and roll into an 18-inch square, roughly 1/4-inch thick. Spread the softened butter over the surface of the dough; extend butter to within 1-inch of the edge so there is still a border. Evenly sprinkle the cinnamon sugar mixture over the dough and add the caramel sauce drizzle on top.
12. Form a log by taking the edge of the dough nearest you and rolling it in over itself. Make sure to pinch the ends closed. Cut the roll into even pieces and place, cut-side-up, in a greased 9×13-inch baking dish. Again, allow to rise and double in size by covering with plastic wrap and placing in a warm, draft-free area for 1 hour.
(If you would like to hold off on baking, you can place in the refrigerator for up to 24 hours. Make sure to bring rolls back to room temperature before baking, around 1 hour.)
13. After removing plastic wrap, combine 1 beaten egg with a splash of water and brush rolls to give a nice golden, glazed top. Place rolls in oven for 35-40 minutes, or until golden-brown. Remove from oven and allow to cool.
For the Icing:
14. In a small bowl, whisk together the powdered sugar and heavy cream until smooth. Using a spoon, drizzle the icing over the rolls. Serve warm or at room temperature. Optional: add 1 tablespoon of the salted caramel sauce to the mixture for extra flavor or sprinkle fleur de sel over the top.
Leftovers, if there are any, can be stored in the refrigerator or at room temperature in an airtight container for up to 5 days.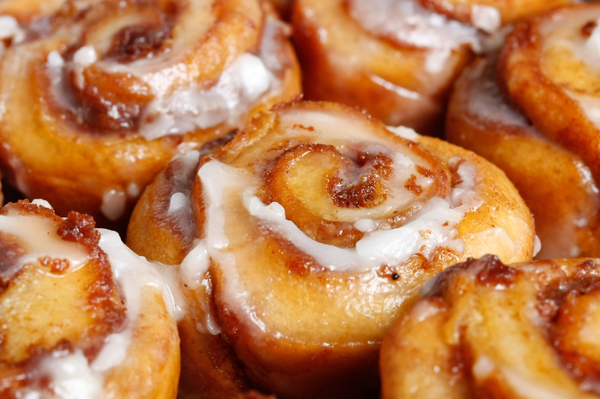 Recipe adapted from The Brown Eyed Baker
SKM: below-content placeholder
Whizzco for 12T