For anyone out there who is an ardent a pasta-lover as we are, we highly recommend trying out this tasty dish! Hailing from northern Italy, pizzoccheri is a type of pasta made with buckwheat flour–or soba," as it's known in Japanese cooking–that has an earthy flavor that we love!
While making pasta can sometimes be a bit of an endeavor, this process, if you read the directions carefully and allow yourself the time to concentrate, isn't actually that hard. You may have tried and .not succeeded spectacularly with making other types of pastas, but this one is totally doable. And you don't need to have a pasta making machine! For a rustic dish that's full of flavor and totally unique, this one knocks it out of the park!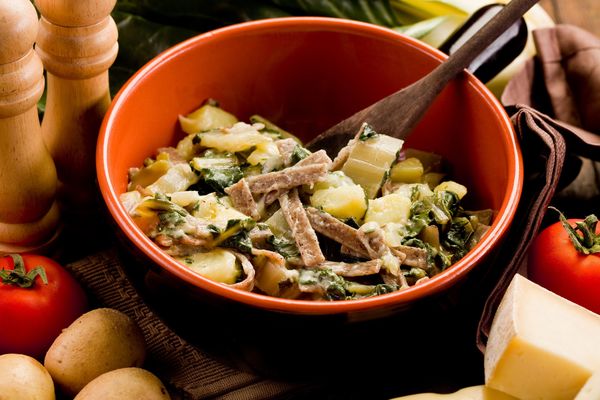 Pizzoccheri with Potatoes & Swiss Chard
Serves 6
Ingredients
Pasta:
1 cup buckwheat flour
1 cup wheat flour
1/4-1/3 cup hot water
2 eggs, room temperature
1 1/4 teaspoon sea salt
Sauce:
8 oz. Yukon Gold potatoes, peeled and diced
8 oz. fontina cheese
2 cups Swiss chard, chopped
3/4 cup Parmesan cheese, grated
2 cloves garlic, minced
1/2 white onion, diced
2 tablespoons butter, divided
1 teaspoon fresh sage, chopped
kosher salt and freshly ground pepper, to taste
Directions
Combine buckwheat flour, wheat flour and salt in food processor and pulse to combine.
Pour hot water into a large, glass measuring cup and crack eggs into the water. Beat with a fork or whisk.
Turn food processor on and slowly pour in egg mixture. Once incorporated, turn processor off and pulse for 15-20 more seconds.

Note: dough should come together and clear the sides of the bowl. If not, drizzle in a little more hot water.

Turn dough out onto a clean, flat surface and knead it with your hands for several minutes. If dough is too dry, sprinkle some water on your hands; if too wet, sprinkle a little flour on your hands.
Once dough is smooth, flatten it into a disc, wrap tightly in plastic wrap and let rest 20-30 minutes.
Divide the dough into thirds or quarters, returning all, but the piece you're working with, to the fridge.
Unwrap 1/4 or 1/3 portion dough and roll out on a very lightly floured surface into a 4×8-inch rectangle.
If using a pasta machine: set it to its widest setting and run dough through twice. (Dough will be almost twice as long.)
Gently hang dough out on a drying rack and repeat with remaining dough portions. Let dry 30-40 minutes, rotating occasionally.
Then feed dough through pasta machine set to fettuccine setting. Hang dry for another 20 minutes. Transfer them, gently doubled up, on a flour-dusted baking tray.
If cutting pasta by hand: once you have a 4×8-inch rectangle, continue rolling dough out to a large square, of 1/5-inch thickness.
Proceed to hang the dough for 30 minutes, then transfer to work surface.
Very lightly roll dough up (like a rug). Use a sharp knife to cut off 1/4-inch strips and gently uncoil them and hang them to dry for another 20 minutes.Then move them, lightly doubled up, to a lightly floured baking tray.
Bring a large pot of salted water to boil and carefully lower pasta into the water. After 15 seconds, lightly stir with wooden spoon to break up the clumps of pasta.
Reduce heat to medium-high and cook until pasta is al dente. 4-5 minutes. Remove pasta (it's okay if it breaks into smaller pieces) and set aside, reserving pasta water.
Heat butter in a large pan or skillet over medium-high heat and sauté onion until soft and translucent.
Add garlic and cook for another 1 minute, or until fragrant. Then stir in chopped sage and Swiss chard and cook until just wilted.
Bring pasta water back up to a boil and cook potatoes for 7-10 minutes, or until tender.
Add potatoes to Swiss chard and onions and stir in cheeses. Mix until melted, then add pizzoccheri to the sauce.
Transfer to serving plates, garnish with extra Parmesan and serve immediately.
Recipe adapted from Anson Mills
SKM: below-content placeholder
Whizzco for 12T