Risotto is one of those dishes that we just can 't get enough of. Made up of creamy Arborio rice and your choice of veggies (or meat), this dish allows for perfectly individualized customization and always tastes delicious. Butternut squash is a simply yummy ingredient that lends itself beautifully to this recipe; with a subtle, creamy flavor that we punched up with some nutmeg and turmeric, this dish is lovely and would make a fantastic lunch or dinner with friends, family, or just something special for yourself!
If you 've never made risotto before, we 're going to be up front and let you know there is a lot of stirring involved, while it cooks on the stove. Our advice: just pull up a stool and a glass of vino and prepare yourself for this knock-out meal!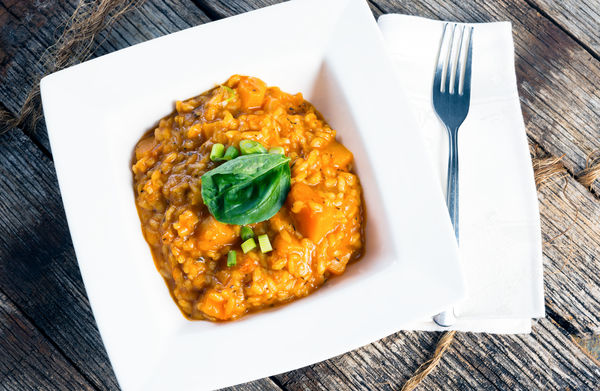 Butternut Squash Risotto
Serves 6-8
Ingredients
1/2 butternut squash, peeled, seeded and diced (1/2-inch pieces)
2 small cloves garlic, minced
1 small yellow onion, diced
1 1/2 cups Arborio rice
5-6 cups vegetable or low-sodium chicken broth
3/4 cup dry white wine
1/2 cup freshly shaved Parmesan cheese
1/4 cup heavy cream
3 tablespoons unsalted butter
1 tablespoon extra-virgin olive oil
1/2 teaspoon nutmeg
1/2 teaspoon turmeric
kosher salt and freshly ground pepper, to taste
green onion, garnish
Directions
Melt 1 tablespoon butter with olive oil in a large sauté pan over high heat and cook diced butternut squash, turning over occasionally, until lightly browned and tender.
Season with salt and pepper and cook for another 1-2 minutes. Remove squash to a plate and set aside.
Heat remaining 2 tablespoons butter in the same pan and sauté diced yellow onion until softened and translucent. 6-8 minutes.
Reduce heat to medium-high and add minced garlic. Cook for 1 minute, then add Arborio rice. Cook until rice is just toasted, but not burnt.
Reduce heat again to medium-low, add white wine and cook, stirring, until almost entirely absorbed.
1 cup at a time, begin adding vegetable broth, stirring frequently, until broth is almost absorbed. Once you can leave a trail in the risotto with your spoon, add another cup of broth.
Once you 've added 5 cups of broth, taste and add more salt and pepper, if necessary. Sprinkle in nutmeg and turmeric and stir well. Rice should be tender but still have some bite to it.
If rice is still a bit tough, add remaining 1 cup broth and stir until mostly absorbed. Then stir in heavy cream and butternut squash cubes.
Top with shaved Parmesan and green onion if desired. Serve immediately and enjoy!
Recipe adapted from The Pioneer Woman
SKM: below-content placeholder
Whizzco for 12T