For fans of Japanese food, there is certainly one dish that is at home on any menu: Tempura. As mentioned in our Katsudon recipe, this Japanese style of battered, fried food originally hails from the Portuguese in the 16th century. Over the years, though, the Japanese have molded and perfected this form of deep frying to be something very much their own.
This is a recipe for the classic shrimp tempura. It's a delicious dish that can be eaten on its own, over a bowl of rice, or served with a bowl of soba or udon noodles. If you choose to serve it on its own, try to spice it up by adding a homemade dipping sauce. One of our favorite dipping sauces, coloquially called tentsuyu sauce, is three parts dashi, one part mirin, and one part shoyu. Of course there are many variations of a good sauce out there, so look around for your own favorite.
One final note: If you have any batter left over from the shrimp, dip some vegetables in and fry those to add a little extra flavor to the meal. Scroll below to see our recipe for shrimp tempura…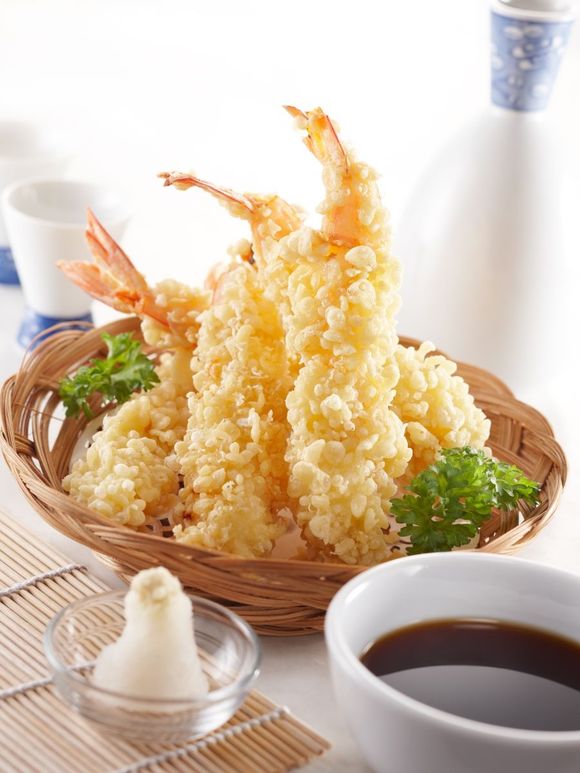 Shrimp Tempura Recipe
(makes 1-1.5 lbs shrimp)
Ingredients
3 quarts vegetable oil
1 1/2 lbs colossal shrimp peeled, deveined, tails left on.
1 1/2 cups flour
1/2 cup cornstarch
2 teaspoons shichimi(7 flavor Japanese chili pepper)
1 large egg
1 cup vodka
1 cup seltzer water
kosher salt to taste
Directions
Preheat oven to 200F.
Add vegetable oil to dutch oven, and heat oil over high heat to 385F. Use a clip-on candy thermometer to check temperature.
While the oil is heating, whisk together flour, shichimi, and cornstarch in a large bowl.
Whisk egg and vodka together in a second bowl, then whisk in the seltzer water into the egg mixture.
Once oil is at 385F, pour the liquid egg mixture into the flour mixture and whisk gently until combined.
Submerge half of the shrimp into the batter.
Remove the shrimp 1 at a time, letting excess batter trip off, then using tongs, carefully place each one in oil.
Fry the shrimp, stirring with a long, wooden skewer (or large cooking chopsticks if you feel like) to prevent sticking.
Cook for 2 to 3 minutes or until a light brown.
Using a slotted spoon, transfer the shrimp to a paper towel-lined plate and sprinkle with salt.
Place shrimp on wire rack set in rimmed baking sheet, then place in the oven.
Wait until the oil returns to 400 degrees, then repeat process with remaining shrimp.
Serve immediately.
Enjoy!
Recipe adapted from Annie's Eats
SKM: below-content placeholder
Whizzco for 12T