Pad Thai has often been called the signature dish of Thai cuisine. For those who haven't tried it yet, it's a rice noodle dish with a salty, sweet, sour, and slightly spice flavor profile typically served with shrimp, and of course a little scrambled egg, and it's typically all topped with crushed peanuts. We wanted to capture the authentic flavor of Pad Thai as much as possible.
One issue with getting the flavor profile just right was how hard some of the ingredients can be to find. While rice noodles aren't too hard to find in the international aisle of most food stores, we were having an issue with finding an easy way to find tamarind or palm sugar. They both have distinctive flavors, and if you don't use them that flavor will naturally be missing in the actual dish. It's okay, though. If you can't find them, a little lime juice and light brown sugar make fitting substitutes for both. Keep reading below for this fantastic recipe…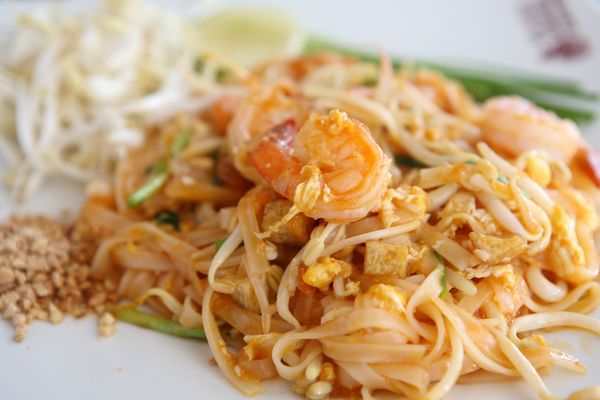 Pad Thai
(makes 2 servings)
Ingredients
2 tablespoons tamarind paste soaked in 3/4 cup boiling water (or 1/3 cup lime juice and 1/3 cup water)
3 tablespoons fish sauce
1 tablespoon rice vinegar
3 tablespoons palm sugar (or light brown sugar)
1 teaspoon cayenne pepper
4 tablespoons peanut oil or vegetable oil
8oz dried rice noodles (Use the ones that look like linguine)
2 large eggs
1/4 teaspoon table salt
12oz medium shrimp peeled, deveined, (if desired. Thin slices of chicken or tofu make good substitutes)
4 cloves garlic, minced
1 medium shallot, minced
6 tablespoons chopped, unsalted roasted peanuts
3 cups bean sprouts
5 medium scallions, green parts only, sliced thin
1/4 cup cilantro leaves (optional)
lime wedges
Directions
Soak the tamarind paste in 3/4 cup boiling water for 10 minutes, then push through a strainer with a silicone spatula to remove the seeds and fibers. Extract as much pulp as possible. Stir together the fish sauce, rice vinegar, sugar, cayenne, and 2 tablespoons oil into tamarind liquid and set aside.
Cover rice sticks with hot tap water in a large bowl and soak until softened, pliable, and limp (but not completely tender). This should take about 20 minutes. Drain the noodles and set aside. In a separate, small bowl beat eggs and 1/8 teaspoon salt. Set aside.
Heat 1 tablespoon oil in a skillet over high heat until just beginning to smoke (about 2 minutes). Add the shrimp (or protein) and sprinkled with the remaining 1/8 teaspoon salt. Cook, tossing occasionally, until shrimp are opaque and browned at the edges (about 3 minutes). Transfer the shrimp to a plate and set aside.
Take the skillet off the heat and add remaining tablespoon oil to the skillet and swirl to coat. Add the garlic and shallot, then set the skillet over medium heat. Cook, stirring constantly until light golden brown (about 1 1/2 minutes). Add eggs to the skillet and stir vigorously until scrambled and barely moist (about 20 seconds). Add noodles and toss to combine. Pour the fish sauce mixture over noodles and increase the heat to high. Cook, tossing constantly until the noodles are evenly coated.
Scatter 1/4 cup peanuts, bean sprouts, all but 1/4 cup scallions and cooked shrimp over the noodles. Continue to cook and toss until the noodles are tender (about 2 1/2 minutes).
Transfer the noodles to a serving platter and sprinkle with the remaining scallions, peanuts, and cilantro. Serve with lime wedges.
Enjoy!
Recipe adapted fromFood Network
SKM: below-content placeholder
Whizzco for 12T