Frittatas are lovely for a number of reasons, starting with the ingredients. If you've got some eggs, you can whip up a frittata filled with just about anything, from roasted veggies to leftovers from last night's dinner (yep, spaghetti frittatas are pretty popular).
This recipe, however, keeps things simple. Featuring the three main ingredients that make caprese salads and sandwiches so delicious, this fluffy frittata includes tomatoes, basil, and fresh mozzarella. Because the recipe is pretty basic, there's lots of room to customize with fresh veggies or meats that you'd like to add ñ just sprinkle them on the frittata with the tomatoes and other toppings.
Though frittatas can be made in any deep skillet, cooking them in a cast-iron skillet seems to yield the best results, especially because frittatas are generally cooked on the stove and then finished in the oven, so you'll need a skillet that's ovenproof. Plus, a seasoned cast-iron skillet adds flavor of its own.
Packed with protein and classic flavors, this frittata is great for breakfast, lunch, or dinner – try pairing it with fresh fruit, sautéed spinach, or roasted potatoes, and you'll be set with an energizing meal.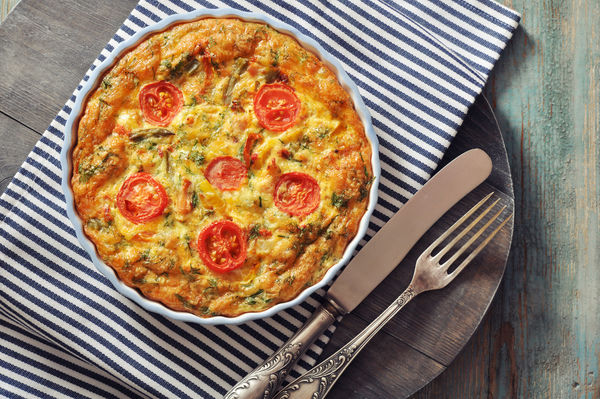 Mozzarella, Tomato, and Basil Frittata
(makes 12 servings)
Ingredients
12 largeeggs
1/2 cupwhole milk (or substitute 1/2 cup skim milk and 2 tablespoons melted butter)
1 tablespoon olive oil
4 largetomatoes, peeled and sliced (between 1/4 and 1/2 inch thick)
1 pound fresh mozzarella, diced
2 tablespoonsbasilleaves, cut into slivers
Saltand pepper to taste
Directions
Preheat the oven broiler.
Beat the eggs and milk (or the whole milk substitute) in a large bowl.
Grab a large cast-iron skillet (or similarly sized ovenproof skillet) and add one tablespoon of olive oil. (If the skillet isn't non-stick, also spray the entire skillet lightly with cooking spray.)
Put the skillet over medium heat, then add the egg mixture.
Sprinkle the top of the egg mixture with the cheese, basil, and the sliced tomatoes. Then, season the top with salt and pepper to taste.
When the edges begin to brown, put the skillet into the oven and let it sit underneath the broiler until the top is set ñ for about a minute.
Take the skillet out of the oven and serve straight from the skillet after cooling for a few minutes, or immediately transfer the frittata to a serving dishand let it cool there. Serve in wedges.
Enjoy!
Recipe adapted from Cookstr
SKM: below-content placeholder
Whizzco for 12T