Sure, store-bought bread is delicious, but why not bake your own? It's cheaper, more flavorful, and let's be honest: there's something satisfying about making something yourself. Today's recipe is for classic, glorious sourdough bread. Some suggest this delicious recipe dates back 3500 years, with its origins in Egypt. It remained a popular bread in Europe even during the Middle Ages, and it was so popular during the California Gold Rush that "Sourdough Sam" became synonymous with the San Francisco area. He's even the mascot of their football team!
This hard-shelled bread is incredibly versatile. You can eat the loaf in slices with any number of toppings, or hollow it out and use it as a delicious soup bowl. It could even make for a delicious sandwich bread. It can take a while to get this recipe really started (especially if you're making your own starter from scratch) however it's worth it. Read below for this delicious recipe…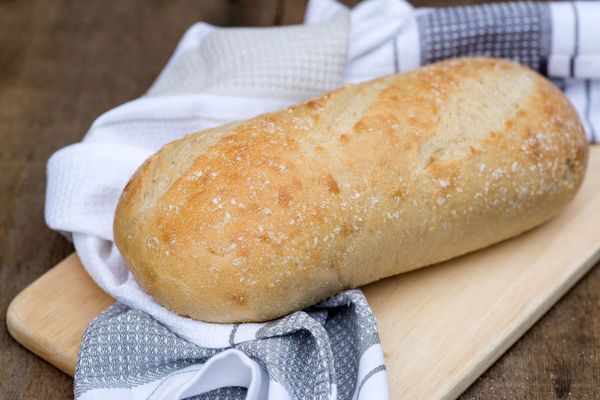 Sourdough Beer Bread Recipe
(makes 1 small loaf)
Ingredients
6oz. room temperature beer (feel free to experiment with the type of beer)
1/2 cup sourdough starter
1 tablespoon sugar
1/2 tablespoon brown sugar
3/4 teaspoons salt
2 cups bread flour
1/2 cup rye flour
Directions
In a large bowl, mix together the beer and sourdough starter. The beer should foam up.
Add salt, sugar, and flour and mix into a soft dough. Knead lazily for about 3 minutes in the bowl.
Cover loosely and let rise until doubled (about 2 1/2 – 3 hours)
After the first rise, gently knead the dough for a few minutes, form into an approximate loaf shape, then leave to rise, covered on a floured towel for 2 – 2 1/2 hours.
Preheat the oven to 450F with a cast iron pot in the middle rack.
Bake the loaf in the pot with a lid on it for 20 minutes, then remove the lid and continue to bake for another 10-15 minutes until the crust is a deep, golden brown.
Let cool completely before slicing.
Enjoy!
Recipe adapted from CakeWalk
SKM: below-content placeholder
Whizzco for 12T