Eggs Benedict is one of those guilty pleasure brunch dishes that you just can't help loving. This is a seriously delicious meal that just begs you to dig in and indulge. And indulge we did, when we set out out to create it at home. Crafting your own Eggs Benedict from scratch is no easy feat . You need perfectly poached eggs, an English muffin that's toasted to perfection, some delicious salted pork, and a Hollandaise sauce that isn't broken. Getting all of these components together can be tricky, but when you do, the results are fantastic.
There are a few conflicting reports of the origin of the Eggs Benedict. Some say it dates back to the 1800's, still others proudly declare it originated as recently as 1942 by stock broker Lemuel Benedict. Still some claim it has very papal origins. Either way, we're sure glad it was created, and we can't resist indulging in it at brunch!
Check out the full recipe below…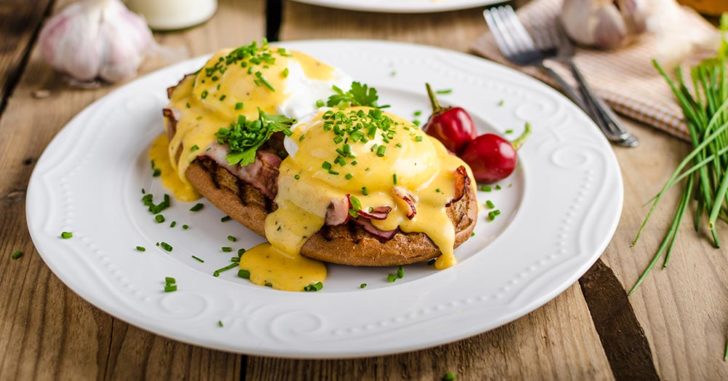 Classic Eggs Benedict
(makes 4 servings)
Ingredients
Basics
4 eggs
1 teaspoon white vinegar for poaching
4 pieces ham or bacon
4 English muffins
salt and pepper to taste
chopped scallions or parsley for garnish
Hollandaise Sauce
4 egg yolks
1 tablespoon and 2 1/4 teaspoons lemon juice
1/2 pinch ground white pepper
1/8 teaspoon Worcestershire sauce
1 1/2 teaspoons water
1/2 cup butter, melted
1/8 teaspoon salt
Directions
Cook the bacon or ham in a large skillet as you normally would. set aside.
While the bacon is cooking, fill a large saucepan 2/3 of the way up with water and bring to a boil. Add the vinegar, then lower the temperature so it's at a light simmer.
For the Hollandaise sauce, fill the bottom of a double boiler part-way with water, and bring to a simmer. On the top half of the double boiler, whisk together egg yolks, lemon juice, white pepper, Worcestershire sauce, and waer.
Add the melted butter to the Hollandaise mixtures 1 or 2 tablespoons at a time while constantly whisking the yolks (this part is very important for a proper Hollandaise). Add small amounts of water to the Hollondaise if it starts to get too thick.
After slowly adding in all the butter, whisk in the salt then remove from heat. Cover with a lid to keep warm.
Toast your English muffins
Poach the eggsby carefully cracking the egg into the water. Allow the egg to begin to solidify before adding another. Keep track of what order you put the eggs in, as you will want to pull them out in that order.
Let the eggs sit for 3 1/2 to 4 minutes before removing from the water with a slotted spoon.
See if you can get everything ready at the same time (having a second person in the kitchen helps) and assemble.
Butter an English muffing half, top with bacon or ham, add a poached egg on top of the bacon, pour Hollondaise sauce over, sprinkle with parsley or scallions.
Serve immediately
Enjoy!
Recipe adapted from The Pioneer Woman
SKM: below-content placeholder
Whizzco for 12T