We've all been there: you're out at a restaurant, trying a new dish, and then it just hits you. You have to try to recreate this at home! That's what happened to us with chicken curry at our favorite Indian restaurant. We had to figure out a way to make this at home! It was so smooth, perfectly mixing together a little sweetness with some spice. The chicken was perfectly tender, and the rice was cooked to perfection.
The trick to getting the right amount of depth and flavor was to first cook the spices in oil, letting that flavor fully develop before adding the meats. It adds a little extra depth of flavor and helps get just the right amount of heat. Also, instead of using only coconut milk, use equal parts water with it to prevent the dish from getting too sweet. Keep reading below for our favorite recipe…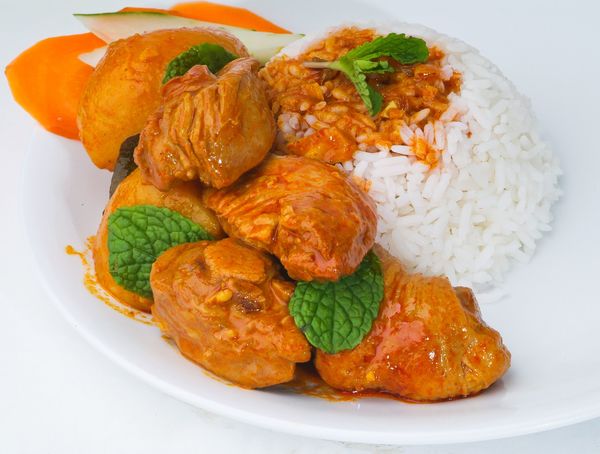 Chicken Curry Recipe
(makes 4-6 servings)
Ingredients
SPICE BLEND
1 1/2 cinnamon sticks
4 whole cloves
4 green cardamom pods
8 black peppercorns
1 bay leaf
CURRY
1/4 cup vegetable oil
1 medium onion, sliced thin
4 large cloves garlic, pureed with 1 tablespoon water
1 tablespoon fresh ginger, pureed with 2 teaspoons water
6 chicken thighs, skinned and cut into bite sized pieces
2 teaspoons ground cumin
2 teaspoons ground coriander
1 teaspoons ground turmeric
salt to taste
1/2 cup plain yogurt
1 cup coconut milk
1 cup water
1 jalapeno pepper, stemmed, seeded, cut in half lengthwise
3 tablespoons fresh cilantro leaves
1/2 cup Indian split peas
Directions
Heat oil in a large skillet or soup kettle over medium high heat until hot.
add the spice blend to the oil, stirring with a wooden spoon until the cinnamon stick unfurls and cloves pop (about 5 seconds).
Stir in onion to the skillet and saute until softened, about 3 to 4 minutes.
Stir in garlic, ginger, chicken, 1/2 teaspoon salt, and yogurt. Cook, stirring constantly, until liquid evaporates, oil separates and turns orange, and spices begin to fry (about 5 to 7 minutes).
Once spices begin to smell cooked, stir in cilantro, then add the water, coconut milk, and halapeno. Season with salt to taste.
Bring to a simmer, then reduce the heat. Cover and continue to simmer until the meat is tender (about 20 to 30 minutes).
Add Indian split peas, and cook until tender (about another 15 minutes).
Serve hot with rice.
Enjoy!
Recipe adapted from All Recipes
SKM: below-content placeholder
Whizzco for 12T