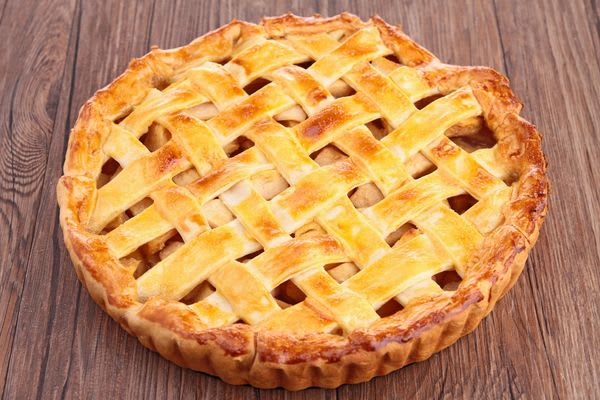 Have you ever shied away from making a tasty dessert just because it required pie crust? We have. It wasn't until we came up with this fool-proof recipe that we realized we could have reliably delicious results every time, without worrying about how the crust would turn out!
First and foremost, you want to use cold ingredients. The beauty of a good pie crust is that it's buttery and flaky, and the only way you can achieve that is by keeping the ingredients cold, so the butter doesn't warm up and release its moisture (which causes the beautiful flakiness) before baking. You always want your butter chunks to be visible and just remember to chill, chill, chill; we promise you, the added time needed to adequately chill your dough pays off tenfold when you see the heavenly, flaky result…seriously, there's no more need to worry, you've got this!
Classic Pie Crust
Yield: dough for one double-crust pie or two single-crust pies
Ingredients
Crust:
2 1/2 cups all-purpose flour, divided
3/4 cup (1 1/2 sticks) cold unsalted butter, cubed
1/2 cup vegetable shortening
6-8 tablespoons ice water
1 1/2 tablespoons sugar
1 teaspoon salt
Egg Wash:
1 egg yolk, lightly beaten
1 tablespoon milk or heavy cream
Directions
In the bowl of a food processor, pulse together 2 cups flour with sugar and salt until combined.
Spread the cubed butter out evenly over the flour mixture and pulse 10-12 times to incorporate.
Sprinkle in remaining flour, then drop in shortening 1 tablespoon at a time and pulse until mixture is coarse and pebble-like in consistency.
Transfer mixture to a large bowl and drizzle ice water into the dough. Use a rubber spatula to incorporate it into the mix until dough ball comes together.

Note: to test dough readiness, take a piece and gently press it together. If it holds together, you've added enough water.

Turn dough out onto a lightly floured surface and divide in half. Roll each half into a disc and wrap tightly in plastic wrap.
Refrigerate each disc for at least 1-2 hours before handling.
Remove dough from refrigerator (one disc if making single-crust pie; both if making double-crust, starting with just the first disc, leaving the other in the fridge until ready to roll out) and let sit 5 minutes, then roll out to a circle of 1/8th-inch thickness.
Fold half of dough over your rolling pin and carefully transfer it to 9 or 10-inch pie dish.
[For single-crust pie: trim off and fold edges under before crimping.]
[For a double-crust pie: fill pie and top with second, rolled-out half of dough.]
Trim off edges and fold under, then use your fingers or the tines of a fork to crimp your edges.
Combine beaten egg yolk with 1 tablespoon milk and brush mixture over your top crust for a golden finish.
Bake according to recipe directions and enjoy!

For a latticed top crust: roll out your second dough ball and cut it into small, straight strips. Starting on one side and working your way across, gently lay half of your strips horizontally (spacing them apart evenly), and press them gently into the crust on the left side to adhere them. Take remaining strips (one at a time), lay them vertically and weave them under and over each horizontal strip, pressing firmly at the top to adhere them. Once you've woven all your strips, press them firmly into the crust on the right hand side of the pie and on the bottom.
Recipe adapted from Serious Eats
SKM: below-content placeholder
Whizzco for 12T