Job interviews. Those two words probably have you your stomach doing flips and your brow beginning to sweat a bit, am I right? Yeah, for most of us job interviews are just as sadistic as a trip to the dentist. But unfortunately, just like the dentist, job interviews are a regular part of life.
Most of us will go on several job interviews within our lifetime, and the nervousness surrounding them usually starts the minute we begin looking in our closet for something to wear. What we wear to an interview definitely makes a huge first impression. While in a perfect world the hiring manager would get to spend hours with us, getting to know us and see that we're the perfect person for the job, the sad reality remains that they have tons of other candidates to get through so what we wear and the first impression that we leave makes up a big chunk of how they see us the rest of the interview.
And unfortunately for anyone who loves bright colors, they may not be doing you any favors in an interview. According to a 2013 study in which CareerBuilder surveyed 2099 hiring managers and human resources representatives, it was found that 25% of them not only thought that orange was the worst color to wear, but it was also most associated with a lack of professionalism. So if you thought orange was your power color, think again.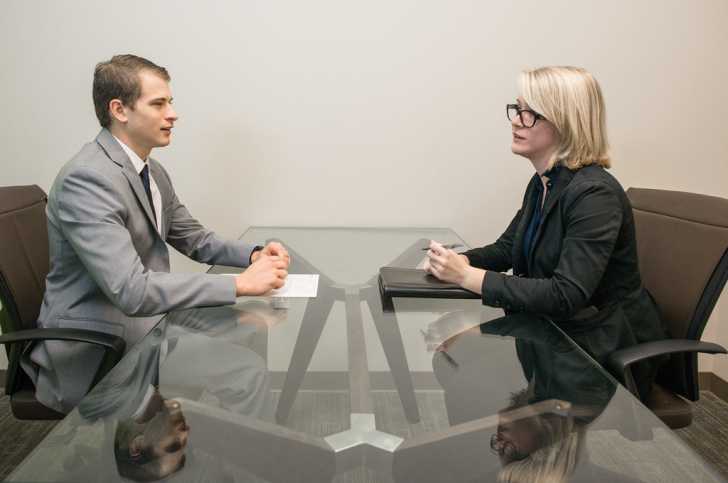 According to Michelle Armer, CareerBuilder's chief people officer, bright colors aren't the best because you don't want your clothes to distract the interviewers from what you're actually saying.
As Armer said to Money, "The goal of any interview is to communicate what unique value you bring to the company and its culture. A good rule of thumb: make sure the people remember you more than your clothes."
And even if the position you're interviewing for is with a company that is known to have a casual dress code, it is still important to bring a sense of professionalism with a business formal attire in order to show them that you take the job opportunity seriously.
Of course, if you're like me, you'd show up to every interview dressed like Elle Woods in her big courtroom scene, but why risk it? And while it might be hard to dress more Vivian Kensington for the interview, just think about it like this: Once you have the job and you've signed the contract you can go wild showing you're your style!
That is why CareerBuilder's survey suggests in order to play it safe stick to a blue or black ensemble as 23% of the study's participants thought blue was best, and 15% preferred black in interviews.
Good luck! And may the job odds be ever in your favor!
SKM: below-content placeholder
Whizzco for 12T