The kind of dessert your guests never stop talking about.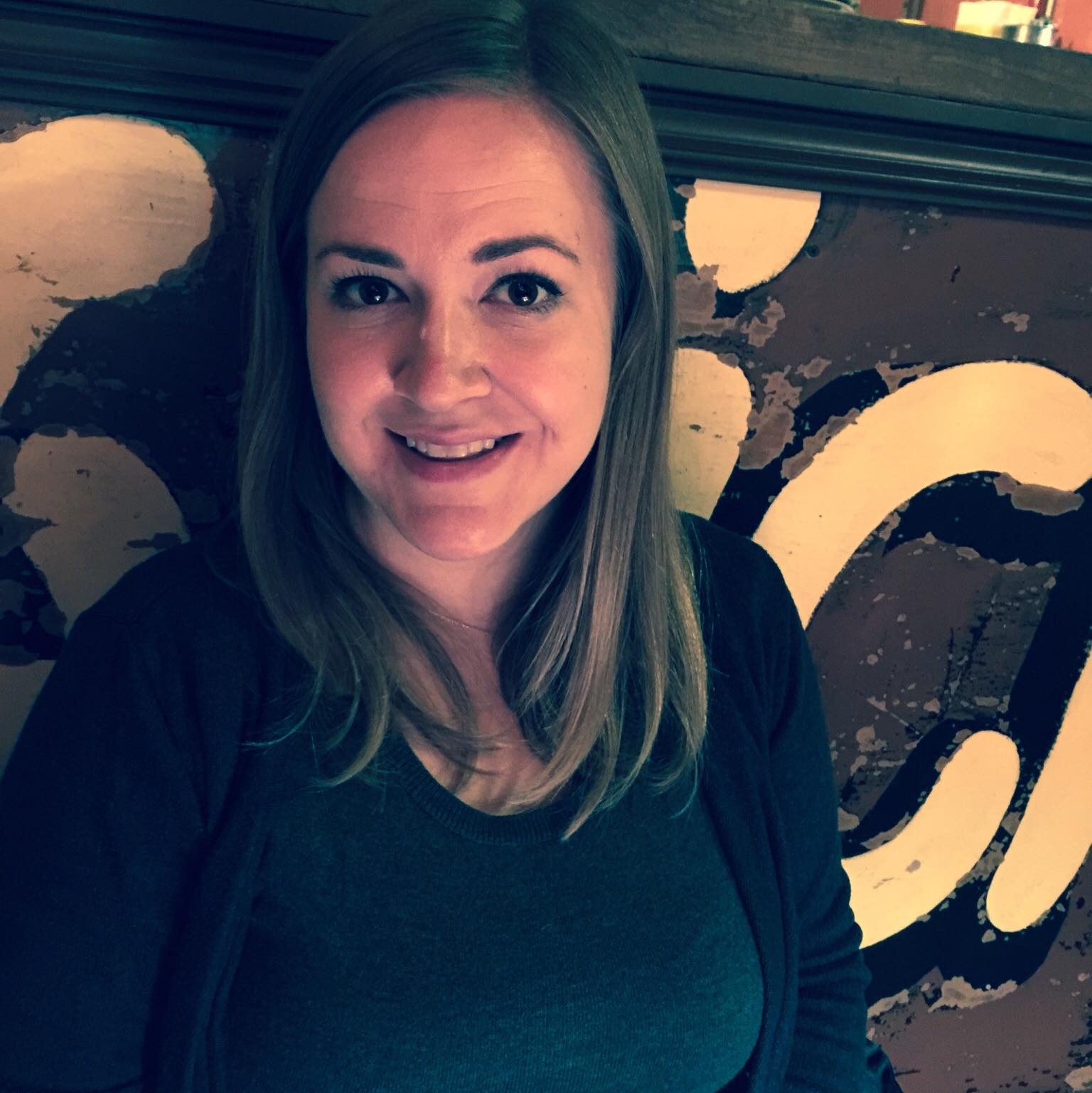 Kristy Norrell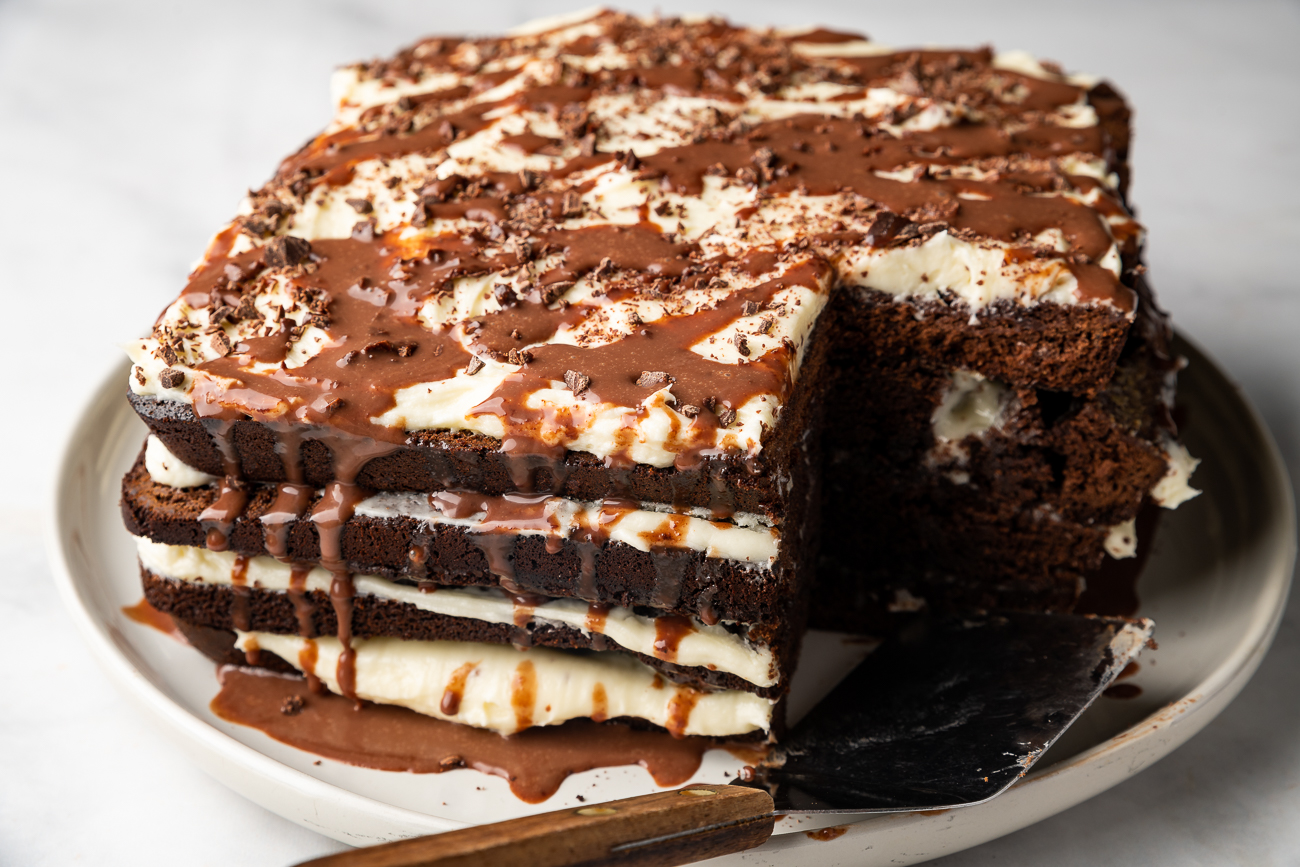 Are you looking for the most decadent, the most indulgent, the richest dessert you can imagine? Well, we more than have you covered and you can thank Olive Garden for the inspiration. Their Chocolate Lasagna is a lesson in sweet decadence with its four (yes, four!) layers of fudgy chocolate brownie-cake that sandwiches rich cream cheese frosting and is all topped off with a little more chocolate for good measure. It's A LOT and it's not at all ashamed of it, and that's precisely why it's so amazing. I have really good news for you — now you can make that same indulgence at home, and I can promise you that when you make it yourself, it's the type of dessert that people will be talking about for years.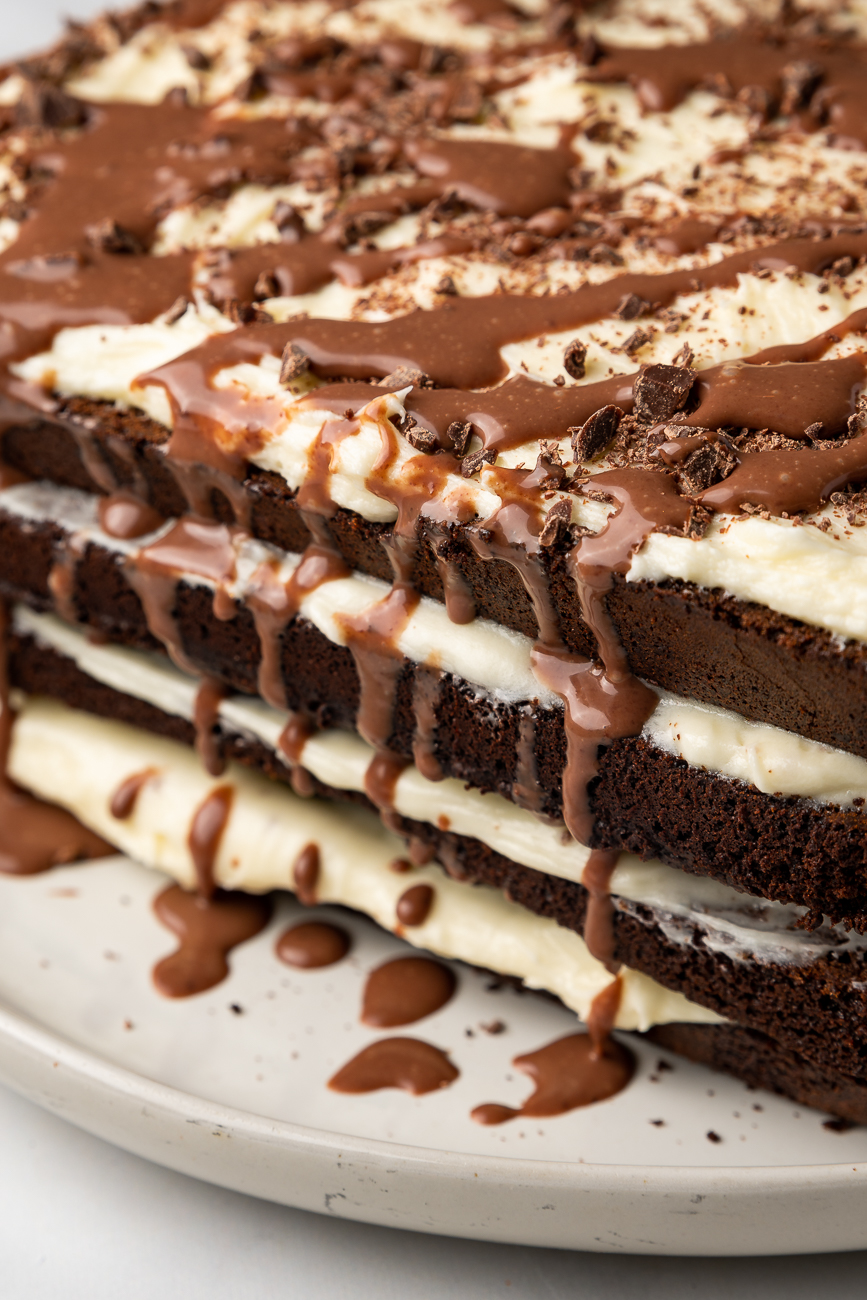 I have more good news. You can start with a box of brownie mix. Well, two boxes of brownie mix. (I did say there were four layers here.) You're going to take those brownie mixes and you're going to add everything the package calls for but you're also going to add in a couple of additional eggs. This makes the mixture just a little bit cakier and better suited to layering. Don't fret — it's still plenty fudgy.
You'll divide that batter between two square pans and bake it until it's set. (Again, use the package instructions as a guideline here.)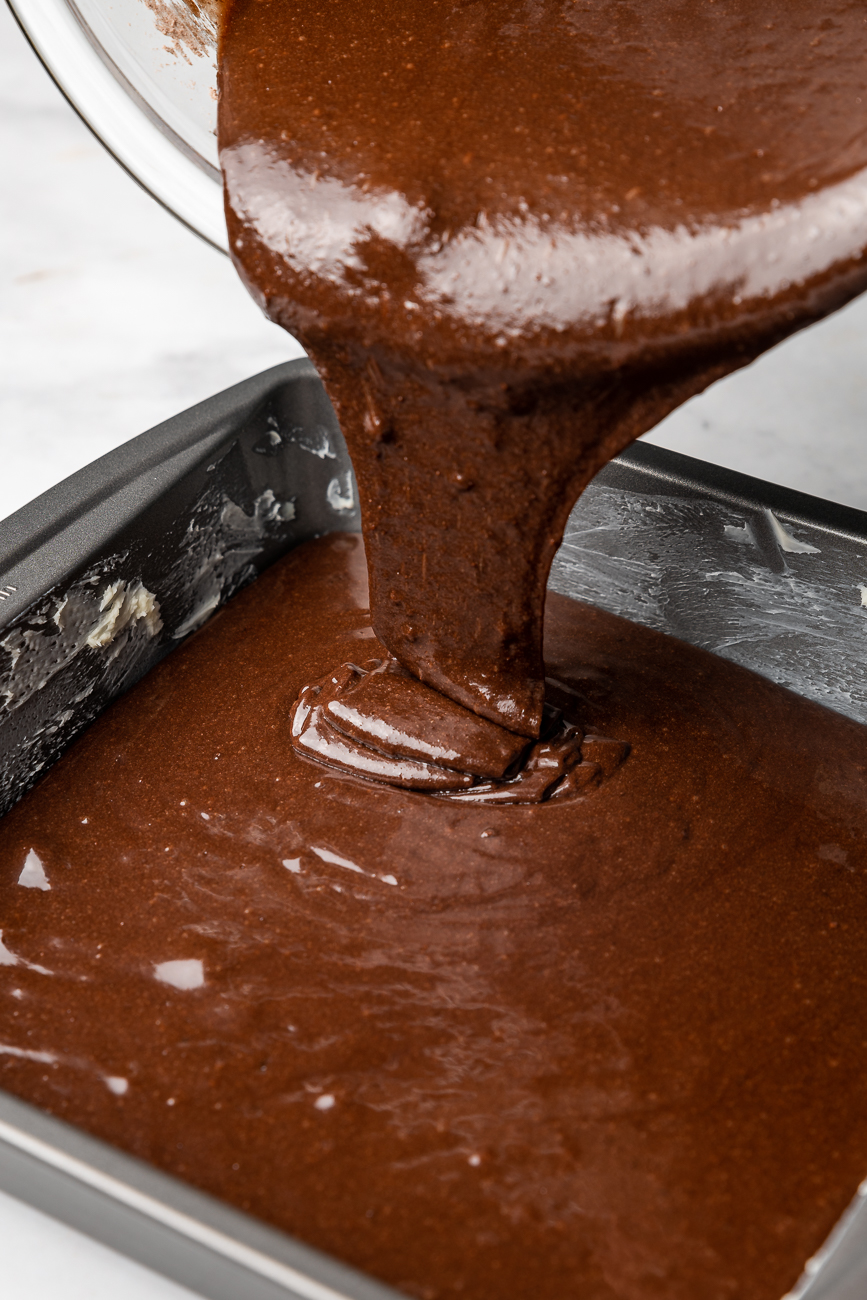 While those marvelous brownie layers cool, you'll make up a quick (but rich and delicious) cream cheese frosting. It's butter and cream cheese and powdered sugar smoothed out with a little bit of heavy cream and vanilla extract. Basic, but perfect.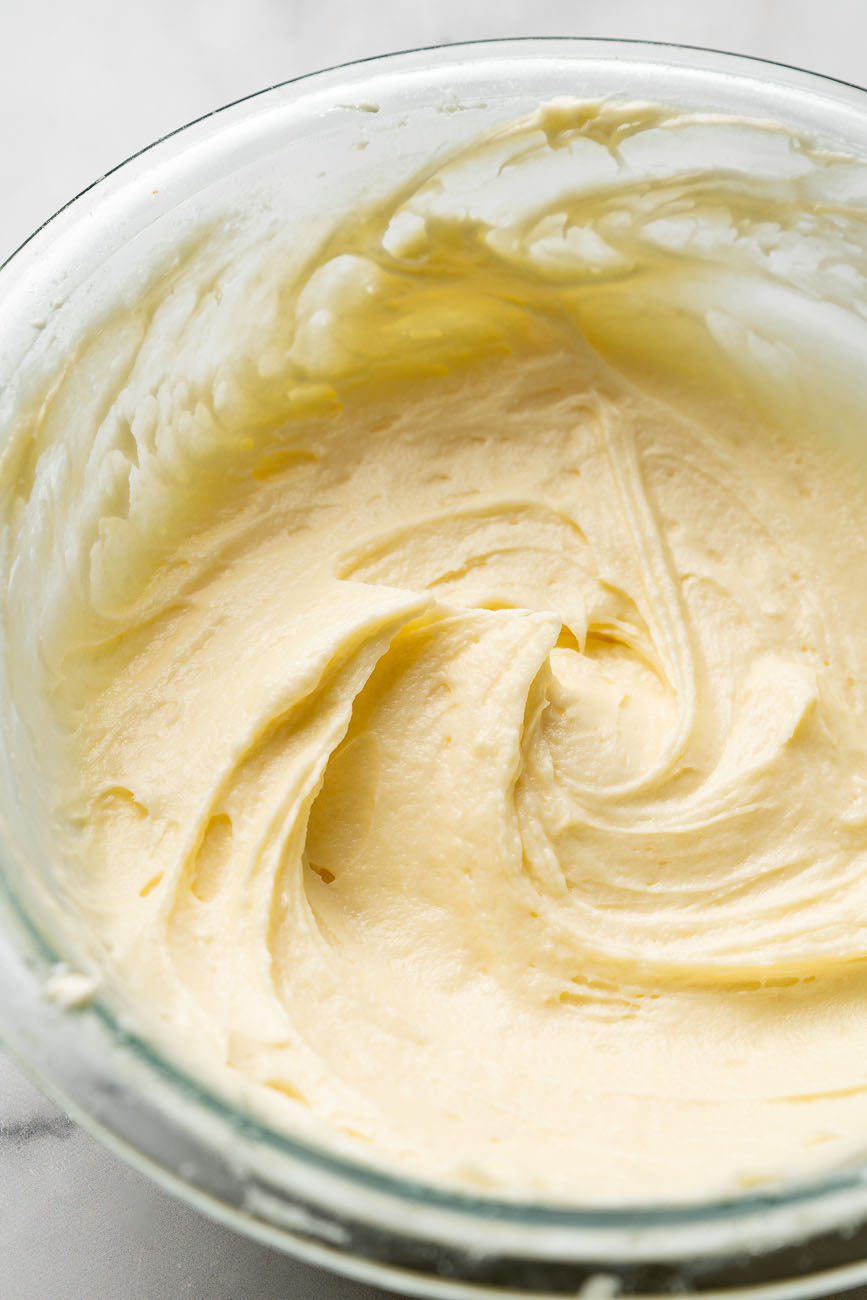 You'll cut the cooled brownie-cake layers in half, so each layer becomes two squares. (Again, we need four chocolatey layers.) Spread that first layer with cream cheese frosting…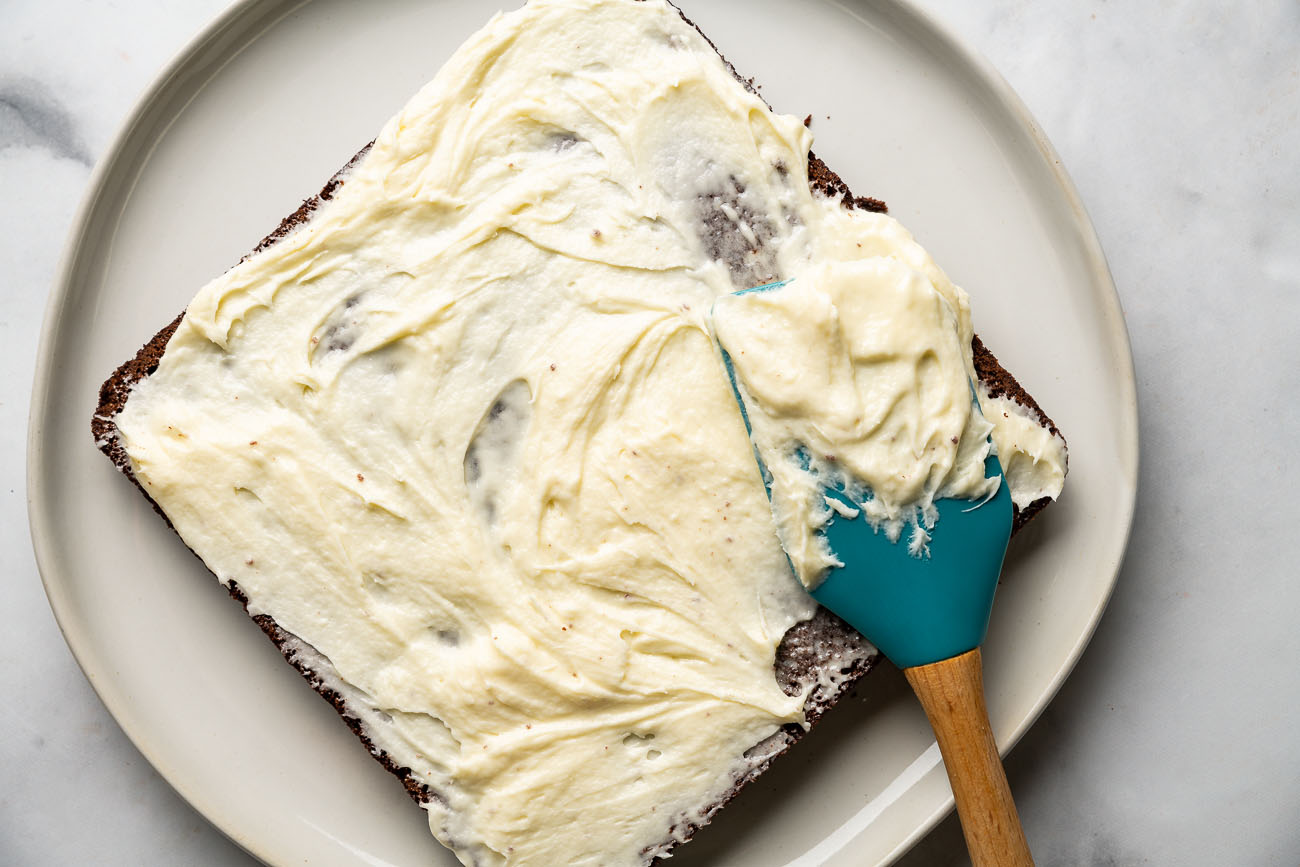 … and then top it with another layer of brownie, another layer of frosting, and another, and another, until you've used all those goodies up. You want to then chill your magnificent creation or slicing it up will be kind of a messy chore.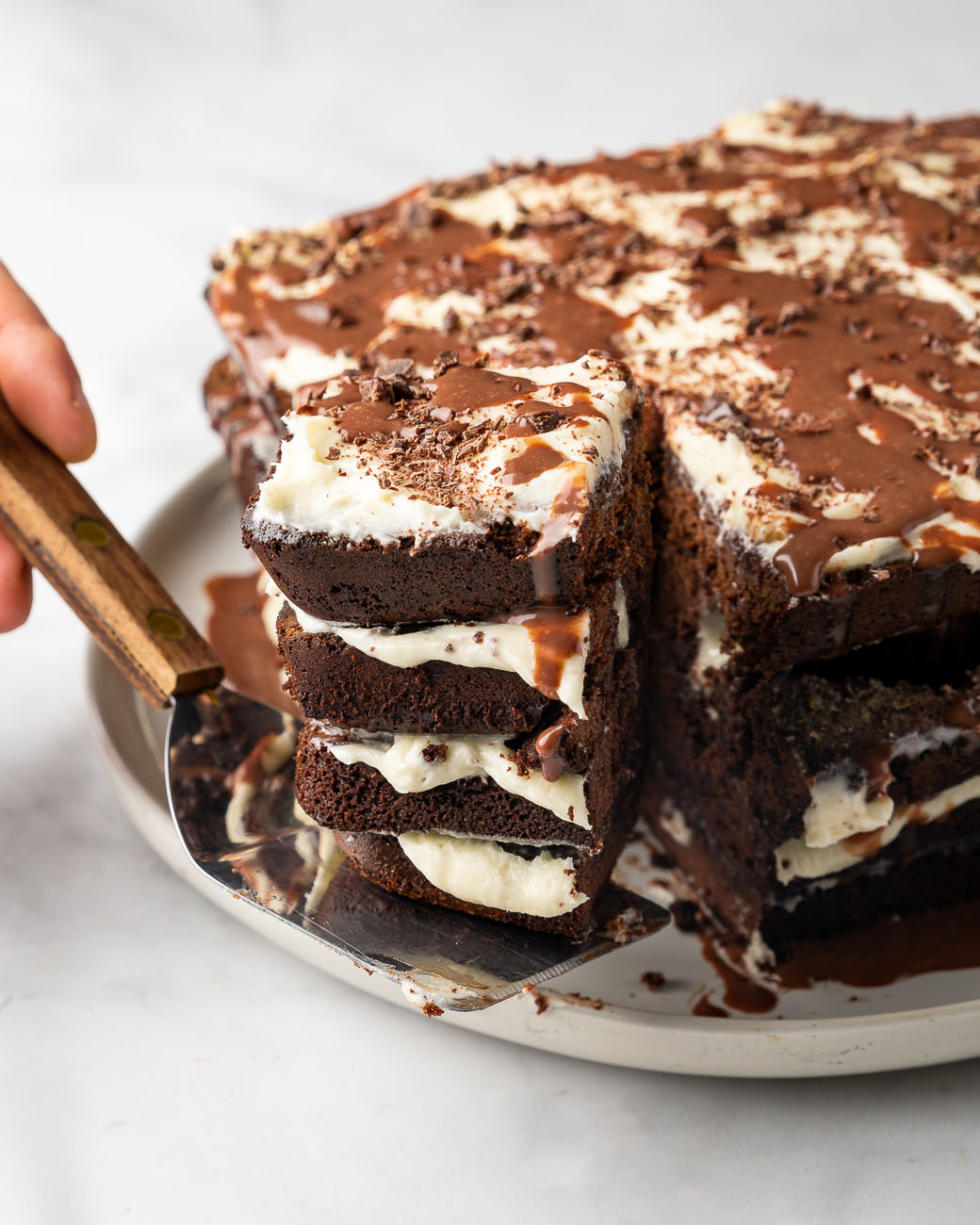 While that towering stack of sweet satisfaction chills, you'll make a quick ganache in the microwave that you can then pour alllll over the top of the "lasagna." I think chocolate shavings are entirely appropriate here too. After all, if you're having something called Chocolate Lasagna, you might as well really go for it.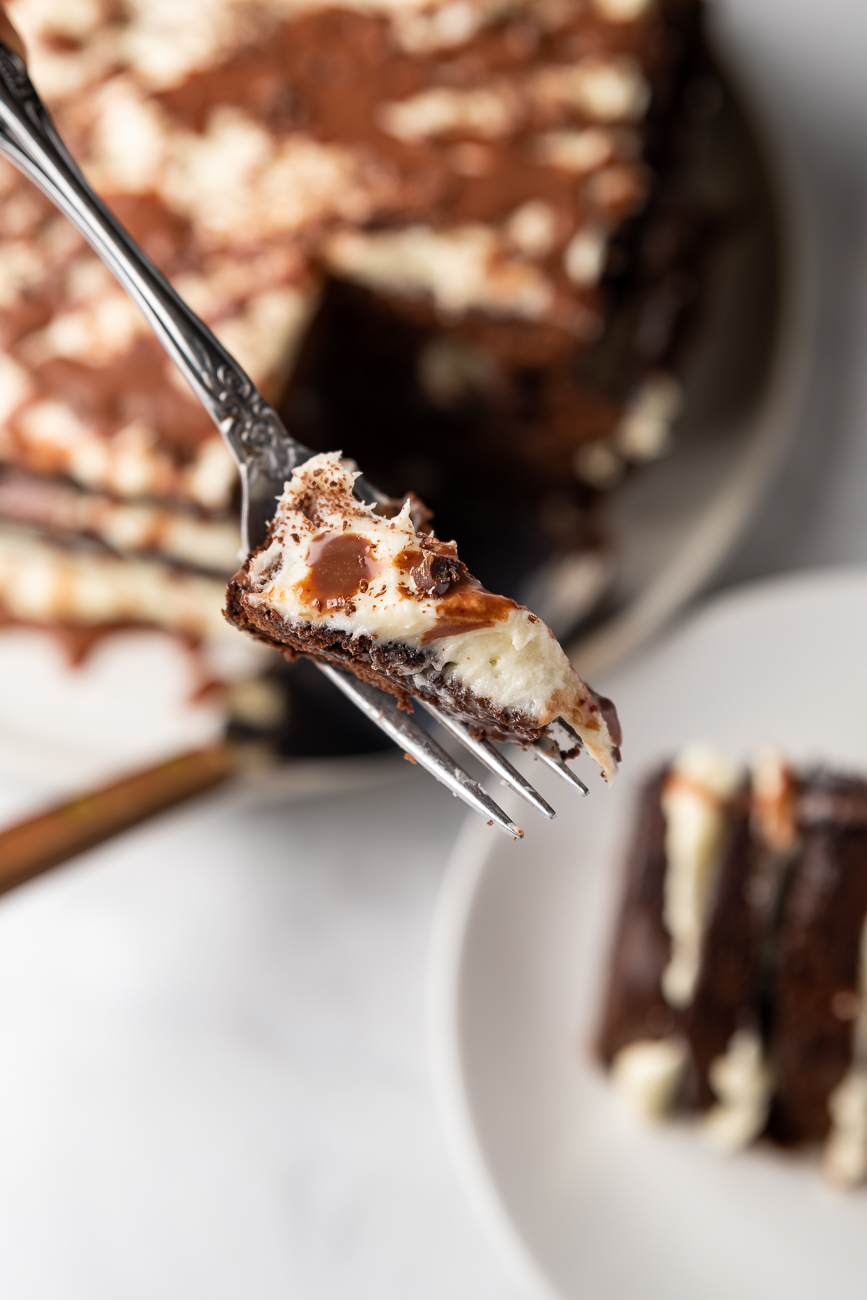 Copycat Olive Garden Chocolate Lasagna
Serves 9
20m prep time
20m cook time
30m inactive
Ingredients
2 boxes brownie mix, plus ingredients called for on box
2 large eggs
16 oz cream cheese
1 cup (2 sticks) unsalted butter, softened
2 teaspoons vanilla extract
2 tablespoons heavy cream
8 cups powdered sugar
4 oz semisweet chocolate, chopped
2/3 cup heavy cream
Preparation
Prepare brownie mixes according to instructions on the box, but add an additional egg to each batch of batter.
Bake brownies in two batches in 8-inch square pans. Set aside to cool.
In a large bowl, beat the cream cheese and butter with an electric mixer until fluffy. Gradually add the powdered sugar and mix to combine. Add the heavy cream and vanilla and beat until smooth and fluffy.
Remove brownies from pans and use a large knife to cut through them horizontally so you end up with four large squares.
Place the first layer of brownies on a plate or platter and frost with cream cheese filling. Add another brownie layer and frost once more, then repeat with other layers. Place in fridge to chill.
Using a microwave or stovetop, heat the heavy cream until nearly boiling. Add chocolate to a bowl and pour the hot cream over the top and let sit 5 minutes.
Stir until smooth and drizzle over the chilled chocolate lasagna. Garnish with chocolate shavings, if desired, serve, and enjoy!
Recipe adapted from Taste of Home.
SKM: below-content placeholder
Whizzco for 12T