New York University students have been returning to school over the past week or so. They have been showcasing the meals that they are being provided during quarantine and let's just say that they are not the most mouthwatering clips that you are ever going to see. There's a salad that is supposed to be "vegan" that contains cheese and steak. If that's funny to you, wait until you see the "chicken Caesar salad."
It has not taken long for the videos to go viral. We all love to see struggle meals. Remember all of the hubbubs over the meals that the NBA players were receiving when they first arrived at the bubble? This is the same principle.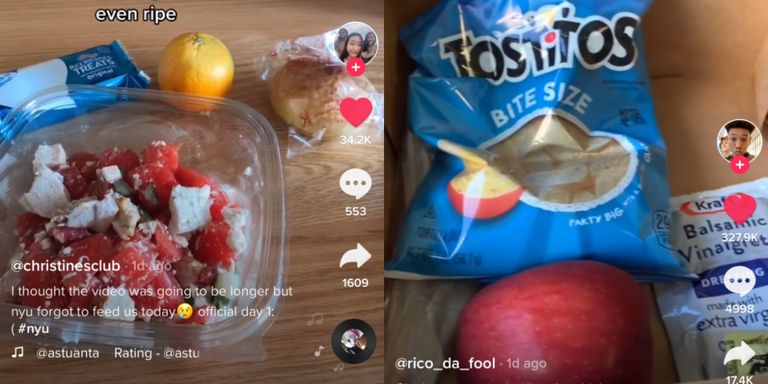 The meals are a TikTok phenomenon and rightfully so. There's another comparison that is being made that is probably a bit more accurate, though. The clips that are being passed out have been compared to the infamous Frye Festival documentary. The students who have just arrived on campus are being asked to quarantine for at least 14 days. Can you believe that they are only on day three?
@christinesclub

I thought the video was going to be longer but nyu forgot to feed us today😢 official day 1:( #nyu
We're not sure what we would do in this scenario. If you'd like to keep up with this saga, you'll want to head to TikTok. The #nyu hashtag is a goldmine and we have been laughing at these meals ever since they came back to campus. Every clip in the hashtag is not about the quarantine meals (there are millions to choose from) but many of the top ones are.
These students are definitely going through it at the moment. They are being limited to three bottles of water per day, food deliveries are delayed, and the food arrives bearing a strange scent. Since NYU education comes at a price tag of $70,000 per year, lots of questions are being asked. Many students cannot afford food delivery prices on top of their expensive room and board.
NYU claims that the complaints are valid, placing the blame on the vendor responsible for feeding the students. Efforts are also being made to address individual complaints. After rico_da_fool showcased the "chicken Caesar salad" he was given and the breakfast that he had missed, he received a special meal and an apology. In a follow-up clip, he provided mutual aid fund information for low-income students in need of grocery deliveries.
SKM: below-content placeholder
Whizzco for 12T