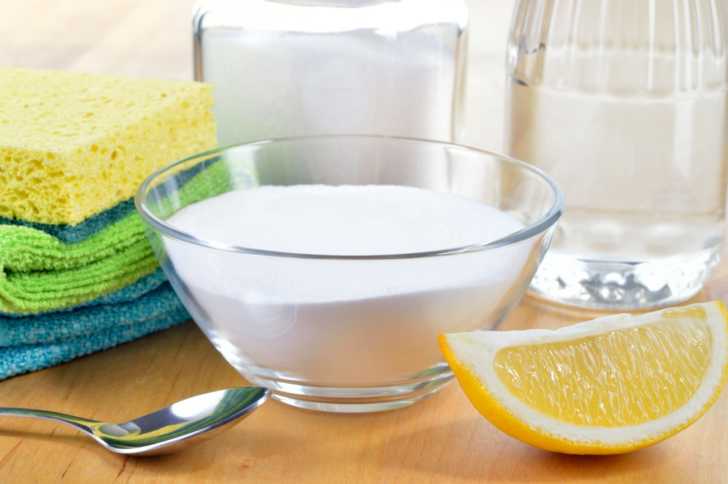 Everybody loves to have a clean house, but what we don't love is that so many commercial cleaners are chock full of toxic ingredients and dangerous chemicals. Commercial cleaning products can be not so good for your wallet, your health, and the environment, but luckily it's incredibly easy to make your own versions at home, no matter what it is you need to clean. All you need are a few simple household ingredients to clean anything in your house! We'll show you how to do it yourself (it's easy!) in a way that's good for your family, your bank account, and the planet.
There are a few heavy hitters when it comes to making your own non-toxic cleaners, and they are:
Baking Soda
Baking soda, or sodium bicarbonate, neutralizes both acids and bases, so it actually neutralizes odors instead of just covering them up. It dissolves grease and dirt in water, so it works so well in all kinds of applications around the house.
White Vinegar
Due to its acidic nature, vinegar is an amazing household cleaner. It gently – and very effectively – gets rid of soap scum, grease, and grime.
Castile Soap
Since Castile soap is made completely of plant oils, it means it's incredibly gentle and safe to use around the house, but it still gets rid of grease really well. You can even find scented options to make sure your house smells beautiful.
Lemon Juice

Lemon juice not only smells wonderful, it also does a fantastic job of cutting through mold, mildew, and grease. Plus, it's easy to come by.

Essential Oils

Essential oils are handy, not only because they give you tons of variety in scenting your homemade cleaning products, but some of them also have great cleaning properties. Take tea tree oil, for instance, which is antimicrobial!

Now, without further ado, we'll show you how to make an easy non-toxic cleaner for everything in your house!

All Purpose

A great all-purpose formula is maybe the most important cleaner in your arsenal. Tea tree oil is a great choice here because it has antimicrobial properties, but you can use whatever essential oil you'd like (or even none at all). This formula does a pretty bang-up job of killing bacteria, but if you're really looking for something to disinfect, you can substitute 1/2 cup vodka for a 1/2 cup of the water.

2 cups water
1/2 cup white vinegar
10 drops tea tree oil

Combine all ingredients in a spray bottle and shake well. Spray onto surface and wipe off with a cloth.

Windows & Mirrors – Glass Cleaner

Get streak free glass with this simple cleaner. Rubbing alcohol helps the liquid evaporate quickily, ensuring you won't have any streaks or water spots. The essential oil is mainly for scent here, so feel free to skip it if needed.

2 cups water
2 tablespoons white vinegar
2 tablespoons rubbing alcohol
5 drops peppermint essential oil

Combine all ingredients in a spray bottle and shake well. Spray onto surface and wipe off with a lint-free cloth.

Stovetop, Sink, Bathtub – Heavy Duty Scrub

This scrub is great for soap scrum, dried on food… the tough stuff. You want to mix your ingredients and then add just enough water to form a loose paste.

1/4 cup natural dish soap or Castile soap
1/4 cup baking soda
5 drops clove essential oil
About 3 drops of water

Mix all ingredients in a bowl. Spread onto surface using a sponge, and scrub with the gritty side. Wipe clean with a wet cloth.

Drain Cleaner

For a drain cleaner that really works on slow moving drains and is also safe for your septic system, try this!

1/2 cup baking soda
1 gallon hot water
1 cup white vinegar
Juice of 1/2 a lemon

Pour the baking soda down the drain. Then, mix the vinegar and lemon juice and pour it down the drain. It should bubble. Let that sit for 5 minutes. Pour the hot water down the drain.

Oven

If you've accidentally breathed in the fumes from a commercial oven cleaning product, you know how nasty that stuff can be. Luckily this natural formula works like a charm. Let this sit overnight if your oven really needs an extensive cleaning!

1 1/2 cups water
1/2 cup white vinegar
Baking soda, as needed

Mix water and vinegar together in a spray bottle and spray inside of oven and door. Sprinkle baking soda all over the oven and spritz with vinegar mixture again. Mixture should bubble up. Let mixture sit for a bit for baked on gunk (can let sit overnight). Scrub with a sponge and wipe clean with a wet cloth.

Microwave

It couldn't be easier to get a squeaky clean microwave, naturally. Just pour 1 cup of vinegar into a bowl and microwave for about 5 minutes. The liquid should boil and the walls will be covered in condensation. Let sit a few minutes, then wipe clean with a cloth.

Toilets

If you haven't tried making your own toilet cleaner, it's high time you do. It cleans like a

dream.

2 teaspoons borax
3 tablespoons Castile soap
4 tablespoons white vinegar
1 1/2 cups hot water

Mix borax, vinegar and a little bit of hot water. Then add Castile soap and swirl bottle to incorporate. Add remaining hot water. Spray inside of toilet and scrub with a toilet brush.

Hardwood Floors

If you have little ones who are crawling around on your floor, it's especially important that you use a cleaning product that's healthy for them and still leaves your floor spotless. This easy mix always does the trick.

1/2 cup white vinegar
1 gallon warm water
2 to 3 drops lemon essential oil

Mix all the ingredients in a 2-gallon bucket. Submerge mop and wring out well. Mop floors and repeat.

We hope some of these help you find your way to a cleanier, healthier home. Happy cleaning!
SKM: below-content placeholder
Whizzco for 12T