A classic Canadian dessert with some seriously global appeal.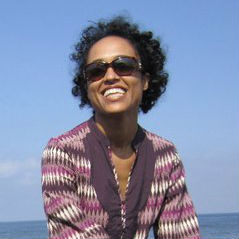 Sarah Cool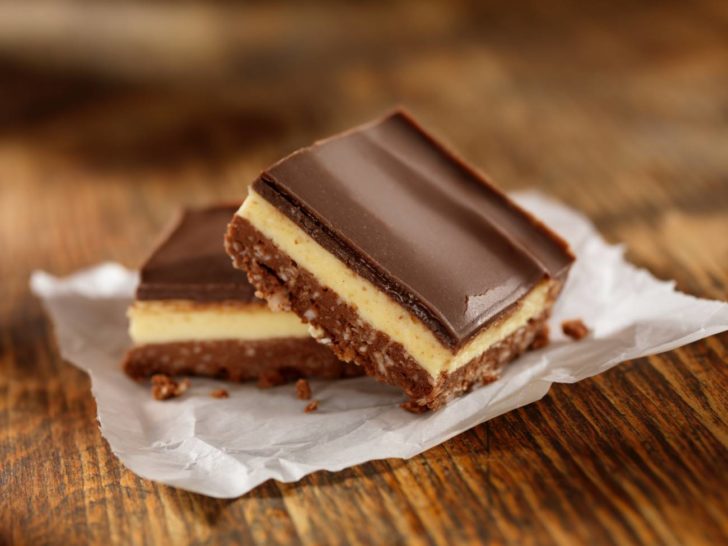 Nanaimo bars are usually a holiday confection but we love them so much that they make an appearance just about year round. They're super easy to make and have decadent layers of chocolate and sweet cream, and a chocolate-graham-cracker-nut crust, so pretty much the best of everything! A Nanaimo bar is actually Canadian in origin but a treat like this has global appeal, and it's super easy to make. You're going to want to whip up a batch immediately!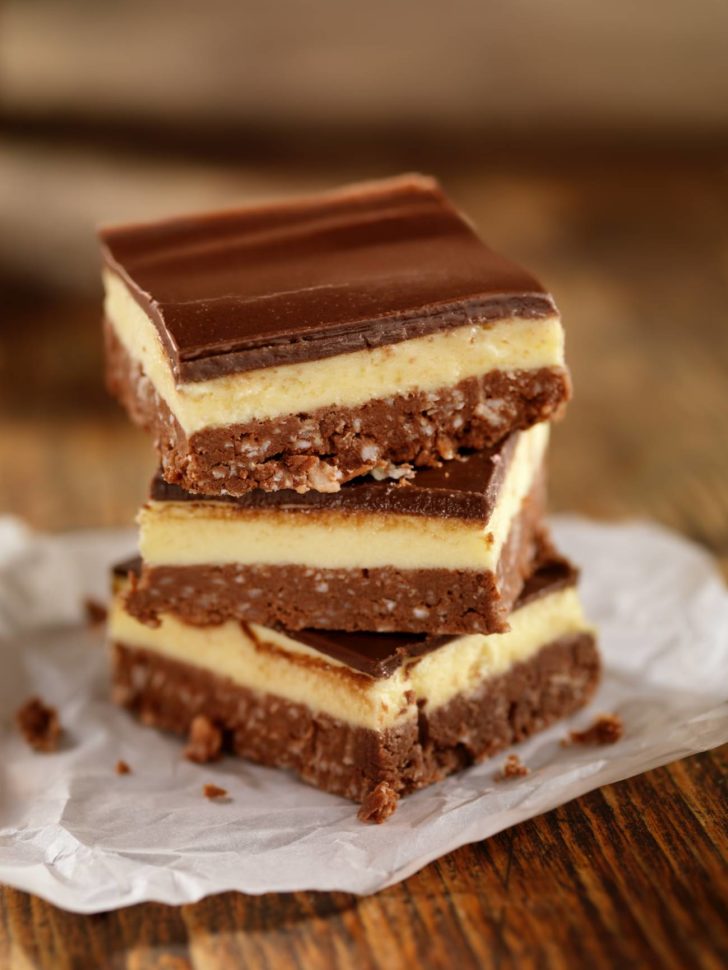 A Nanaimo bar is made up of three delicious layers. The first is a cookie-like crust, made with graham crackers, cocoa powder, sugar, and butter. For added texture and flavor, you'll also add coconut shavings and some chopped nuts. You can choose which nuts you prefer, but walnuts, pecans, or almonds all work well. These are melted together to make a crust that is pressed into the bottom of an 8×8-inch baking dish. The second layer is a creamy filling that is just the right amount of sweet. We've recommended white chocolate instant pudding but you can also use vanilla instant pudding. Some recipes call for a custard-like filling instead, but we like this shortcut method. Speaking of shortcuts, to speed up the whole process, you can freeze each layer as it's prepped, cutting the time to prepare almost in half!
Finally, the third and top layer is made of melted chocolate, a kind of ganache, that is poured over top of the cream filling. All of this needs time to chill and set up in the refrigerator before it's ready to be cut into adorable little squares. Plate them decoratively or store them in an airtight container for later – these are a great make-ahead dessert. Nanaimo bars just rich enough to make them a decadently sweet treat, and they're perfect for a cookie-exchange, as a hostess gift, or as a dessert at a dinner party or potluck.
Nanaimo Bars
Serves 16
25 minutes active, 1 hour 30 minutes inactive
Ingredients
Bottom Layer:
1 stick unsalted butter, cubed
⅓ cup brown sugar
3 tablespoons unsweetened cocoa powder
1 large egg, lightly beaten
1 teaspoon vanilla extract
2 cups graham crackers, finely crushed
8 oz sweetened coconut, shredded
1 teaspoon kosher salt
½ cup chopped nuts (walnuts, pecans, or almonds)
Cream Filling:
5 tablespoons unsalted butter, room temperature
¼ cup heavy cream
2 tablespoons white chocolate instant pudding mix
2 cups powdered sugar
Chocolate Topping:
1 cup semi-sweet chocolate chips
4 tablespoons salted butter
Optional: ½ teaspoon kosher salt
Preparation
Line an 8x8-inch baking dish with parchment paper. Set aside.
Melt 1 stick of cubed butter in a saucepan over medium heat. Add cocoa powder, salt, and brown sugar, remove pan from heat and whisk until mixture is well-blended.
Slowly whisk in beaten egg and mix constantly until egg is incorporated. Return pot to stovetop over medium heat and cook until chocolate mixture has thickened, stirring frequently, for up to 2 minutes.
Stir in vanilla extract, shredded coconut, chopped nuts, and graham cracker crumbs. Once blended, pour chocolate mixture into prepared baking dish. Cover with plastic wrap and refrigerate for 40 minutes.
Beat 5 tablespoons unsalted butter with heavy cream, and instant pudding powder until smooth. Stir in powdered sugar until creamy mixture comes together. Spread cream filling over top of the chocolate base layer and recover with plastic wrap. Return pan to the refrigerator for 20 minutes.
Melt chocolate chips with butter in a microwave safe bowl, cooking in short increments of time and stirring until melted and smooth. Add salt, if using, and stir until blended. Spread chocolate topping over top of the cream filling. Cover with plastic wrap and return to the refrigerator to chill for 30 minutes or until chocolate has completely set.
To serve, cut into squares. Store in an airtight container. If stacking your nanaimo bars, place a layer of parchment paper in between each layer.
Recipe adapted from Cooking Classy.
SKM: below-content placeholder
Whizzco for 12T