Now that Halloween is right around the corner, there is no shortage of awesome treats that we can enjoy. We have been going through all sorts of recipes lately, that is for sure. Bite Me More is one of our favorite YouTube channels for this reason. They have lots and lots of ideas that have been running through our minds over the past few weeks. This latest innovation is a game-changer, though.
The best part about this tutorial is the simplicity. You do not need to be an experienced baker to handle this task. As it turns out, all you need are the basic ingredients that are going to be listed in the video and a little bit of common sense. Whether you are having a traditional Halloween party or a get together on Zoom, this treat is sure to attract all sorts of attention from your guests.
These treats are definitely suited to the Zoom parties that we will be attending this year because they stand out from the crowd. You do not have to spend big or spend lots of time in the kitchen to whip up these cool and tasty treats. Jell-O Eyeball Cheesecakes are the best thing to ever happen to your Halloween party and this is not something that we say lightly.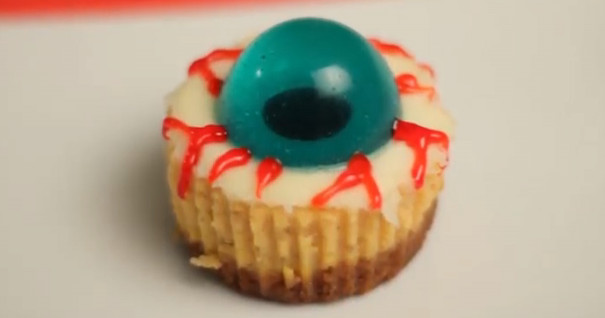 If you are someone who would rather get your hands on the printed recipe, Bite Me More has you covered there as well. Head to their website and print one out for yourself, so that you will always have handy when you need it most. Be sure to warn your guests before making them (or any little ones that you may have). They can be pretty creepy.
For some, they might be a bit TOO creepy! In our minds, no such thing even exists but we are willing to think about the concerns of others. Are there any fun variations that you can think of to share? Those who have fun ideas of their own to share are more than welcome to offer them up!
Our Halloween party plans just got even brighter and we cannot wait to show these off to our friends and loved ones. Take a moment to pass this recipe along to anyone who could use a bit of a shakeup this Halloween. These treats are definitely ready for their close up on the 'Gram!
SKM: below-content placeholder
Whizzco for 12T