Japanese kitchen knives are renowned for sharpness, durability, and overall quality production.
When I lived in Japan, I spent many afternoons checking out knife shops and blade sharpeners to see what awesome steel they had, what it was used for, and how it was cared for.
The key to Japanese steel blades is the quality of their carbon steel and alloys. Their use of technical expertise combined with traditional handcrafting keeps the blades sharper for longer and the handles stronger.
Some blades can be swapped for a similar type of western knife – such as a petty knife or paring knife – while others are unique and interesting in look and usage.
Below is a great guide to essential Japanese kitchen knives, along with some useful hints about caring for Japanese steel.
Gyuto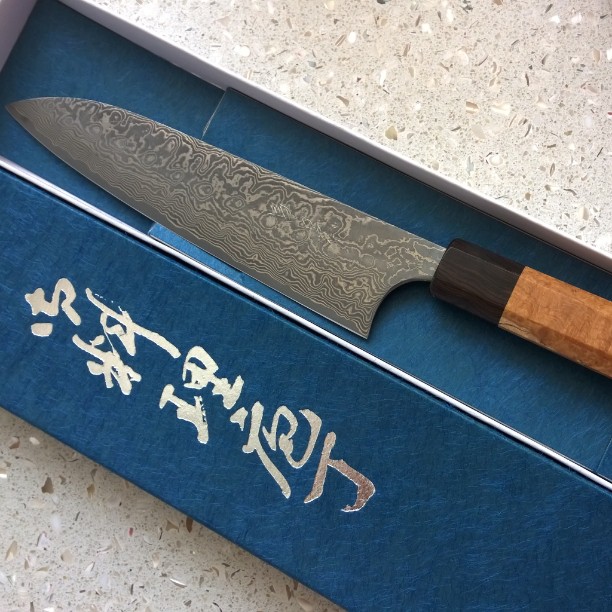 The most versatile and essential of all knives a cook can have is a Japanese chef's knife known as a Gyuto knife.
A Gyuto knife features a curved blade that smoothly rocks back and forth and has an extended tip for quick chopping that can be used to cut meat, fish, and vegetables with competent ease.
Except for a few minor technical differences in weight and construction, it's essentially the same type of blade as a western knife.
Santoku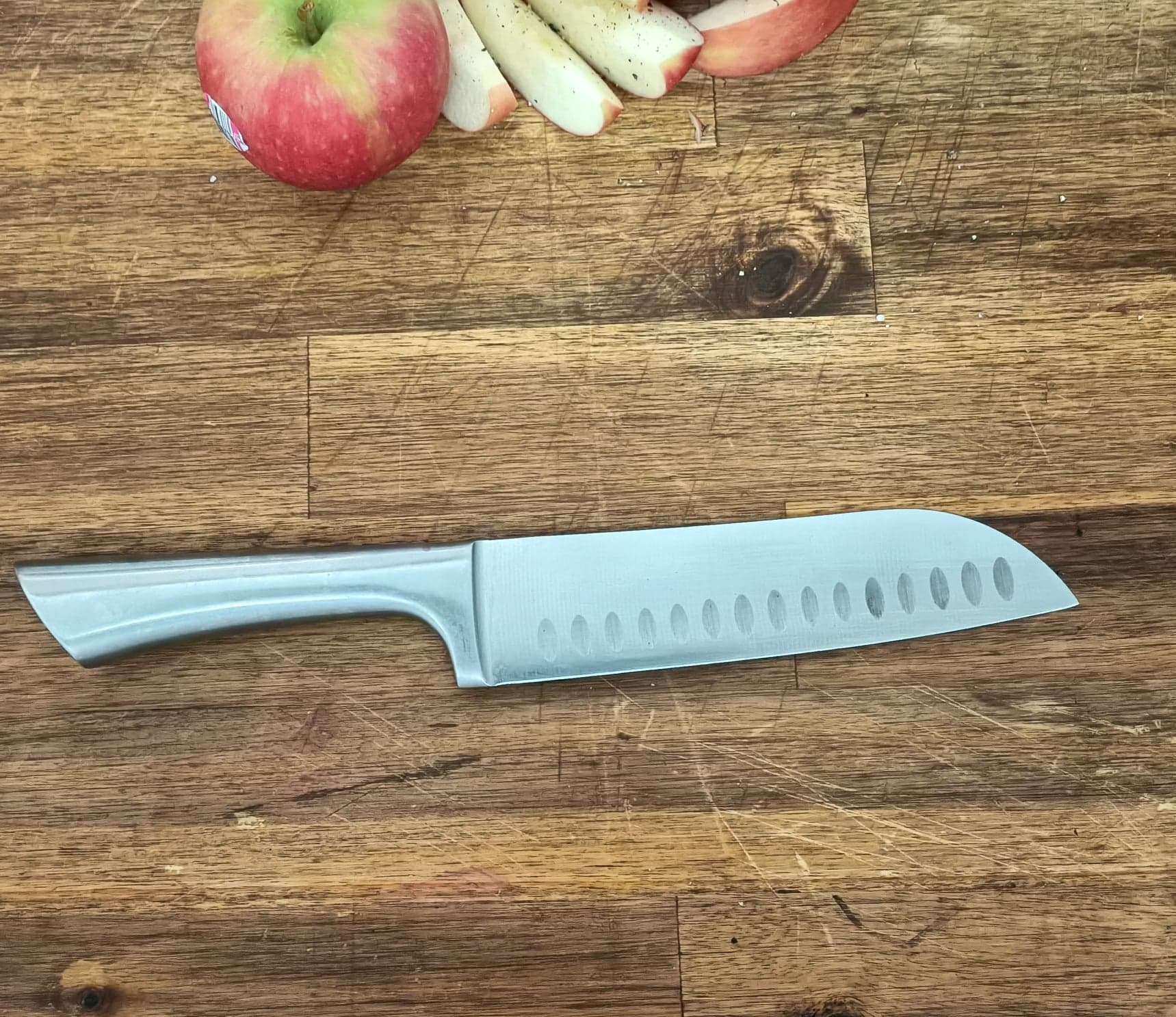 The Santoku knife is a general-purpose Japanese kitchen knife 5-7 inches long. The Santoku knife is proving to be one of the most popular Japanese knives adopted by western cooks and chefs.
It has a flat edge and a sheepsfoot blade that curves down an angle toward 60 degrees at the point.
You can slice downward in a single cut when using a Santoku knife which means it can be faster and more efficient when slicing ingredients compared to a Gyuto chef knife or a smaller blade.
Deba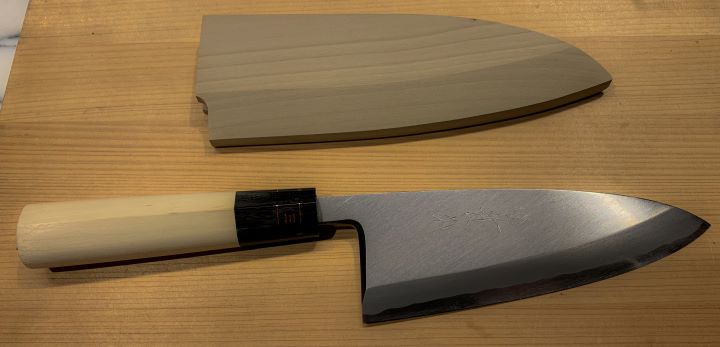 The Deba knife is probably my favorite type of Japanese knife. It suits the kitchen user looking for a bit of weight and heft in the handle but retaining a sharp blade and the versatility to use in a range of endeavors, although they are most commonly used for fish.
There are a few different types, including the Ai Deba, Mioroshi Deba, Hon Deba, and Ko Deba, with differing sized tips and blade widths.
Many Deba knives can be specialized for right and left-handed users, and are often made to look rustic despite being viciously sharp from the best handcrafted Japanese steel.
If you are buying a one-off unique piece for a friend or family member, I highly recommend a Deba knife for the look and utility.
Nakiri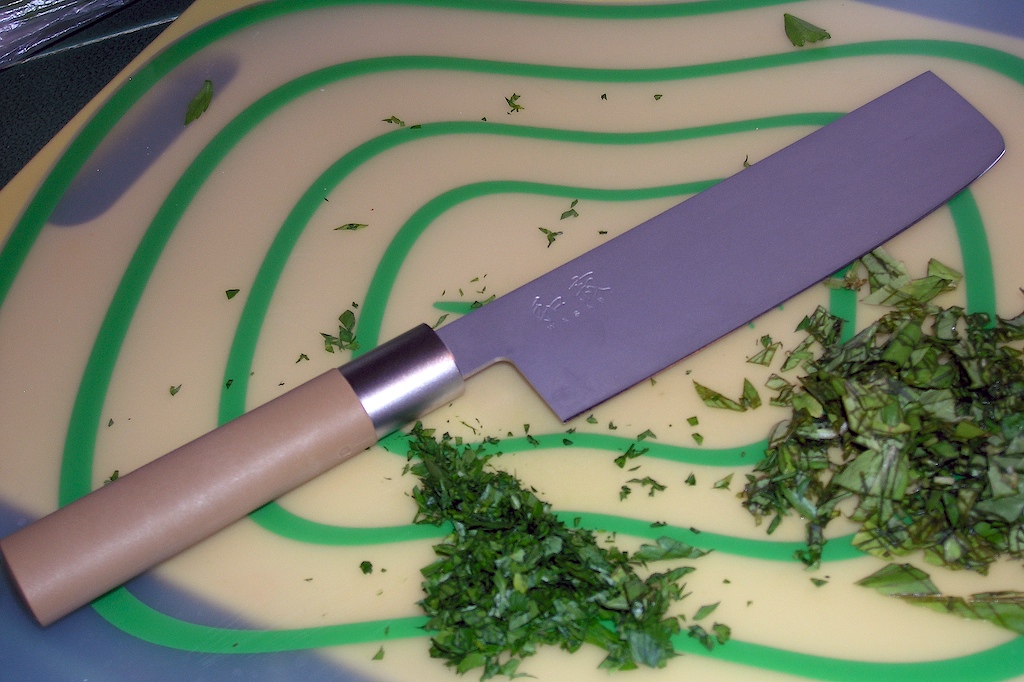 A Nakiri knife is what happens if a razor-sharp-edged chef's knife and a mean meat cleaver had a baby – they almost look like a sword blade snapped in half.
Nakiri blades are wicked-looking pieces of kit designed to chop through vegetables quickly and easily. If you start chopping cabbage or lettuce in the kitchen with one, a guarantee you'll have a lot of fun!
Yanagiba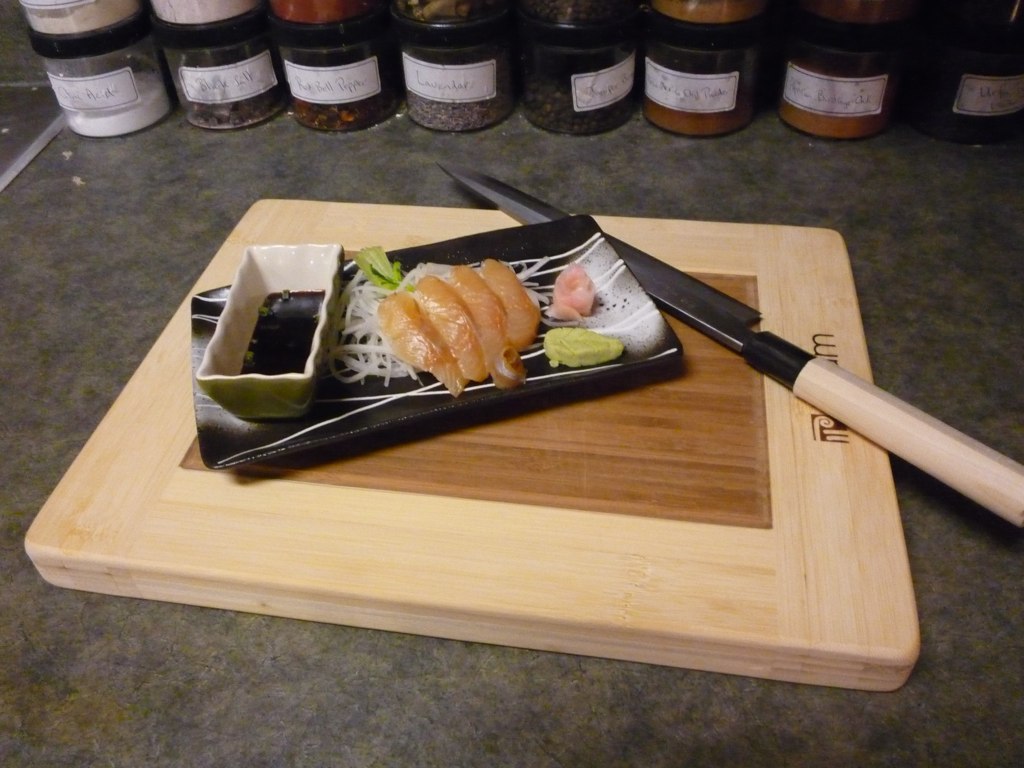 Yanagiba (willow-leaf blade) are beautiful knives used to slice boneless fish fillets or for Sashimi and Sushi dishes.
The Yanagiba features a narrow pointed long designed to cut fish in one languid motion, and an acute edge that means it takes little effort. This method is important for raw fish because texture, flavor, and taste are better preserved.
If you don't cook or prepare fish often, then there is little need for the Yanagida, however from a design standpoint that they are beautifully crafted and make fine gifts.
Bunka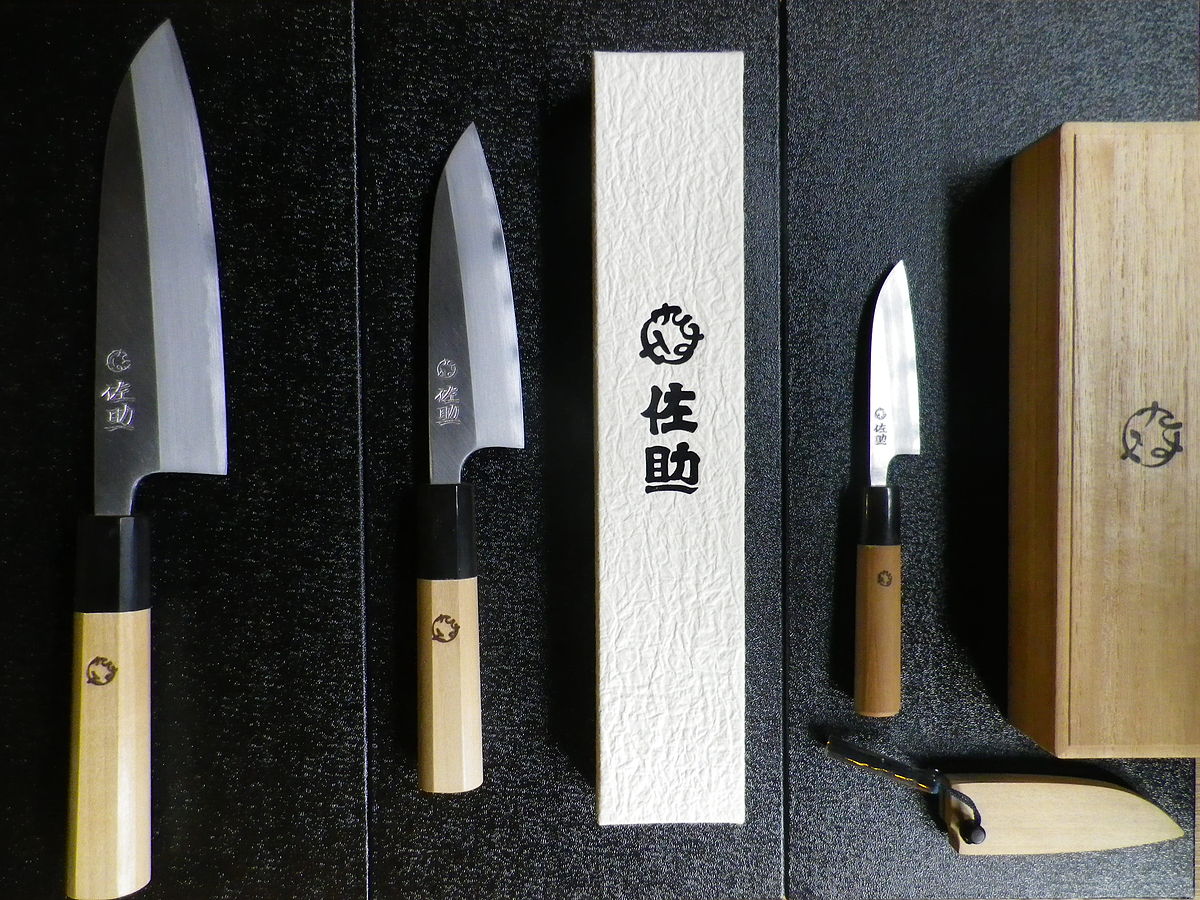 A Bunka is a general-purpose kitchen knife similar to the Santoku but not as popular in contemporary kitchens.
It features a nice wide blade and triangular 'clip point' tip for versatility – it can be used on anything effectively.
The Bunka is lightweight and deft in comparison to similar western knives, due to a balance more forward of center and from being crafted with a lighter handle.
Mukimono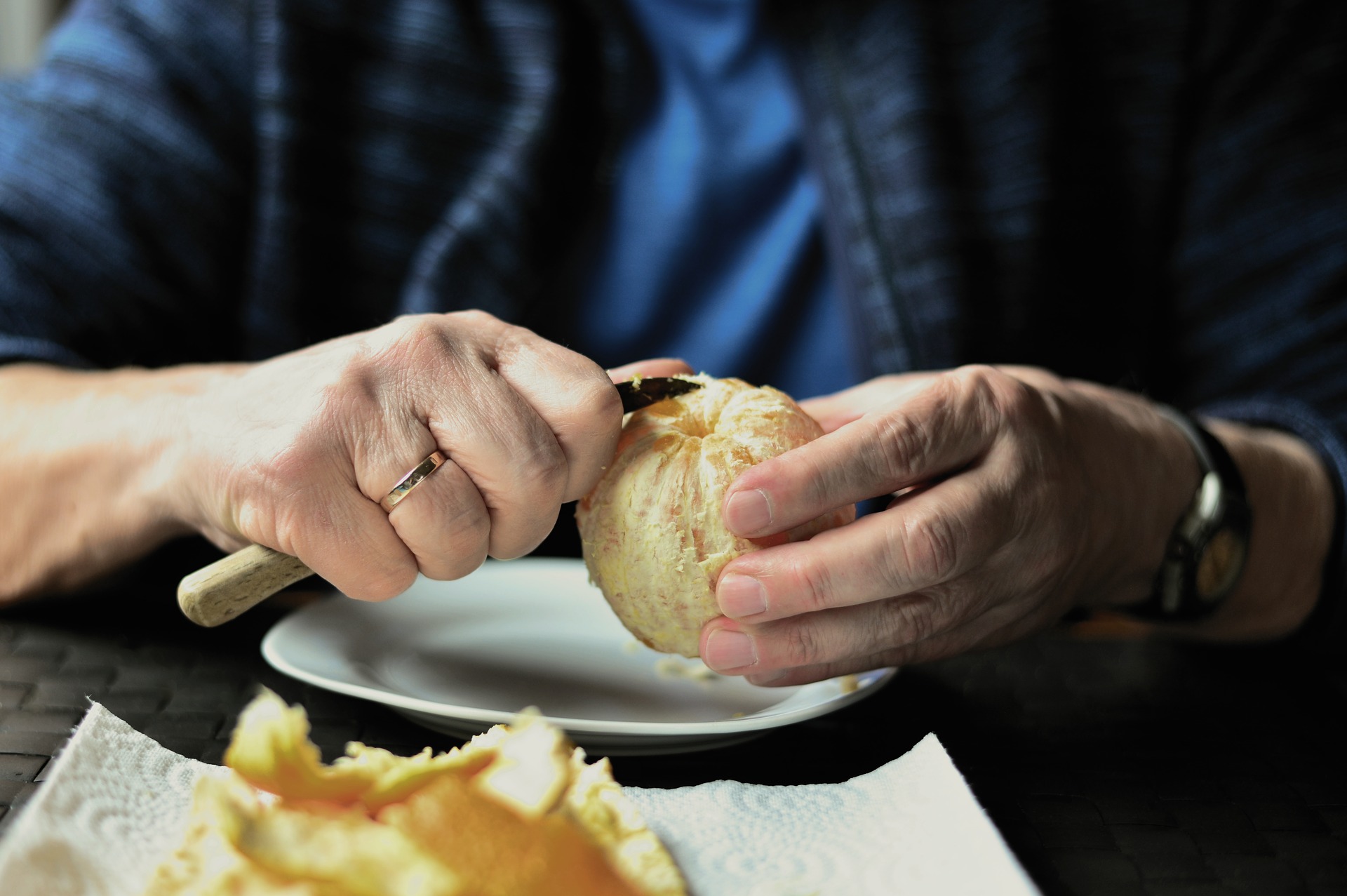 Mukimono is the Japanese art of creating decorative garnishes, but also the name of a small thin-bladed knife popular in the kitchen.
It is often used for peeling and cutting fruits and vegetables since but looks cooler than knives with a similar function such as petty knives and paring knives.
Sakimaru Takobiki

These little beauties resemble a miniature version of the samurai sword, known as a katana. They are a cross between a regular Yanagida, or the Takohiki (a long, thin rectangular blade for filleting meat).

The Sakimaru Takobiki is a versatile knife used for trimming, cutting, and preparing meat or fish quickly and easily. Due to their look and feel, they are often more expensive than a similarly functional blade.
Full Japanese Knife Sets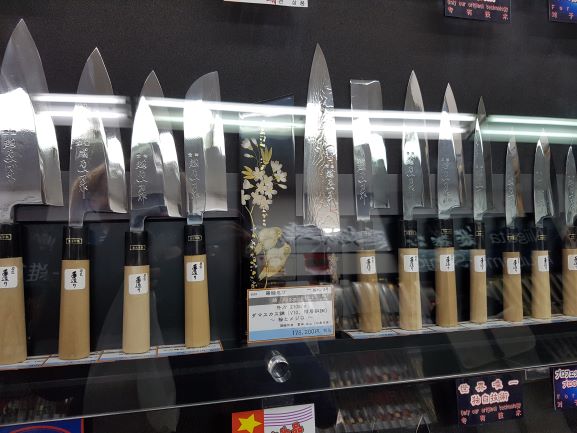 A full Japanese knife set offers you the chance to get your hands on all the necessary parts of Japanese kitchen cutlery from the best knife brands at one time.
There is a range of sets available, but it's important to at least have a paring knife, Gyuto knife, and Santoku blade or utility knife, as these are the knives that you'll use almost every day in your own kitchen or place of work.
Compared to a premium German knife set most Japanese kits offer great value and represent a more affordable option over time compared to buying knives one by one.
Important Tips for Using Japanese Steel Cutlery
Traditional Japanese knife making values a sharp edge, which requires attention and care (and access to a quality whetstone).
Make sure that if you're investing in a quality Japanese knife brand that you follow the manufacturer's recommendations for keeping it in good order.
Sharpening and honing should be done with only water whetstones in the correct fashion to maintain a dangerous edge for the thinner blade. I highly recommend you research the best methods for sharpening Japanese steel (it's also an extremely therapeutic skill to learn).
Japanese steel knives should be hand washed and dried only, immediately if working with acidic ingredients that can cause damage to a blade or handle.
Do not use the Japanese knives on objects such as large bones, nuts, or frozen food. You can utilize a cheap cleaver or another heavy-bladed knife for this purpose.
SKM: below-content placeholder
Whizzco for 12T