Milan's signature dish is a creamy, saffron-infused risotto that's been a staple in Italian kitchens for centuries. The recipe's origins are mysterious. During the Middle Ages, the Arabs introduced rice to Italy. Italian cuisine was never the same again. At first, it was a luxury that only the rich could afford, but gradually prices leveled out, and even common families came to embrace the versatility of rice.
The use of saffron together with short-grained rice traces back to a Venetian dish popular among the Jewish population during the Middle Ages: Riso Sabbath col zafran. Going forward, similar dishes were cited in texts originating from Milan. It's then no surprise that "risotto alla milanese" was the name given to the dish that eventually evolved from the saffron-rice combination. Though plenty of variations on the recipe exist, its core ingredients remain the same: rice, chicken broth, wine, butter, onions, saffron and Parmigiano Reggiano.
Served with ossobuco(another milanese favorite) or on its own, its a real palate pleaser.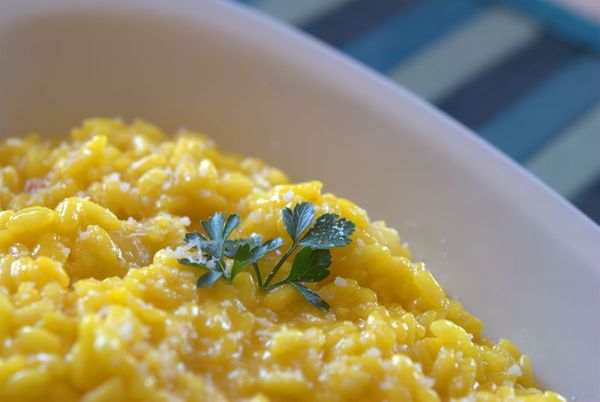 Ingredients:
1 medium onion, very finely chopped
8 Tbs. unsalted butter
1 lb. (2 cups) medium- or short-grain Italian rice (arborio or vialone nano are ideal)
1/2 cup dry white wine
6 cups hot homemade or low-salt canned chicken broth
1/2 tsp. saffron threads
1 cup finely grated Parmigiano-Reggiano
Salt and freshly ground black pepper to taste
Directions:
1. Cook chopped onion in two tablespoons of butter over medium heat in a large saucepan. Let onions heat for about five minutes, until they give off a strong fragrance and are almost see-through. Then add rice and cook for three more minutes, keeping heat on medium.
2. Next, add wine, saffron, and two cups of the chicken broth. Turn up heat to high until mixtures begins to simmer; then lower as needed to maintain a steady simmer.
3. Continue cooking until almost all liquid is absorbed. Stir every two minutes or so. Add remaining broth, one cup at a time, waiting until one cup is mostly absorbed to add another. Keep adding broth (more than six cups total if needed) until rice is al dente but not raw. Stir in parmesan cheese.
4. Once mixture has reached the consistency you prefer (anything from tight to soupy, depending on your tastes!), take it off the heat. Then stir in six tablespoons of butter and season with salt & pepper.
5. Buon appetito!
Recipe adapted from Fine Cooking.
SKM: below-content placeholder
Whizzco for 12T