Panettone is a festive, Italian sweet bread that is enjoyed at Christmastime and can be found in any household, bakery or supermarket during the holiday season. There 's another type of bread, called Pan d 'Oro (bread of gold), but what distinguishes the two are the candied fruit and raisins scattered throughout the panettone. While this sweet might not be for you if you don 't like raisins–or if waiting patiently for the dough to rise seems too difficult–it is a scrumptious way to ring in the season and will bring joy to those around you.
This bread makes a perfectly light, after-dinner snack, a delicious treat to munch on and a fabulous substitute for brioche or challah bread if you 're thinking of having a Christmas breakfast and want to up the wow factor! If you put in the time and effort, your efforts will be rewarded and you 'll want to make this every year!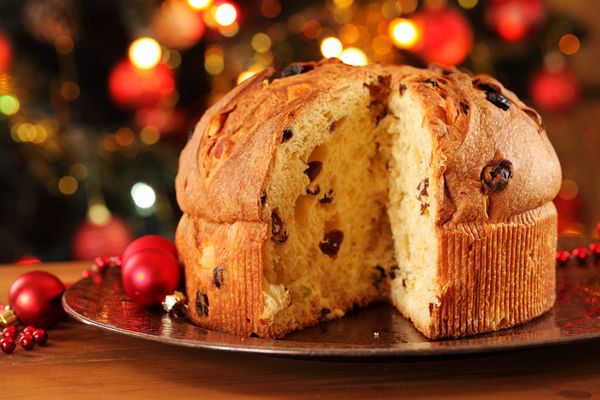 Panettone
Yields 1 loaf
Ingredients
Starter:
3/4 cup unbleached, all-purpose flour
1/3 cup water
1/16 teaspoon instant yeast (just a pinch)
Dough:
2 1/2 cups unbleached, all-purpose flour
1/3 cup water
1/2 cup sugar
1/2 cup (1 stick) unsalted butter, room temperature
3 eggs
1 vanilla bean, cut lengthwise
2/3 cup raisins
2/3 cup candied citron (or just orange peel), chopped
2 tablespoons light rum
2 1/4 teaspoons instant yeast
2 teaspoons honey
2 teaspoons orange zest
1 teaspoon salt
panettone molds
skewers
Directions
Combine all starter ingredients in a medium bowl. Cover and let rest for 8-12 hours, or overnight.
At the same time, soak raisins in rum and a splash of hot water and let rest for 8-12 hours, or overnight.
In a large bowl or mixer, combine starter mixture, flour, sugar, vanilla bean, orange zest and salt, and mix together.
In a medium bowl, combine water, eggs, and honey, then, on low, mix it into the starter mixture.
Turn speed up to medium and mix until dough comes together. Add in softened butter and turn speed up to high, mix until dough is smooth and elastic.
Turn dough out into a lightly oiled bowl, cover and transfer to a draft-free place to rise for 3-5 hours.
Gently punch down dough and knead in raisins (drained, rum discarded) and candied citron. Extract and discard vanilla bean.
Form into a ball and place in panettone mold. Cover the pan with a clean, damp towel and let dough rest until it 's risen over the top edge of the pan. 2-4 hours.
Preheat oven to 370 F.
Place panettone mold on a baking sheet and score an "X" into the top with a sharp, serrated knife.
Bake for 60-75 minutes, or until skewer inserted in center comes out moist, but not wet. Crust will be very dark.
Remove from oven and insert skewers 1 inch from the bottom of the mold, through the paper, 3-4 inches apart. Skewers should be parallel to each other.
Carefully turn panettone over and hang it by the skewers over a large stockpot. Let cool completely before cutting. This keeps the top from collapsing.
Recipe adapted from King Arthur Flour
SKM: below-content placeholder
Whizzco for 12T