The COVID-19 pandemic has changed the way that we interact with others. We have become accustomed to standing several feet apart while in line at the grocery store, we've had to limit our trips outside to essential trips only, but most difficult, is having to socially distance ourselves from those we love. Thankfully, we have the help of technology to fill the gap between our loved ones.
While there are some of us that are fortunate enough to be riding this pandemic out with relative ease – the only disruption to our lives being having to stand in line at the grocery store – there are plenty of others who have had to struggle to see loved ones go into the hospital with COVID-19. And the worst part is, because of the pandemic, the hospitals have had to turn away visitors in order to suppress the spread of the virus. While this may seem cruel, it's a necessary precaution to protect people. Unfortunately, this has meant that the only connection family members have to their sick relatives in the hospital is through phones or tablets. Sadly, for many of these people, this is the final connection that they will have.
One man in New Jersey, John Lynch, knows all too well the horrible reality of saying goodbye to someone through a screen after he recently lost his father, Hugh. The 92-year-old Hugh died as a result of natural causes, however, he'd been living in a memory care facility in Tucker, Georgia. Given the pandemic and lockdowns, the only communication that they had was through FaceTime.
As Lynch then revealed, "I was able to say goodbye to my father through FaceTime on April 13, 2020. It's my wish that I can afford the same opportunity for other families to FaceTime their loved one at their time of need."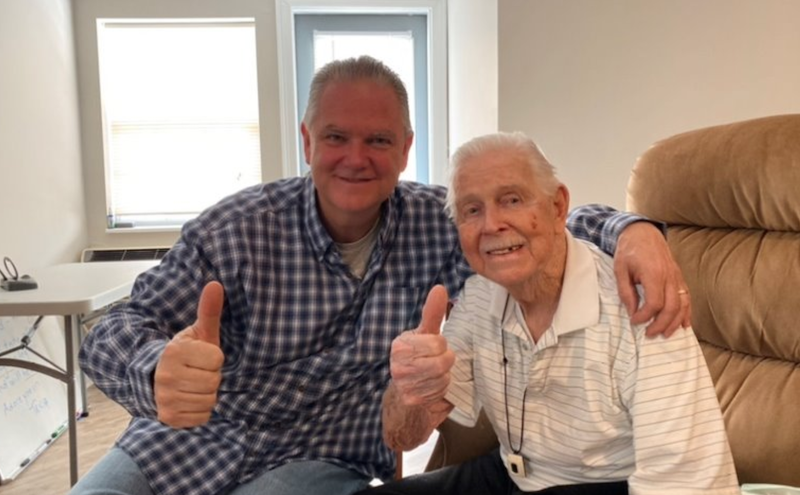 What Lynch experienced only served to reinforce his feelings that technology is important to keeping families connected, especially during the pandemic. That is what inspired him to do something for the benefit of others – provide care facilities with technology devices that will allow their patients to talk with their families. That is when he dedicated himself to Operation Connection, an iPad Project that raises funds in order to purchase tablets.
As Lynch's charity website states, Lynch first got inspired after learning that the nurses at Cape Regional Medical Center were using their personal phones and devices in order to connect patients with their family members and friends in face of the pandemic's lockdown. That is when he reached out to a family friend who works as a nursing supervisor at the hospital, in order to find out how to donate iPads.
On Facebook, the Lunch with Lynch Foundation posted about their campaign:
They set up a GoFundMe page, and the first round of fundraising managed to raise $5,410 – enough for 17 new iPads. Additionally, Lynch also received donations of 41 new and lightly used iPads. Through hard work and dedication, the Cape Regional Medical Center has been provided with 20 iPads. And it doesn't stop there, the foundation has managed to also get iPads to care centers across New York, New Jersey, Pennsylvania, North Carolina, and South Carolina.
They are running a second funding campaign, which so far, ha managed to get to $7,000 of its $15,000 goal. The GoFundMe page reads, "I would like to thank everyone who has donated to the iPad project in the memory of our dad. We are ordering 15 more Ipads from your generosity. If you can make a small donation it will make a difference to those quarantine from their families & friends. Thank you and #StaySafe."
The dedication of the Lynch Foundation is incredible. For more information or how to get involved you can go to Lynch's page on GoFundMe.
SKM: below-content placeholder
Whizzco for 12T