Try as we might, our car headlights do not always stay as clean as we would like. This makes it rather challenging when we are trying to drive at night, for sure. In addition to the challenges that we are forced to overcome, other drivers are also forced to contend with us. The last thing that any of us should be doing is making life more difficult for the other drivers that we need to share the roadways with.
While you can eliminate the problem by having your headlights replaced professionally, this is not a solution that everyone can afford. Thankfully, ChrisFix is a YouTube user who is here to change your life with this amazing fix. Your headlights have never been this clean!
All it takes to restore foggy looking headlights is some toothpaste and a few other ingredients that can be found in most homes.
To get started, grab an old toothbrush, some baking soda, a spray bottle, water, a cloth, and some wax.
You'll want to add some baking soda to the toothbrush if it is not gritty enough. The grittier, the better.
Then, create a mixture of baking soda and toothpaste. Apply the mixture to the headlights with your hand.
Next, take the old toothbrush (that you dipped in baking soda) and rub it into the headlights, so that they can get nice and clean.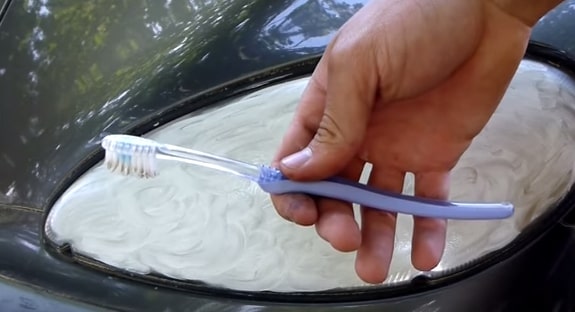 After that, fill the spray bottle with warm water and spray the headlights down. Your cloth should be on hand, giving you the chance to wipe off all the toothpaste and clean up the headlights.
Finally, coat the headlights with some wax, as this will prevent them from becoming dirty again. It's one of the best forms of preventive medicine that we can apply to our cars.
If you would like to find out more, take a moment to check out this YouTube video:
SKM: below-content placeholder
Whizzco for 12T