We all know about chestnuts roasting on an open fire. It goes hand in hand with Jack Frost nipping at your nose. So many people have heard this famous start to "The Christmas Song" yet in recent years it feels like roasted chestnuts have fallen out of favor, or at least off the Christmas menu in our homes. We find this really quite a shame, because they are a perfect treat for Christmas and are only in season until the end of December.
Before you rush off to the store, we must take a moment to discuss the chestnut itself. You want to choose ones that aren't externally wrinkled and have no holes in the skin (some can be as small as pinpricks). The shells should be a glossy brown color and smooth, as mottled or wrinkled shells could indicate mold. They should also be firm to the touch, and there should be no rattling when you shake them.
Today we'll show off two variations on roasted chestnuts: plain and seasoned. Both are incredibly simple recipes and are sure to be a hit.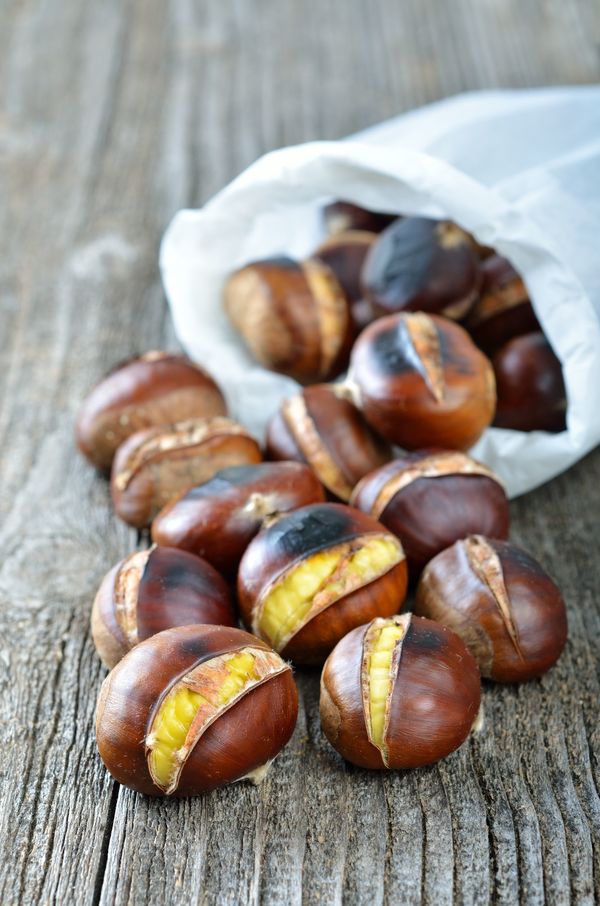 Roasted Chestnuts Recipe
Ingredients
Directions
Preheat the oven to 350F
Use a paring knife to cut a thin line across the chestnuts. The knife should pass through the shell just barely into the flesh of the nut.
Place the nuts in a rimmed baking dish and bake for 35 minutes.
Once finished, remove from oven and peel the flesh away from the shell and the papery skin.
Enjoy!
Recipe adapted from Huffington Post
Buttery Roasted Chestnuts
Ingredients
2lbs chestnuts
3 sprigs fresh rosemary
1 stick unsalted butter, melted
2 teaspoons kosher salt
a pinch of ground nutmeg
pepper to taste
Directions
Preheat the oven to 425F
Line a large, rimmed baking sheet with foil
Use a paring knife to cut an X into each shell, just barely into the flesh of the nut.
Soak the nuts in a bowl of hot water for 1 minute.
Pat the nuts dry, then place in a medium bowl.
Add rosemary, butter, 2 teaspoons salt, nutmeg, and pepper. Toss in bowl to liberally coat each nut.
Place chestnuts in a single layer on the baking sheet, then gather the edges of the foil around the nuts, leaving a large opening at the top.
Roast the nuts in the oven for about 30-45 minutes, or until the shells of the nuts start to curl.
Remove the chestnuts from the oven and toss them again with any leftover butter, then season with salt again if desired.
Serve hot or warm.
Enjoy!
Recipe adapted from BonAppetite
SKM: below-content placeholder
Whizzco for 12T