The perfect quick and simple casserole for a comfy night in with the whole family.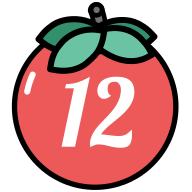 Marin Blair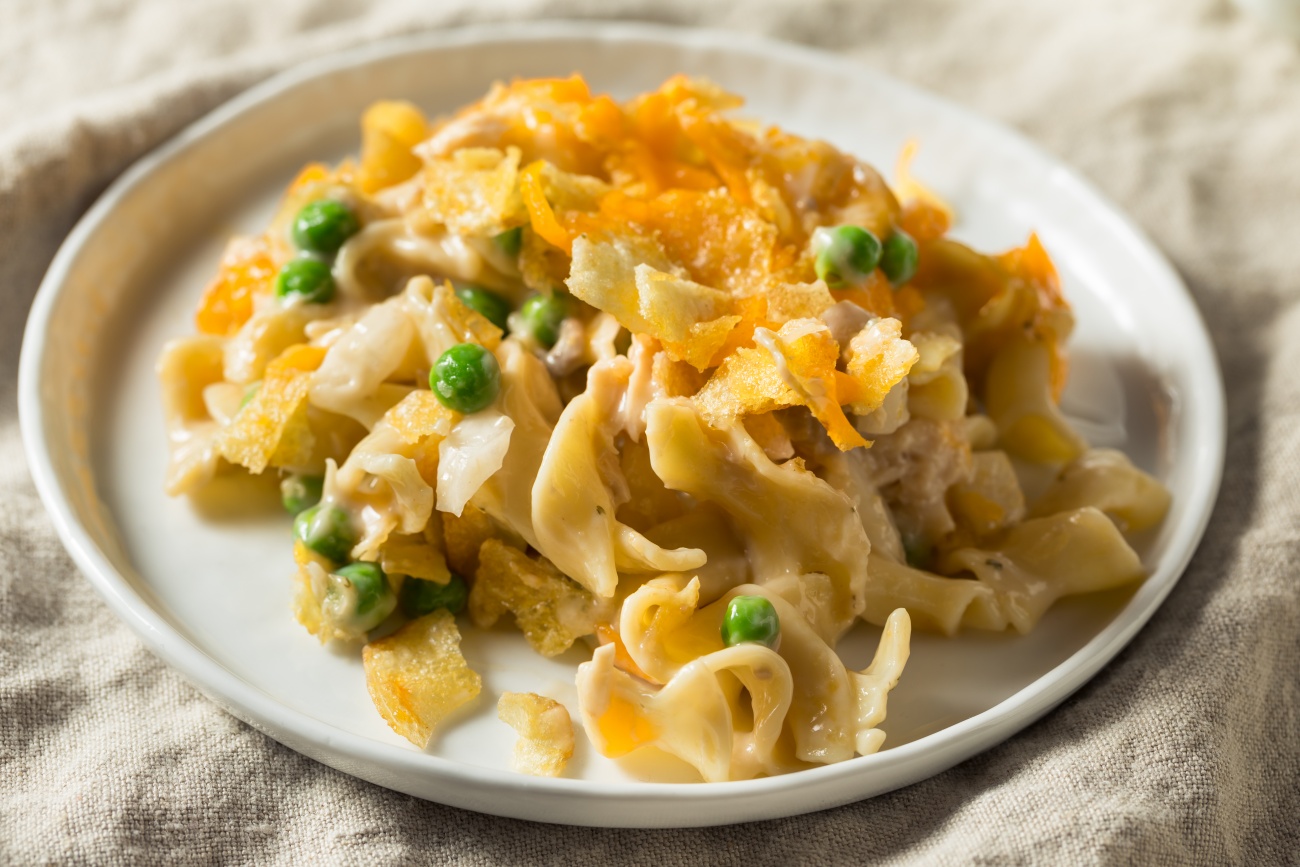 Cooking for the grandkids isn't always the easiest when there's a handful of tiny critics to please. However, this was rarely an issue for my Grandmére as she always had something on hand that was quick, simple, delicious and her favorite part: within the budget. One such recipe is her spin on the classic Cheesy Tuna Casserole. Served up with whatever is in the pantry and a side of nostalgia, this recipe is sure to be a hit at dinner for every generation.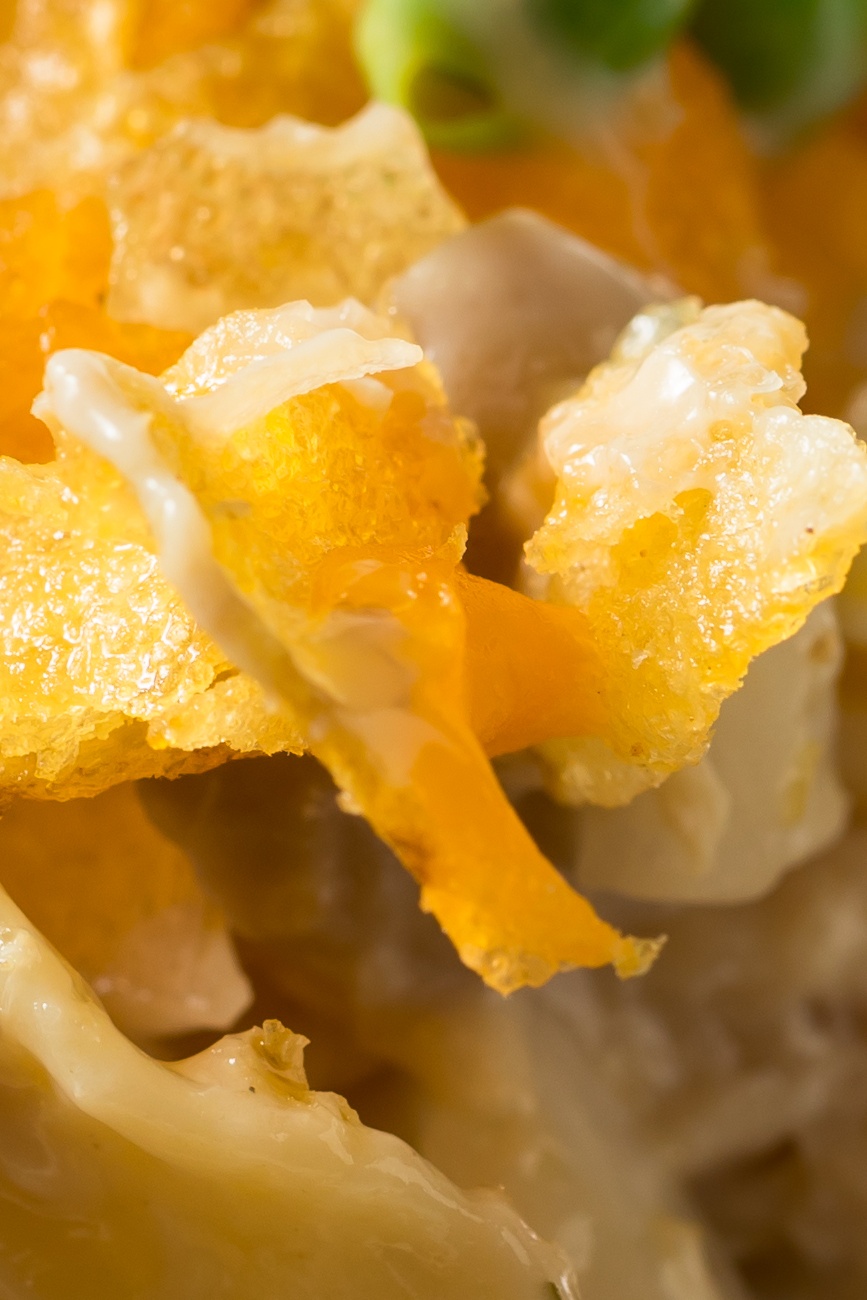 Grandmére is, to this day, a very no-fuss no-frills kind of cook (though she would probably hesitate to call herself one in the first place). A loving yet frugal woman whose prowess in the kitchen is defined by her quick and budget-friendly solutions to feeding an army of picky grandchildren, thus earning her the unofficial title of "Queen of Casseroles". I am not exaggerating when I say she has a casserole for every occasion and I have eaten them all. There were definitely some misses over the years but I can proudly attest that the majority are major hits. Though we grandkids are all grown up now, we still fondly remember (and crave) these quirky dishes and do not hesitate to whip out the recipes when the hunger hits.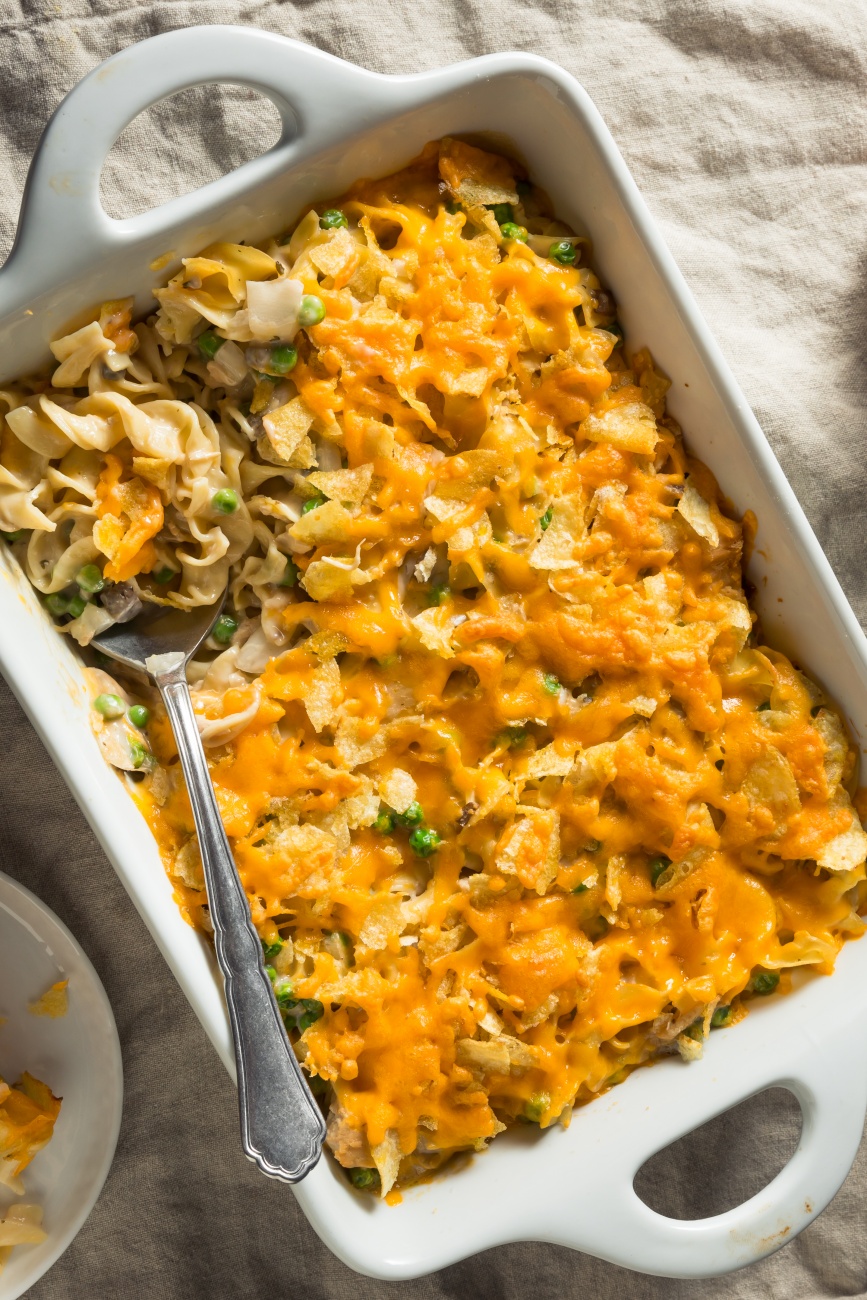 We didn't have much growing up, but she always made sure we were fed and boy, did this casserole keep us full. This dish is as simple as it gets, but that does not mean that it is not delicious. Since it comes together so quickly, it's the kind of dish that you can always pull out and know that it will be a hit with the whole family.
Just start the pasta and then prep the rest of the ingredients while you wait for those noodles to cook. Once the noodles are all cooked, throw it all together and cover with the crispy topping of your choice. All you need to do then is pop it in the oven for 15-20 minutes. Once it's bubbling a bit and the top has crisped up, you're all ready to dish out the delicious.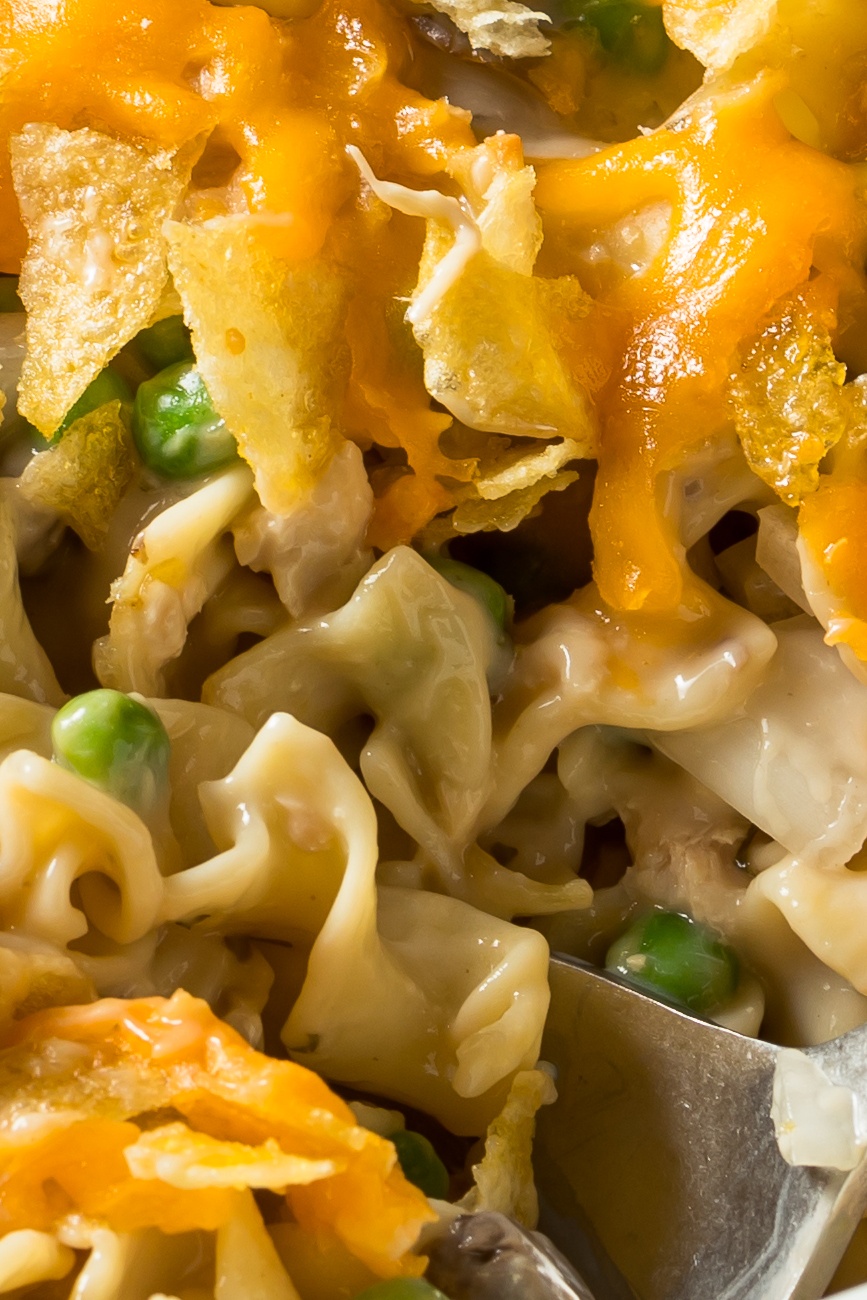 While the base of this recipe is quite simple, it is also very easy to put your own spin on it, which Grandmére frequently did by sneaking in the occasional vegetable. This usually went unnoticed by us kids though since we were more focused on the potato chips (a huge treat for us) that coated the top of the dish.
The egg noodles can easily be substituted for your pasta of choice-I also like to use elbow or corkscrew noodles in my attempts. Cream of mushroom can be swapped for cream of celery or you can use equal parts of each. If you're not of the tuna persuasion, cream of chicken is always another option. Adding diced jalapeños or your favorite hot sauce is a great way to incorporate a little kick to your dish as well. And of course, if potato chips don't work for you, combining panko and melted butter with a little Italian seasoning is a tasty alternative to the crispy topping. Whatever you decide to substitute as you make this dish, I encourage you to put your own family spin on it and maybe your kids and grandkids will grow up with similar precious (and delicious) memories like I have.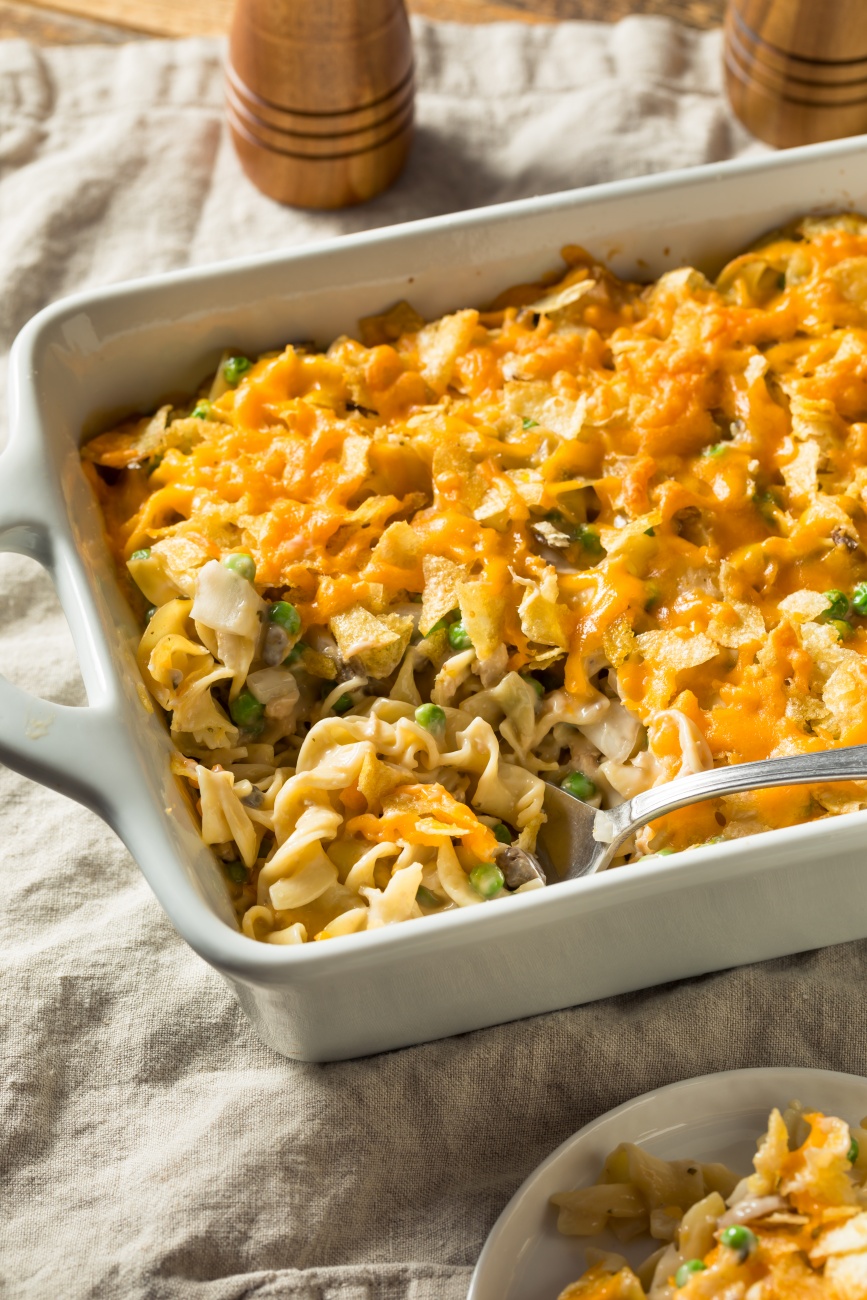 Grandmére's Cheesy Tuna Casserole
Serves 6
15m prep time
20m cook time
Ingredients
12 oz medium egg noodles, cooked and drained
2 (10.75-oz each) cans of cream of mushroom soup
1 1/2 cups cooked green peas (optional)
1 1/2 cups sharp cheddar cheese, grated
1 (6-oz) can white tuna, drained and flaked
1/2 cup whole milk (can be substituted for preferred milk)
1-2 cups crushed potato chips
Kosher salt and freshly ground pepper, to taste
Preparation
Preheat the oven to 350°F whilst you gather the ingredients.
Coat a 2 1/2 to 3-quart casserole dish with your cooking spray or butter of choice.
Combine cooked noodles, cream of mushroom soup, peas, cheese, tuna and milk. Add salt and pepper as needed. Spoon mixture into the prepared casserole dish evenly.
Crumble up 1-2 cups of your preferred potato chip and evenly top the casserole.
Bake for 15 to 20 minutes until hot and bubbly with the crust slightly browned.
Serve up and enjoy!
SKM: below-content placeholder
Whizzco for 12T