When the working day is done, we have a few simple pleasures that allow us to fully unwind. First of all, we have to pour ourselves a nice glass of red wine. Sometimes, we may switch to white but in most instances? Red is the way to go. Once the wine has been poured and we are in our favorite chair, it is time to fire up the very best episodes of the timeless classic sitcom: The Golden Girls.
There is only one way that the experience could get any better. We wish that we had a crochet kit that allowed us to recreate each of these iconic characters. As luck would have it, this amazing creation already exists! Allison Hoffman is providing us with the perfect road map. Crochet The Golden Girls is an incredible book and this is not a term that we ever use lightly.
Those who purchase this book will have 10 different crochet patterns to choose from. Now, you will have the ability to create Rose Nylund, Blanche Devereaux, Dorothy Zbornak, and Sophia Petrillo…..without without having to leave the house. What could possibly be better? The next time we put our wine in our Golden Girls tumbler, we will have the perfect project to keep us busy.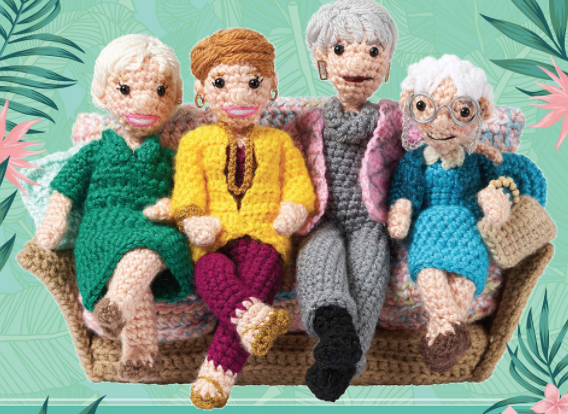 The Sophia doll is a true winner. Every last detail has been considered, like the wicker purse and the signature eyeglasses, and any true fan of the show will be transported to Sicily immediately. This doll gives you the perfect chance to find your footing. As soon as the Sophia doll is finished, you can get started on all of the rest of these ladies.
The props and accessories that have also been included make this an even better purchase than we expected. There is plenty of cheesecake to go around (two different versions, in fact!) and a palm leaf brooch. The world-famous couch has been added to the collection, so your ladies will definitely have the perfect place to sit.
It's time to break out the cheesecake and invite our pals over for a wild night of wine with our four favorite women. If the neighbors decide to pay you a visit because you won't stop singing "Thank You For Being A Friend" at top volume, just let them know that you are busy enjoying your new crochet set. After all, those crochet nights can be wild from time to time!
SKM: below-content placeholder
Whizzco for 12T