A long and happy marriage between two individuals with Down syndrome has come to its end; the husband has passed away.
Paul Scharoun-DeForge died at age 56 after a tough battle against Alzheimer's. He and his wife, Kris, were married for 25 years.
Relatives of the couple say that it may be the longest marriage between two individuals who both have Down syndrome.
Erin Sobkowski, a lawyer who's also an officer for a group that educates people about Down syndrome, says that that marriage is a universal part of the human experience. All people have a desire to spend their lives with a person they love — and individuals with Down syndrome are no different.
Paul and Kris, from Liverpool, New York, met during the '80s at a dance for disabled individuals. She was the one who popped the question, in 1988.
"He made me laugh," Kris said. "I looked into his eyes and saw my future, and that's when I proposed to him… He said yes."
Three decades ago, Kris Scharoun-DeForge went to a dance, spotted Paul DeForge and immediately fell in love. Reflecting on that day, she often says, "I looked into Paul's eyes and saw my future." https://t.co/3sFUaDFTa9 pic.twitter.com/1kehavvPHp

— WOWT 6 News (@WOWT6News) August 24, 2018
In 1993, after a five-year engagement, the lovebirds got married. Susan Scharoun, Kris' sister, said that they had the right to choose whatever future they wanted — and they did.
And even though they had their differences, they did their very best to be supportive of one another.
"They have an unconditional love. They totally complement each other," Scharoun said.
"She is more emotionally vulnerable and he has always been her rock," she said. "She would plan what they would do and really be responsible for the social events. They had a lot of struggles. I saw them as individuals who should have a right to make that decision."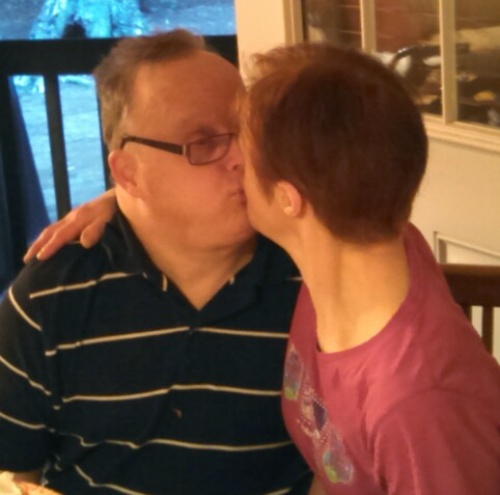 When Paul's Alzheimer's began to get worse, he struggled with recognizing people. But it was different with Kris.
"When he would see Kris, he would just look at her, and you knew there was that recognition," Scharoun said.
He was placed in intensive care to help manage his dementia. In March of 2019, he came down with pneumonia, and was placed in inpatient care.
Kris stayed by his side the entire time. She'd sit next to him and hold his hand.
Then in late March, he sweetly put his head on his brother's shoulder, and passed away.
When he died, Kris had a difficult time processing the huge change in her life.
"We had to tell her he wasn't going to come back and it became really difficult for her," Scharoun said.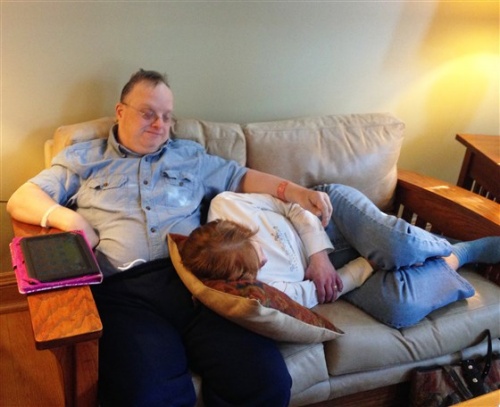 "I was very, very upset," Kris said about Paul's passing.
She'd given him a picture of a butterfly and it was hanging beside his bed for him to look at.
"I gave it to my sweetheart, and he loved it. I think of Paul flying up in the air … and being free."
Kris has plans to scatter his ashes somewhere special on their wedding anniversary, which is August 13.
This story originally appeared at Goodfullness.
SKM: below-content placeholder
Whizzco for 12T