When I was a teenager arguing with my mom about curfew, she said, "Of course I'm always going to worry. I'm your mother, it's my job."
Moms can be real-life superheroes sometimes, but they're human, too. They worry, they plan ahead, and they do what they can to keep us safe while knowing full well that scary and dangerous situations still may find us anyway.
For children with special needs or medical conditions, that worry takes on a sharper edge.
Natalie Bell is a mother of five from Victoria, Australia, and one of her children, Shae, has a cochlear implant. So Bell created something that would easily notify first responders about Shae's condition should she ever get in a car accident, especially if Bell wasn't able to verbally tell them herself.
Bell made her a personalized seat belt cover that reads, "I am deaf. I have a cochlear implant. No MRI."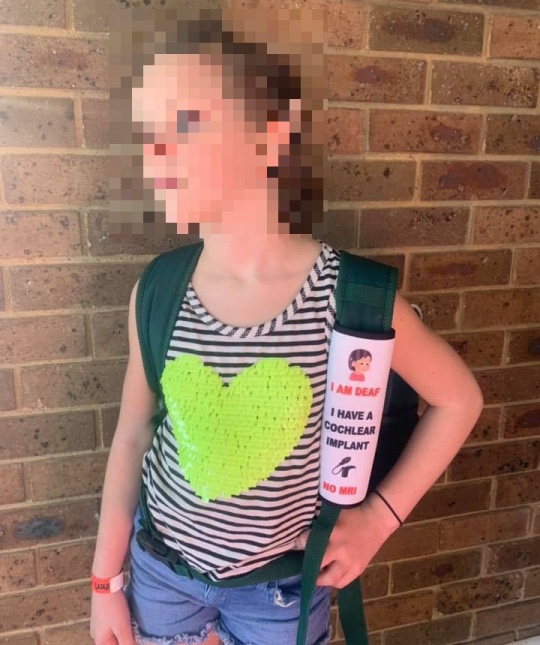 Bell sells all sorts of creations on her Facebook page Personalised by Nat as well as her website.
She shared her seatbelt cover on her page, writing, "I always wonder what would happen if I was in a car accident with my daughter in the car and I was unable to let the doctors know that my daughter could not have a MRI due to having a cochlear implant, now I don't need to worry about that with these seat belt covers. These can be made for any special needs that the medical team will need to know if you are unable to tell them."
After she shared it, it went viral. As of this writing, Bell's post has received 758,000 shares along with 206,000 reactions, and she has since gotten tons of requests for similar covers about other medical conditions.
Bell has been "overwhelmed" by the interest shown in her seatbelts, she told Daily Mail. "These children might have a medical bracelet but those are quite small. So I thought this is something emergency services would notice straight away."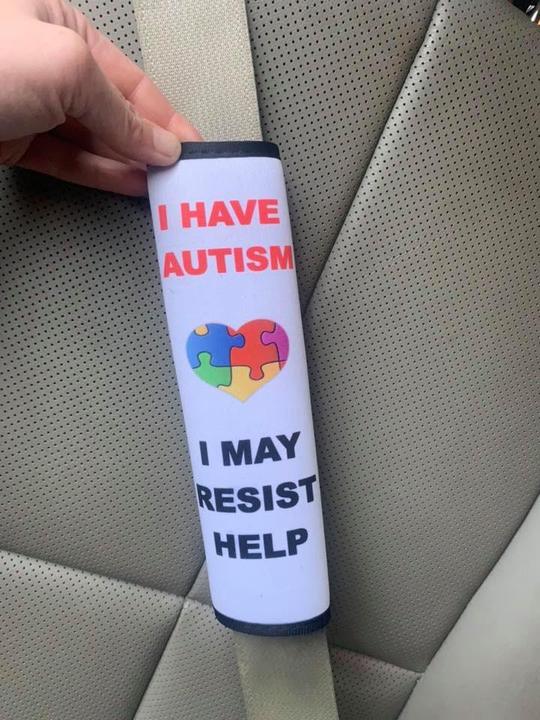 One person commented, "THAT IS THE BEST NEWS I HAVE HEARD FOR ALL WEEK❤️ Whoever designed these needs nominated for some kind of a Special Award ! It is Awesome!!
A second wrote, "My husband is part of Fire and Rescue and said that this is a brilliant idea. Such a valuable piece that provides a lot of information clearly so that personal involved can approach situations with knowledge and care. Brilliant idea."
And a third added, "That is absolutely brilliant, I applaud whomever came up with that idea. I've known people with special needs children and the kids can often times have difficulty with strangers, even if it's someone trying to help. This certainly can help put a parents mind at ease."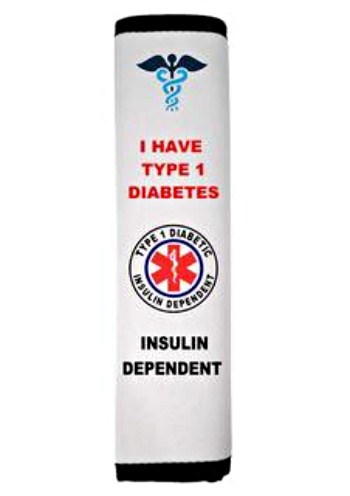 Bell's creation has clearly struck a chord with parents everywhere. They sell for AUD $15 (USD $10), and can be personalized to reflect a person's specific medical needs, whether they are an adult or a child.
Because of how popular they are, the wait time may be a bit longer than usual.
As of this writing, Bell's website says, "Please expect 2-4 weeks delay in shipping for this product due to high demand!"
What do you think of this cover?
This story originally appeared at Goodfullness.
SKM: below-content placeholder
Whizzco for 12T