An albino giant panda was caught on film in China for the first time, according to a New York Times report.
Li Sheng, from the Species Survival Commission of the International Union for Conservation of Nature, says this is the first wild, giant panda to be recorded on camera that's fully white. Brown-and-white pandas have been spotted numerous times in the mountainous region of Qinling, located in northwestern China in the province of Shaanxi. One in particular, Qizai, is well-known to locals in the region.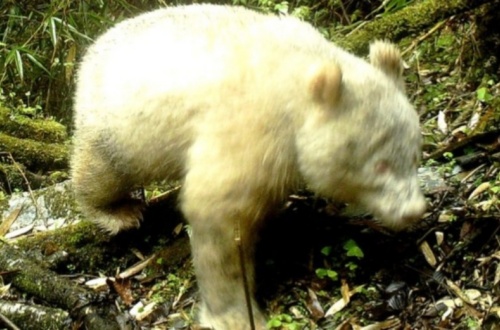 However, wild pandas aren't easy to study. They tend to be loners and avoid areas that are highly populated.
It was actually quite difficult to tell pandas apart until fairly recently. About two years ago, a Chinese conservation center developed an app that utilizes sensitive facial recognition technology to identify each panda.
So far, this database has collected information on over 10,000 different pandas in the wild.
The albino panda was finally caught on an infrared camera in April of 2019, at Sichaun's Wolong National Nature Reserve. It is believed to be young, only one or two years old.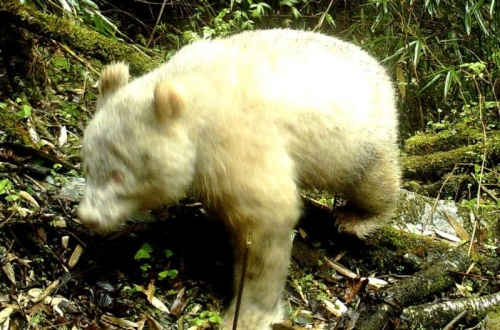 Being able to catch the unique animal on camera was due to luck and good timing.
"I personally think it's quite random for it to be discovered, since albinism manifests itself so infrequently," Dr. Li said in a telephone interview with The New York Times. "This was recorded just in time."
Its albinism doesn't seem to have much of a negative effect on the panda. It's more sensitive to sunlight, and may be a bit easier to detect in the wild, but its anatomy and quality of life are the same as other pandas.
The albino panda seems to be doing well in the wild so far, according to researchers, and looks strong.
The Wolong National Nature Reserve, where this panda lives, is planning on ramping up their use of infrared cameras to capture more footage of wildlife. More cameras will help them track the albino panda's movements, as well as the movements of any potential offspring — without interfering in their daily life.
See more in this video.
This story originally appeared at Goodfullness.
SKM: below-content placeholder
Whizzco for 12T