A coconut-pecan-chocolate celebration in a pie pan.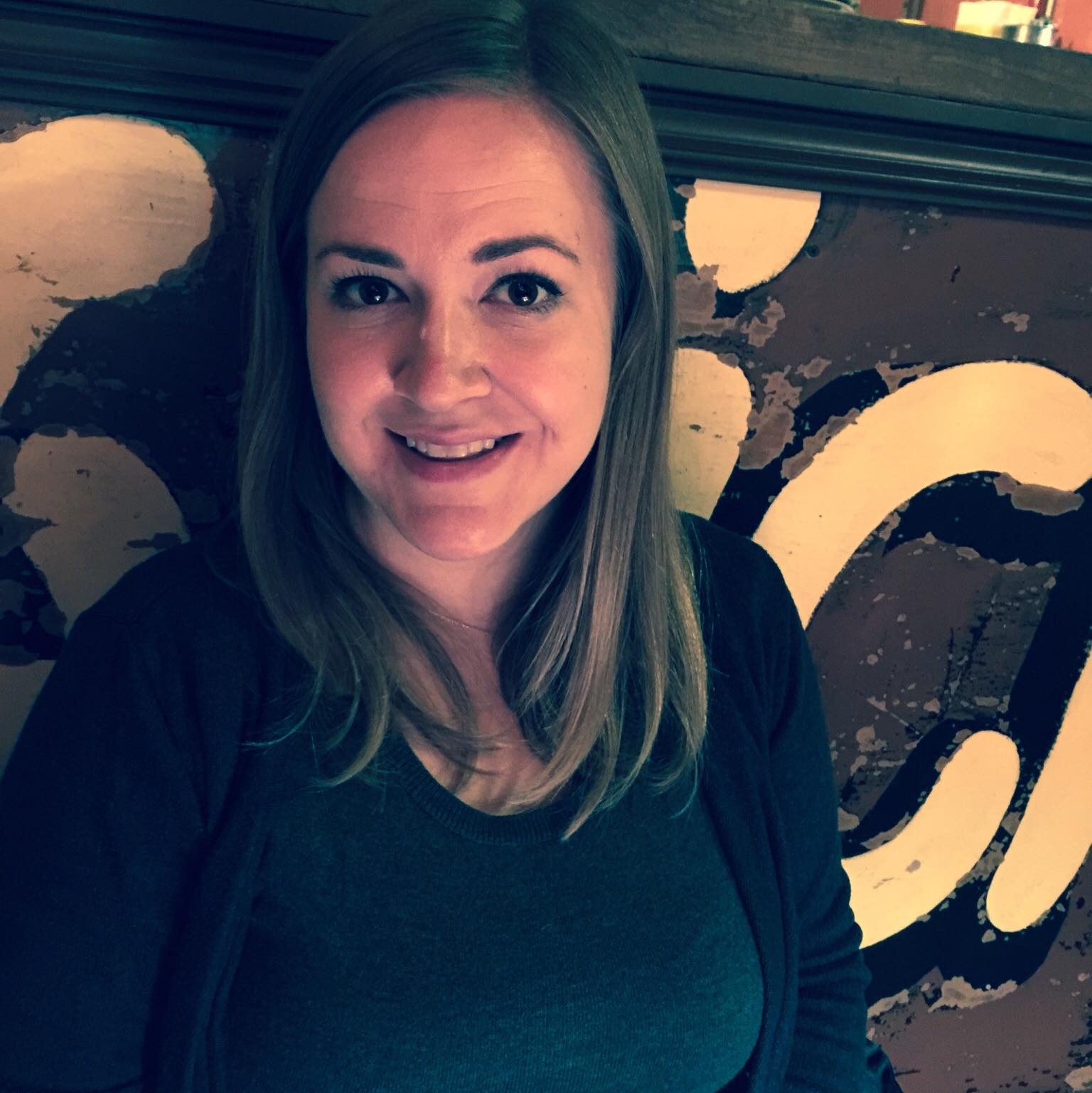 Kristy Norrell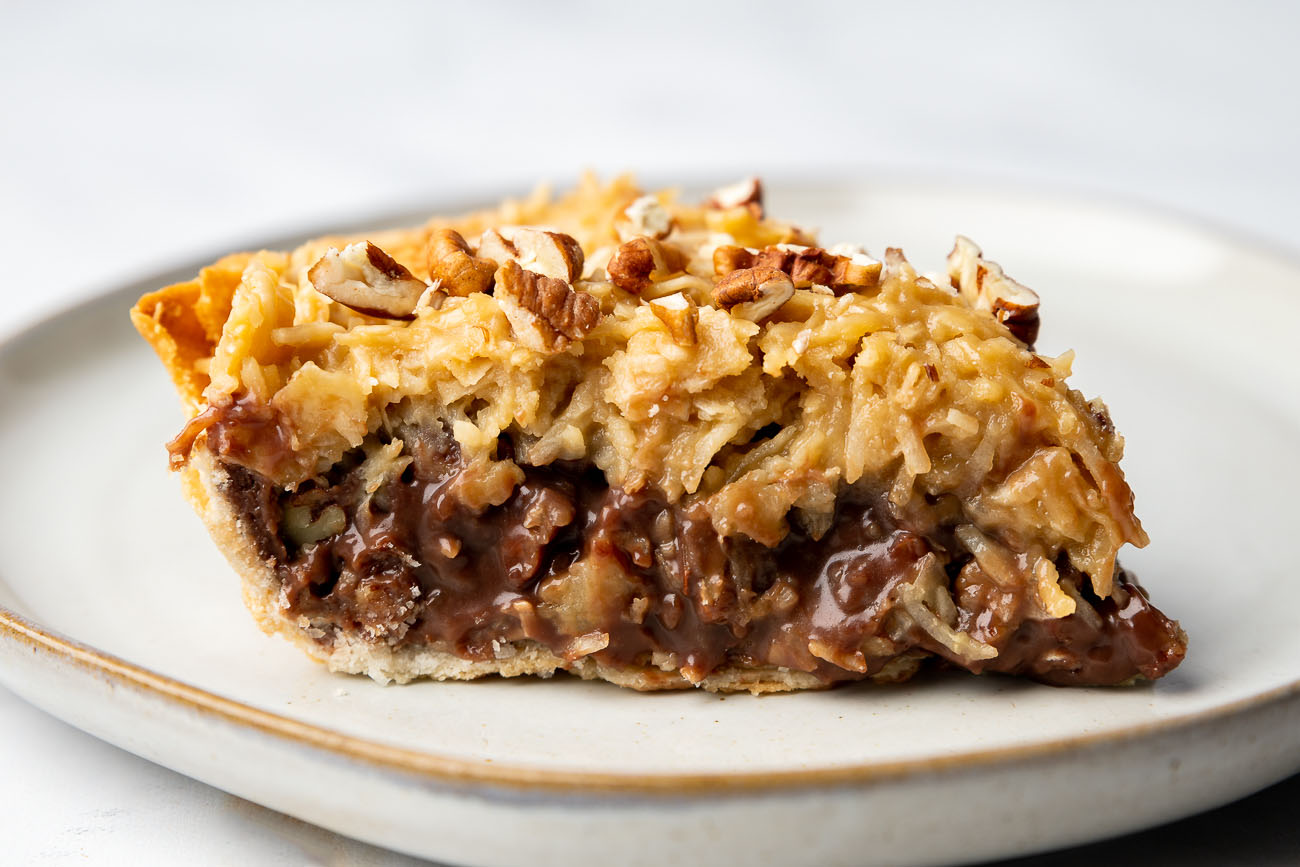 German Chocolate Cake is an easy cake to love thanks to its oh-so-sticky and sweet signature coconut pecan frosting and layers of rich chocolate cake. But as great as it is, it doesn't hurt to switch things up a little every once in a while, so here we give you all of that same greatness in the form of pie. Sometimes pie just hits different, and this German Chocolate Pie always hits the mark. It's rich stuff but an incredibly reliable crowd-pleaser — there's nothing not to love about it, and it's incredibly easy to put together.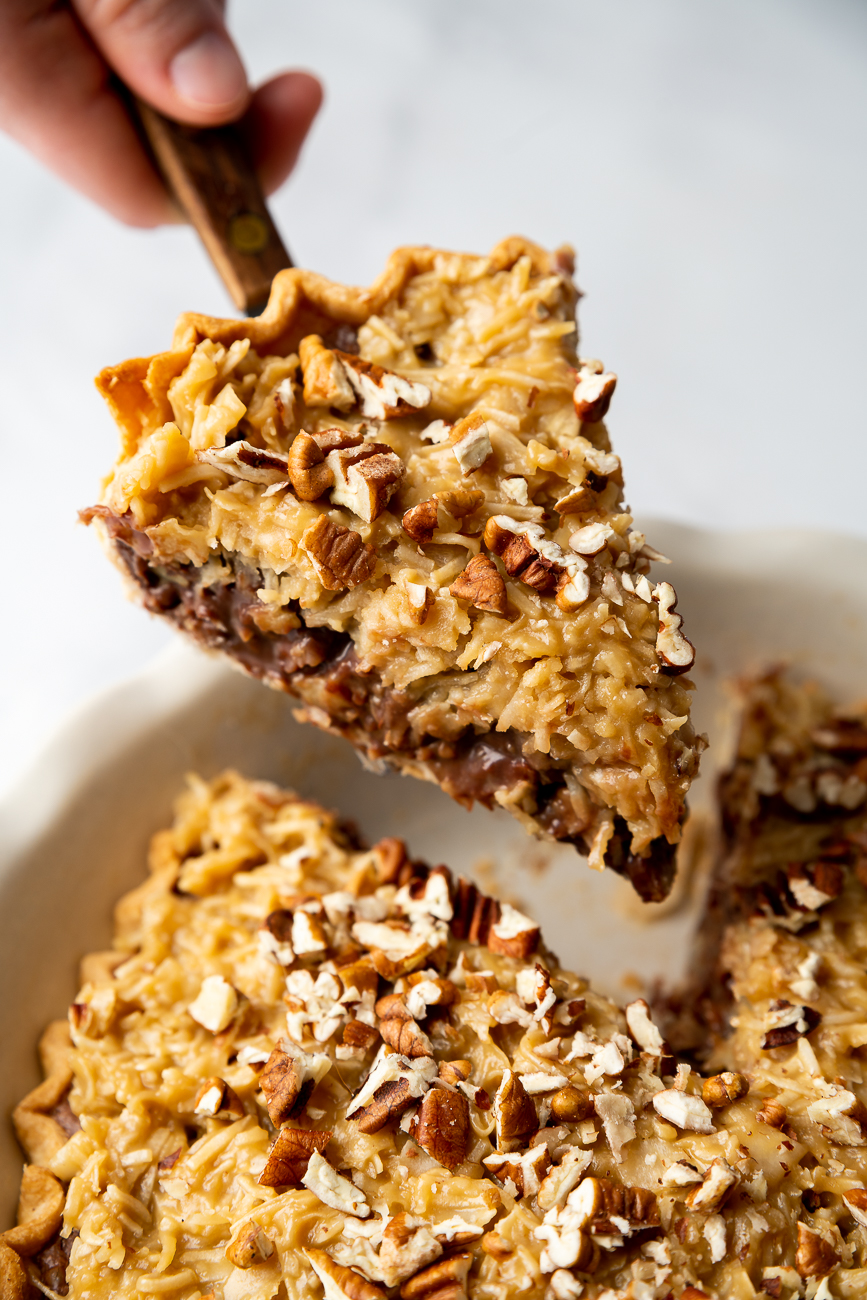 To start, you'll need a single pie crust. Our Cream Cheese Pie Crust is a great option if you're looking for something a little different, but the store-bought variety will also work just fine. You do want to blind bake your pie crust here, which I like to do by lining the crust with parchment paper, filling it with pie weights, and then baking for about twelve minutes before removing the pie weights and parchment paper and letting the crust brown for a few more minutes. Don't have pie weights? Dried beans work just fine too.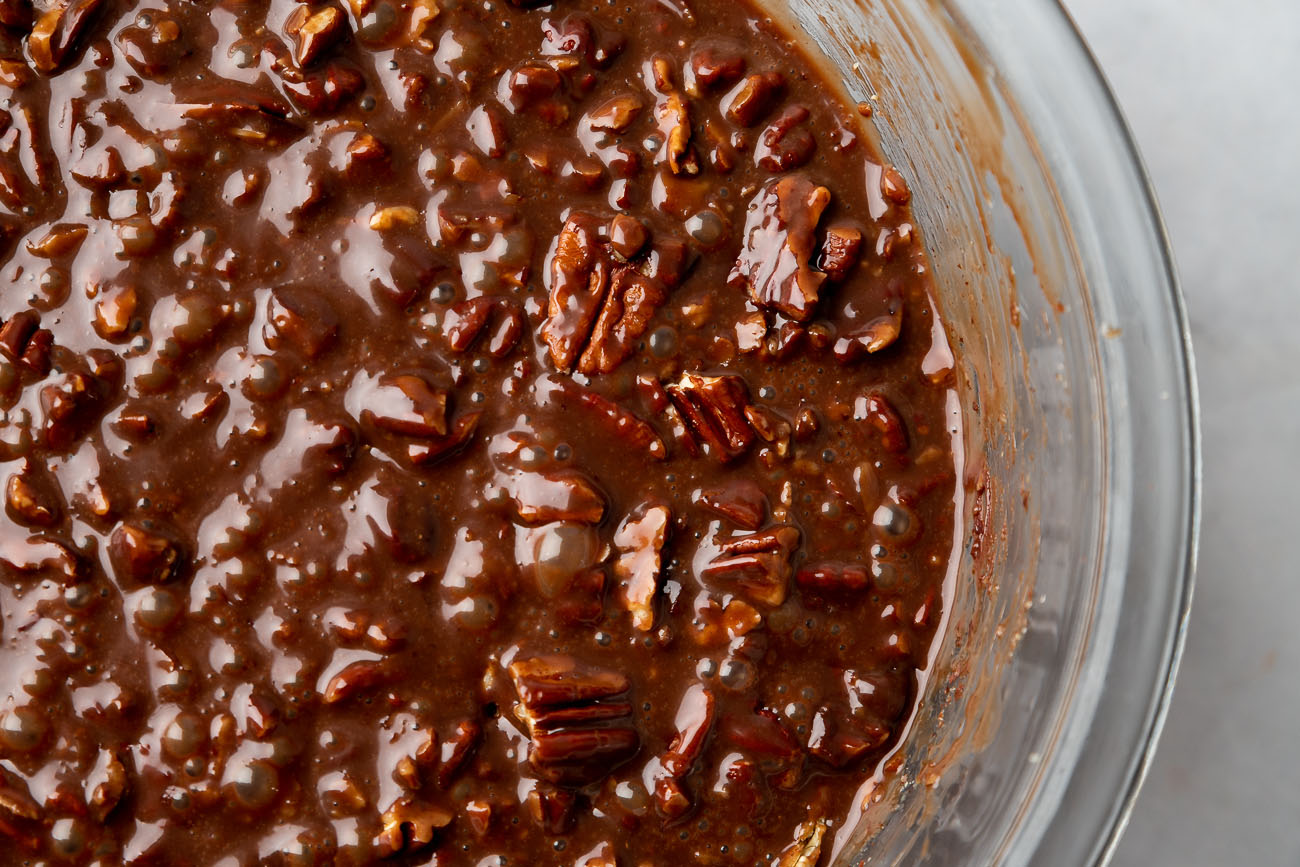 The filling is incredibly easy. You just need your microwave to make it — no double boilers or stovetop work here. Traditional German Chocolate Cake uses melted chocolate and not cocoa powder for its rich flavor and this pie stays true to form. Just melt the chopped chocolate and butter in the microwave and then stir in egg yolks, sweetened condensed milk, vanilla, and pecans and pour it all into the blind-baked pie crust before popping it back in the oven to bake until it's set.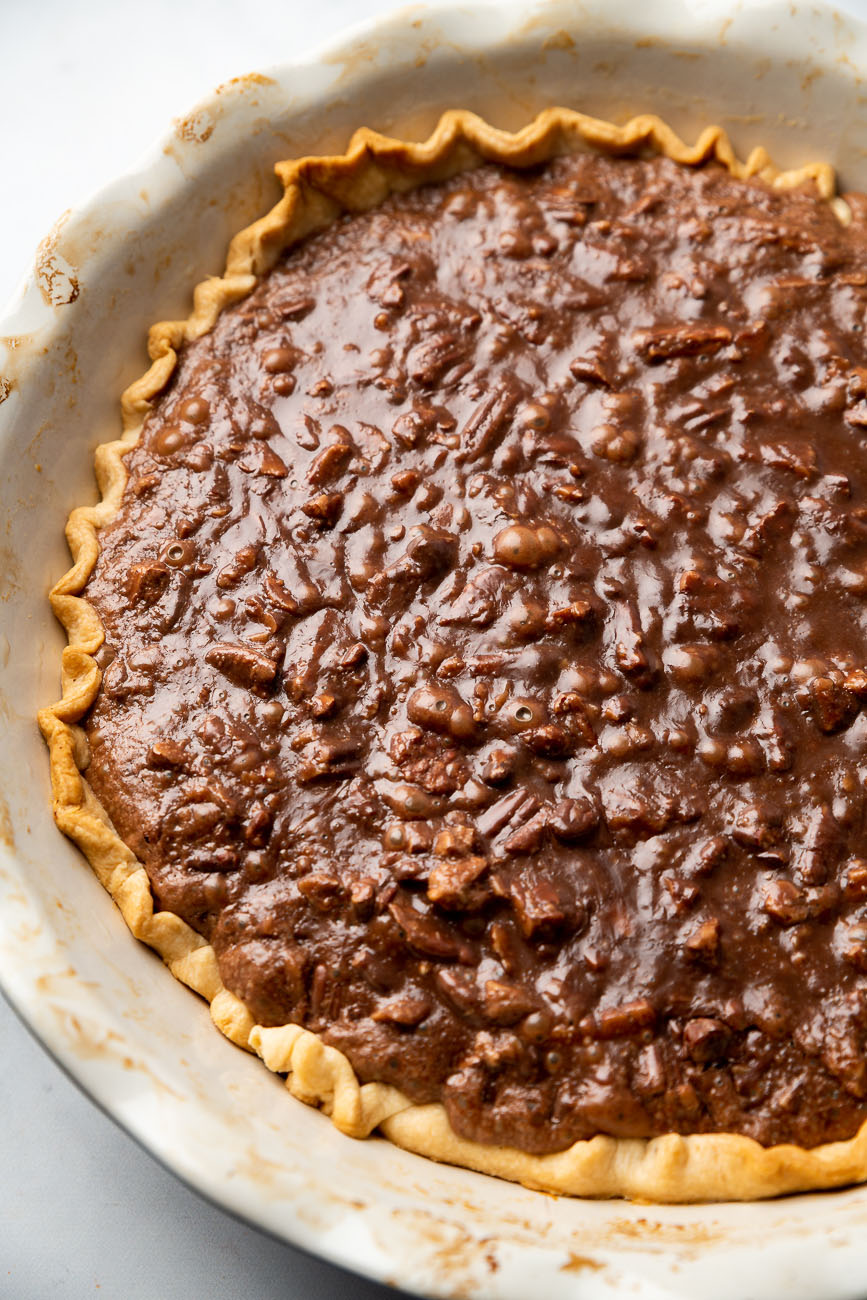 Now, of course, this wouldn't be reminiscent of German Chocolate Cake without that amazing coconut-pecan concoction to go on top, and while this isn't quite frosting, it is a celebration of nutty, sweet, chewy coconut-pecan goodness and you can make it once the pie is out of the oven and cooling.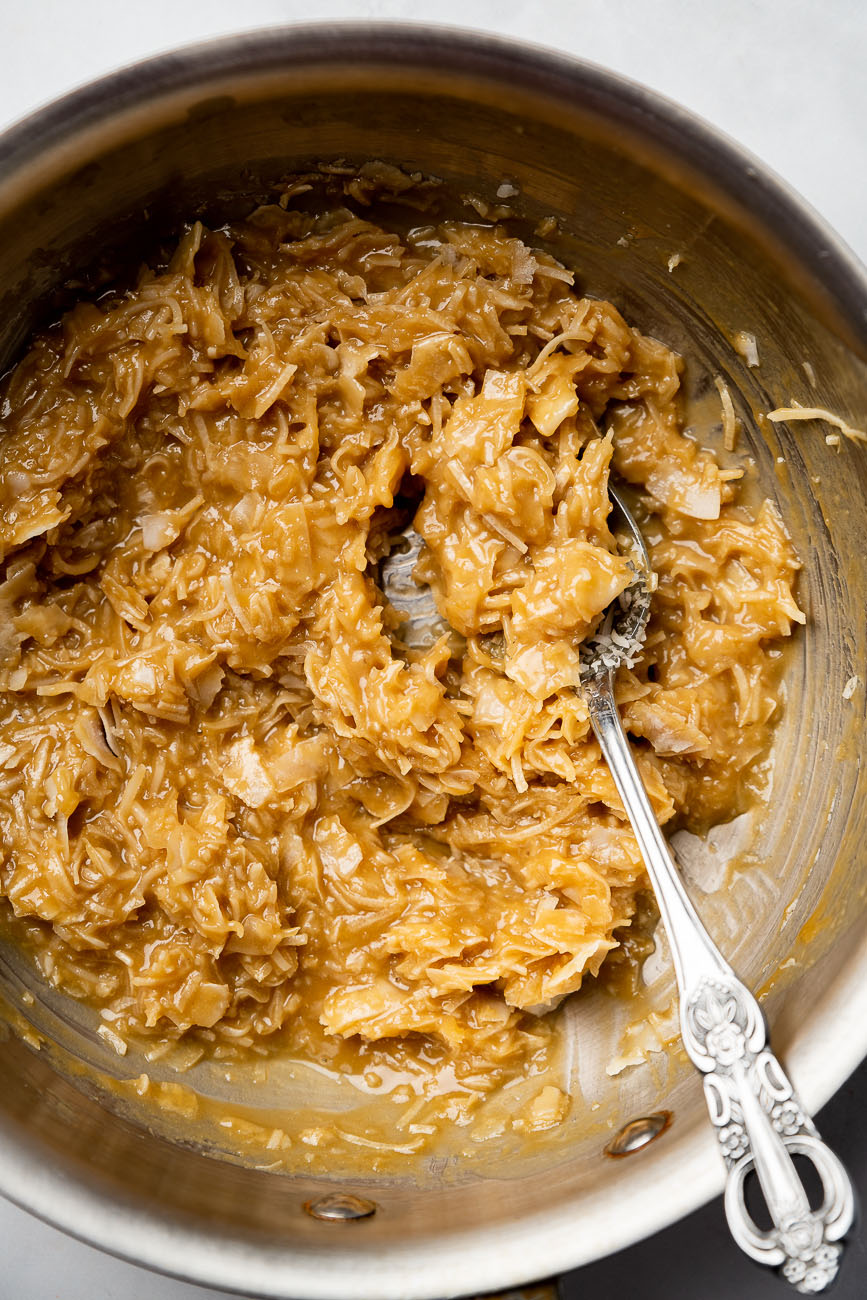 The topping is just a matter of bringing together some brown sugar, butter, and heavy cream on the stovetop and then rounding it out with egg yolks to thicken it up. It's about a ten minute endeavor, but it's one you won't regret. The coconut gets stirred in off the heat and it transforms something sticky and syrupy into something irresistibly chewy.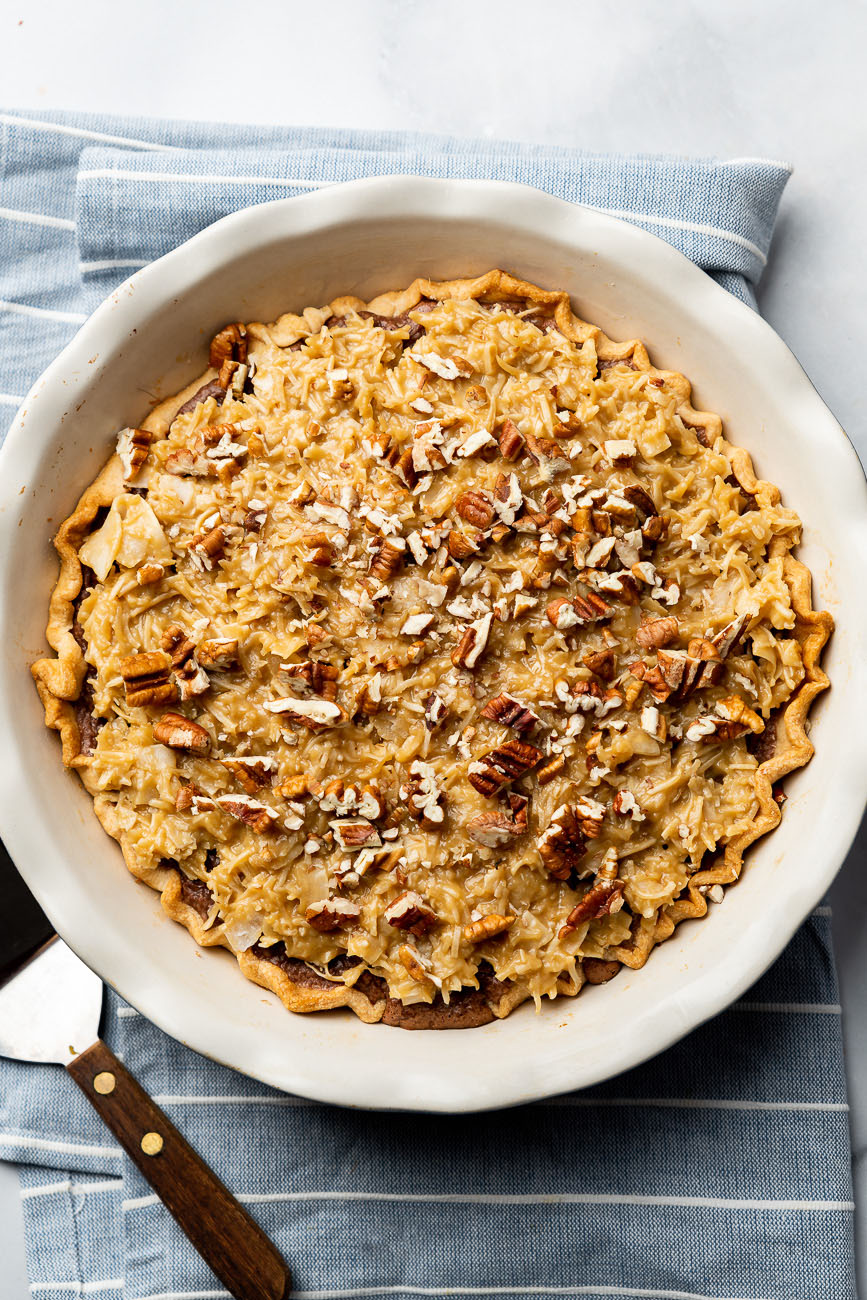 Pour that topping over the filling, sprinkle it with pecans, and chill it for a few hours until it's cold and set and sliceable. It will feel like a long wait, but you can do it. This is so well worth the wait.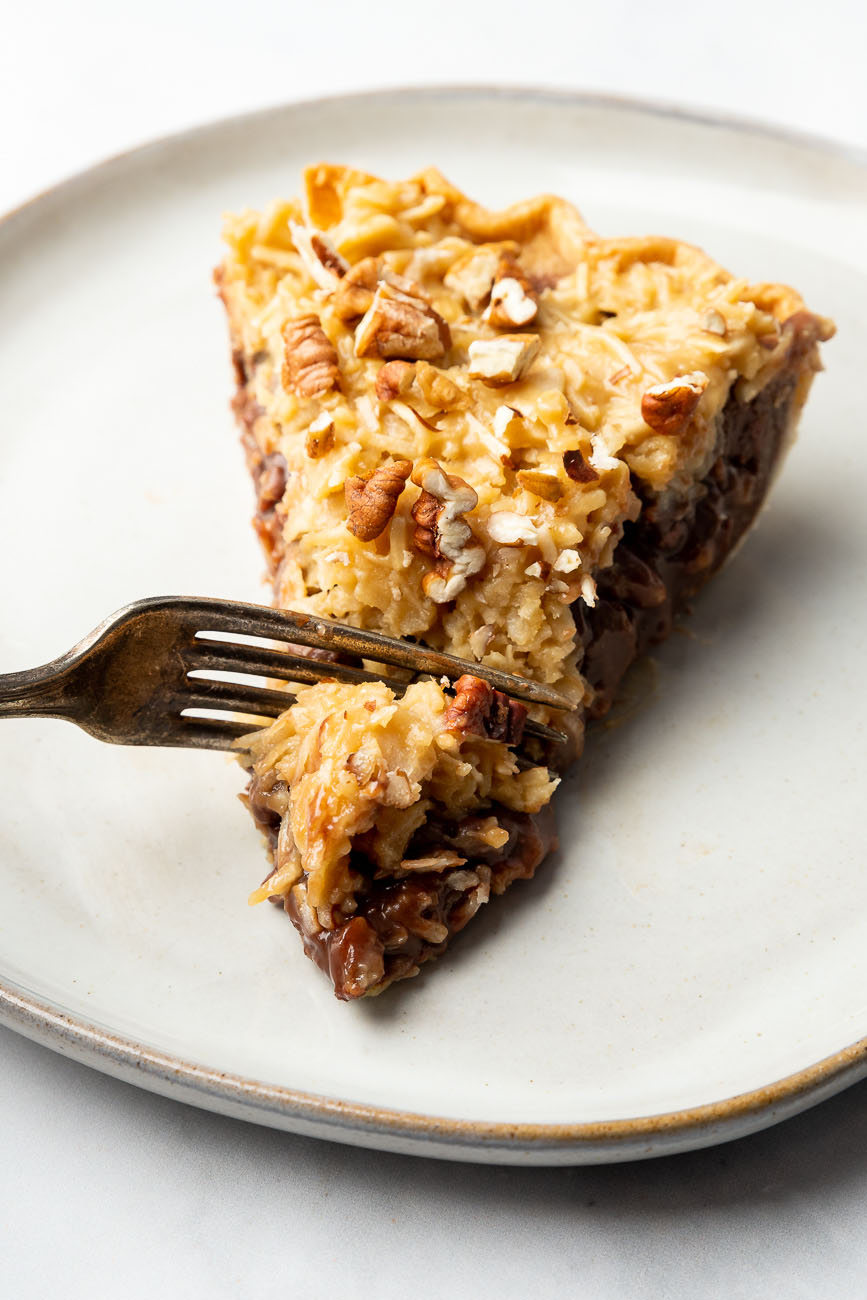 German Chocolate Pie
Serves 9
20m prep time
35m cook time
4h inactive
Ingredients
For the filling:
4 oz German sweet chocolate, chopped
2 tablespoons butter
1 (14 oz) can sweetened condensed milk
4 large egg yolks
1 teaspoon vanilla extract
1 cup pecans, chopped
For the topping:
1/2 cup brown sugar, packed
1/2 cup heavy whipping cream
1/4 cup butter, chopped
2 large egg yolks
1 cup flaked coconut
1 teaspoon vanilla extract
1/4 cup pecans, chopped
Preparation
Preheat oven to 400°F. Line a 9-inch pie plate with pie crust, trim edge to 1/2-inch, then flute.
Line pie crust with foil or parchment paper, then fill with pie weights or dried beans. Bake until lightly browned, 11-13 minutes. Remove foil and weights and bake 6 minutes more. Remove from oven and let cool while you work on the filling.
Reduce oven temperature to 350°F.
To a microwave-safe bowl, add chopped chocolate and 2 tablespoons butter. Microwave 1 minute, then stir. Continue microwaving in 30-second intervals until melted, stirring in between.
Let chocolate cool slightly, then whisk in sweetened condensed milk, 4 egg yolks, and vanilla. Add 1 cup pecans and stir to combine.
Pour into crust and bake until set, 15-20 minutes. Let cool 1 hour on wire rack.
While pie cools, make the topping:
Combine brown sugar, heavy cream, and 1/4 cup butter in a saucepan over medium heat. Bring to a boil, stirring often. Once sugar has dissolved, remove from heat.
Add egg yolks to a small bowl, then add a small amount of the hot brown sugar mixture and whisk to combine. Add mixture back to saucepan, whisking constantly.
Cook again over medium heat until mixture thickens, stirring constantly, about 2-3 minutes.
Remove from heat and stir in coconut and vanilla. Let cool 10 minutes.
Pour cooled topping over filling, then sprinkle with pecans. Chill until cold, at least 4 hours. Slice, serve, and enjoy!
Recipe adapted from Betty Crocker.
SKM: below-content placeholder
Whizzco for 12T